2+1=3
HELSINKI, FINLAND (again): February 25-26, 2014
Leah:
What a long and winding road it's been. Not only have we seen and done so much in our 20 months abroad, but the decisions we've made, the people we've met and the ways we've grown will follow us for a lifetime. When we began this trip, we were still quite fresh from our year of death and grieving in 2011 and I was questioning what the future would hold for our new marriage and way we saw our lives unfolding, especially in regards to adding to our family. Because of the physical distance I've had from home and the conversations I've had with other travelers and Workaway hosts, my mind is clearer than it's ever been in terms of eventual life goals and treating our return home as another adventure with a new set of highs, lows and relationships.
All that being said, you may be wondering why exactly we hopped back to Helsinki for less than 48 hours before flying home, correct? Steve and I have held an untold number of conversations, especially over the last 6 months, about how we see our family evolving and what would make us happy back at home. Well, we took the plunge and I'm happy to finally let the cat out of the bag. Well, dog as it were. Do you remember the white and black masked-wonder known as Theta with whom we fell in love while working at Hetta Huskies and is mentioned
here
and
here
? Well, we're pleased to announce that she's officially Theta McFail Aguirre (with a whole slew of nicknames) and while she'll always have her Finnish passport she's now a happy and content American resident. We had to pick her up in Helsinki after our bestie, Emmanuelle, flew down with her from Hetta upon completion of her own volunteer stint.
We'll have plenty of other blog posts to fill you in on our decisions to do this, the process to get her home and how she's adjusting to life as a Colorado resident. However, despite Steve and I telling ourselves before we left on that there was no way we'd let ourselves adopt a dog on this trip, we went and did exactly that. We still miss Minger on a daily basis and her death will always be one our live's great tragedies but over two years and one sled dog later it's time for our family to be a trio again and we're looking so forward to learning about and falling in love with our newest member.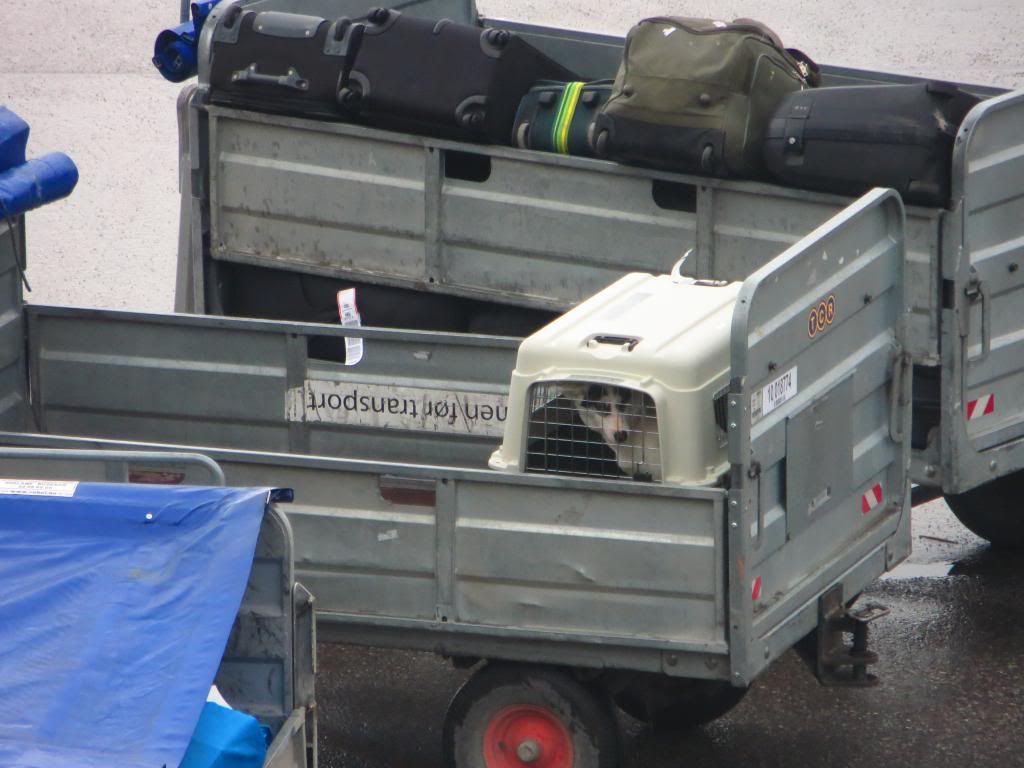 So there's your news! While it may be a fur baby instead of the human version (sorry to disappoint all of you who may have hoped otherwise), she's what we're ready for at this point in time and it wasn't a decision we took lightly. I also realize that I now have an official predilection for adopting black and white dogs from other continents who speak a different language (Minger originally only understood French and was from Africa), so this habit may need to be curtailed. However, Steve and I are now back in the US, safely ensconced at my parent's and both they and my sisters have already fallen in love with this very special piece of Finland and a physical representation of a Workaway and life experience that defined this trip.
We'll be taking the next few days to decompress, sleep and remember what side of the road we should be driving on, in addition to wrapping our heads around being home. We can't wait to catch up with everyone and that being said, thank you in advance for your patience and understanding as we work on doing so. We're beyond overwhelmed with the people we need to contact, in addition to being utterly exhausted and parents to a dog who has never so much as seen a squirrel and seems to be scared of stairs (and also happens to be in heat at the moment!) that it may take some time before we connect with you all. However, please know how appreciated and loved you are and how never once for a moment have we taken our relationships with you for granted. We'll keep blogging semi-regularly for a bit since I believe that re-entry and potential reverse culture shock remains a key component of any time spent abroad. Besides, we still have to write about London and publish the budget synopsis to trump them all in terms of what the entire trip cost.
For now we'll be doing some laundry, taking naps and cuddling with the beast while binge-watching season 4 of
Downton Abbey
. Thanks for following us around the world, loyal friends, family and fans, and we'll write again soon! And for those on McGuirre baby watch, don't worry...I'd never announce it on FB or the blog anyway ;-)
Love,
Leah, Steve and Theta
CLICK FOR PICTURES OF
COMING HOME