Countdown to Departure
A week from today we fly from Houston to Guatemala City; it's both surreal and exciting that our dream is about to reach fruition! Steve's in Arkansas visiting a friend and Leah's headed off to Portland for a wedding, so it's a frenzied whirlwind of planning, emotions and last minute tasks. All our life possessions have been sorted and stored in Leah's parent's basement (our families are babysitting our cars) and now it's down to final packing and finding crashable couches in Guatemala. We've already received many questions regarding our pre-departure necessities, immunizations and packing lists; in the spirit of supporting our newborn blog, we figured we should address those here.
MONEY ALREADY SPENT:
$951: Two one-way tickets from Denver to Guatemala City via Houston
$39: Two year membership as a couple on Workaway website
$1,050: Leah's immunizations (Passport Health)
$0: Steve's immunizations (the Kaiser Permanente travel clinic rules!)
$400: Netbook computer
$500+: Travel supplies (gear, clothes and other sundries)
$100: Prescriptions (anti-malarial, antibiotics, etc.)
$1,300: Uhaul rental & gas from CA to CO via the Grand Canyon (ouch)
$1,321: One year of travel insurance, including adventure sports waiver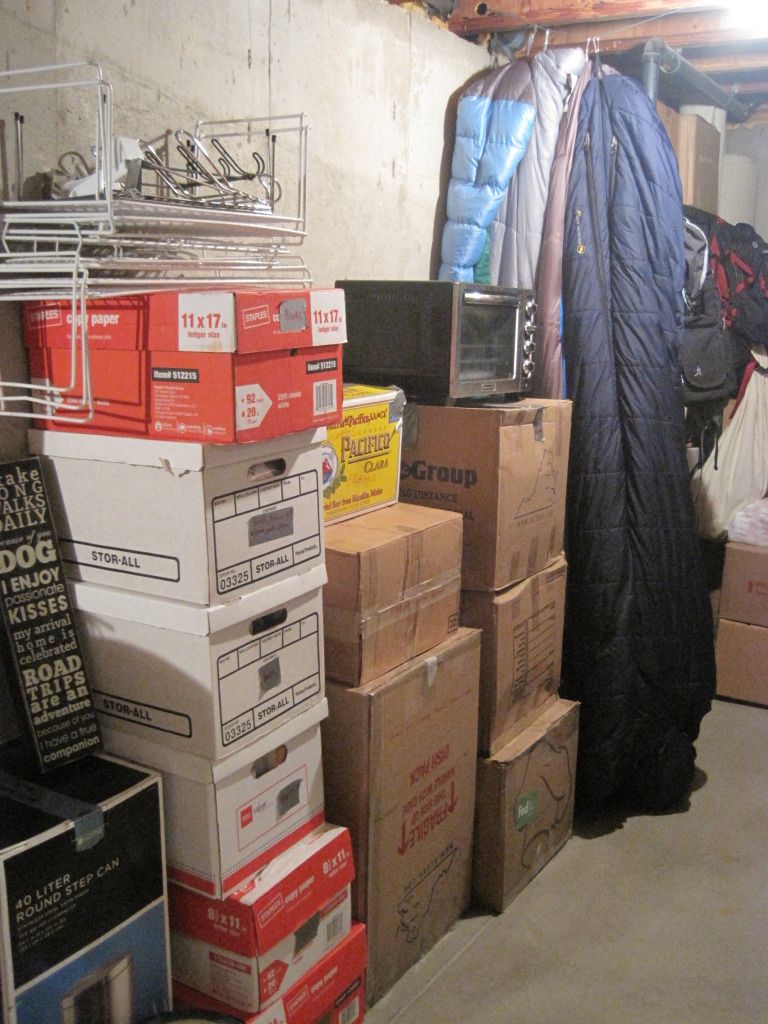 IMMUNIZATIONS OR BOOSTERS RECEIVED:
In order to decide which medical cocktails we planned to pump into our bodies, we talked with our doctors about the countries we intended to visit and what we envisioned doing there. Because we plan to be working off the beaten path a fair amount (at farms, in the jungle, etc.) and also in proximity to a variety of animals, we decided to get the rabies shots, although they are incredibly expensive (Leah paid $750 for the necessary series of 3). While they don't fully inoculate us, the shots buy us extra time to receive the post-exposure vaccine if we're bitten and we wouldn't need as many shots afterward. We also decided to receive some vaccines on the road if necessary, as certain ones are only recommended for specific seasons and locations (ex: Japanese Encephalitis, Polio booster) and will be cheaper in other countries. Otherwise, we both received the following over the course of a few weeks (our arms were not impressed and we quickly learned to stop playfully punching each other):
*Hepatitis A
*Hepatitis B
*MMR (measles, mumps, rubella)
*Meningococcal (meningitis)
*Rabies (most expensive but fluorescent purple-so pretty!)
*TDAP (tetanus, diphtheria, pertussis)
*Typhoid
*Yellow Fever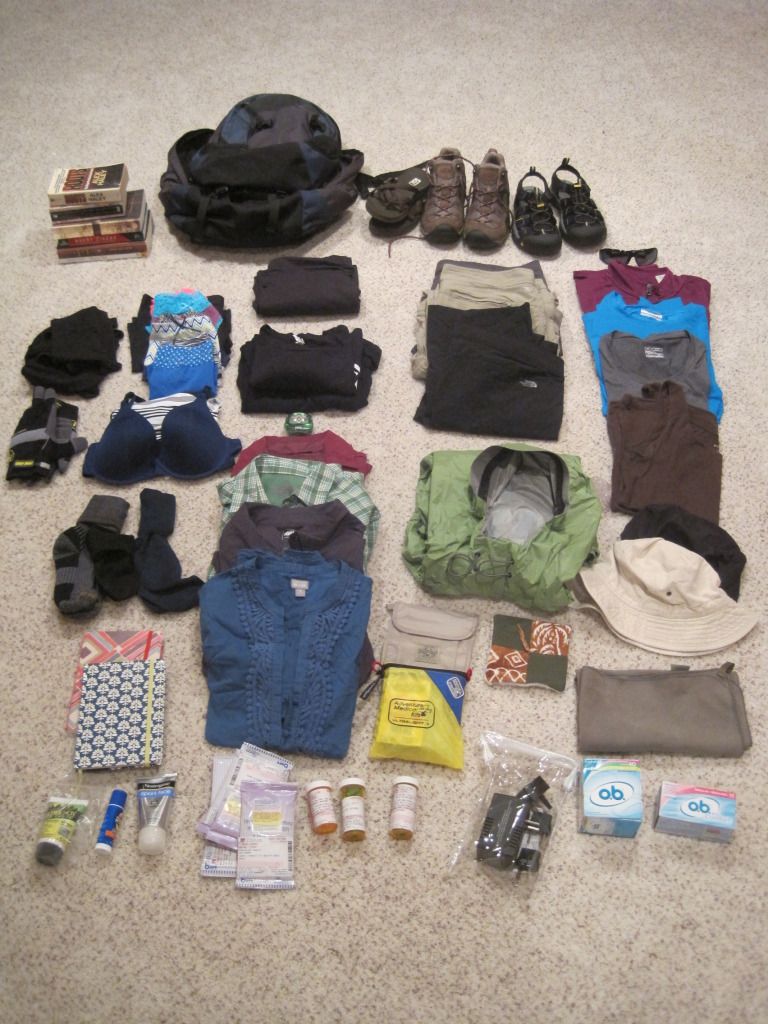 LEAH'S PACKING LIST:
So I went a little bit crazy this time and didn't pare down as much as I usually do for international trips, but at least there's still room in my bag!
*1 carry-on approved bag
*3 pairs shoes (hiking boots, Keen sandals, flip flops)
*3 pairs socks (1 wool, 1 silk liner, 1 ankle)
*6 pairs undies
*2 bras (one regular, one sport)
*bathing suit
*skirt
*3 pairs pants (2 of which convert to capris)
*1 pair pajamas
*3 button down quick-dry travel shirts
*pullover fleece
*4 assorted shirts (tank tops, "fancy", tight layering pieces)
*rain jacket shell
*camp towel
*headlamp
*work gloves
*money belt
*first aid kit
*2 hats (one floppy, one collapsible baseball style)
*tampons
*voltage converter and adapter kit
*sentimental square sewn from Minger's old bed
*various prescriptions and sunscreen
*2 journals
*6 books (my biggest splurge in terms of space, but as fast as I read I considered it necessary)
*not shown-various toiletries
STEVE'S PACKING LIST:
Flip-flops...check. Guitar...check. A couple of beers for the road...check. One pair of Tabasco chones and one pair of destroyed Homer Simpson boxers...double check. And I am good to go!
Ok seriously though--before Leah hits me over the head--my packing list reads much like hers (sans Tampons of course). I'm gonna have my flippy-floppies, a good pair of hiking/running shoes, my work boots for our Work Away excursions, a pair of shorts and trunks, three long sleeve shirts (with roll up sleeves) and a couple of short sleeve t-shirts, two pairs of convertible pants (I used to think they were lame but I have a feeling I'm gonna be sold on these bad boys), several pairs of synthetic undies, socks (wool and liners), a rain jacket (I'll pick something up something warmer along the way if need be), and various other miscellaneous items. If any of my gear turns out to be phenomenal I will make sure and post a review...