Adopted Family and Home Sweet Pacific
CIUDAD ARCE & LA LIBERTAD, EL SALVADOR: July 22-26
Leah: Hooray for our first land border crossing! Despite waiting for an hour on the Interamerican Highway for road construction to cease, enjoying half of Titanic in dubbed Spanish on the bus (the bootleg version ended right after they hit the iceberg—helpful) and the fact that I damn near had a fit and thought we'd end up in jail when we didn't receive an entry stamp to El Salvador (we later learned that when traveling among the C4 countries of Guatemala, El Salvador, Honduras and Nicaragua you don't always receive a stamp), we arrived in Ciudad Arce in one piece and no worse for wear. We chose this as our first stop because one of Niki's (the friend we met in Xela, Guatemala) roommates, Ever, happens to be from El Salvador and graciously connected us with his family, who still live in his childhood home of Ciudad Arce, a delightful location close to the major city of Santa Ana.
Ever's sister and brother-in-law picked us up on the highway where the bus let us off and brought us to his parent's house where we'd be staying. It was the obvious nucleus of their street, partly due to the small tienda his mom runs, selling things like milk, soap, toothbrushes and frozen goodies, and partly due to fact that all the inhabitants are related to Ever's family—cousins, nieces, nephews, aunts, uncles, grandkids….everyone on the block was related. We met his amazing parents, Marco and Julia, settled in to the spare bedroom, enjoyed some conversation and Tour de France viewing with his dad and then set off to explore the neighborhood. I quickly noticed the signs for "chocobananos" everywhere and $0.30 later we were each happily noshing on monstrous frozen chocolate covered bananas, a treat that became a daily ritual.
We returned to the house, but apparently didn't cover enough ground because Ever's two sisters, Ana Maria and Nena were dispatched along with their sons to accompany us up and out of town to a viewpoint of a city. We ambled along and as they pointed out the various volcanoes and cities in the distance, they plucked various fruits from bushes and trees and had us try them—wild
mora
(blackberries),
hocote verde
(very tart citrus flavor that made us pucker), and
nance
(the unripe ones tasted of unpleasant sweet cheese and the ripe ones had citrus undertones). We ended in the town square right outside the mercado, where we enjoyed
minuto
--shaved ice covered in a liberal dousing of sugary flavored syrups. Better than any snow cone I've ever had and such a lovely way to be introduced to this country!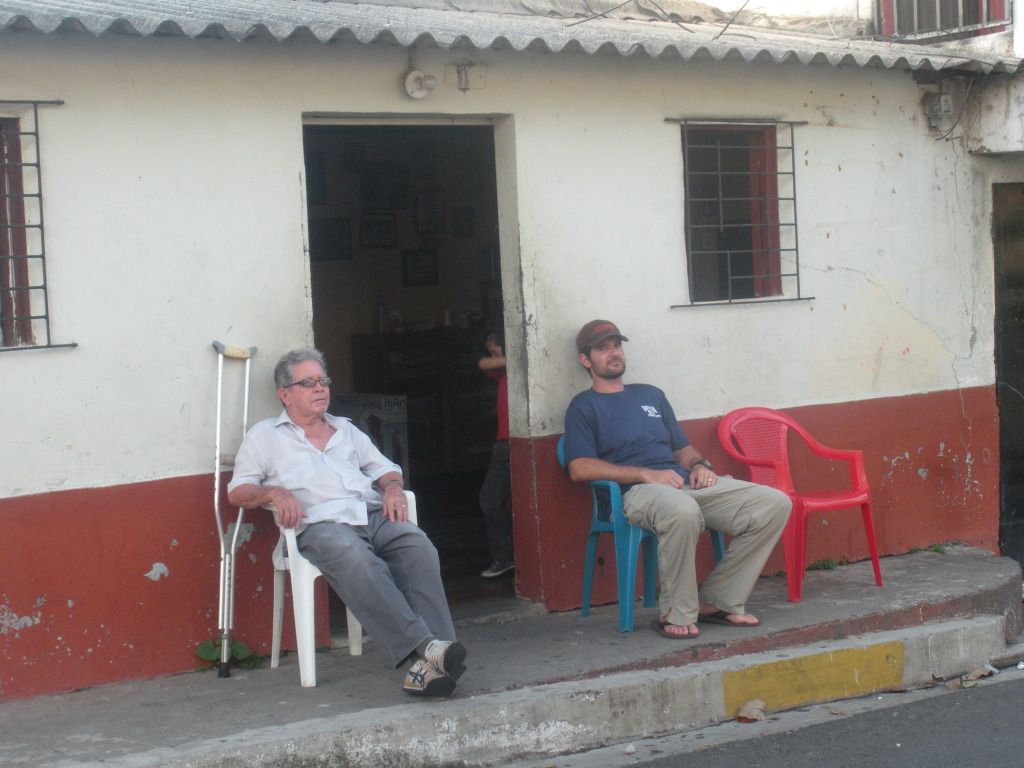 The rest of our time with Ever's family was simply wonderful—we were ensconced in a loving environment, fed 3 meals a day (all of which his saint of a mother cooked) and treated like honored guests. Ever had let us know beforehand (especially after our experience with Jonathan in Guatemala City), that his family's home was quite humble, but that simply added to the charm and truly genuine experience for me—chirping geckos racing along the walls, laundry hanging in the dining room and even the mosquito net over our bed and bucket showers (which I taught Steve how to perform correctly). It was like visiting grandparents and I felt so happy, safe and cared for during our time there. It also felt in a way as if by taking care of us, Ever's family was indirectly taking care of him--we'd like to think there was some sort of mutually beneficial interaction!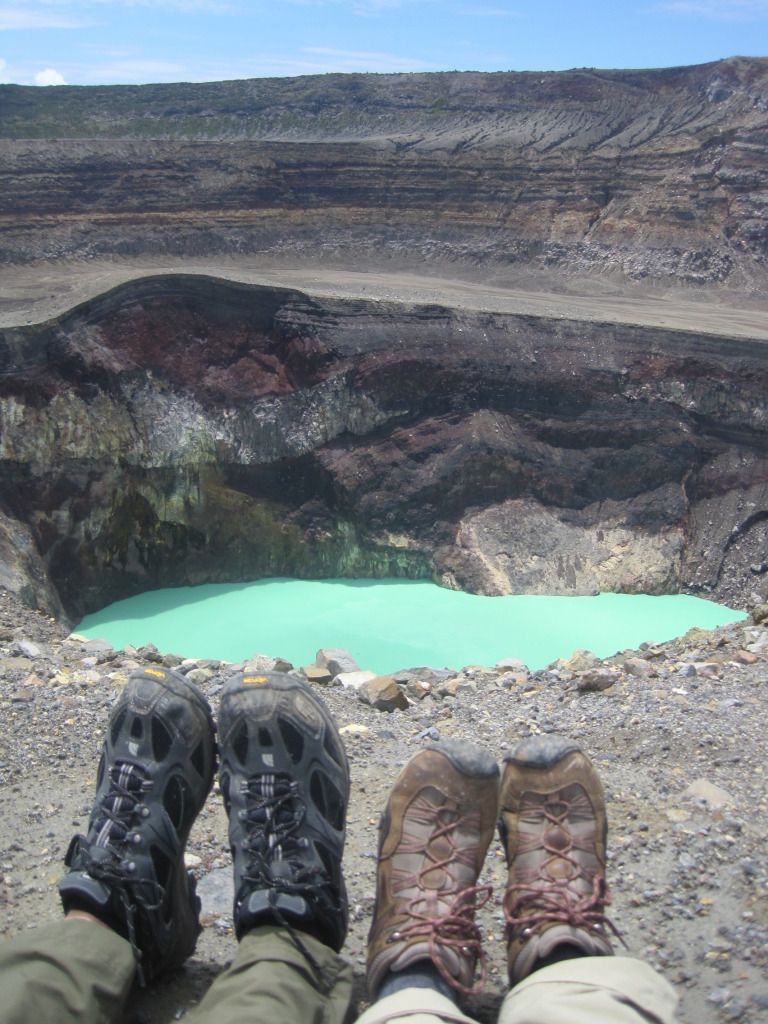 We also climbed two of the nearby volcanoes-Cerro Verde and Santa Ana, which kicked our butts and entailed hiking with two armed police and a guide, due to the problems with attacks they had years ago—definitely a first to look over your shoulder and see two (very nice) but aggressive looking cops in full uniform with guns trailing behind. Santa Ana last erupted in 2005 and
at the top
(after a murderous climb where only the thought of chocobananos kept me moving) we were able to see the toxic green sulfuric crater lake, as well as Lago Coatepeque in the distance, the Pacific Ocean and all the cities in between. We also checked out the San Andres ruins, enjoyed a delicious meal at the town's new market, taught Ever's youngest nephew how to play the card games "War" and "Go Fish" and attended an evangelical church service with his sister, Ana Maria, where we received a few shout-outs and were offered 2 additional homestays in town by members of the church. Loved, loved, loved it all. And his mom's food…can I go off on that again? Mouth-watering, plentiful and definitely augmented my curves, but SO worth it! Her pupusas alone (corn dough filled with beans, cheese, fried in a griddle and served with a tomato sauce) brought out the Pavlov's dog in me-she even let me film her
making them
. Another delicacy was a type of thick crepe-like pancake she made with banana mash, sugar, milk and flour for breakfast one day--Ever later told us they're his favorite!
Steve
: Two of the people that I miss most (among others of course) are my grandparents. Most people know that my grandparents had a large hand in my upbringing and they are the patriarch and matriarch of the family that my mom and I are the closest to. Needless to say, staying with Ever's family was in a small way a surrogate for my grandparents back at home. Yes we went from the modern lap of luxury in Guatemala to a tiny home in El Salvador with bucket showers and geckos on the walls (a good thing seeing as how they do a great job of catching bugs), but I didn't grow up with excess either. Having a caring Latino presence did wonders for my soul (I feel like there's quite a few similarities between El Salvadorean and Mexican households). Sitting and watching a futbol game with Marco and being spoiled with meals and goodies from Julia were akin to hanging out with my grandpa and watching baseball (nothing compares to watching my Angels of course) and getting fed wholesome, homemade meals by my grandma. No one can replace them, but it did help my heartache just a little bit less. Every time somebody came by after store hours, Marco would yell across the house "Abuelita!"...you've gotta love that.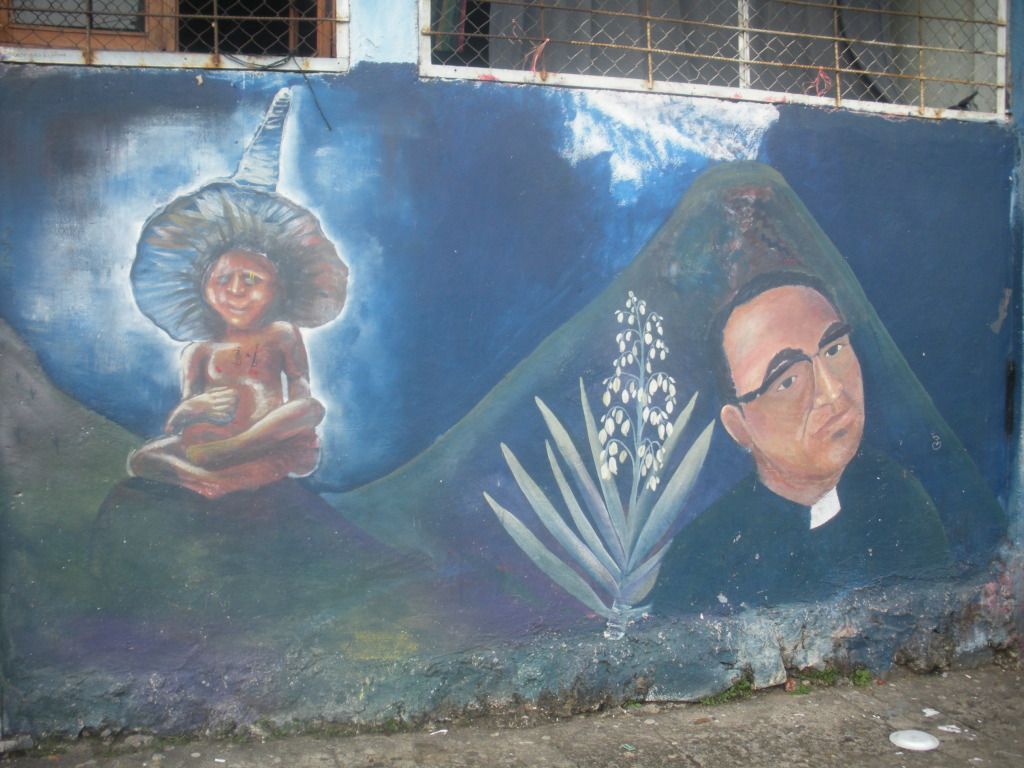 It was hard to say goodbye to such a loving family but we're extremely cautious about not overstaying our welcome. So after four days we ate another amazing breakfast, said our goodbyes and went on our way with packs on our backs. We took a local bus down to the western metropolis that is San Salvador where we transferred on to our destination of Puerto La Libertad. This bustling and hot beach town is the hub for local fisherman and the starting point for several famous surfing beaches. We were pleasantly surprised and impressed by the level of care that is taken to keep the beachfront clean, well-painted and vibrant. There is still a bit of a cultural faux pas where people throw trash on the ground as they feel like it but we haven't encountered anything close to what we saw in the rural and indigenous areas of Guatemala.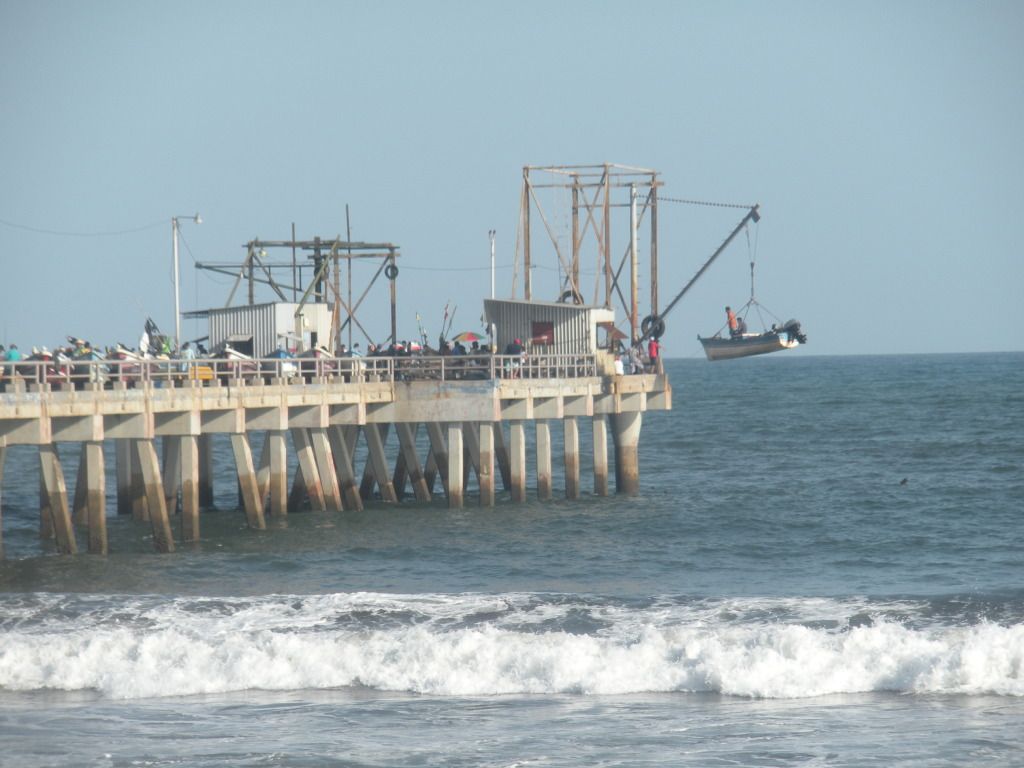 It felt great to immerse myself into the Mother Pacific after what seems like an eternity. Growing up in Southern California the Pacific Ocean has always been a part of my life and just like staying with Ever's family, there is something nourishing about having this comforting presence. The water was markedly warmer than anything I had ever experienced in SoCal which would be fine if it weren't sweltering in the sun. Waves were a bit choppy and as I found out the surf in this area (Punta Roca, a locals-only surf spot) is best in the early morning and evening. Thankfully the ceviche was cheap and plentiful as fisherman bring their daily catch straight from the ocean to the pier for use by all the local restaurants and stands…good food will make up for most anything.
The next day we took a bus down to Playa San Diego as it sounded like a nice beach and, well, why wouldn't a couple of San Diegans go to San Diego? The long stretch of pristine beach was lined with private residences and coco palms; I'm sure there must be a decent expat community here seeing as how one of the homes was named "Rancho Kansas." Again the surf was choppy and the riptides were all over the place, which would still be okay for some relief from the heat except that there was some kind of funky, greenish-brown portion of the water that seemed to follow us wherever we went. Sewage? An algae bloom? Dunno, but we weren't about to wade in it and find out. A bit disappointed and overwhelmingly hot we bid adieux and headed back to La Libertad for more beachside ceviche and local culture (
Leah:
we even met an English-speaking Jehovah's Witness on the bus who grew up in LA despite being from El Salvador—something to do with her dad kidnapping her and her sister—and we enjoyed talking to her about life in the states and her new work down here working with the deaf) .
Leah:
I agree that it was lovely to be back dipping my toes in the Pacific, although like Steve, I hungered for the blissfully cool waters of San Diego, not the bathtub temperature of La Libertad. Some of the simplest pleasures were the most fun, like sharing a flavored popsicle on the brightly colored esplanade at sundown while watching these crazy cool crabs below that would literally jump from rock to rock like frogs. Or, awaiting freshly made licuados (fruit smoothies) from a local vendor and then gratefully slurping them down in the relentless, sticky heat. Unfortunately, however, I ended up getting a bit of a sunburn; that coupled with the heat drove us back inland, instead of lingering by the coast a little longer as we had planned.
CLICK
HERE
FOR MORE PICTURES AND VIDEOS