Power Up
Leah: What a whirlwind! I was in Portland, Oregon for my girlfriend's beautifully perfect wedding, flying back to Denver at noon on Sunday, July 1 only to depart for Houston at 10 a.m. the next day. The combination of wedding emotions, more goodbyes and supreme exhaustion meant that I've more or less been a blubbering, snotty splotchy mess for a few days straight, but nonetheless I eagerly awaited our planned overnight layover in Houston. For those who don't know, one of my closest friends, Jayna Murray ("J" to me), is buried there and her family lives nearby. We've all lived through the horrific reality of dealing with her murder and the ensuing trial the last year, so it's only now that we can start remembering her joyous life and celebrating J as she should be; Steve and I had been looking so forward to seeing the Murrays.
Jayna's parents picked us up at the airport before we all shoved our faces full of glorious Mexican food and caught up on life and travels while reveling in the fact that we were together this time to celebrate, not mourn. Afterward, they headed home and left us with a car so we could visit J at her burial site; it had been 16 months since I was last there and on a muggy Monday afternoon the cemetery was deserted and peaceful. As a cicada cadence swelled and the tallest trees near her plot swayed ever so slightly in the cooling breeze, I talked to her.
I shared how nervous and wigged out I am to take this monumental leap of faith, and how I really needed her to send some of her renowned joie de vivre and bravery my way ASAP. As another friend summarized, this visit with J felt like my "power up", if I may use Mario Brothers video game terminology. I needed an energy surge by starting my trip visiting with a best friend who embodied the very definition of risk-taking and embracing life.
Once back at the Murrays, we spent time chatting some more and getting to know Hobo, Jayna's cat, with whom Steve and I both agreed we felt an extraordinary other-worldly presence. Despite not being cat-lovers, we instantly felt an affinity for this sleek gray kitty; rubbing his belly while knowing that had cuddled and loved J was simply wonderful. Jayna's brother and his family then joined us for dinner at a local pizza place and I had the pleasure of meeting her two vivacious nephews, ages 5 and 7, who idolized their "Tia T" and were a joy to talk to. We all swapped stories, jokes and laughter, which continued well into the night back at the Murrays, as the adults chatted about everything under the sun and the boys ran around upstairs, their giggles floating down the stairs.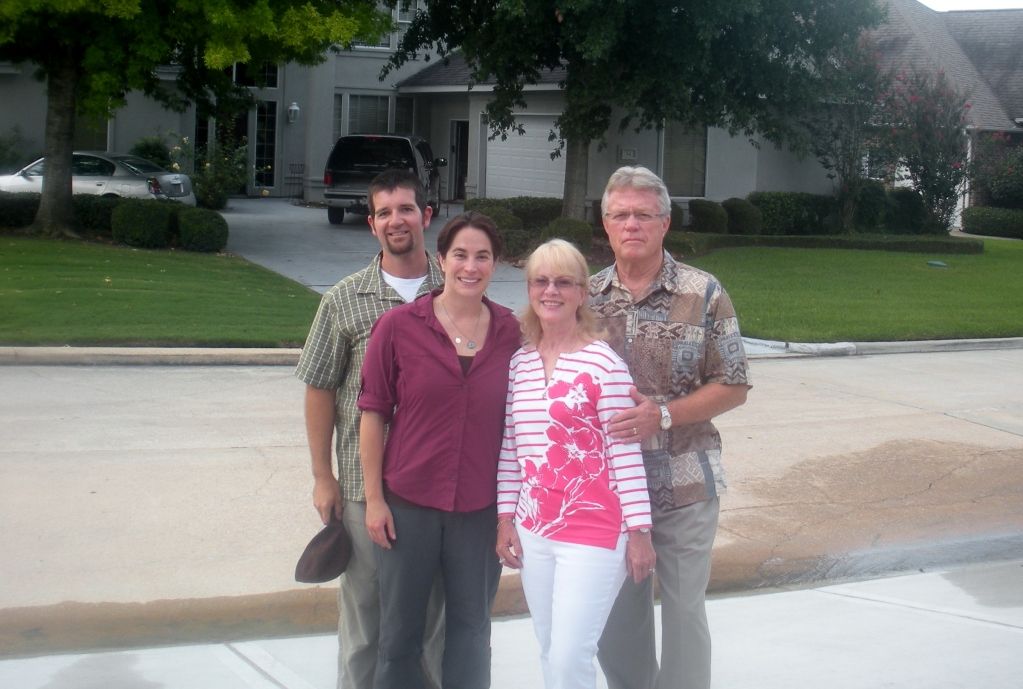 After we wrapped things up close to 11 p.m., Steve and I headed to bed, passing the room where all of J's things currently await sorting—a lifetime of memories and love filling the room. As I walked by, I noticed Ted, her cherished teddy bear who's lived a long and well-traveled life, resting against the wall (
Steve
: this guy looked exactly like Bunny, my stuffed animal given to me by my dad which I was inseparable from growing up). In the still darkness I scooped him up and cradled him like a baby, nestling my nose into his well-worn neck and squeezing him close as the tears started. Not necessarily out of sadness, but a mélange of happy memories, joy at being with her incredible family and the knowledge that she will be by my side every step of the way on this trip, urging me on and reassuring me when needed.
We're now in Guatemala City, happily ensconced in Steve's buddy's incredible high-rise home and plotting our next move. I'm so grateful that we were able to start in Houston and the Murray's hospitality was truly above and beyond. I'd be lying if I said there wasn't still lingering trepidation and bouts of thinking oh-hell-what-are-we-doing?! (and I may have cried upon departure and landing), but I know that Jayna is and will be my "power up" moving forward. Here's to you baby girl, I (pine tree-tree) (7-3) you.