Silver Linings
QUETZALTENANGO (XELA), GUATEMALA: July 11
Steve:
So where were we? Oh, right the camionetas. As Leah mentioned these are refurbished—pimped out if you will—school buses from the United States that drive to most of the major towns as a source of cheap transportation. It was also apparent that the chofers learned how to drive these buses by studying Otto from The Simpsons. The way some of these guys drive is at once scary and impressive (although I must admit that our first driver out of Pana really tainted our view; the subsequent drivers have been pretty chill). The buses tend to be fairly crowded but get us where we are going cheaply, fairly comfortably and safely (in spite of what we've written).
After a several hour ride from Panajachel we pulled into the bustling city that's known by most as Xela (it's so much easier to say and write). Although it is not fair to judge most towns by its bus terminal I have to say that my impression was never really corrected. Our primary motivation to visit the town was to see Leah's friend, Niki, who is currently studying Spanish at a nearby language school. While that was great and worthwhile it felt like a little bit of a setback to go from the beautiful scenery of Lake Atitl
á
n to a bustling metropolis (it is Guatemala's second largest city) that in many ways was reminiscent of the dirtier parts of Santa Ana back home in California. But as I will get to, all places are somebody's home and there's always a diamond in the rough.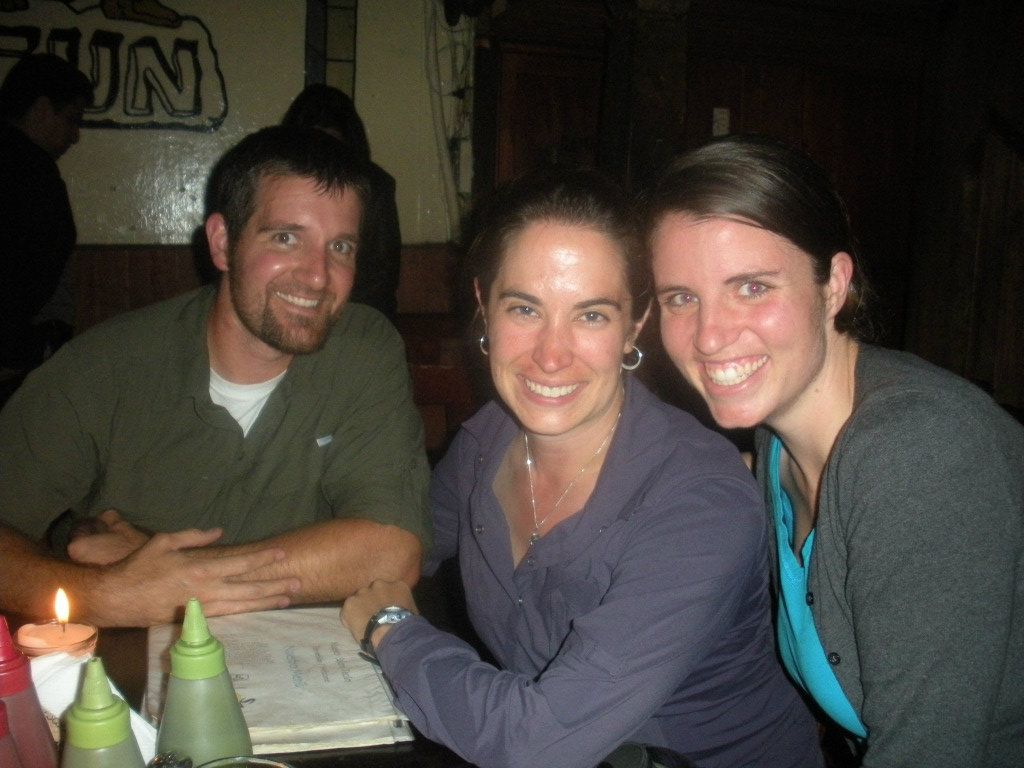 Shortly after taking a microbus from the bus terminal to the Parque Centro Am
é
rica
we were met by our Couchsurfing hosts for this leg of the journey. Jose and his roommate were very friendly and talkative (puro espanol in this case) and we ambled our way through the streets to their house on the outskirts of the town—the dense hillside forest that bordered the city was maybe a football field away. While we never, ever feared for our safety, Leah and I had our doubts as to whether we would really be on the same wavelength as these guys and that proved to be partially true. It turned out they were fairly young, lived in a less-than-modest apartment and were into an alternative lifestyle (Hint: four score and twenty years ago…). Aw heck, it was a total stoner pad. It took me back to places that I had seen back in high school, college and on the road in my bands…in short nothing that I hadn't seen before but not the kind of place I necessarily wanted to subject my wife to (yes, she is a big girl but protective instincts can and will kick in). We then found out that we would be sharing a room with a Chilean couple who were Couchsurfing as well and we knew that we would probably be in for a late and interesting night.
After meeting with Niki and making our way back to our hosts' home my spirits had dropped significantly. We were tired from traveling, in a foreign, urban jungle of a town, and I knew that we wouldn't have much privacy or the ability to call it a night when we really wanted to. Additionally, as we made it back to the house and proceeded to hang out in the upstairs room where we were supposed to sleep (I wasn't even sure if there were enough mats for Leah and I), it became apparent that being in a room full of fluent Spanish speakers was a bit more difficult than conversing with someone one on one as we did with Sandra. We made the best of it as the majority of our company proceeded to take bong rips and the night sky became afire with an oncoming thunderstorm. But that's where things began to change. Despite the meager conditions (in all honesty this was a band room!) the view from their home was stunning—and as most people can probably attest, any city can look amazing at night. Jose could tell we were tired and then informed us that we could sleep downstairs in his roommate's room.A sense of relief coursed through both of us as we knew we didn't have to try and stay up all hours of the night without somehow seeming rude or indifferent. It was about that time that I realized Jose and his buddies were filtering in different types of instruments—Peruvian flutes, a drum, a tortoise shell, a rain stick and various other percussive items. Prior to heading off to bed we were treated to an impromptu jam session of what we were later informed is called son, a traditional form of Guatemalan music. The beats were simple yet hypnotically tribal, built to showcase Jose's flute solos. Coupled with the ambiance of the rain stick (and the actual rain which was beginning to come down pretty hard at this point) the music was enthralling. It was a moment in time that we would not have experienced elsewhere.
After a half an hour or so, Leah and I made our way downstairs to the simple yet gloriously sufficient room that had our bed. In our exhaustion—and knowing that we would be leaving first thing in the morning—we proceeded to get into bed with our clothes on. As we lay there awaiting sleep with the intermingling sounds of rain on the roof and the jam session upstairs, Leah drearily said to me "see there is a silver lining." The stupor of my earlier disappointment and overall bad mood waning, I realized that I had forgotten the cardinal rule that I had often repeated to Leah andhad made its way into our marriage vows several years ago—always try and find the silver lining in everything. It's always there. Although this Couchsurfing experience was not necessarily what we had expected or wanted, hospitality comes in all shapes and sizes. These were good people with a different lifestyle who shared what they had and gave what they could. Somewhere outside of our comfort zone, in a town that did not capture our hearts as others might, we found a silver lining.
PICTURES AND VIDEO COMING SOON