Beer and Loathing in Honduras
LAGO DE YAJOA, HONDURAS: August 3-6; ZAMBRANO, HONDURAS: August 6-7
Leah:
I have to admit, I've been in a bit of a funk since we hit Honduras. It's a beautiful country full of friendly people and even seeing pine trees for the first time was a joyous occasion. However, the country hasn't gripped me the way El Salvador did and little things are really getting under my skin and I haven't been able to shake it off and remind myself that it's all part of the process and experience. It started with an @*$-hole bus assistant who took advantage of our tourist status and charged us double for a pretty significant bus fare (which we only realized once we got to our hostel). He's definitely in the minority, as we usually experience nothing but helpful locals and honest people on the buses we take, but that really steamed me. Then there's the refusal to make change for larger bills. I understand it at the small mom and pop stores, but when we're entering an incredibly popular national tourist site with hundreds of locals and visitors inside and it costs us 100 Lempira to enter and we give you a 500 Lempira bill, don't feign that you can't make change--I know you're lying. This reality is quite prevalent in many of the developing countries I've visited, but it's been particularly grating here. The costs for everything are also much higher than what we've been paying in other countries and being the budget warden that I am, it takes my breath away to see money disappear like water through a sieve for the first time. The food is also driving me crazy. I miss fresh vegetables, meals made without heaps of salt, drinks without sugar and if I never see another tortilla or frijole again it will be too soon; I love rice, beans and tortillas as much as the next person (hell, I married a Mexican!), but there hasn't been anything unfried or fresh to accompany them and we don't have access to a kitchen to make our own meals. I'm cranky about that and the only antidote is to eat the more expensive food at the hostel, which is flavorful and fresh but much pricier.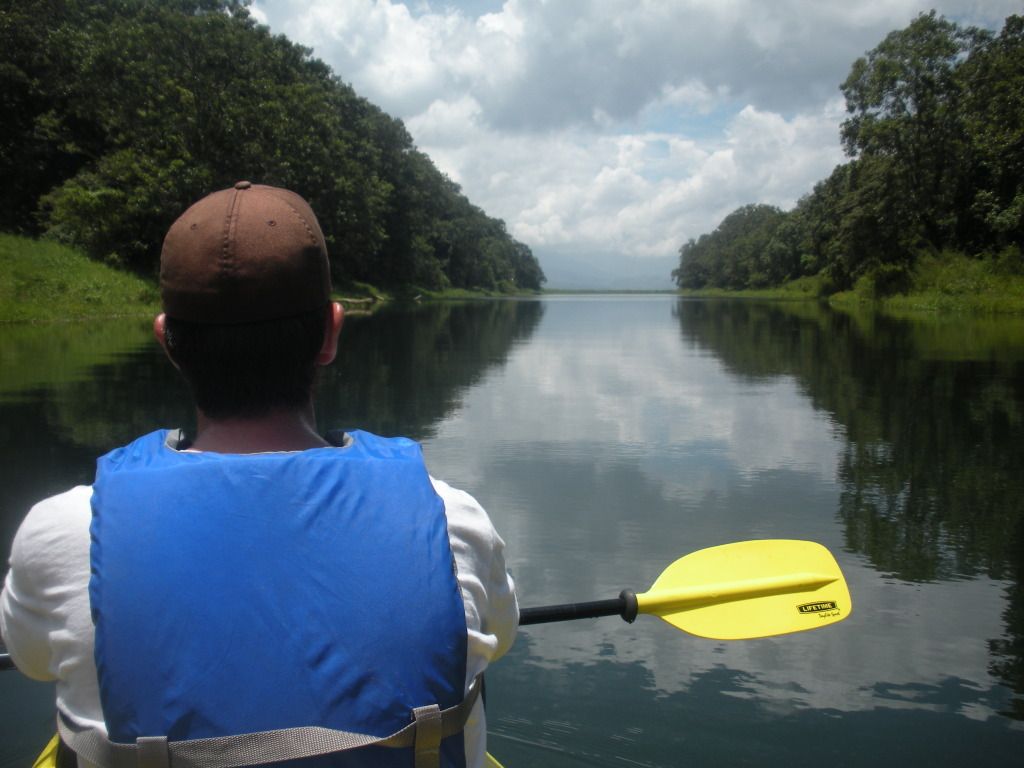 Finally, I've been thinking a lot about the trip in general and what's in store for us. Most of you know that I'm a planner by nature and profession, so as much as I've been trying to step back and let it all happen, I'm failing miserably. We're moving really fast through Central America and always needing to look ahead to upcoming Workaway and Couchsurfing requests, which is a love/hate situation for us (love meeting most of the people and having the experiences, but hate the time and hoping it takes to arrange them). And for me the speed issue relates to the fact that Steve and I are coming from very different opinions regarding how long we see ourselves travelling; I almost feel like we're migrating quickly so that we can see the top things on our list in an attempt to fit it all in before a certain amount of time passes. Anyway, there you have it. We promised from the beginning that we'd be honest with this blog--it's definitely not rainbows and gumdrops all the time, but fortunately we've taken turns being in the doldrums and can therefore support one another when we hit bottom. Steve's been amazing putting up with my mopey, whingeing, crap-attitude self these last few days, but I know the tables will flip again eventually and I'll need to be there for him.
Steve
: I'm at a microbrewery (
D&D Brewery
) in the central Honduran highlands, where we've been able to kayak, climb behind a 43 meter (about 141 foot) waterfall, and lounge with cheap and refreshing
licuados
(when not enjoying a porter or pale ale of course). So at the moment I am loving life...except for the fact that the wifey isn't so happy. But as she mentioned, traveling like we are comes with its ups and downs; fortunately when I've been down she's been up, and vice versa. We've been able to hold each other up when the other isn't really digging the place we're at or the way things are going. Needless to say my version of the past couple of days is going to be a bit brighter than Leah's so without further ado I shall commence.
I'm going to just gloss over the
ayudante
that had us pay double the fare (we paid about an extra $5 which will go a long way out here) since it's in the past and not worth dwelling on. We made it to the D&D turnoff without any other hassle--as the brewery/restaurant/hostel's website notes they'll probably already know where you're going ("because you're a gringo" is what they forgot to add)--and we promptly settled into our room so that we could come out to the restaurant for some beer samples and WiFi (for those that know us, I'm the beer drinker...Leah can't stand the stuff; and for budget-purposes if not for moderation I've only had one a night at the brewery). We met the establishment's owner Bobby, a younger American from Virginia who remained in Honduras after completing a year-long volunteer opportunity, and got to know more about his experiences and what kept him in the country. For a young, single guy he's got a pretty good set-up out here (don't worry sweets, I'll always be happy you're my
duena
).
baleadas
from the night before. Oh, apparently we haven't touched on baleadas; this is the most common Nicaraguan snack/meal around. This exotic delicacy is comprised of...wait for it...a flour tortilla typically filled with beans and additional ingredients ranging from eggs, chorizo, cheese, etc (
Leah:
and dripping with butter and cream and nothing remotely resembling a vegetable. Actually, we did find some made with avocado in Santa Rosa, but nothing close since then). For all intents and purposes it's a Mexican burrito served like a quesadilla. I'll make you each one when we're back one day.
While we were being pulled through the waterfall--with an ungodly amount of water crashing over your back and with absolutely no visibility--I wondered what fool(s) attempted this in the first place, risking (and quite possibly losing) their lives in the process. And then I wondered if this would even fly in America or a Western country; OSHA would have a field day and with insurance liability something like this would probably cost a couple hundred bucks. Luckily for us we got to experience this for cheap. And lucky for us the torrent of water does a good job of hiding the fact that you're peeing your pants.
Leah:
Yes, the waterfall experience definitely ranked right up there among the things we debated sharing on the blog due to the danger factor, but it was simulteanously one of the most amazingly exhilarating. May I remind you that the falls are 141 feet high and you quite literally are clambering around at the very bottom in the frigid water, struggling to see against the stinging spray, diving underwater and having to swim across some of the pools. IF this were offered in a western country, not only would it be crazy expensive as Steve mentioned, but you'd be wearing hard hats, goggles and would be tethered and clipped in to a safety wire. Don't worry, we never 100% felt like we were going to be whisked away and the guides were pros, but our adrenaline levels were off the charts the rest of the day.
Caserio Valuz
(scroll to the bottom of that link for pictures and descriptions--he doesn't have his own website yet). We had planned to stay 2 nights with him, but had to shorten our stay to 1 night in order to book it to Costa Rica. The second we were deposited at his gates by a neighborhood pick up truck, we knew this would rank right up there with our best CS experiences ever. The inn is a good 20 minute walk from the road and surrounded by pine trees, rolling hills and passing cattle. There are hummingbirds aplenty, a small garden complete with a pomegranate tree, fruits, vegetables, and coffee plants: swings, hammocks on the porch and the sweet scent of freshly cut
mariposa flowers
from the garden softly scenting all corners of the inn. And the inn itself? A lovingly cultivated museum of sorts, full of photography, trinkets, art, pottery and textiles from Jorge's world travels (he has been damn near everywhere) and most incredibly, museum-quality pieces representing all facets of the Catholic faith, which of course had us in awe. Saying this inn/home was beautiful would be akin to saying Notre Dame is comprised of a bunch of stacked stones--there are truly no words to describe this living work of art.
And our host himself? A native Hondureno, Jorge is vibrant, intelligent (he speaks 5 languages, including German), spiritual, a food lover and might share the title with Jayna for the best hugs ever. Oh, and his uncle was friends with Che Guevara to boot. We talked with him for hours and he graciously walked us through every nook and cranny in his inn, as well as all 15 rooms, explaining where everything came from and what it meant to him. It really was like being with a curator. We enjoyed a lunch at a local Chinese joint where we polished off two large plates of chicken lo mein (yum!) and then enjoyed a late afternoon espresso and a stint meandering through his garden. As chance would have it, there were also 2 other Couchsurfers staying with him, Jeremie and Arno (more on them in another post), both from just outside Paris. I was able to practice my French as we all piled in the car and drove off to a smaller village where Jorge wanted to shoe us a more provincial local lifestyle.
here
). We skirted cow pies, chickens, laundry drying on fences and were even invited in by a local woman who was roasting coffee beans by hand in the traditional manner. We even learned that two Peace Corps volunteers used to be stationed in the village, but apparently the Peace Corps program in Honduras was suspended in January of 2012 and all volunteers evacuated home due to safety concerns after one volunteer was shot in the leg on a bus holdup last December (Jorge told us every year in December there are problems with bus holdups and finally the US government had had it in January after a second holdup occurred. He even used to have a restaurant and hotel in the capital that was right across from the Peace Corps offices, so he's always been very close to the PC volunteers in the region). For as dangerous as Honduras is supposed to be, we never saw any overt signs and were very surprised to hear all this. We rounded out our evening at a local family's house, where they occasionally cook for Jorge's Couchsurfer visitors. Dinner consisted of seasoned grilled beef, pico de gallo (hooray!), a large slice of avocado (double hooray!), beans, rice and plantains. It was delectable, fresh and surprising what a few additions to the typical Honduran meal can do for the palate and general humor.
We loved ending our time in Honduras at Caserio Valuz; while we were gutted to move on so quickly and not spend the time that we wanted with Jorge, we were thankful that our paths were able to cross and hope to return one day to properly experience his amazing hospitality and home...or welcome him in ours wherever we may be!
CLICK
HERE
FOR MORE PICTURES (and in case you haven't realized it, you can click on all pictures to the left of the post to see them as a larger version).