Steve:
Our first WorkAway experience is going to be one for the record books. The work itself was nothing special--we spent the first several days scrubbing a concrete floor in preparation for a new coat of wax--but it was our hosts that made it truly memorable.
Let me start at the beginning...getting into Costa Rica was a fairly simple exercise seeing as how we went with a charter bus service rather than trying to cross the border via chicken buses. The only snag was that at the Costa Rican immigration we were initially turned away because we didn't have proof of onward travel; we were directed outside where a conveniently situated Tica Bus agent was waiting to write open ended bus tickets for travel back to Nicaragua or onto Panama. Did I mention how "convenient" this was? So after shelling out $100 USD we were able to prove that we weren't intent on setting roots in their beloved country, we received our stamps and went on our way. In the end everything worked out on time and we made it into San Jose with plenty of daylight; throw in a taxi and a cheap bus ride and we made it to our destination of Ciudad Colon.
Arriving at the gates of
Finca Saramandaia
we soon found ourselves walking down through a thickly forested driveway. After passing two smaller houses and assuming that we were heading the right way we encountered a young man heading up the path--a quick conversation ensued and we found that he was a fellow WorkAwayer who just happened to be leaving after his own two week stint at the farm. He didn't have too much to say, good or bad, about the people or the work. Good thing, right? Well, we quickly found out after our arrival that this WorkAwayer (who shall remain nameless) set the stage for us to look like gold. Apparently it was his first time out of the U.S. and he's never held any sort of job, much less had clean up after himself. Leah and I have been ready to try anything or dive into any task so we knew that we would at the very least make a good impression.
As I mentioned the work at this farm was fairly straightforward, at worst tedious. For 4-5 hours of work a day for 5 days (which we didn't necessarily even have to fulfill) we were given three meals a day and our own
room and bathroom
(for about three-fourths of this arrangement we actually house-sat for their neighbors so we actually had a whole house to ourselves...I'll let Leah fill you in on that). I should also mention that seemingly everything we ate was homemade and/or locally sourced, i.e. homemade bread, jams, sausage, etc. So even though we spent the first several days on our hands and knees scrubbing floors or cleaning walls, I'm pretty sure that I've gained back some of the weight that I've lost since we started this trip...and deliciously so.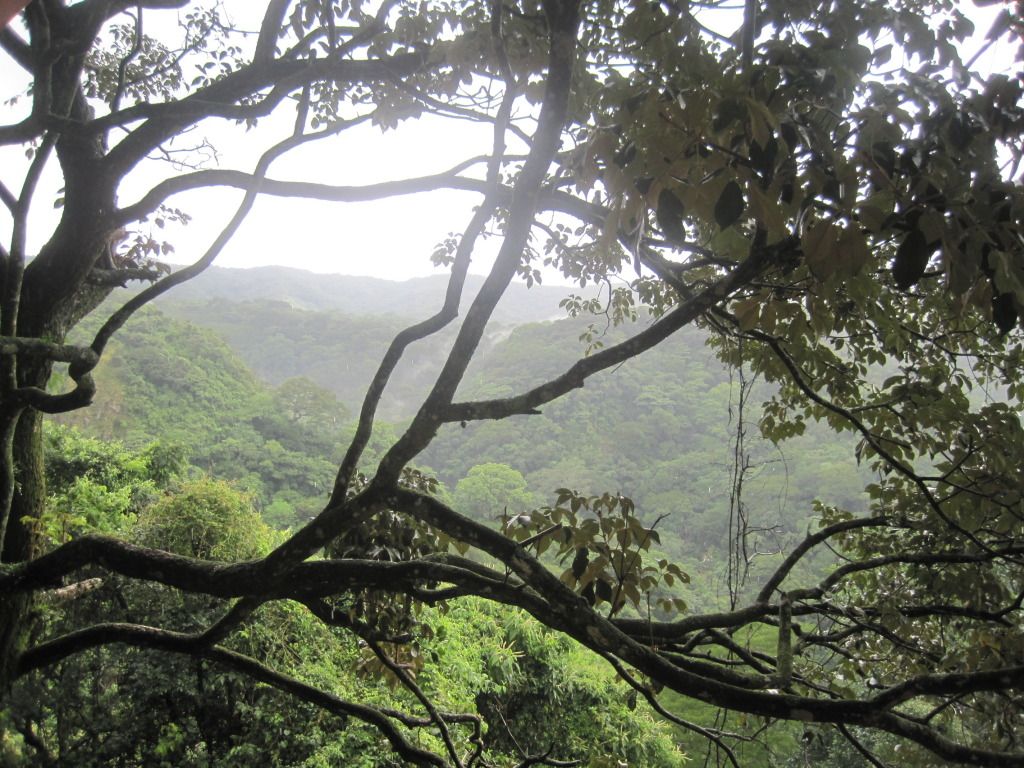 That brings us to the woman that puts together these fine meals--Sharon, the talkative, incredibly opinionated, always entertaining matriarch (and doctor) of the family. Her husband Dick (also a doctor by virtue of his degree in geology) and daughter Maia are both friendly and engaging but it is clear who is at the helms of the S.S. Saramandaia. Leah and I found ourselves thoroughly ensconced in conversation at every meal; while we didn't always agree with what she had to say (if not at times ever-so-slightly offended), she had intelligent and well-founded reasons for her points of view. Throw in the fact that she was born and raised in Boston, has lived a truly international life, and can do killer impressions of the people that she's met and you find yourself hurting from laughing so hard. Seriously, I wish I had videotaped the rendition of her Long Islander sister-in-law or the really bad Spanish spoken by a local woman originally from Detroit...nothing I say can really do her justice.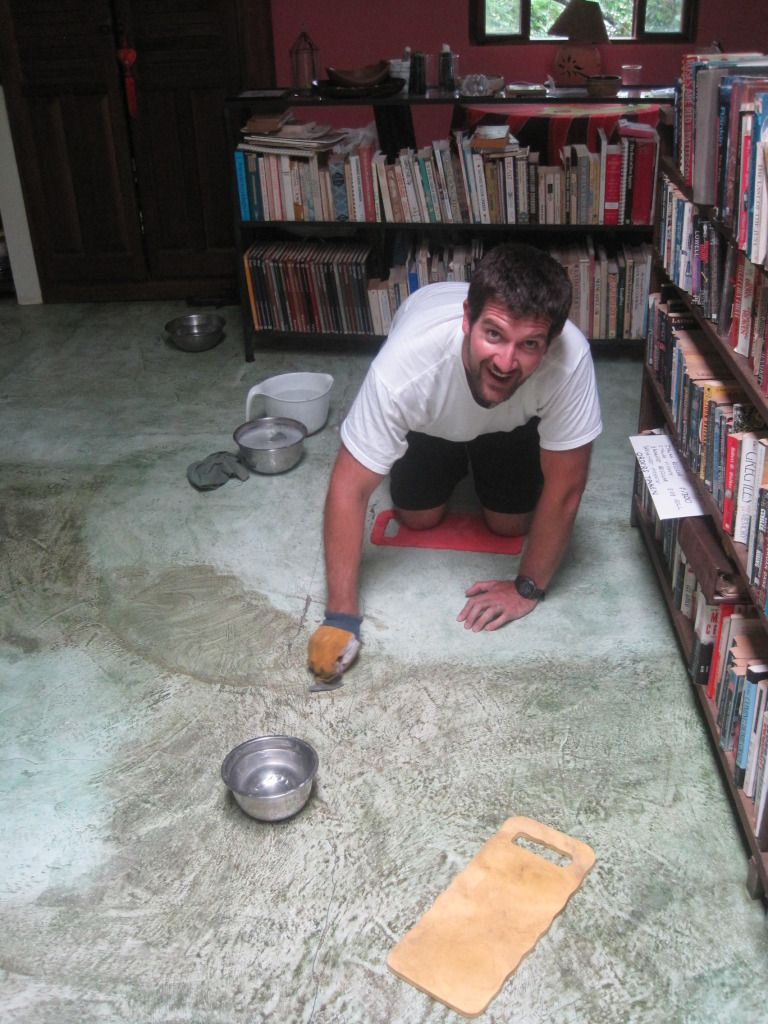 Leah:
Agreed on all fronts; it's been a while since I laughed so hard my abs hurt for days and the tears flowed in streams, but that was a daily occurrence with this family. From the moment we read their Workaway
listing
we knew these were people we needed to meet! They actually bought their land here 40 years ago and left it completely for 2 decades so the jungle could grow back to its original habitat after being farmland for so long. For part of this time they lived in Brazil, where Dick had a visiting professorship, so they speak fluent Portuguese in addition to Spanish. Sharon is a family physician and obstetrician, so she has close ties to the midwife community here; in fact, the other houses on their property are typically rented to expectant mothers and their partners who have opted for a home birth on the finca. Maia, a worldly 22-year-old, has been working on a novel for the last 7 years and spends much of her day painstakingly editing and re-writing in preparation for its debut at the end of September. And then there's Dick, the solitary male in a house of women--I don't think we've ever seen him sit down besides at meal times, as he's always attending to the finca tenants' needs, running into town for various supplies and otherwise engaged in maintaining this vast property. Sharon, Dick and Maia are also enthusiastic home exchangers and they regaled us with stories of their international travels and the incredible (and not so incredible) places they've stayed through home exchange and the friends they now cultivate in every corner of the world. I think Steve was thrilled to see me acknowledge that this would be a powerful benefit to owning our own home, though I haven't fully acquiesced yet.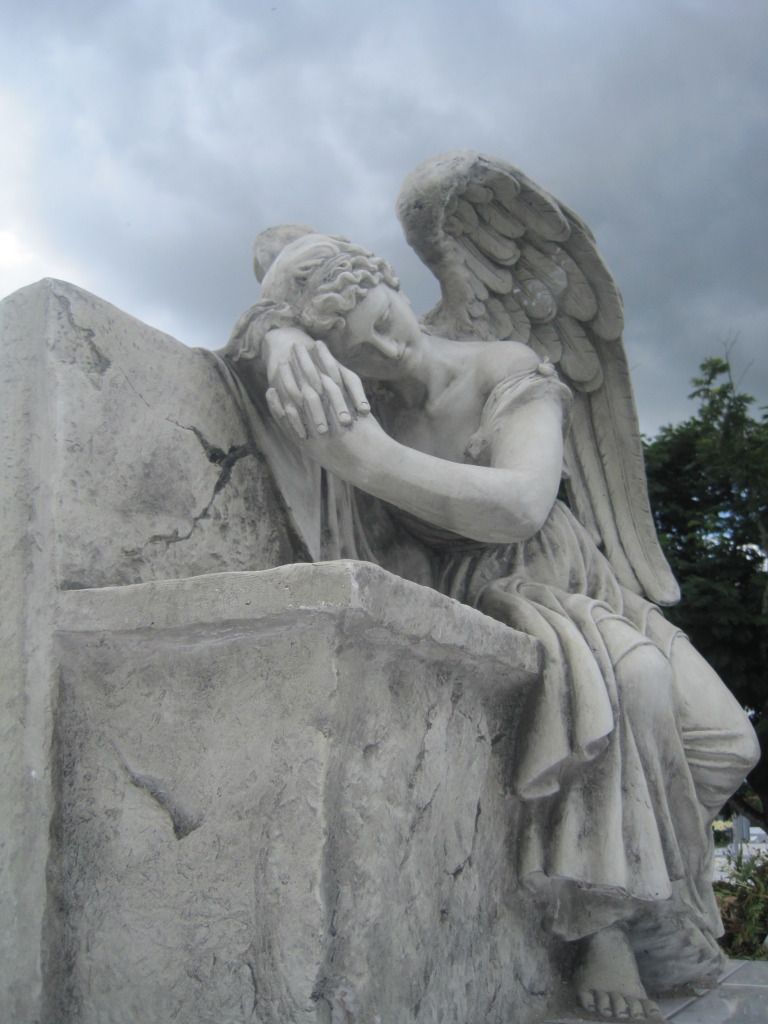 Then there's the breath-taking flora and fauna--steep slopes, lush foliage, exotic flowers you pay $10/bloom for in the States, iridescent butterflies, toucans that sound like frogs when they vocalize and monkeys cavorting in the trees. Every day we got to watch the rain and fog descend into the valley, sometimes violently with spectacular lightning shows and torrential rain, and sometimes easing in without much fanfare and just a sprinkling of rain. We hiked down to the river one day, stopping by to say hi to the pigs and chickens and stepping over a dogged and determined procession of leaf cutter ants the whole way down the slippery muddy path. Once there we bagged sand to haul back up for the family garden and then waded across the water to settle in on some rocks where we read and watched for critters for a few hours, the cool water lapping our toes and the incessant jungle hum filling our ears. On the way up we even saw about a dozen monkeys swinging through the trees right near the chicken coop--they've been known to eat/attack squirrels, and in groups apparently even go after small dogs and cats. Other days we helped grind corn or move items between houses, and then used our free time to visit the local cemetery, go crazy at the local farmer's market or pick through the family's vast book collection covering entire walls--my kind of people!
At one point Maia graciously agreed to be our tour guide on a horseback riding expedition; she'd been riding the trails from the age of 9, so we piled into the car and Dick kindly drove us to the ranch on the other side of town. I had just finished telling Maia how eyeballs and anything related to them make me completely squeamish when we turned to see our horses being led out and saddled up. As we all swung up and over onto their backs we inquired as to our new friends' names, but when we got to Maia's horse the ranch-hand said something unique and we asked why that name was chosen. He informed us it was because the horse was missing an eye--which became all too apparent when she swung her caramel brown head my way and I saw the collapsed milky eyeball <shiver>. I tried to keep it together like the grown-up 30-year-old that I am, but it skeeved me out for the rest of the trip.
It should be no surprise that horseback riding out here was a bit different--no helmets (in addition to saddles without horns, so there wasn't a whole lot to hang on to), no official guide and no questions about how many times we'd ridden before to gauge our experience level. And it goes without saying that back at home you probably wouldn't be given a one-eyed horse to navigate steep and rocky paths through dense wilderness. But we're in Costa Rica after all, so Steve and I followed Maia and her cycloptic beauty queen down the road at a gallop, which I can honestly say I've never done before--LOVED IT! Wind in my hair, crazy amount of muscle and hooves pumping beneath me, complete adrenaline rush and behind me my poor husband's garbled cries of pain as his man bits repeatedly slammed into the saddle.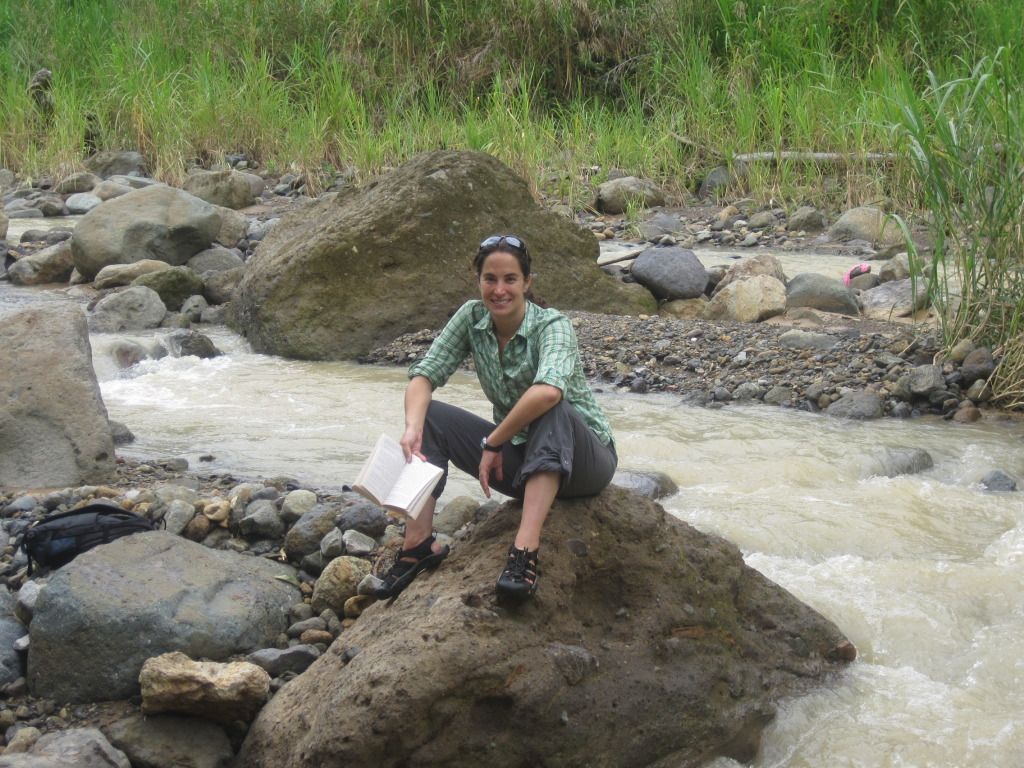 We galloped up the hills and picked our way over some pretty dicey rocks and muddy slopes (my mantra for my horse, Columbiana, became "cuidado, cuidado"--careful, careful), all the while encompassed in living green pulsing with waterfalls, flowers and butterflies. Then at one point Steve's horse took off at a run and whapped his head straight into a low-hanging leaf the size of a dinner plate. Said leaf promptly adhered to the front of his face causing some warranted shrieking when he couldn't see where he was going--I almost fell off Columbiana I was laughing so hard. After our equine adventures, we enjoyed a leisurely stroll through Ciudad Colon, where Maia shared some local knowledge regarding the best snacks and stores as Steve and I sipped on frozen
cas
flavored bolsitas and trailed behind our adopted guru.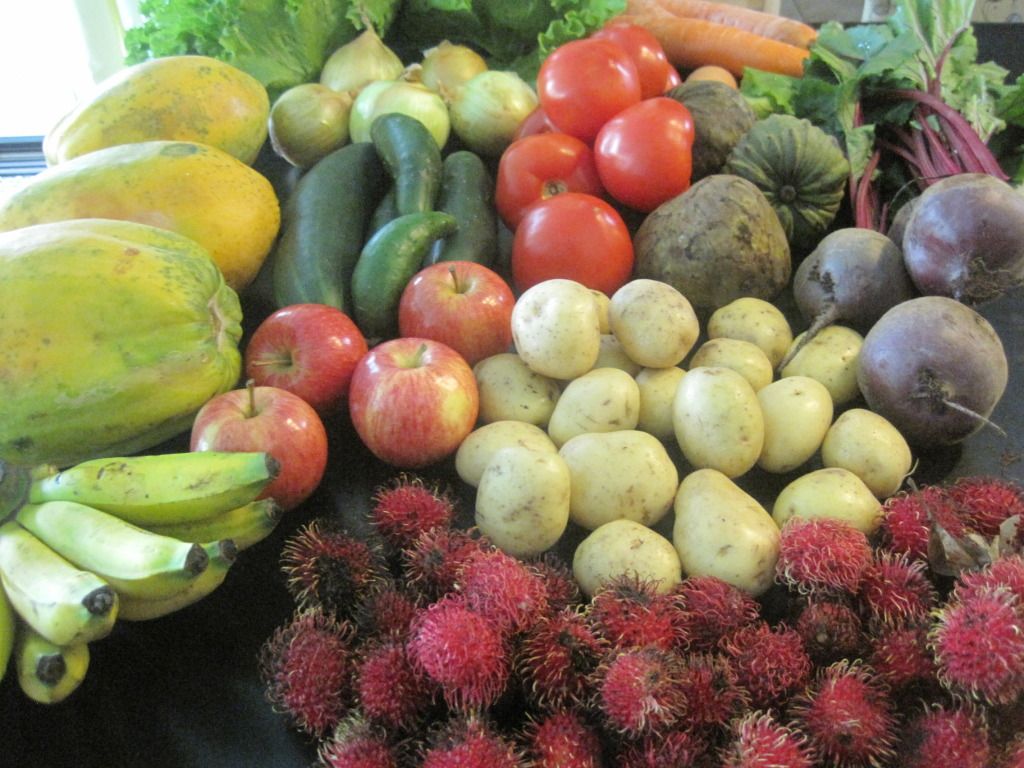 I should interrupt myself at this point to explain that one of the reasons we stayed in Ciudad Colon for this amount of time had to do with a house sitting opportunity, which Steve alluded to earlier. Sharon and Dick's neighbors were going to be visiting Canada and Sharon had promised to find housesitters and someone to feed their outdoor cat, but Nick, the Workawayer we passed on the road when we arrived, had bailed on filling that role despite agreeing to it earlier. Since we're flexible and accommodating, we had agreed to step in and help...which ended up not being too shabby. The house we agreed to "sit" is linear and modern, complete with large windows everywhere, a back patio high above the sharply sloped yard overlooking the valley, a full kitchen, washer and dryer (!) and creative
"doors"
for the bedrooms (huge art canvases mounted on tracks that you simply push shut). I could have done without the cow hide rug on the bedroom floor (quite real and complete with brand marks) and the animal print accessories, but we were living the life.
The first few days we woke up, whipped up some breakfast (the eggs here are other-worldly...light, fluffy and the most incredible flavor) and simply sat around reading books, eating
maracuya
(passionfruit) and watching the jungle for hours on end, in addition to the daily
rain storms
. And of course we were still welcome to eat and socialize with Dick, Sharon and Maia and continued assisting with light tasks, so it worked quite well to have our own space but still maintain contact with our Workaway family. But the best part by far was our last day here; I was putzing around online and Steve was reading in a chair by the window when I heard an urgent shout: "monkeys, monkeys, grab the @#$(!@ camera, quick!" There were two of them mere feet from the window-watch the video
here
- watching us, eating and possibly hunting the cat (we had just fed him and he was on the back porch meowing). It was a terse few minutes, with our simian pals staring at us brazenly as they moved among the trees and us not knowing if we'd have to go all Tarzan and save a cat from wild monkeys--definitely a bit freaky.
At one point we also had to make an inevitable foray into frenetic San Jose itself to secure an actual travel date and seats on the Tica Bus to Panama City that we were forced to purchase at the border, so we tried to make the best of it. We strolled around the compact downtown area, taking in the plazas, churches, stores and chaotic energy...and maybe indulging in McDonald's as a guilty pleasure, much to our disgust. However, my favorite part was visiting the
Museo de Arte Costarricense
, which is now housed where the old San Jose airport used to be until 1940. This art deco museum, a piece of art in and of itself, houses permanent and traveling exhibits from Costa Rica's most celebrated artists. We strolled through the space marveling at exquisite watercolors and the traveling exhibit consisting of collage and found object pieces from
Zulay Soto
before making our way to the larger than life outdoor sculpture garden. And the best part? Totally free, which meant we felt okay splurging on smoothies when we reached Ciudad Colon!
It's been a lovely few weeks here and while we'll miss the food, laughs and outside-your-door jungle scenery we've come to love, it's time to get going and check out more of Costa Rica (although I'm now considering the possibility of returning to Finca Saramandaia at some point in the future to have a baby--Steve is TBD). The next week will bring white-water rafting, national parks and the Pacific coast before we head to our second Workaway job on a cacao farm, where we'll be for a week before heading to Panama City. Hasta lluego!
CLICK
HERE
FOR MORE PICTURES