Leah:
After being deposited in Leon a fair hike from the city center and momentarily forgetting how to read our map, we endured an unexpected, sweaty, sore, and cantankerous walking expedition through the periphery of Leon in pursuit of our hostel. Right at the point when we were about to attack one another like savannah beasts, I purchased 2 ice-cold bolsitas of atomic purple pitaya (dragonfruit) juice; thus fortified we managed to right ourselves and our moods and make it to
Lazybones
, where we plunked down $8/each for two beds in a dorm (which we had entirely to ourselves for the next two nights). Loved this hostel--beautiful pool, free coffee for Steve, hammocks around a beautiful open courtyard, super clean and even nightly bats that swooped down the corridors.
We spent the rest of the day exploring Leon; not only is it a bustling university town full of students, but it boasts phenomenal colonial architecture and was a political hotbed of Sandinista activity and fighting during the 1970s Revolution. Leon had a gritty feel and in fact the tops of many of the buildings were blackened by volcano ash and soot, as numerous volcanoes ring the outskirts of the city. We checked out the largest cathedral in Central America, wove through the serpentine market stalls, ogled the elaborate and plentiful political history murals and even indulged in some more
sippable bolsitas
, this time filled with
tiste
(spiced maize and cacao) and
semilla de jicaroa
(hickory seed, which tasted like a cholocate liqueur). Before the sun set we also meandered over to
Quetzaltrekkers
, a local nonprofit tour company run by volunteers that donates all proceeds to organizations working with street children in Leon. Why not support the greater good when booking our
volcano-boarding
tour for the next day?
The next morning we were up well before our alarm (having your dorm room right off a major road will help that occur) and after scarfing some hot beverages and a granola bar, we made our way to Quetzaltrekkers. As luck would have it, 3 of the people in our tour group were attending The University of Colorado-Boulder (and even looked like your garden variety, organically-grown Boulder hippies to boot), so it was lovely chatting with them about my old collegiate stomping grounds as our transport bounced around through forests and muddy tracks for about an hour, avoiding the pigs and cattle that littered the road. Once we reached
Volcan Cerro Negro
our guide, a young chain-smoking Welshman, informed us that we'd be carting our boards to the top of this ashy, black behemoth before sluicing down the slopes at the end. Oh yeah, and after erupting every 9 years like clockwork, our volcanic friend last spewed in 1995 and is long overdue at this point, which we pushed out of our minds as we began the climb, trying to find a stable foothold that wouldn't give way in a mini avalanche of coal-black rocks and sand.
As luck would also have it, our group encountered unbelievably strong and whipping winds as we picked our way up the slope and along the ridge--even our guide said he'd never seen anything like it before. We were able to stash our boards and lean all the way toward the ground, while the force of the wind kept us upright (for all my SAS friends, it was just like Booty Point on the ship!). Temporary fun aside, it was brutal trying to maintain a grip on our bulky boards, not get blown off the path (at several points I had to drop to my knees to avoid being pushed over the narrow ridge and down onto the steep volcanic slope) and find footing that wouldn't give way and slide backward under us. Having finally conquered the upward trek, we suited up in our gear (super sexy goggles, gloves and protective body suits), situated our bums on the boards and pushed off from the top. I had a bit more luck than my dear husband in getting my board to actually slide downhill (as this
action sequence video
shows) and thoroughly enjoyed my first trip down. It wasn't dangerously fast, but it was a quick pace and I definitely had some wind in my hair (and Jayna giggling in my ear) the whole way down.
Once at the bottom, I waited for Steve, who was understandably grumpy and frustrated upon arrival after having done nothing but accrue ash and rocks on his board--for some reason he never got good momentum (
Steve
: There's a smooth laminate that is adhered to the back-half of the board's bottom that is supposed to create a slick surface; mine was pretty much non-existent so my board would slide ten feet and then stop. And it's a long way down that volcano. Tell me you wouldn't be P.O.'d if that had happened to you!?!). After a snack, we voluntarily decided to subir again, this time in the heat of the day, for attempt #2. There was no wind this time, gracias a Dios, and we repeated our hike-carry-suit up-slide sequence in record time--even Steve managed to tear up the volcano this time around--and ashy, dirty and tired, we enjoyed some lunch and checked out the adjacent iguana farm before heading back to Leon with the group.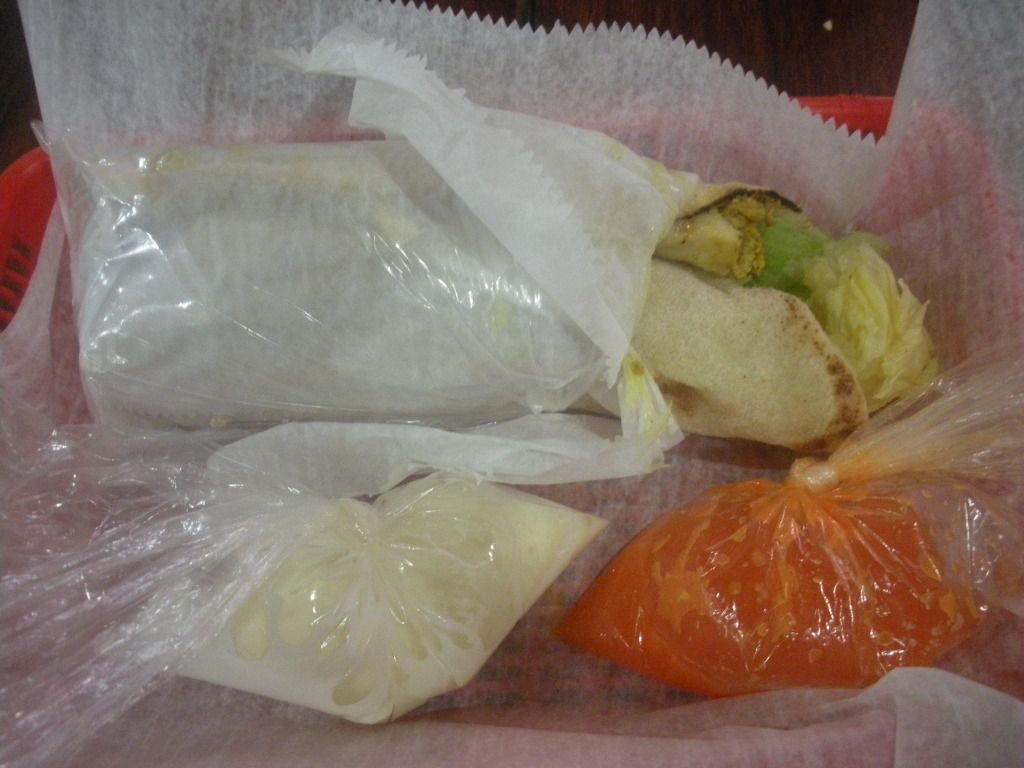 We wrapped up our final evening in Leon on a quest for food (shocking, I know), not knowing exactly what we wanted but agreeing that it needed to be cheap (yet again, shocking). We were about to settle in at a pizza joint when I hemmed and hawed and Steve suggested that we walk one more block just to see if there were any other options. Lo and behold we found an outdoor foodcourt of sorts right across from a beautiful church and there happened to be a sign for chicken shawarma, which we saw sizzling on a spit right there. We figured we'd give it a try as a pizza prelude, and ordered one up, knowing we'd only be out a couple bucks if it was unpalatable. Shawarma wrap in hand, we sat on the rim of a nearby fountain and took a few hesitant bites after drizzling it with spicy and garlic sauces from the provided bolsitas and were immediately transported to salivary heaven. This was the best damn chicken shawarma we'd had anywhere--and in Leon, Nicaragua of all places!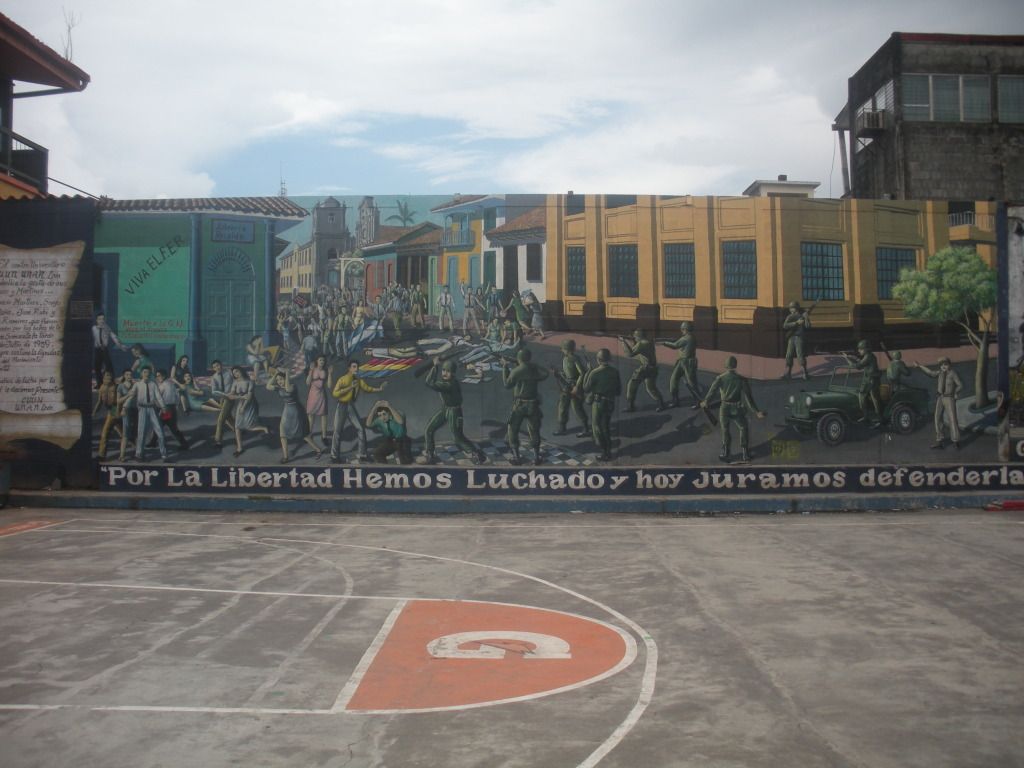 The wrap was huge, the sauces were perfect and the hunks of marinated chicken nestled between crispy lettuce leaves and dripping with flavor had us moaning out loud (Mom-there weren't any yas either!). Having split our taster shawarma, we quickly eschewed the idea of pizza and bought two more wraps; we were starving and when you find a flavor that doesn't resemble the typical rice and bean staples you've been eating nonstop, you go big or go home. We then finished off the meal with scoops of dragonfruit and watermelon sorbet (me) and mango sorbet (Steve) as we walked back to the hostel, where we showered and collapsed into the hammocks to read as a deluge pounded the city and the bats zipped within inches of our heads.
Steve:
We would have loved to check out Leon and the surrounding area a bit more but we've been on an accelerated schedule to make it to Costa Rica by the 12th. Having consulted our guide book we figured that Granada would be the best place to split our time (that and the fact that it was a better place to catch our Tica Bus than the busy metropolis of Managua). So in an effort to make the most of our time we got another early start and bussed ourselves to the colonial town of Granada.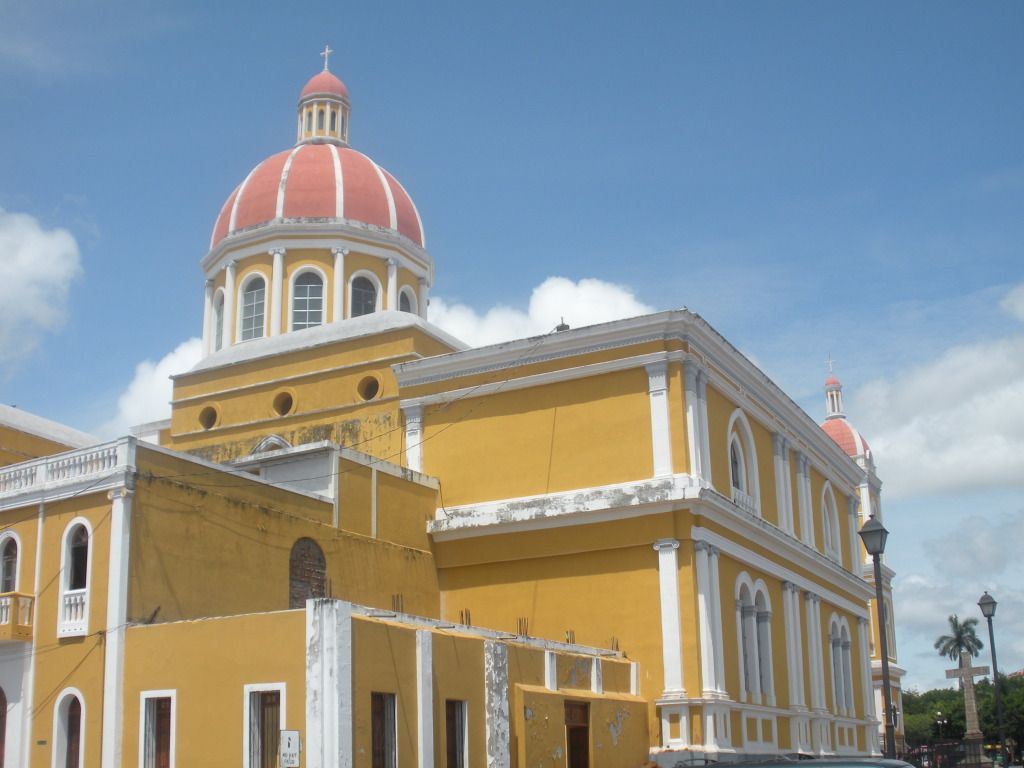 Granada (ahem, not to be confused with the Caribbean isle of Grenada) is a bustling tourist town situated on Lago de Nicaragua. For all intents and purposes, it is Nicaragua's answer to Antigua--beautiful, well-maintained architecture, relatively pleasant weather and a laundry list of tourist attractions that could be booked from any of the numerous tourist agencies. Oh, and lots of gringos of course. (
Leah:
speaking of laundry, I had been wearing the same pants and shirt for well over a week straight--as previous blog post pictures show--but you'll be pleased to know that once we hit Granada I opted for a clean shirt. Steve was getting desperate and thinking about asking people to dare me to change my clothes, but when you keep getting sweaty and dirty day in and day out, why would you sully a new shirt?)
After arriving at the central park (it's almost like
Groundhog Day
showing up at every new Latin American town) we walked a few blocks to orient ourselves and then asked some locals for directions before we could enter the realm of crankiness. In no time we found our preordained hostel of choice--Amigos B&B (
Leah:
$6 each for dorm beds, again, room to ourselves)--where we dropped off our bags so we could take a cursory tour of the town and get some food in our bellies. As I had mentioned Granada has "relatively" pleasant weather, especially for Nicaragua, but it was of course getting hot and muggy. Even though we had a decent lunch and didn't have hunger nagging at us we started to get a little irritable when lo and behold we stumbled upon the "free"
Choco Museo
(I say "free" but how could any visit to a chocolate museum really be free?).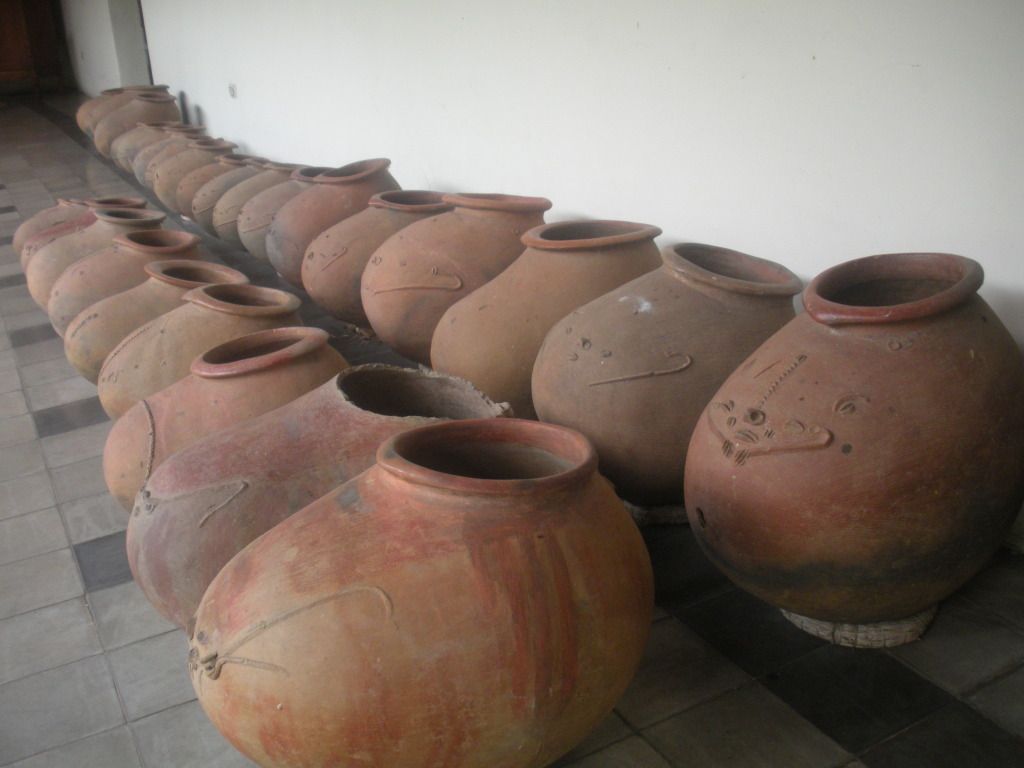 This nice museum/shop works in collaboration with local farming cooperatives and has surprisingly in-depth displays about the history, biology and production of cacao (
Leah:
and they lured us in with free full-sized glasses of iced cacao tea. Yes, please). We all know how this visit is going to end up so I'll get to the point--we shared an iced cacao drink that blew my mind. Chocolate milk as I knew it was just crap-colored sugar-milk compared to this stuff; especially for a coffee and beer lover, this intricately bitter and sweet concoction was heaven. The dopamine receptors in our brains were simultaneously bombarded with this drink's natural properties and we decided that we would be getting them the next day as well; as if the stars were aligning we discovered that the museum's adjacent partner hotel had a nice pool that could be used for $5 a day. Without much discussion our Saturday plans were set.
Leah:
From there we took a quick detour into Mi Museo, a free (of course!) museum housing a private collection of over 5,000 pieces of pre-Columbian ceramics--jars, plates, urns and jewelry. The urns were the best; they were shaped like stomachs and the descriptive text indicated that many have what appears to be Fallopian tubes and Cesarean-section scars adorning the outside, perhaps showing that early societies understood the former and practiced the latter.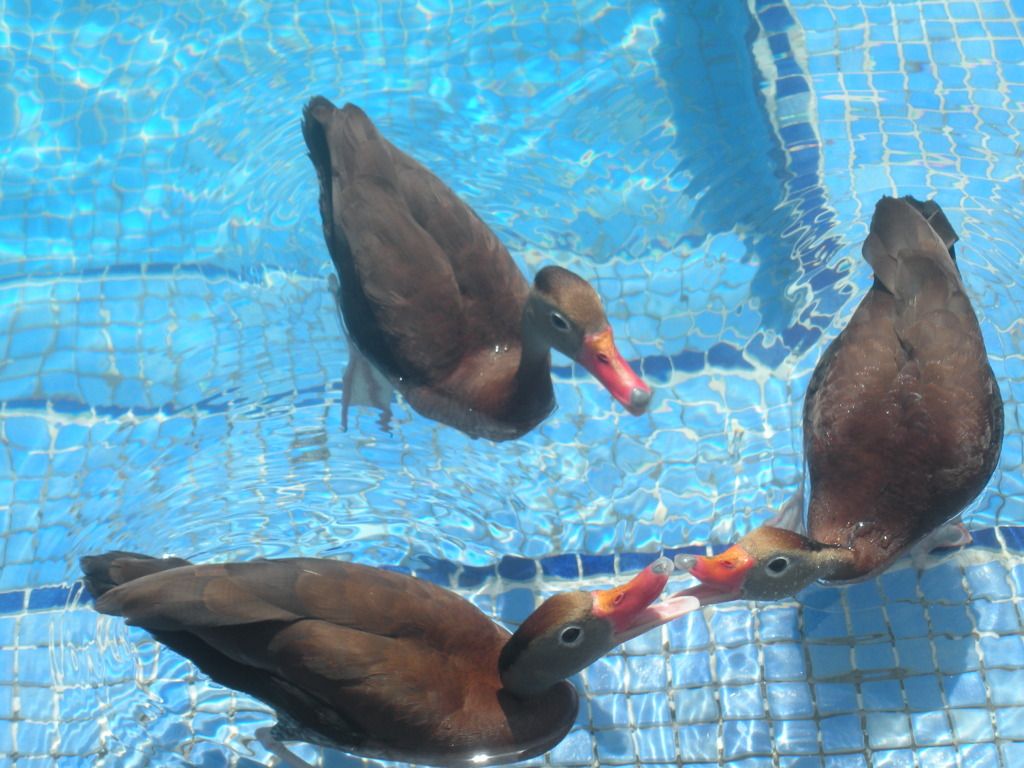 Steve:
Ok, so the quick rundown on the rest of the day's events: we ate dinner later. Read a bit. Slept. Woke up. Walked down to Lake Nicaragua to say we did (
Leah:
and I made Steve take tacky, fully-clothed pinup-esque
pictures
of me on the esplanade--trash and dirty water in the background only make it that much more legit!). It started getting hot. We looked at each other and told ourselves that it's okay to spend one of our four days in a new foreign country swimming, lounging and drinking iced crack...I mean, cacao. So that brings us to the highlight of our Granada visit, the pool at the Hotel Spa Granada (a.k.a. the
Mombacho Beach Club
). We pay the $5 and get our wristbands and hope to God that a) the pool isn't really some algae-infested glorified bath tub, b) isn't overrun with screaming kids or annoying teenagers and c) a storm doesn't steal our thunder (bad pun completely intended).
Luckily for us none of the above happened and we had a perfect afternoon of reading, swimming and essentially doing nothing.
(Leah:
And the current in-house art exhibit just happened to consist of various vibrant and soulful paintings of the city's street dogs, many of which were curled in positions all too familiar of Ming--we loved them.) There were a couple of other European sunbathers but in all reality the only creatures that we had to share the pool with were a trio of ducks (black-bellied whistling ducks perhaps?) that clearly thought they owned the place. In all honesty, we conceded ownership and that made life a whole lot easier--we were guests in their pond, no more, no less. Joking aside we felt a little bit of guilt at spending the day like this but it was the best thing we could have done; we took care of ourselves and got a bit of a recharging before the next day's early trek to Costa Rica.
And the iced crack didn't hurt either.
CLICK
HERE
AND
HERE
FOR MORE PICTURES.