Caution, Peligro!
SAN JOSE, LIBERIA & QUEPOS, August 24-September 1: COSTA RICA


SAN JOSE, August 24-26:
Leah: After moving on from Ciudad Colon and our cush house-sitting gig, we trekked back into San Jose--the suburb of Moravia to be exact--where we bedded down with our Couchsurfing host, Carlos, and his precious two dogs. A Tico himself, Carlos is in his late 30s and was formerly married to an American; this lifestyle combination meant he was completely at ease both discussing his favorite states to visit in the US and his thoughts on the ending to Lost, as well as explaining Costa Rica's history, politics and cultural aspects. We arrived late afternoon and passed a few hours in the typical Couchsurfing getting-to-know-you banter, after which he left us to tuck in early for our forthcoming white-water rafting adventure while he met up across town with some college buddies.
Steve and I had decided that rafting would be our splurge activity in Costa Rica—he had never done it before and it had been years for me. To top it off, our friend Sharon of Finca Saramandaia fame told us that several of her Tico friends had worked for tourism companies in the past specializing in zip lining. Disconcertingly, these friends shared with her (after quitting) that some of these tour companies participate in highly unscrupulous practices like maintaining resident wildlife (monkeys, sloths, etc.), which they then tie to trees while the zip-lining tours occur. The tourists then "see" the animals they're promised (without knowing they're not wild because the ropes look like vines when you're flying through the trees), the company makes a profit and everyone goes home happy. We decided we didn't want to be a part of any of that; we chose rafting instead, which also alleviated our environmental impact guilt. Apparently the combined voice and volume of those involved in the rafting industry--companies and tourists--have prevented the government from damming whole chunks of river and therefore flooding several indigenous settlements. Therefore we gratefully collapsed in Jose's upstairs loft and awaited our forthcoming aqua escapades.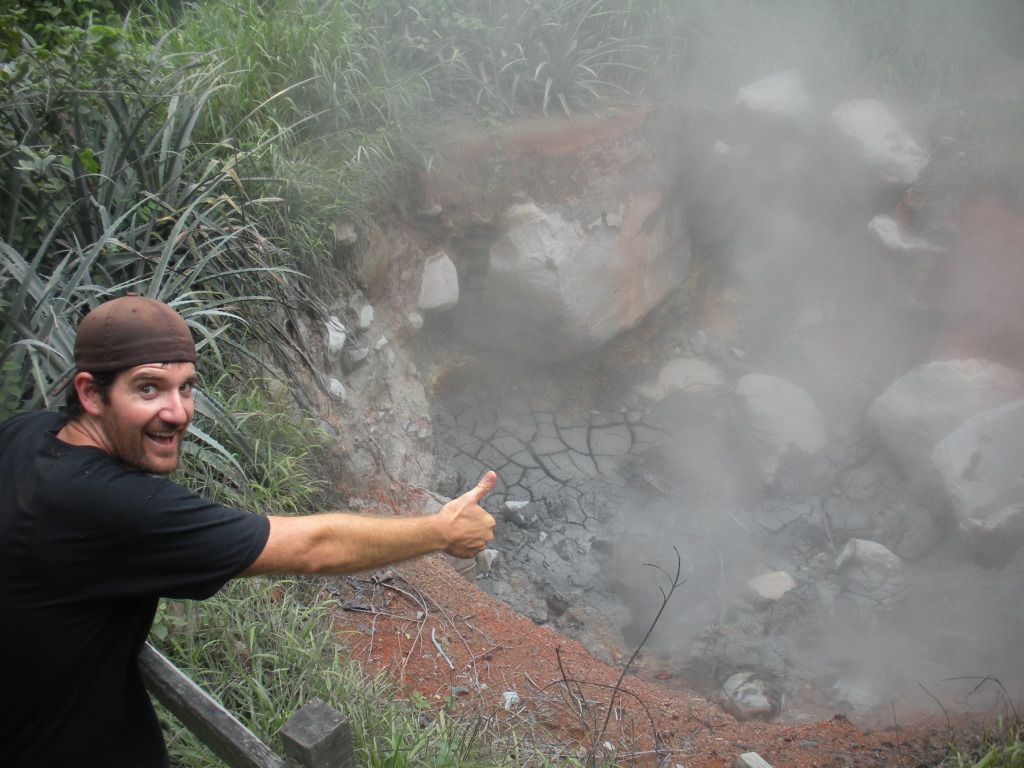 We arose just as a creamsicle dawn illuminated the surrounding city and volcanoes in the distance. We had to make it to the hotel where we'd be picked up by the
Rios Tropicales
shuttle to start our all day (class III and IV rapids) adventure on the Rio Pacuare, apparently the #5 rafting destination in the world (right after the Colorado River in my home turf). After a 2 hour ride the team served up a filling and tasty breakfast at their headquarters, where I also ran into a family from Eagle, Colorado, a tiny little town in the Rocky Mountains where one of my besties hails from. Small world indeed. From there we all bundled into vans to the put-in location about 45 minutes away, viewing a break in the roadside brush on the way out where a petrol truck had overshot a turn and hurled off the mountain (the driver lived, but yikes nonetheless) as our guide gave us safety briefing and the 53 things to remember should you find yourself in the frothy turbulent water instead of the rubber boat.
Once at the river we donned our helmets and lifejackets and grabbed our paddles before jumping into our assigned boat with Ricardo, our guide. The other 4 people in the boat were from Spain and Mexico, so Steve and I enthusiastically nodded our consent in response to the guide's question as to if he could run the entire 5 hour expedition in Spanish…and then a couple of non-Spanish speaking Americans were added to our boat and that went out the window. Major bummer. But off we went, navigating the aesthetically incredible twists and turns of the Rio Pacuare to Ricardo's cries of "secure your feet!" right before we hit rapids and the more emphatic, tension-filled version of "everyone GET DOWN" when it got really rough and we all had to dive from our paddling positions on the sides to a crouch position in the middle of the boat to avoid being ejected. On the stretches of calm between the raging waters we were able to see incredible birds of all varieties, rainbow-hued plants and flowers and even a pulley system strung across the river with a hanging basket underneath that the indigenous residents use to traverse the water. The water was refreshingly cold, although it turned abrasively so when walls of it came crashing over the front as we paddled like our lives depended on it.
One of my favorite sections was a fairly long stretch through a canyon with a quick current, deep water and no rapids--we all jumped overboard and floated on our backs, staring at the clouds and reveling in the pristine, cooling waters that carried us along. I was in my happy place, completed blissed out and so thankful that we had decided to do this. After over 4 hours of both fast and furious and languorous paddling, Ricardo delivered us safely to the ending location, unscathed and having never fallen out (although one of the others boats completely flipped over and it was pell-mell crazy for a bit as they tried to right the boat, collect all passengers and retrieve paddles). We enjoyed a tasty lunch and bundled back into the shuttle for a wet ride through the daily afternoon downpour back to San Jose, where we then caught the bus to Carlos's house. Tired and sore, we spent a final evening with our knowledgeable host as he showed us pictures of San Jose centuries ago and passed along recommendations for the rest of our time in CR. (
Steve:
I'm still working on getting pictures of the rafting trip...a link to photos was rather pricey but I'm waiting to hear if the company will cut me a deal.)
LIBERIA, August 26-29:
From Morovia we headed back to San Jose to catch a bus to Liberia, the provincial capital of Guanacaste about 30 minutes from the Nicaraguan border. Just over 4 hours from San Jose, Liberia is the epitome of dignified rural life, with wide rolling plains and muted colors; the region used to be famous for its cowboy culture, but that has more of less died out. We stayed in
Hotel Liberia
($10/person for a dorm) for our first night and spent a few hours strolling through the locked-up town (it was Sunday and most everything was closed) before finding a pizza parlor for dinner with crappy dubbed American movies playing in loop. The next day we caught a bus to take us about 15 minutes outside of Liberia, where our next Couchsurfing host, Eugenia, Or "Eu", awaited to welcome us for a few nights—she was such a ball of vivacious energy and life!
Currently in her early 30s, Eu had worked for over 4 years at the Four Seasons hotel in Guanacaste; she's quite worldly, speaks impeccable English and definitely shares our love of travel and wandering. She's currently the sales rep for, and living in, a mixed-use residential and commercial area right across from the Liberia airport called Solarium. Everything was going as planned until the economy tanked and potential investors, tenants and business owners dried up, leaving Solarium as an empty shell standing alone on the road from Liberia to the beach 20 minutes away. It's beautiful, modern and brand-new (Eu's loft apartment was quite swanky), but everything almost seemed apocalyptical, especially once night descended. The first night Steve and I whipped up some eggs, beans and tortillas while Eugenia engaged in a culinary experiment of dumping a can of tuna, some capers and half a jar of olives into the blender and set it whirring. Served with toasted bread, it was delicious! We talked about everything under the sun, from her work trajectory and desire to flee and spend time in Japan soon, to dating drama and her favorite spots in CR. We laughed and reveled in each other's company until well past bedtime, but not before she helped us arrange transportation to
Parque Nacional Rincon de la Vieja
for the following morning.
Getting to the park itself involved a 4 wheel drive trek (no public transport goes anywhere nearby); with 4 Germans piled in as well we jostled along the uneven, unpaved road. Once there, we paid our $10/person entrance fee and Steve and I diverged from the rest of the early-morning entrants and set off on the trail to the Catarata Congreja (Crab Waterfall), one of the waterfalls we wanted to check out. We were mere minutes into our hike when a coati, the fun critter we first saw in Tikal, came ambling down the path toward us with no hesitation and then climbed a nearby tree. A few minutes more and we had our first sighting of an agouti—a mother and baby to be exact. These pudgy furballs looked like a smaller version of the capybara indigenous to South America but unfortunately they were too camera shy for us to snap. We continued on, fording rivers and streams, crossing suspended bridges, stopping to admire the tenacious leaf-cutter ants everywhere and marveling at how it seemed to be evening when we were under the thick jungle canopy. Everything was green, damp and teeming with life--at some points we heard noises that were definitely not man-made and made us stop and stare at each other in trepidation…definitely felt like a conglomeration of Lost + Hunger Games + Jurassic Park.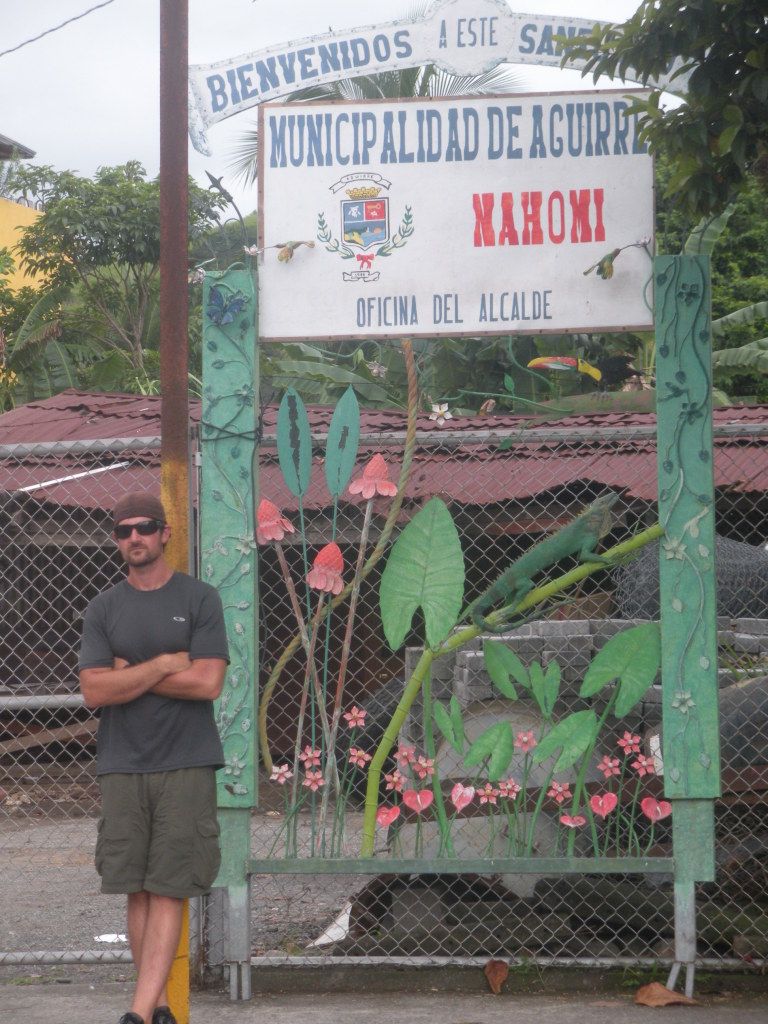 After about 2 hours, we started carefully picking our way among the tree roots, slippery rocks and treacherous mud that comprised the narrow washed-out path down to the waterfall we could hear in the distance. I turned the corner and saw the waterfall…and immediately turned back to look at Steve with an expression he couldn't immediately distinguish as either positive or negative, given our past luck with waterfalls on this trip (dirty, dried up, too far, etc.) Somehow, far surpassing all hopes and expectation, we had reached the
Shangri-La of waterfalls
. The pristine water tumbled from hewn rock about 4 stories above us, plunging into a crystalline aquamarine pool large enough to accommodate any type of swimming you could imagine, hemmed and with mossy boulders. Shimmering vines dripped from the uppermost rocks, bird calls reverberated through the foliage and not a single person was anywhere around. I hadn't brought my bathing suit but Steve was wearing his trunks and the water looked too delicious to abstain from after such an arduous hike, so with a last look over my shoulder for any potential newcomers, I stripped down to my bra and undies and waded in. Steve caught it all on video, but seeing as how my choice of chones that day was not exactly of the hiphugger/full coverage variety, that video will unfortunately never be public (
Steve:
Dare
anyone?)
J
. However, the waterfall and scenery was everything we had been searching for in the almost 2 months traveling so far; we splashed around, happy as pigs in poo, then situated ourselves on a flat rock to better observe our luck.
Once an hour or so had passed, we reluctantly pulled our layers of clothing, socks and boots back on in order to tackle the other side of the park. We passed under a troop of branch-breaking monkeys and proceeded to squelch through muck and mud on our way to locate and gape at hidden geothermal mud pools, boiling hot sulfuric springs and mini volcanoes. These belching, stinky, brightly-hued wonders had us
oohing
and
aahing
like little kids—I half expected to see swamp creatures rise up from the earthly cauldrons and chase us down. Steve even filmed a
delightful video narration
for your viewing pleasure—can't say I didn't marry a clown! We more or less had this part of the park to ourselves and thoroughly enjoyed acting like goobers, marveling at the hummingbirds (trip theme, of course) and trying to replicate the noises we heard issuing from the terrain. All too soon it was back to Eugenia's for our last night in Liberia, although I stopped and bought almost 5 pounds of passion fruit from a roadside vendor on the way, which made me way too happy--
maracuya
is my new obsession.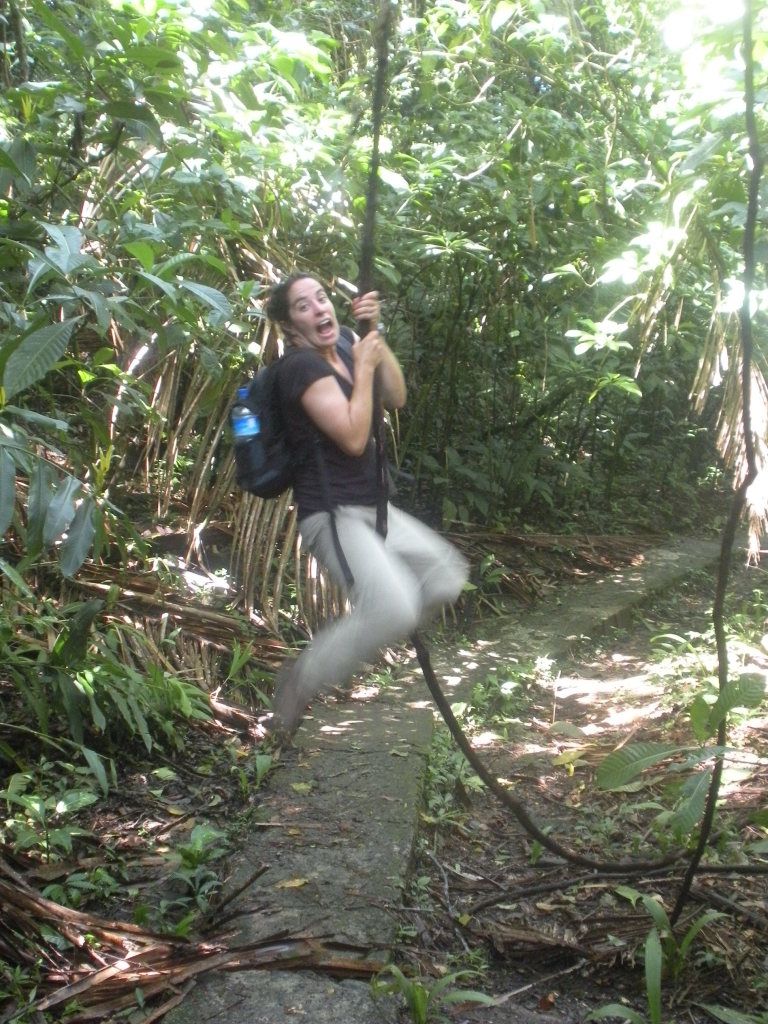 Little did we know, dear reader, that we were about to experience one of the worst parts of our trip so far, as well as a low-point in our marriage. We don't typically air our relationship dirty laundry, but in the interest of continued trip-related blog honesty, we'll walk you through this. The following day found us on a bus bound for San Jose, where we had timed it perfectly to catch the onward bus at just the right time in order to arrive in our next destination--the coastal hamlet of Quepos--well before dark. We arrived in San Jose over an hour late (road construction), therefore missing the earlier bus we had intended to take to Quepos…and it was downhill from there. We hoofed it to the bus station we thought we had to leave from, only to have a cab driver tell us we needed to head clear across the city for the correct Quepos bus terminal—being proud and cheap we decided to walk. After asking policemen where the place was (street signs are non-existent here) and several others along the way to verify, we were stopped by a man wanting to help who told us that the first terminal we were at was indeed the correct one; exasperated and tired, we headed back across the city, right as the skies opened up and it started to pour. Once we wearily arrived where we had started, we were once again informed that we were in the wrong spot and needed to trek back to the second bus terminal again.
At this point we were already exhausted (having woken up before the sun), in addition to starving (no food besides a granola bar), simultaneously sweaty and drenched with rain (never a recipe for enjoyment), sore (lugging backpacks across town twice will do that) and wondering how the hell we were ever going to find someone who knew how and where we going to catch one of the few remaining buses that day. Fed up and being accosted by cab drivers, I took off in a huff to walk back to the other station, blazing past Steve and not stopping to talk about our plan. This triggered an irate proclamation that he'd had it with me, which further incensed me that I was being yelled at in public and we both stalked off on opposite sides of the crowded noisy street. At this point a few buses drove by, blocking our view of each other, and when they had passed I went to cross the street and act like an adult again but Steve was gone. Enter immediate, soul gripping panic. It had only been a few seconds, but my husband had disappeared.
I retraced my steps, looking in every storefront and down the sidewalks for his tell-tale brown Stone Brewery baseball cap, but to no avail. I walked around the block. Twice. Returned to the bus terminal. Nothing. Fighting back tears and trying not to look like a lost vulnerable target in a dodgy part of town, I walked a fraction of the main drag we had covered in our route back and forth between bus terminals in a loop. No Steve. In the interest of time, I'll beta recap from here. Beating heart, horrible thoughts. Crying on park bench. Clutching and praying on Saint Anthony medallion. More retracing and crowd scanning. Continued panic. One hour over. Police assistance. City-wide officer alert. Evening approaching. Second hour solo. More walking. Hostel planning. Last chance walk to second terminal. Then like something out of a Nicolas Sparks novel, I saw him about to cross a street on his way back into town and it was tunnel vision from there. He soon spotted me and we slowly walked toward each other on a deserted street on the outskirts of the city, burying our faces and ragged breath in each other's necks upon contact as we collapsed in a silent, vice grip of a hug. Apparently Steve had been retracing his steps in the same manner for the last two hours and even stopped to pray in a church, but somehow we kept missing each other despite pacing the same roads for hours. It was a horrific experience for both of us and definitely served as a sobering wake-up call that we can't keep ignoring our trip mood triggers (exhaustion & hunger especially) and that we need to keep our stubbornness and frustration in check when it counts. Losing your spouse for hours in a bustling Central American metropolis and having no idea how and when you'll manage to find each other is an experience I'm glad we had but hope to God we never repeat. Thus chastened, we managed to snag the last evening bus out of San Jose and into Quepos, silently staring out into the torrential rainstorm for the next few hours.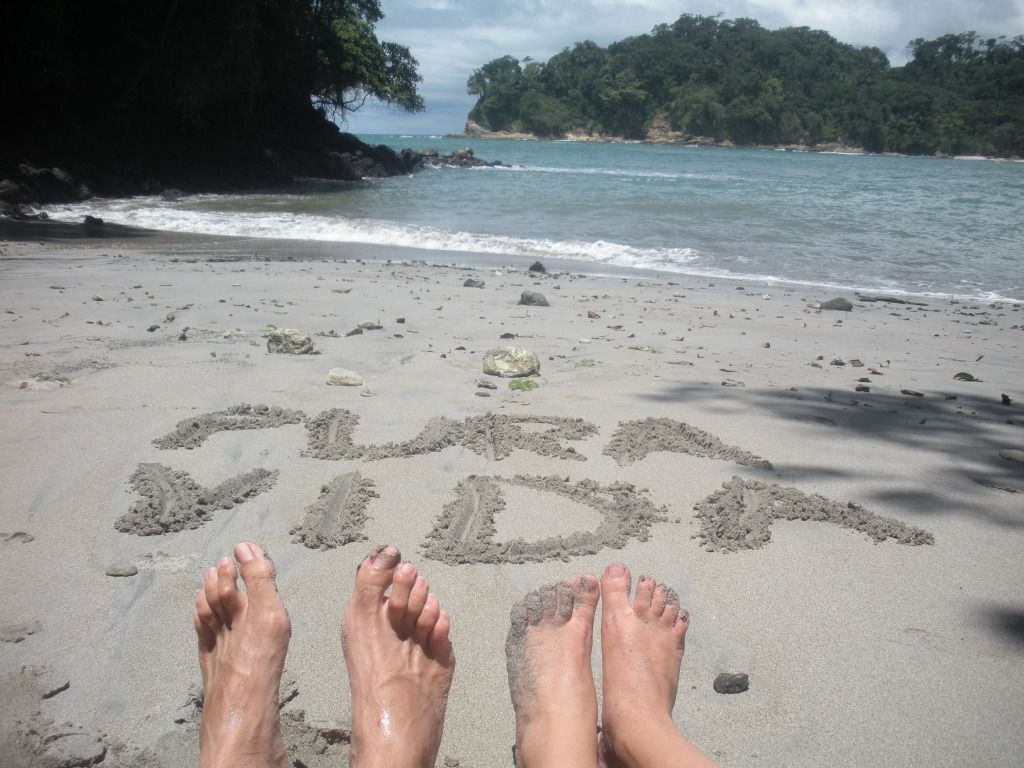 QUEPOS, August 29-September 1:
We spent a few nights at the
Wide Mouth Frog
($12/person for dorm), a lovely hostel in the heart of Quepos with a glorious pool, free heaping breakfast, 3 resident dogs we came to love and fans that meant business (and kept us quite cool) in the room. Quepos sits right on the Pacific Ocean and is a base town for exploring
Parque Nacional Manuel Antonio
, the country's smallest national park, yet one of the most stunning and biologically diverse and set right on the beach (
Steve:
I'll need to interject for a moment here--as you can see by several of the pictures, it turned out that Quepos is within a municipality known as "Aguirre;" I tried to stop by the city-hall-of-sorts and lay claim to possible Costa Rican lineage, but alas they were closed. If only I could take one of the spray-painted trash cans with me as a souvenir...). We hopped on one of the frequent buses out to the park, paid our $10/person entrance fee and eschewed the suggested guides with binoculars in favor of our own cheaper method. There were so many other groups who had paid for guide services (at $20/person nonetheless!), that we simply moseyed from group to group, lingering just long enough to hear the choicest tidbits and notice where they were looking in the trees, foliage and ground. Using this method we saw sloths, trees crabs, lizards, iguanas and more!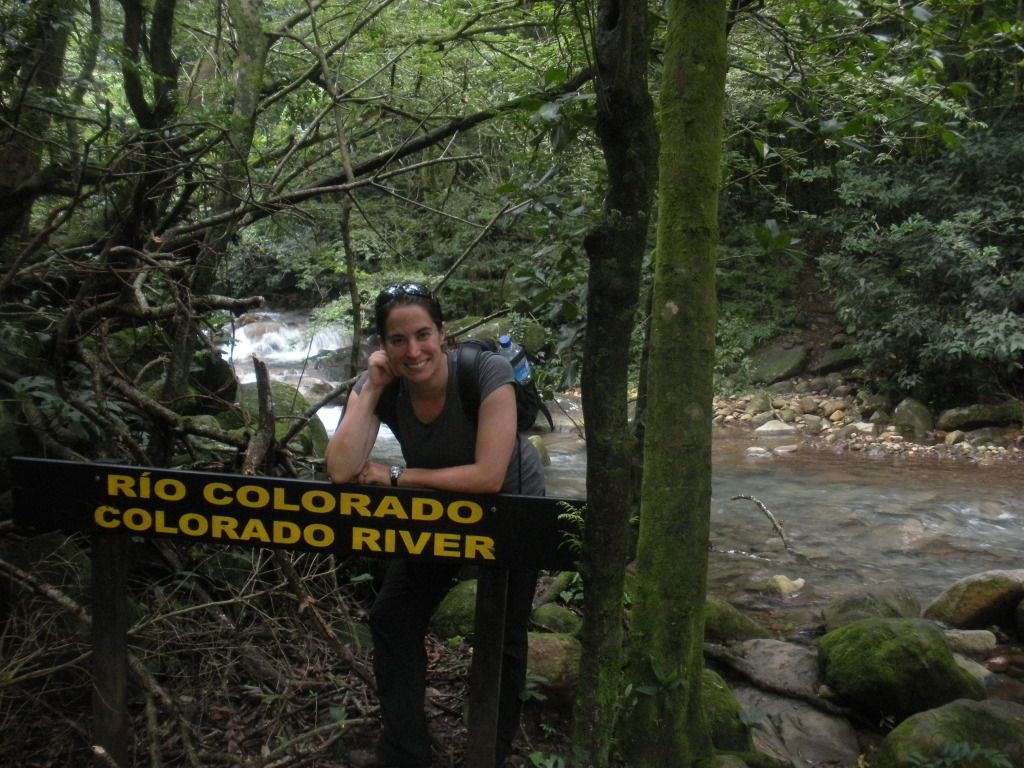 There were also a few trails to explore, so we chose the lookout trail, expecting that all our sweat and the stifling humidity would pay off (it was worse here than in Tikal, Guatemala) (
Steve:
it wasn't thaaat bad) with a stunning vista at the top. Riiiiiight. Clambering up the viewing platform after much cursing and sliding (and a fare amount of whingeing on my part--we were subir-ing in the tropics after all), we were rewarded with the distant sounds of the ocean and nothing but a dense layer of trees blocking the supposed view. I'm all for preserving natural habitat and all, but for the love of all that is good and pure, do NOT promise a stunning view at the top of a wretchedly hot and sticky climb and then have nothing visible but far off flecks of foam and stretches of sand if you peered through the trees just right. I had some choice words at that point and even choicer hand gestures, but we cut our losses and headed back down the hill, where we branched off to a hidden beach trail and shared the sand with crab-catching raccoons (who apparently are diurnal...but I'm still glad I had my rabies shots!), scores of hermit crabs, surprisingly agile hefty iguanas navigating the rocks and another snoozy sloth. The park was undoubtedly beautiful, but way too crowded for my taste; even though we saw critters we hadn't seen yet, I much preferred the emptiness of Rincon de la Vieja up north and its varieties of landscapes and trails. (
Steve
: I too enjoyed our solitude at Rincon de la Vieja--especially in tourist-congested Costa Rica--but I really liked Quepos and Manuel Antonio. The beaches were beautiful and could have been much more crowded and Quepos had a feel of the Baja California beach towns--Ensenada and Rosarito--that I grew up with; it was definitely the kind of place that I could easily lose a couple of weeks to.)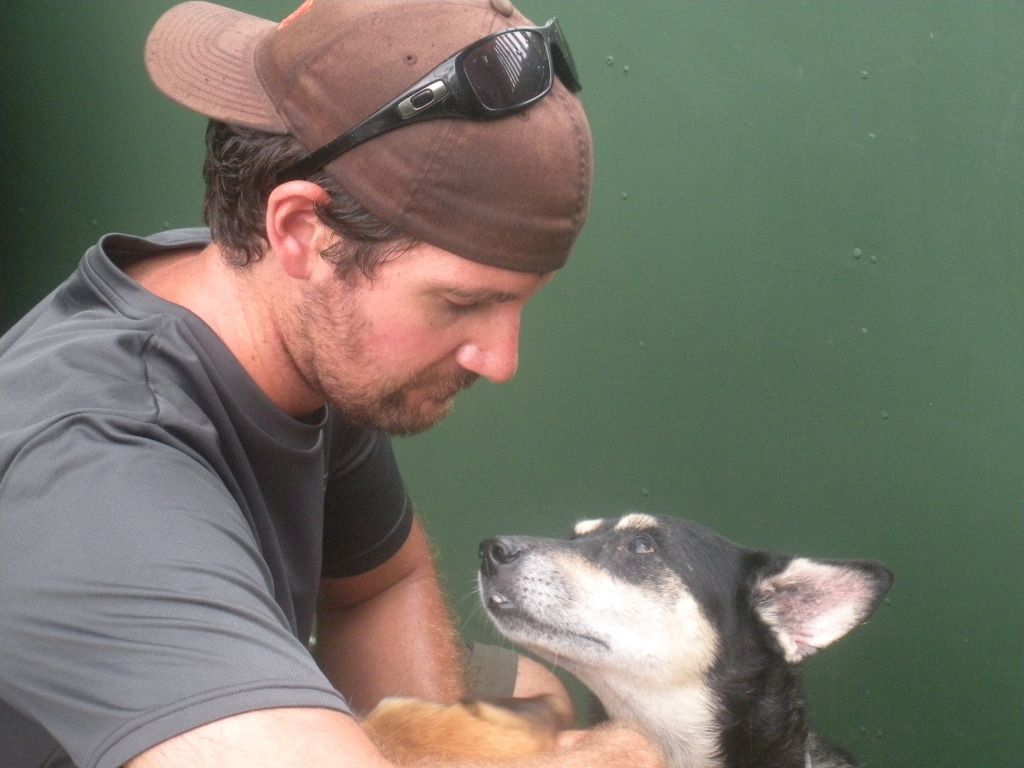 We finished up our time in Quepos with plenty of pool time, dog petting and pizza (3 meals in a row--it was yum!) and looked forward to our next adventure at a cacao finca a few hours away. More to come.
CLICK FOR
LIBERIA
AND
QUEPOS
PICTURES.