Chocolate Shakes
MASTATAL, September 1-8: COSTA RICA
Steve: Our travel day from Quepos to Mastatal for our week on the La Iguana cacao farm started off leisurely enough but as we've learned things can go awry very quickly. After a morning of lounging in the pool and grabbing a last bite of pizza, we boarded the 1 PM bus that would take us close to our rural destination where we could catch a transfer. This was the only bus for the day (except for a 5 AM bus that just didn't make sense) so we were 1 for 1 on buses at this point; according to the bus driver, we should arrive with an hour to spare before encountering the 4:30 bus to Mastatal from the "town" of Santa Rosa (per directions supplied by the finca). This is where Murphy's Law always comes into play: first we came upon a good 30 minute delay just trying to leave Quepos due to some major roadwork. We then continued on and figured that we were still in good shape, even with the winding dirt roads and the early afternoon rain that would surely slow down our progress. Next, in conferring with the bus driver and a local, we were dropped off at the apparent location indicated on our directions. We were expecting a town but instead were at the entrance to a national park that had a sign from which any logical person would infer that the same road led to this town. With the clock ticking we hoofed the 1 Km only to come upon the park ranger's outpost—apparently there was no town and to get to Mastatal we had to be right where we were dropped off to catch the bus, or there would be an hour and a half hike in our near future. At this point we had 10 minutes to hike back to the road, with our packs of course, only this time it was uphill. Needless to say we sucked it up and made impressive time getting back to the road—the short story is that we caught our bus and made it to Mastatal, a tiny town of 150 people, with our attitudes, and marriage, intact (although I have some choice photos of Leah's demeanor as we waited for the bus).
Arriving to
La Iguana Chocolate
farm we had no idea what to expect. Was the work going to be back-breaking? Were the people friendly? Could we really eat all the chocolate we want? I can tell you what I didn't expect was the volunteer coordinator who welcomed us upon our arrival. Van Tran is a petite, young Vietnamese-American woman from Florida with a warm and rambunctious personality that was twice her size. She took us for a quick tour of the
volunteer area
before showing us to our room in the tree house. First I should mention the bathroom and shower which had modern plumbing and hot water--each had a large opening that looked out onto the scenic forest that was their backyard; don't worry, there was nobody for miles so you only had to worry about birds and geckos watching you while you bathed. Next was our bedroom in the "tree house" which was really a free-standing structure, but with the sprawling tree that stood right outside our room the name was not much of a misnomer. Our room was something taken out of Swiss Family Robinson, replete with a hand-carved bed, thatched roof and the ubiquitous mosquito net. The most striking feature is that there were only three walls—my side of the room only had a wooden railing so as to offer views of trees, sprawling hillsides and horses grazing below. This would clearly not be for everyone—bugs and spiders had a virtual welcome mat into our room—but I have to admit that we slept well pretty much every night of our stay. Waking up at 5ish every morning to the gentle sun and spry birds was a routine that I quickly became used to. (
Leah:
or at 3 a.m. to the flippin' roosters and again at 4 a.m. to a blaring radio up the hillside, but who's keeping track?)
After making our bed and situating our packs we embarked on the task of getting to know everyone else on the finca. We met our flatmates in the tree house—fellow Californians Brett and Alana—who had already spent a week at the farm and proved to be entertaining and fun company for the duration of our stay. We then all headed down for dinner (which was typically around 6ish every evening) where we would meet the Garcia Salazar family: there was the father, Juan Luis; the matriarch Lidette; the at-times-unintelligible but ever-friendly uncle Ronaldo; and their three boys (there's a daughter too, but she'd apparently just moved away). We didn't have much interaction with two of the sons however the eldest, Jorge, was for all intents and purposes in charge of the farm—from volunteers to making and selling chocolate to planting and development of all other animals and crops. At 24 Jorge was in many ways beyond his years, the only family member to speak English and having a huge working knowledge of all aspects of organic farming, specifically with the limited resources available on their land. I would soon find that Jorge still has much to learn, particularly in interpersonal communication, but I will get to that later.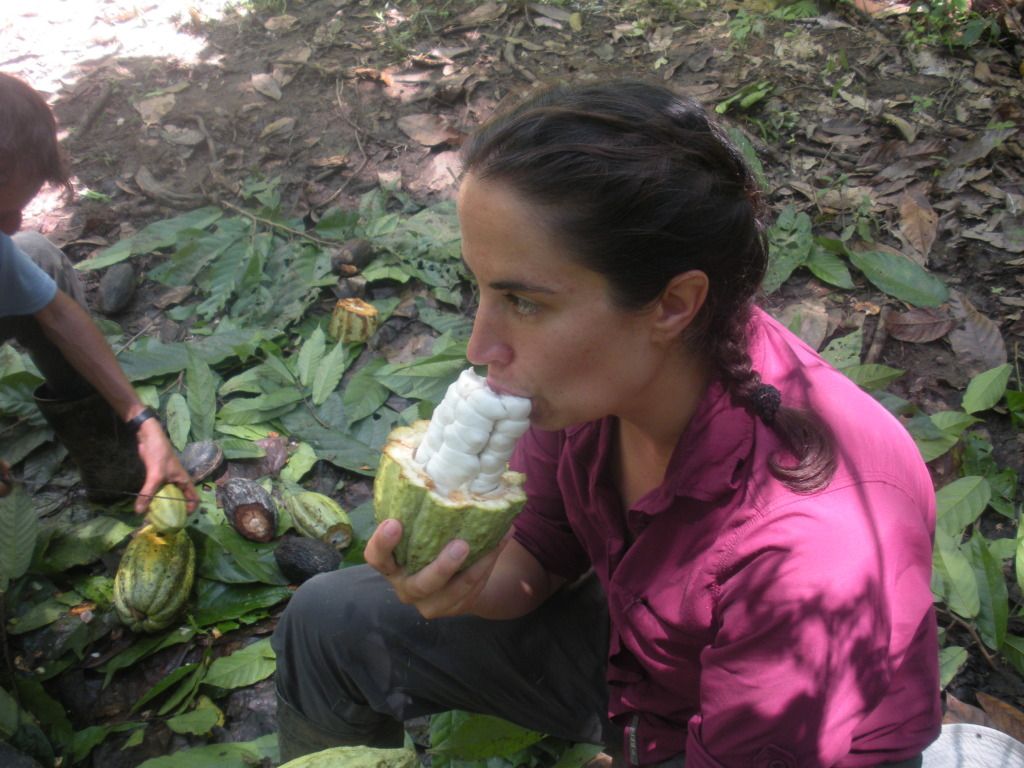 The routine on the farm was generally as follows: breakfast by 6:30ish, work from 7 to 12, then lunch, and until dinner at 6 the rest of the day was open for hiking and exploring, or more typically hammocks and reading. There was a white board where daily meal tasks were assigned, i.e. somebody was assigned to either assisting in cooking or to clean for each of the three meals. Depending on the meal, "cooking" really consisted of picking and dicing greens for the salad (all veggies were fresh and grown on the farm—this was deliciously organic and we could eat the citrusy hibiscus leaves every meal if we could), making fruit juice, and in the case of breakfast frying plantains and scrambling eggs. Lidia would take care of the rice and beans (which accompanied
every
meal) and whatever main that would be offered. We quickly learned to follow the exact requirements of every task; the family was very particular on how they liked their meals prepared—the salad had to be diced into small pieces, eggs had to be seasoned with the right amount of salt, and I was even shown that I wasn't cutting oranges correctly even though they were just being squeezed over the salad. But I digress and as I mentioned will save my likes and dislikes for the end.
The work week at La Iguana is typically Monday through Saturday so having arrived late Saturday night, our first full day was an undeserved day off. After breakfast we spent the first part of the day hammocking and reading and chatting it up with our fellow volunteers. We found out that the nearby Rancho Mastatal has a river and waterfall running through its property which we could access for a "donation." Never ones to turn down waterfalls, we joined Brett and Alanna and maybe because it was a lazy Sunday no one asked for payment to enter their property. As with our trek in Rincon de la Vieja we were once again rewarded with a crisp, clean waterfall where we could relax and prepare for the week ahead. Costa Rica has definitely not been one to disappoint when it comes to unrelenting natural beauty.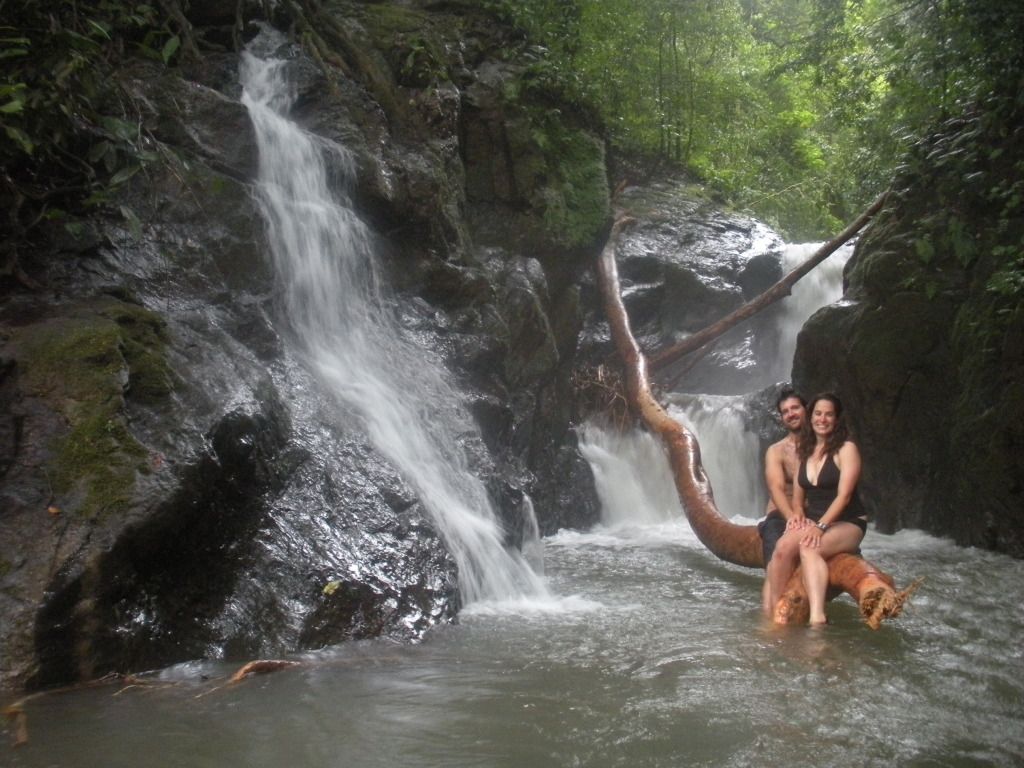 Without going into excessive day to day detail on who did what and where, I'll break down our tasks into either cacao or other farm work. First the chocolate: The La Iguana website has a concise explanation
here
on the steps that occur for cacao grown on a tree to become the chocolate that melts in your mouth. With the exception of roasting the beans (which Brett did one day) we were able to participate in almost every part of the process, from harvesting the seeds (
semillas
) from the pods, to fermenting, drying, shelling, grinding and finally hand-forming the individual chocolates that would later be sold to other fincas in Mastatal or to the few shops that placed orders throughout Costa Rica (Note: the only task volunteers are not allowed to do is actually cutting the pods off of the tree since cutting in the wrong place can damage the flower and prevent future pods from growing; as it is, only 2% of all flowers actually develop into pods). Every day generally included laying out the seeds for drying in the sun; of course this usually included an early afternoon scramble to wrap the tarps back up when the rains came. For the curious, we made the following flavors of chocolate: mint, vanilla, orange, coconut, raisin-rum, pinapple-raisin, chile, ginger, coffee, peanut, pistachio, cinnamon-clove, as well as fine tempered chocolate; Jorge and Lidia would also occasionally make cookies or brownies. This is where I once again add that all of these were available all day, every day for constant sampling and quality control by the hardworking volunteer staff. As I write this my hands are already shaking from cacao withdrawal.
Work generally seemed to alternate between cacao-related tasks one day and then farm-related tasks the next. One day we constructed a vegetable garden just outside the volunteer area, and other days included weeding, clearing drains, fixing tire steps in the hillside, and the always-glamorous shoveling shit. We collected tangible English colloquialisms for the compost "poo hole" not limited to but including chickenshit and my personal favorite, horseshit. Adhering to the tenants of organic farming and
permaculture
(pretty much the buzzword when it comes to organic farming), virtually everything on the farm is reused in some manner—all food scraps either end up in the compost pile or get fed to the pigs or chickens; there's a compost toilet on the other side of the farm; and all of the grey water from the volunteer shower is used to water the veggie garden. Throw in muddy clay that covers much of the property and needless to say work was dirty and at times hard albeit fulfilling.
So that brings me to Wednesday around 9 o'clock. Leah and I are clearing out some hanging bamboo planters that are used as an herb garden. We're focused on our work when I start to hear the eave hanging over us begin to creak. Often wind or debris falling from trees makes these structures rattle, so I didn't immediately think too much about it. And that's when the ground beneath our feet began to sway. We looked at each other and instantly knew that this was an earthquake and not just some big truck entering the property. The ground motion rapidly picked up intensity and being a native Southern Californian my years of earthquake preparedness quickly kicked in. I grabbed Leah and got out from underneath the overhang and away from the building; in California I would have gotten under a desk or maybe the traditional door jamb but where we were in Costa Rica there's clearly no building codes. We stood and held onto each other for what seemed like a minute (maybe it was), ready to move if any of the buildings around us decided to topple or if the hillside gave way. We could hear Lidia screaming "Terremoto! Terremoto!" (in the same voice that she yells with the rest of the day) which in hindsight was pretty comical. In time the shaking stopped and everyone met up at the front of the house. With the exception of a few things falling over in the house and power being out for a good part of the day, the finca survived unscathed. While Costa Rica was dealing with the aftermath of a 7.6 earthquake and family back at home was hearing the news, we continued about our work, isolated from the world just like any other day at La Iguana. (
Leah:
This was essentially my first "real" earthquake--despite living in San Diego for 6 years I've only ever felt one tiny one that lasted mere seconds and this was pretty much insane. I kept expecting the earth to split in two or the hillside to give way beneath us and the entire time my brain seemed to be refusing to accept what was happening. It was more an out of body experience than anything else...)
Another potential disaster was averted the following day as we ventured out for a day of harvesting cacao seeds. As we had discovered earlier, the land where the cacao trees grow is not on the same parcel as the house and farm. There was about a 30 minute hike (or horseback ride in Leah's case)(
Leah:
Jorge pretty much made me and it was so scary going downhill that I would have preferred to walk, thankyouverymuch) that included crossing a river. The way there was rather uneventful, with the exception of Ronal and Jorge having to round up a horse that almost took off. Coming back was a different story. As Leah hopped on one of the horses she motioned for me to film her crossing the river, which being an obedient husband I promptly began taking video. As you can see by my deft
cinematography
I also included Ronal's little dog Pinto who joined us and swims his way across every time. You'll notice that Pinto is swept downstream and cuts the river at an angle; assuming that our faithful audience would be concerned and curious as to Pinto's fate, I moved over to the right in order to capture his successful landing. No sooner had I begun to pan back to Leah when I heard commotion and barely captured Leah's horse falling, sending her and Jorge down to the ground. Leah was okay with the exception of a few bruises and soreness...although I'm pretty sure she was more sore about me filming the dog instead of her. (
Leah:
this was scarier than the earthquake by far! My horse tried to clamber out of the river and tripped, fully buckling to the ground beneath me and wasn't able to regain his footing in the soft mud. As he struggled to stand I was struggling to dismount, but the water and muck made it damn near impossible and I was terrified that he would either fall over onto me or accidentally kick me in the head. I somehow heaved myself onto the bank and even though the video makes it seem quick and relatively painless, I was wigged out. But then I had the pleasure of watching my husband ford the river on foot Oregon Trail style because the horses were too skittish to try and go back for him. Fun fun!)
Speaking of dogs, I failed to mention the canine family members at La Iguana. The baby of the family was their daughter's chihuahua Pinky who was given free reign of the house and farm; all other dogs were not allowed into the house or in the dining area. The other dogs included Luna, a smallish black lab that seemed to be the alpha, and two beagle mixes that became our best pals--Pulga and Guardia. As her name implies, Pulga was indeed covered in fleas (as was Guardia) but her friendliness often provided something that was missing from their human counterparts. Only two months into our trip and Leah was convinced that Pulga wanted to come home with us. Not gonna lie, I think she did too. (
Leah:
I was reading in a hammock one day when Pulga came over and promptly jumped into my lap and curled up into a ball. For the next two hours while it poured rain and I ignored my pressing need to pee, I alternated between reading and flea removal duty, while Pulga never opened an eye and instead nestled deeper into my lap and emitted contented doggie sighs. She really did want to come home with us, she told me so! Besides, any dog who likes to adorably pass out in piles of
woodshop shavings
and got up to say goodbye to us when we left is all good in my book.)
By the end of our stay Leah and I were ready to move on. We were absolutely glad that we chose to come to La Iguana—the cacao experience is something that most people will never have and we were able to meet a different breed of volunteers whose focus is on sustainable farming and making a healthy impact on local agriculture—but some elements of our stay just became old. One thing that quickly became troubling for me—and later for Leah—was that I felt a bit exploited as a volunteer. As is typical with some other volunteer fincas in Costa Rica, volunteers pay a donation as part of their work commitment (ours was $9 per person per day). This is in theory supposed to cover living expenses and food costs although I quickly realized that pretty much all the food we ate was grown and harvested on the farm (sometimes with the help of volunteers)—so it's not as if the family had to pay out of pocket to feed us. At best I justified the money as helping to cover the cost of utilities and lodging, although again you would think that should be the trade-off for our hard work, right? Additionally, I picked up on the first day that while Jorge was the work-horse of the siblings, his other brothers are in my humble opinion lazy. One is 16 and goes to school and the other is a motorcycle mechanic but neither help out in any way on the farm, much less the kitchen. Again let me get this straight—I'm paying to wash their dishes that always end up in the dish pile? Um, no. Scratch that. I would be muddy and sweaty, hoofing a bucket of horse poo down a slippery hill to find one kid sleeping in a hammock, the mom sitting at a table waiting for "help" in the kitchen, and the other brother farting around doing who-knows-what to have it dawn on me—wait, I'm the one paying money? Were this on any other farm I probably would have pulled out earlier but again the whole chocolate experience is priceless—or better yet, nine dollars per day.
Another plus-minus (heavy on the minus) on our stay was the dynamic between Jorge and the rest of the volunteers, particularly with Van. While Jorge knows his land like the back of his hand it's clear that he hasn't taken Management 101. I've heard several times elsewhere that part of the American workforce culture is a constant need for positive reinforcement; the implication is that Americans are not good at receiving only negative reinforcement. I don't know if this is necessarily true, but let's say that it is. I say that it is one thing to be told when you are doing something wrong—constructive criticism as we like to call it—but it is a whole different ballgame if you are lacking in communication skills. "
Escuchame
Van!" (In English
Listen to me!)
became an echo that we became used to hearing. By the end of the week Van was to the point of tears after having been yelled at constantly. This was a bit uncomfortable seeing as how we were sort of caught in the middle (again, paying for it nonetheless!). My take on the situation was that Van was an easy outlet for Jorge's frustrations; it was clear to me that it wasn't a lack of effort or listening on Van's part. Additionally, Leah was obviously very wary of any misogyny that was possibly in play and I agree that this very well might have been contributing to their dynamic. Jorge could at times be abrasive with me but after one particular incident (which I knew what I was talking about) his approach to me became different; this was quite possibly due in part my robust male stature, er, just because I'm a guy. Either way it's evident that some things need to change for their situation to work.
All the drama aside, I still mentioned this as a "plus-minus" only because we really did get to glimpse at and participate in a real Tico farm and family. This was not just some tourist resort—for good and bad we had the chance to truly experience another way of life. Along the way we met some great people and learned some new skills…and probably put on a few delicious and chocolaty pounds in the process (Leah: and then worked them right off again with all the schlepping of buckets up and down hills, heavy lifting and poo shoveling).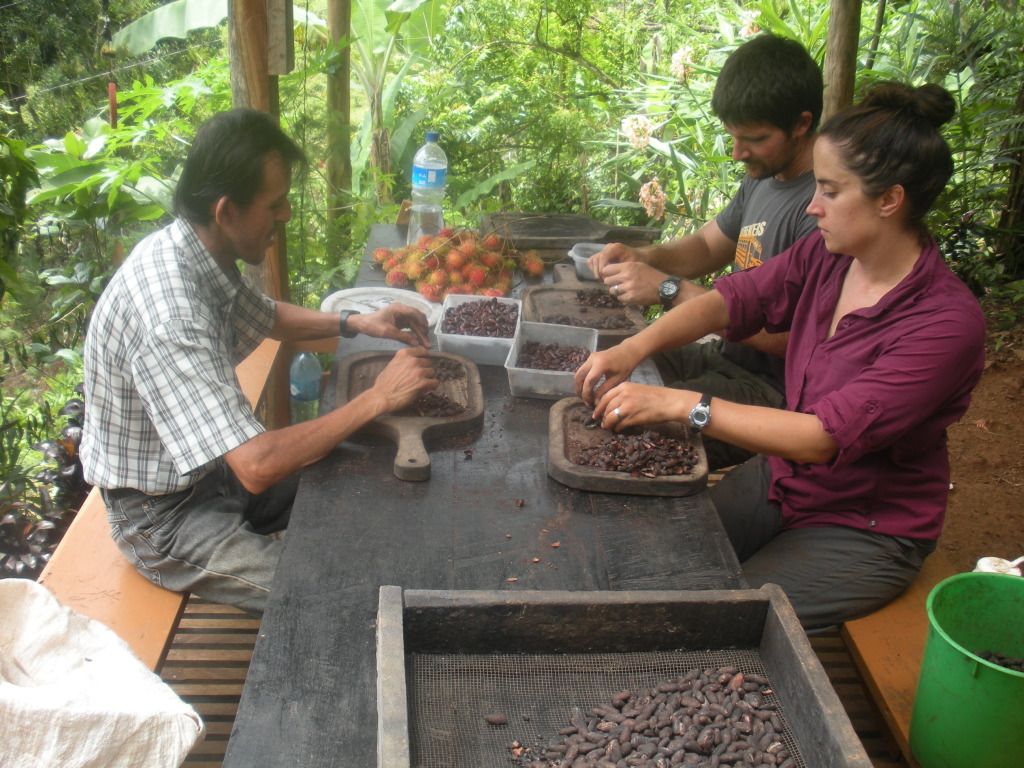 Leah:
While I shared many of Steve's frustrations, especially with regards to what I perceived as gender inequities from time to time and wondering how this finca would self-sustain without volunteer labor and incomes, I still enjoyed our time here a great deal. I learned so much in a short time about organic farming and rural living and I hope to augment that knowledge moving forward. I loved the little things, like seeing my first poison-dart frog in the wild, showering with only 3 walls, swaying to sleep in our treehouse, forming the fresh chocolates into molds, watching the fireflies come to life at dusk and sucking on the cacao seeds as we removed them from the pods. Much of this experience reminded me of the Peace Corps--never being fully clean, odd sounds at night, unknown flora and fauna and knowing that you're always a step behind the locals. However, this weren't negatives for me and it was nice to step off the travel wagon for a while and just be. I often caught myself lazing in the hammock staring at the rain and fog over the valley and thinking about our trip--how we are going to sustain it, what we'll see, who we'll meet and even what our inevitable re-entry to the states will look like. It's all part of the unknown and embracing the present, which has always been difficult for me, but in Mastatal I reveled in the here and now and not worrying about anything other than if there would be enough fresh cas juice for seconds at mealtimes. This was definitely an experience; even though I'm still trying to remove cacao from under my nails and absolutely appreciate no longer having red clay plastered to my clothes and skin at all times, I'm glad we experienced La Iguana Chocolate, poo holes, pods, earthquakes and all.
Steve:
Dear blog reader, thank you for your patronage and for humoring me by reading my ramblings (even if you just skipped to the bottom, thanks for the page visit). As a reward, let me leave you with this little YouTube tidbit (WARNING: Not for those without a perverse sense of humor, as the clip is based on an intimate adult theme): Before leaving Ciudad Colon we had a Skype session with the McFails wherein my dear, wholesome sis Bridget started giggling every time we said "cacao." It turns out there is a segment from the
Portlandia
TV show where cacao is used as a "safe word." Let's just say we also giggled to ourselves for the first several days every time someone said "cacao"; laughing about this clip also helped us get through some of the rougher periods on the finca, which is why we decided to share it as part of our experience. Don't say I didn't warn you and please be aware that we're not kidding when we say it's an adult-themed clip; it's sexual in nature and definitely not for everyone. Click
here
only if you're sure after reading the above disclaimer and absolve us of any resulting reactions after viewing.
CLICK
HERE
FOR MORE PICTURES AND VIDEOS.