A Home In The Highlands
LA CALENA/QUIROGA/PEGUCHE/IBARRA/COTACACHI/OTAVALO, ECUADOR: September 30-October 9
Steve
: September 30, 2012. Our travel day from Tumbaco to the next WorkAway just outside of Quiroga, about two and a half hours north of Quito. After a resplendent chase to catch our connecting bus—when I say that I mean a 100 yard mad dash with all of our gear—we enjoyed each other's company on the leisurely ride to Otavalo. We talked about college, our life after the trip and the things we missed and didn't miss from home. It was a lovely ride with my best friend.
Today was also the day wherein I have lived longer than my father. This fact lay on the back of my mind all day but it did not preoccupy my thoughts. There was no climactic celebration or life epiphany but it did get me thinking about my life. The overriding sentiment was that I am happy—and that life is what you make of it.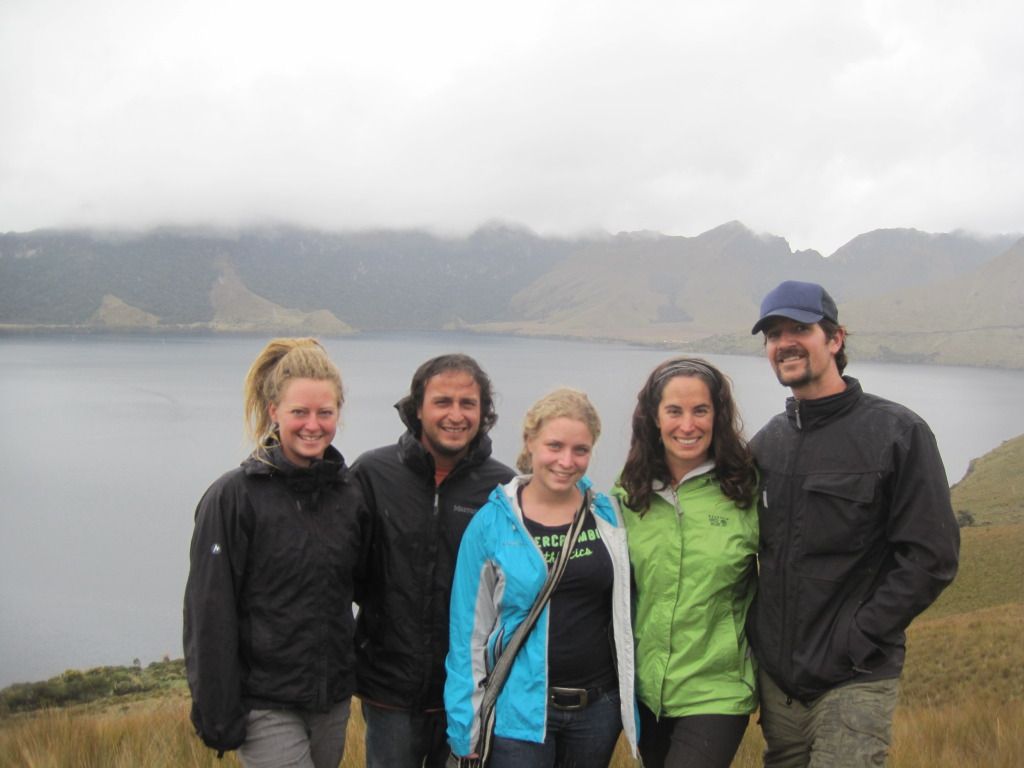 My wife likes to take pictures of paths and trails. They are picturesque and symbolic and I am realizing that there are more paths on this earth than anyone can begin to quantify. Google Maps might have main roads or popular walking trails but even in the most remote of places there are routes created by constant foot traffic. And then there are ways to get places that have no visible markers or foot-worn roads. Such is life—a messy grouping of paths that we call choices.
All the people that I have been blessed to meet in my life are the consequence of the choices that I have made. We all follow paths, many created by the millions of people that have lived before us, and they diverge in ways that are beyond the most cosmic of comprehension. I have lived for such a short time and yet I have already lived a lifetime. There are always things that we would take back, would have done differently or maybe should(n't) have said, but I look where I am at and the people that I have in my life and I am happy. The only true responsibility I feel is to carry the torch that my father could no longer carry and just live. As I write this I am in some random and inexplicably beautiful countryside in South America surrounded by my wife and new friends, and although I miss a lot of people a heck of a lot back home, I feel I am doing my father justice. The fact that I am sporting a Fu Manchu moustache and the longest hair I've ever had doesn't detract from the sentiment.
Leah
: And I'm supposed to follow that? Sheesh. We arrived in Otavalo with no problems and immediately boarded another bus to the nearby town of Quiroga, about 15 minutes away, where our
next Workaway gig
awaited. The northern sierra of Ecuador is a particularly indigenous part of the country; the moment we wedged our bodies and bags into the standing-room-only bus, we found ourselves ensconced in a sea of traditional clothing and hair that was not to be believed. The women wear elbow-length white blouses embroidered in a rainbow of colors, tucked into black wrap skirts (anakus), looped with fabric belts and covered with a shawl (rebozo) for warmth. They accessorize with necklaces consisting of multiple strands of gold-colored beads (walkas), as well as red-beaded bracelets (makiwatana), finishing with their braided hair wrapped in strips of colored cloth (Cintas). The men wear midnight blue ponchos (ruwanas) and shorter white pants, often topped off with a felt hat. However, the best part was all the hair—men, women and children (regardless of if they were dressed traditionally or not) rocked the most amazing manes I've ever seen. Mahogany-hued braided or fishtailed ponytails reached anywhere from shoulder blades all the way to the curve of derrieres and glistened with a sheen that could rival some of the hair I've seen in India. Add to the aesthetic high cheekbones and café au lait skin and we could have been in a National Geographic photo shoot (
Steve
: Add to that an absolute lack of facial hair and I stick out like a proverbial sore thumb). Quite the way to make our entrance into Quiroga, where we then caught a taxi to the smaller village of La Calera 5 minutes outside of town.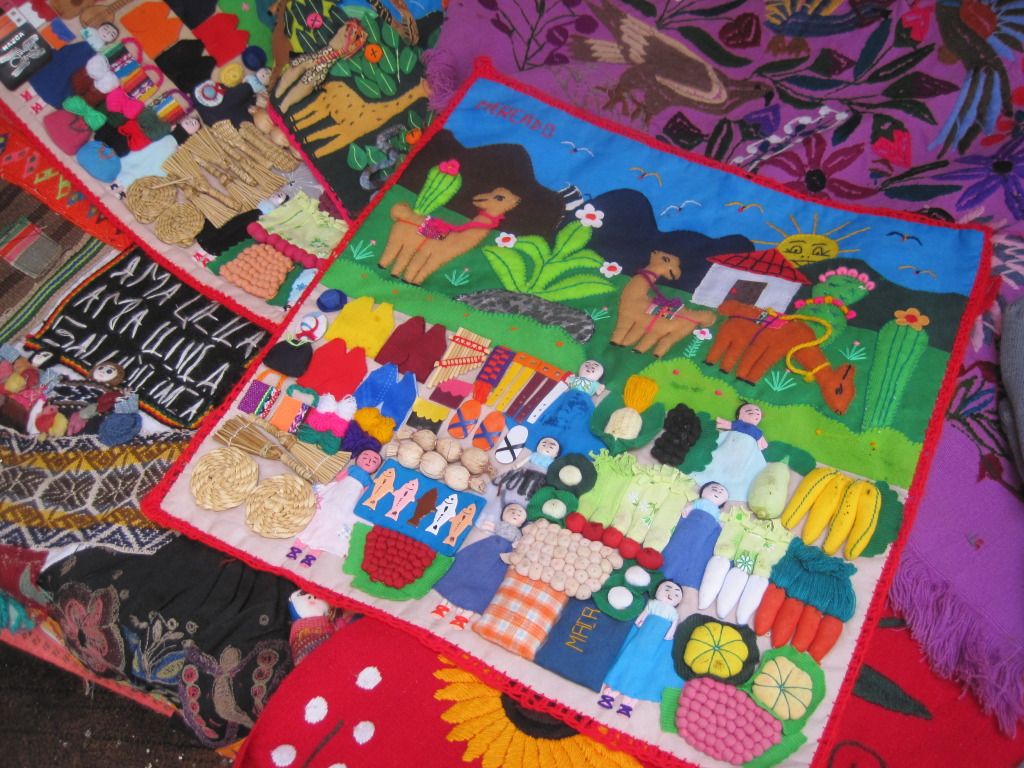 We found what we assumed to be the place (the directions they gave included things like "we're past the second chicken coop") and opened the fence and started walking, only to be confronted by about 6 (size XL) dogs, all swarming around us in a barking frenzy. We hesitantly made our way to the house at the back of the property, where we knocked on the door for several minutes before one of our hosts, Lindsay, answered, her face creased with sleep lines and her blonde dreadlocks in disarray—we had clearly arrived during Sunday afternoon naptime. Her boyfriend, Shawn, soon joined us at the door and after introductions they showed us the farm and the litany of animals they care for, both for meat and companionship (dogs, cats, cows, chickens, pigs, guinea pigs and tilapia). Shawn hails from Nebraska (and is also half Mexican—Steve was stoked) and moved down here about 5 years ago after purchasing the farm with a partner from the US. Lindsay's from North Dakota/Atlanta and met Shawn as a Couchsurfer over 6 months ago on her trip through South America; long story short, they ended up in a serious relationship, she abandoned her planned trip and doesn't intend to leave Ecuador. This is not the first time we've heard about Couchsurfing creating lasting relationships and it's yet another reason why we love the organization! The farm itself is supported by the thousands of chickens that are sold about 5 times a year and the cuyes (guinea pigs), as well as occasional pork and beef products. Shawn and Lindsay are quite enterprising and also have plans to provide certain products to the ex-pat population in the nearby town of Cotacachi, such as barbeque sauce, smoked chicken/ham and pineapple-infused puro, a local alcohol made from sugarcane.
Meanwhile, we knew immediately that this was going to be another incredibly positive Workaway experience. Shawn and Lindsay seemed passionate and excited (we were some of their first Workawayers) and our group was rounded out by Mona from Germany (on a gap year before college) and Ashley from Taos (who happened to have so many physical and personality similarities to Jayna that I caught myself staring at her an inappropriate amount of times). The organic farm has several large garden areas consisting of numerous familiar and local-only edibles; we definitely took advantage of all the fresh produce when cooking. In addition, Shawn and Lindsay have plans to reforest part of the property with native Andean trees once the rainy season kicks in and it's the right time to plant.The house seemed more like a cabin, with a main room downstairs comprising the eating and living area, and a drafty attic with exposed wood where the volunteers sleep (we were never cold at night due to the cozy blankets, but it felt a bit like we were camping, which of course we loved). The kitchen was beyond well-stocked; everyone loved to eat and we all took turns creating and cleaning up meals like veggie burgers, homemade pizza, roasted rosemary chicken, twice-baked potatoes, spicy thai noodles, beer-marinated brats and our favorite cheesy German dish, spaetzle. We did, however, have one tragic attempt at s'mores (being German, Mona had never tasted them and was super excited)—we had to sub vanilla cookies for graham crackers and the marshmallows we bought ended up being pineapple flavored and wouldn't crisp or burn. Mona also kept mistakenly calling them "smurfs" instead of "s'mores", so we at least enjoyed several belly laughs about the "pineapple smurfs" we were forced to eat, while promising her that at home with proper ingredients they taste out of this world. But needless to say, we ate better here and enjoyed a bigger variety of dishes than we have anywhere else on the trip (
Steve
: a man after my own heart, Shawn confessed that he probably spent three to four hours a day either eating or thinking about what he was going to eat next).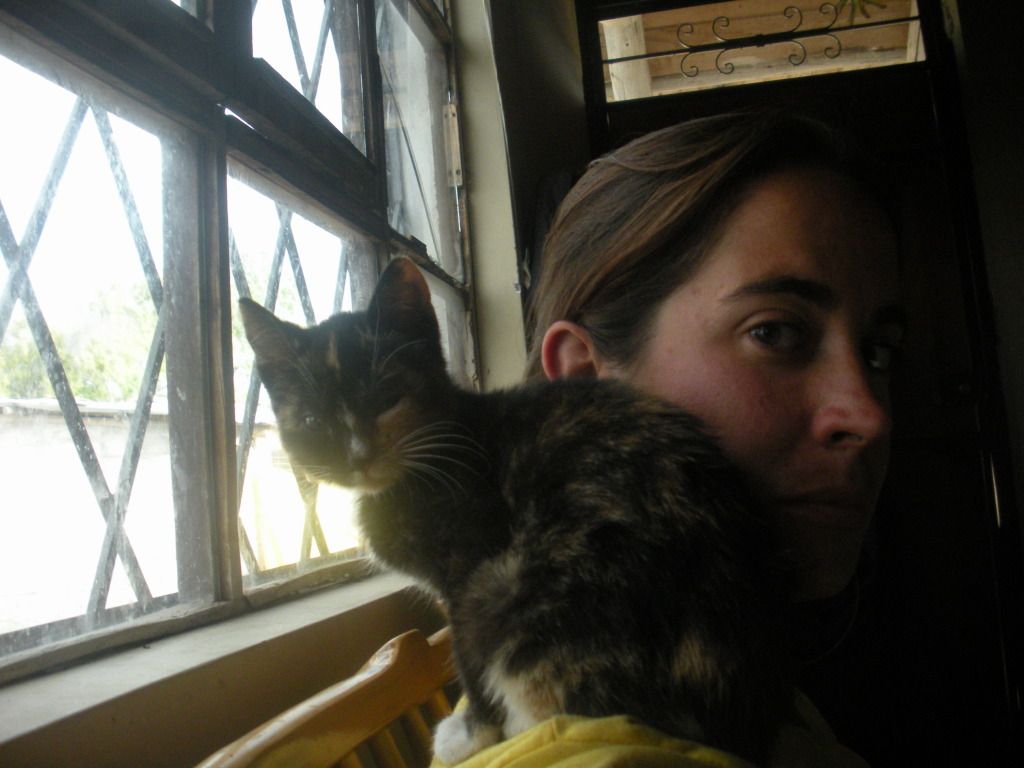 And then there were the animals…sweet Lord, they were everywhere! A local family on the property manages the chicken upkeep and also assists with the free-roaming cows and caged cuyes, but everyone helps with everything at all times and you can always hear barking, mooing, chirping and squealing from all corners of the farm. The dogs alone are quite the group…Luna, a yellow lab with mobility issues caused by distemper as a puppy, became pregnant by a giant black mastiff before she could be spayed and ended up with 4 male puppies, 2 of whom still live here (the other two were adopted by an expat). These jet black "puppies" (Tony "Scarface" Montana and his aptly named sidekick Manny for you movie buffs) are 5 months old with paws the size of my palm and behemoth wriggling bodies; mom and sons love to play in the nearby creek or tilapia pond and were always wet and muddy. Then there's Miley, Piolin and Dirk, the latter of whom is Shawn's black lab he brought with him from the US and has traveled with Shawn all throughout South America. That's 6 dogs for those of you keeping track, which doesn't include the 3 the local family has as well—needless to say it was a dog frenzy all the time.
However, of all the animals I never could have accurately predicted my favorite—despite my allergies and typical aversion to cats, Marley had me from the moment I met her. She's a calico 4-month-old who fell from a second story window when only a few weeks old; Shawn adopted her at the request of some friends because he has two other cats and she needed some extra love due to her tiny size. About a month ago Marley was then bitten on the face by one of the dogs—her face swelled, her eyes were bulging out (ga-ross!) and she stopped eating so they had to feed her with a dropper. She's more or less healed now, but she's tiny—a mini kitty—and she has attitude and spunk for days despite her size. Even more surprisingly, I don't seem to suffer from allergic reactions, even when she curls up on my shoulder or in my lap while I read or type. I pretty much adore her and love nothing more than scooping up her mewing bitty body and cuddling for a bit. I even went so far as to tell Steve that if we could guarantee finding a mini cat with loads of personality, I would want to adopt one…don't worry, I'm still a self-identified dog person, but Marley holds my heart. So there you have it—all manner of beasts reside here; while I love some more than others (Sebastian the cow is another of my faves), it's been a trip helping to take care of them as part of the volunteer work (including the day one of the cats flew through the window at 5:30 a.m. completely tangled in barbed wire—she turned out okay, but it was a tense half hour involving surgeon-like precision with scissors).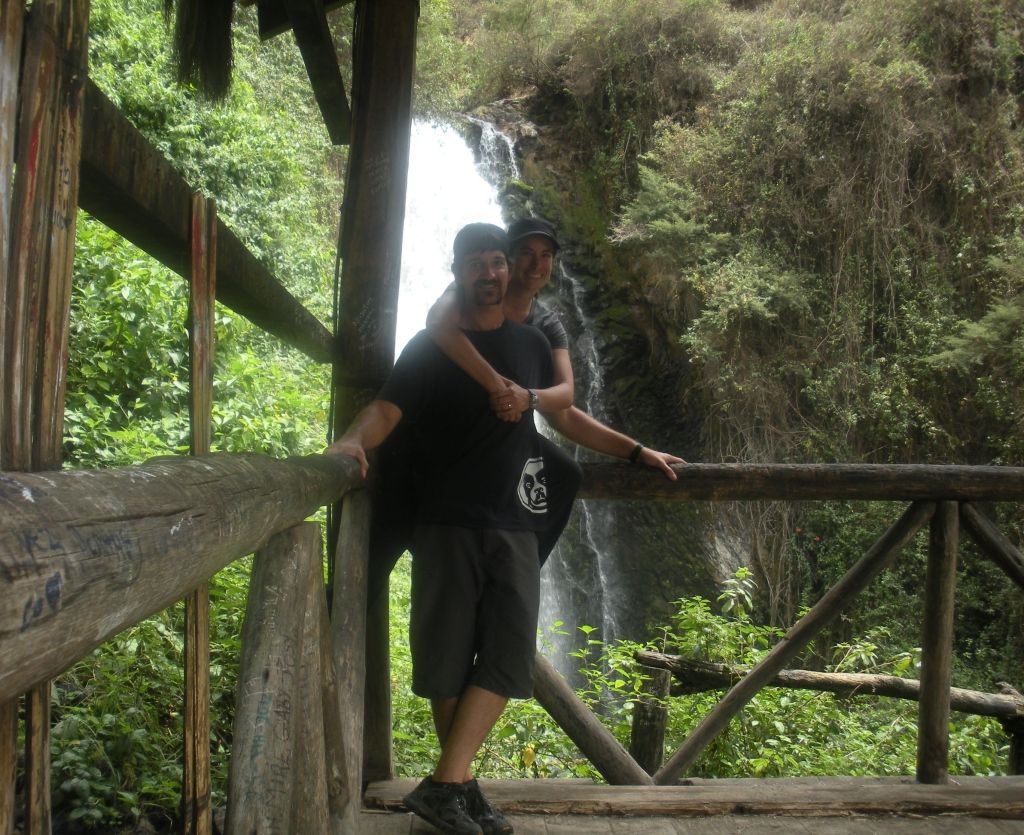 Speaking of volunteer work, it was a bit of an adjustment coming from our enjoyable but schedule-driven and back-breaking cob building, to life on a laidback farm. A typical day consisted of getting up at around 7:45 a.m. and lazing around cooking and enjoying breakfast (omelettes, French toast with homemade blueberry syrup, potato and onion fry…) until about 9. Then we'd work outside until noon or 1, at which point we'd throw together some lunch, chat and clean up--the rest of the day was usually free to explore and chill out until dinner preparations began around 6 p.m. Work consisted of weeding, transplanting, creating a lined walkway, stringing bean plants, feeding the animals, cleaning out the pond flora and constructing a wall to prevent the creek from flooding the farm with trash when the rain causes it to overflow, all in the crisp air and under the shadow of towering volcanoes.Nothing too crazy and it was a nice respite from the extremely physical labor in Tumbaco—napping, playing with critters, exploring, reading and cooking worked out just fine here.
In our free time (afternoons and weekends), we found that we were perfectly situated on the farm to explore the nearby villages and towns in every direction, all of which teemed with indigenous culture. Of course I grilled Shawn about the local issues and treatment, as not every country we've visited so far treats indigenous populations fairly. He shared that especially in this part of the country they maintain a high level of respect and power, partly due to their sheer numbers. In fact, about a year ago they completely shut down all roads in the area, including instigating bus strikes and starting fires in the middle of the roads so private cars couldn't pass, all of which was precipitated by the government trying to bring in a company to privatize water rights. Needless to say, the government lost that battle, although that's just another example of the problems cropping up regarding access to water around the world. The locals also have their own form of justice, as was evidenced with the case of a notorious cattle thief who was caught in the village nearby. The police let the residents handle the issue, until it became clear that they intended to kill her in retribution. At that point the police stepped in, slapped her with a $20,000 fine (she had been stealing cows for quite some time= loaded) and then let the locals take care of the rest, which included walking her through the streets as people threw things at her and beat her, although the police were present to ensure she wouldn't be killed. They also burned her truck to the ground and that was that for the cattle thief. The indigenous population around here definitely rules the roost, which is nice to see for a change.
But back to our free time endeavors! One of the closest towns, Cotacachi, aka "Gringolandia", is about a 5 minute car ride or a 35 minute walk along a meandering sun dappled cow path that follows the creek.Cotacachi is a prosperous town known for its leather industry, as well as a mayor that takes pride in his city by cutting down on waste and pollution. This also means there's a healthy expat community who moved down here to retire or build their dream homes on a budget that will last way longer than in the US. In fact, one night we all went to a re-opening of a restaurant owned by Americans and it was a bit bizarre to be surrounded by roomfuls of Americans speaking English in the middle of the Ecuadorian highlands. However, we took the cow path back and forth on numerous occasions so we could wander around the town, peer in the shop windows at the leather goods on display, visit the mercado, check out the town square and enjoy streets free of trash and debris.
We also enjoyed time in the valley city of Ibarra, the commercial and transport hub of this province. Steve, Mona and I wove our way through the narrow covered market stalls, and of course my sick fascination with meat markets (despite not being a huge meat eater) meant that I always ended up walking us past cow heads cleaved in two, pig carcasses draining bright red blood onto the floor, hooves, lungs and all manner of other animal bits resting in trays on the counter. The Basilica de la Dolorosa grabbed our attention, as they had a large display of when Pope John Paul II visited years ago, as well as a photographic exhibit of sorts discussing the Shroud of Turin. We rounded out our church visits with Basilica de la Merced, which housed an intricate red and gold altarpiece, and the Catedral de Ibarra, with beautifully painted portraits of the disciples along the aisles and an altar featuring a breathtaking Saint Michael the Archangel. Ice cream on a stick made with actual cream (that coated our mouths with its creamy goodness) made our way into our hands at one point, which we finished before stumbling upon the (free!) Museo Banco Central, a thorough and well-designed space dedicated to Ecuadorian archaeology and a featured display of all the traditional costumes used in dances and ceremonies throughout the country, some of which were just a tad creepy (clowns, anyone?).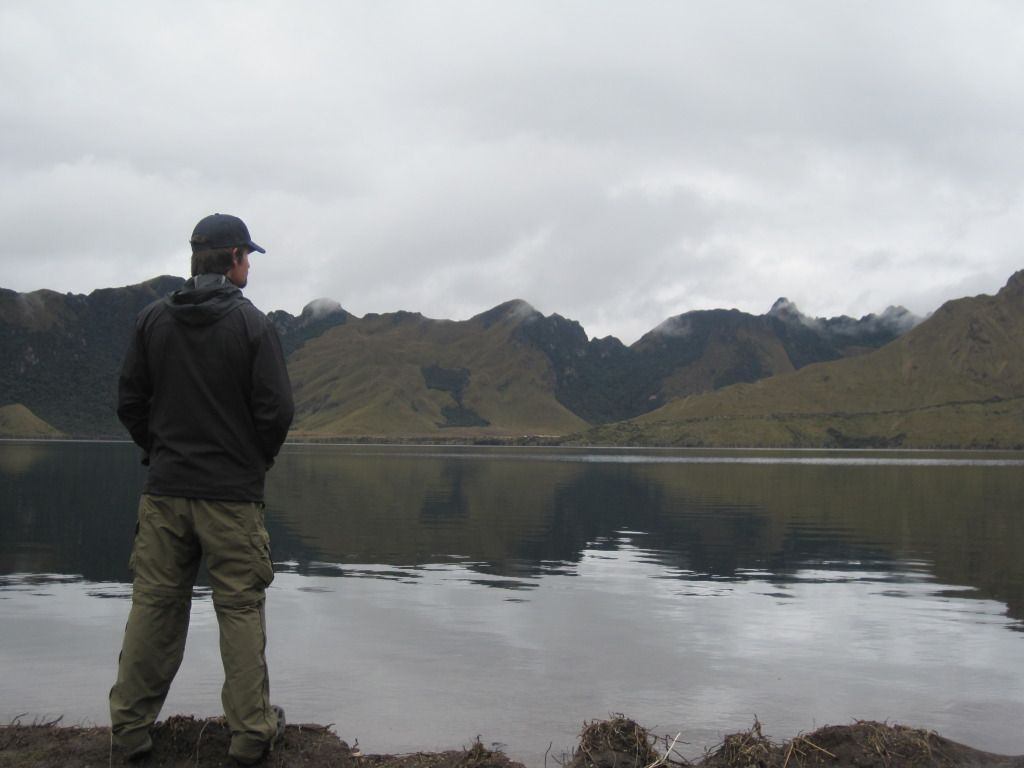 Steve
: When not playing with farm animals to the point where my wife will become a permanent vegetarian, we visited some of the other nearby towns. To start our weekend at Casa de Shawn and Lindsay we made our way—quite early I might add—to the bustling town of Otavalo for their renowned Saturday market. The reason we got there early was so that we could witness the livestock market which gets an early start such that people get the best deals. I should have expected that visiting the animal fair would add further fuel to the fire in Leah's near-vegetarian transformation (I for one still miss an animal-style Double Double). There were hundreds of pigs, cows, chickens, sheep, goats, ducks, rabbits, guinea pigs, and even puppies and kittens. It really wasn't so bad except that we witnessed some of the carnage that must have happened earlier when several of the larger bulls had gotten into it—bloody horns, torn faces and the like. I have to also admit that seeing some of the caged puppies and kittens was a bit hard; we Americans don't like to see puppies crammed in cages with chickens as they hopefully await a new home.
The intensity of the livestock market over, we ambled into the center of town to walk the aisles and aisles of vendors selling everything from alpaca ponchos, scarves and other clothing to art, jewelry, and all sorts of tchotchke goods. My favorite, of course, was trying stuff from the different food vendors. We had ceviche-like corn and beans, guanabana espumillas (a fruity merengue concoction), and my favorite stewed fig and cheese sandwiches. The market was so big that it really was stimuli-overload; we ended up making it out of there having only spent a few dollars (on food no less).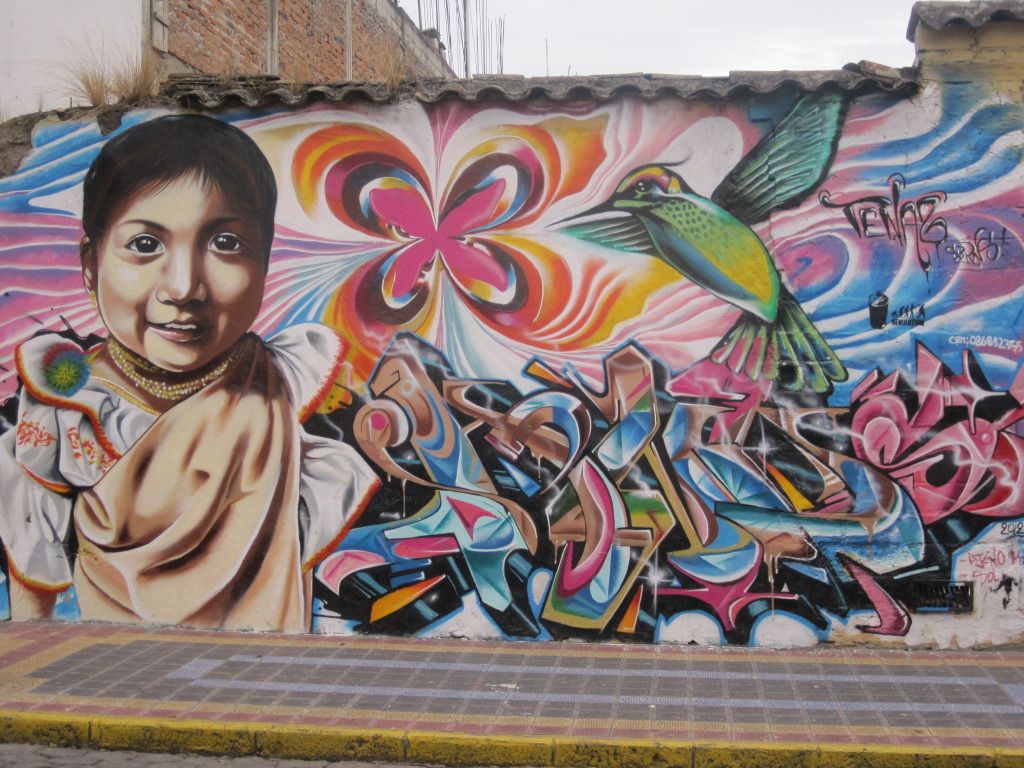 After our market escapades we were picked up by Shawn and Lindsay who had gathered some new American friends to join us on a hike up by Lake Mojanda. Justin and Kerry, two high school teachers from Vermont, and their children Sylvia and Oaks made for pleasant company as we drove up to 12,000+ feet for a drizzly if oxygen-deprived walk around the lake. With a little more acclimation I would have loved to hike the summits of Fuya Fuya, the two peaks that straddled the lake and overlooked the towns of the northern Ecuadorian highlands. The scenery was absolutely beautiful even with the clouds that blocked our view of Otavalo; watching the clouds glide over the mountains and gently dip into the lake made for an impressive backdrop to our trek. When the rain and the cold began to get to us Shawn, Leah and I walked back to the parking area where a vendor was apparently making warm stuff under a rigged-up tarp. We were hoping for some morocha (a local rice drink that I have yet to actually try) but were more than satisfied by our cups of colada morada, a sweet, syrupy purple Peruvian drink liberally laced with fruit chunks that I could get used to having on cold days.
The next day Leah and I hopped a bus back into Otavalo for some more general sightseeing and exploration (
Leah
: including a church in the shape of a hummingbird high on a hill!). There were a few vendors that set up shop in the market square but it was nothing like the Saturday market. We did find that unlike a lot of towns Otavalo did not completely shut down on Sundays. The locals still visited shops and took their families for strolls; we even lucked out to find an orchestra playing some nice Ecuadorian jams in the town square so we sat amongst the locals and enjoyed the easy Sunday ambiance. After this day break we made our way just outside of town to visit the guidebook-recommended waterfall of Peguche. On our way through this tiny village I expected to find a remote and desolate water feature but was surprised to come across a whole tourist enclave dedicated to this natural landmark. It really wasn't that bad though as most of the people there were actually Ecuadorians who come to enjoy their native parkland. There were well-maintained footpaths, bridges, and a scenic picnic area that was guarded by towering eucalyptus trees. Walking through this beautiful landscape was a great way to spend a Sunday afternoon and furthered our love for what this country has to offer.
Leaving Shawn and Lindsay's farm would prove to be a difficult task. It's hard to say goodbye to this captivating countryside, three more-than-square meals a day, lots of fun and outgoing animals, and most importantly some very cool new friends. Unfortunately our time is limited and further adventures await us…but needless to say this place has captured a piece of both of our hearts.
AFTERWORD: I didn't realize how true my words were until we got onto the bus. Not to belittle, diminish or rank any of the people or places that we have encountered but this has been by far the hardest place to leave. Leah was a blubbering mess the second we took our seats on the bus and that's not to say that I wasn't affected. This has been the first place that we could actually see ourselves living one day (
Leah
: for those of you who remember, that honor for me was previously held by Suchitoto, El Salvador…Suchi has officially been booted.) and we fully intend to come back for visits. Unbeknownst to him, Shawn even earned the LBR shirt that I've been carting around for the past three months. That should speak volumes.
Leah
: I echo all of the above. In fact, part of me was actually hoping the bus to Banos would be full so that we'd have to return for one more night; even as I type in the bus terminal, I'm still crying at the fact that we're really and truly leaving. That's what so hard about traveling—there is so much more to see, but who knows if we'll look back a few months from now and kick our own butts for not staying in this glorious spot longer? Que sera sera…
CLICK FOR QUIROGA/COTACACHI/LA CALENA PICS, IBARRA PICS, & OTAVALO/PEGUCHE PICS.