Southern Hemisfears
GUAYAQUIL, ECUADOR: September 19-21
Steve: Travelling with my wife, the ultimate paradox. For someone who professes that travelling moves her soul, travelling is also a completely harrowing and stressful experience. We could chalk that up to a fear of flying which is somewhat legitimate based on some past flight experiences. But then there's the stress of going to another county, stress in buying/securing tickets and boarding passes, stress in getting to the airport on time…so on and so forth. I'd pick up Xanax at one of the pharmacies here but then again she wouldn't take it. (Leah: In my defense, all other travel I've ever done has been on a round-trip ticket. A HUGE part of my stress relates to making sure we've done what we needed to in order to enter and leave a country legally with one way only travel plans—we don't often know what that entails, hence the manic paranoia on my end).
Steve: That brings us to our flight to Guayaquil. After spending way too much time doing research back in Costa Rica, we found that our cheapest option to get to South America was by flying to Ecuador. We continually vacillated on whether or not to go to Colombia—some people said it really was as dangerous as all the stories told while others said that it was a glorious and safe country. When it came down to it we figured that we would skip Colombia on this trip only because entrance from Panama is only possible via an expensive schooner trip or flight; if we would have skipped every "dangerous" country (i.e. all of Central America) we would have missed out on so much beauty.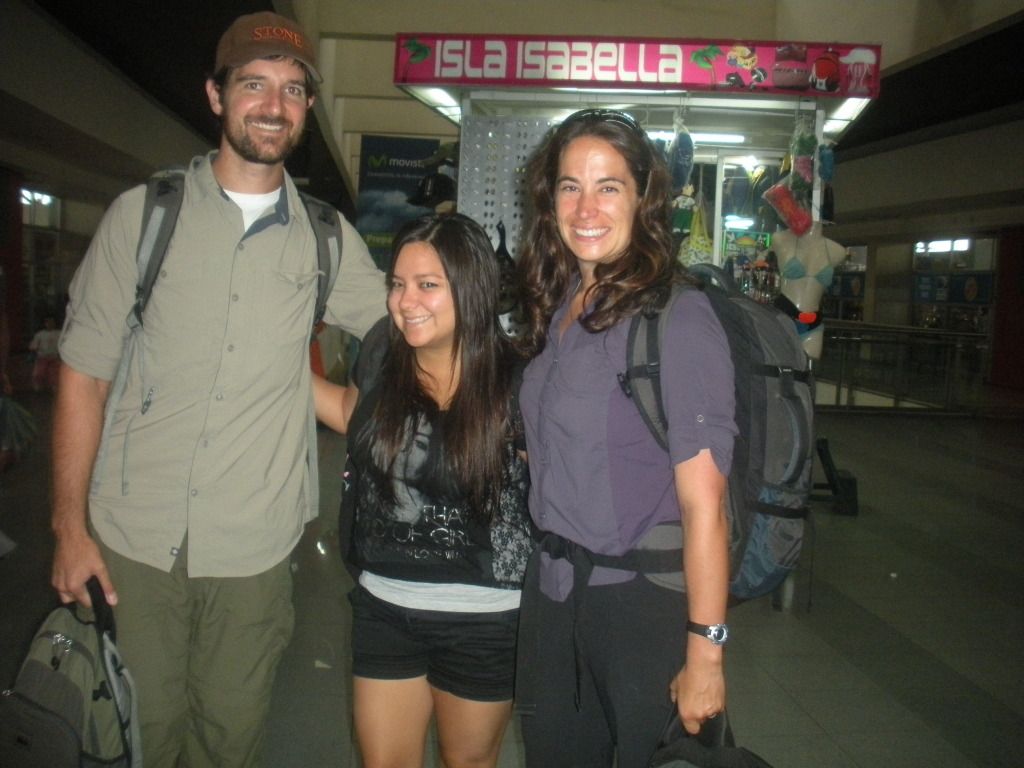 The long and short is that we had found a cheap flight using a company called Tame (pronounced "tom-eh"). We tried booking the flight using a British version of Travelocity but after two tries were notified that they did not actually have "communication" with the airline so we would have to book directly. No problem, right? Well Tame's website leaves a lot to be desired…including the ability to actually buy your ticket. Message boards and Google searches revealed that you had to e-mail Tame directly to make a reservation, which we did—awkward I know. So fast forward to September 19th when we actually have our flight and Leah is a nervous wreck because we only have an e-mail reservation (in broken English no less) through an as-yet-unknown airline. We show up with packs on our backs and proceed to look for the Tame counter…of course there is none. Two misguided trips around the airport and finally the guy manning the information counter decides to actually look up the flight info and give us proper directions. So then we wait…and wait…and finally the desk opens to a massive line of maybe ten people. Now Leah is freaked that we're going to re-enact La Bamba in a Cessna-sized flying chamber of death. We purchase our tickets (cash, no credit) with relative ease and make our way to the gate to wait. The plane pulls up and while small—this was no 747—it looked relatively new and well-maintained. Considering the minimal amount of passengers (there were maybe 20 people on a 50-seat plane) we board in record time and begin our departure. My wife is usually rather nervous, and she was, but the plane's rapid and smooth ascent didn't leave much time for anxiety. Maybe a half-an-hour into the flight and the most amazing thing happens—the flight crew serves us an in-flight meal for a 2-hour flight. No, not a bag of pretzels and a Coke. A chicken cordon bleu with a salad, bread and chocolate-carrot cake for dessert. We were so shocked that I am actually writing about this. I couldn't tell you the last time that I was fed a decent meal on a plane. Guess I should fly to Ecuador more often. Needless to say, a smooth flight with an equally hassle-free deplaning and we're giving Tame Airlines four enthusiastic thumbs up.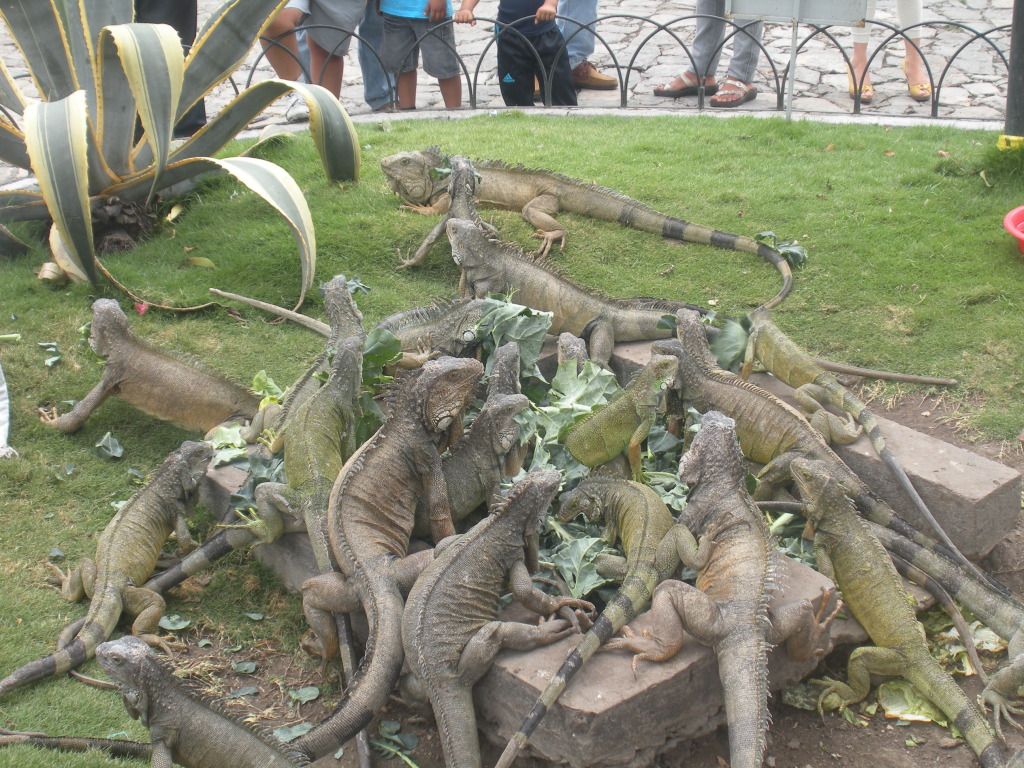 Leah:
Upon arrival at the airport, we breezed through customs and immigration and were greeted in the terminal by everyone's favorite 90s wedding and Bar/Bat Mitzvah dance tune—the enduring Electric Slide. What else would you expect to hear in the airport of Ecuador's largest city (2.3 million to Quito's 1.6), as well as its wealthiest (thanks to its massive port status)? We had been accepted as Couchsurfers for the next 3 nights with Maria Rosa and her family; she had informed us that she'd meet us at the airport, as we were not allowed to take public transportation with our bags for safety reasons. Not 20 minutes later a lovely middle-aged woman hustled up to us (the only gringos in the terminal) with a printed sign that read "Leah and Steve" and introduced herself in Spanish as Maria Rosa's mom, Laura, explaining that her daughter had a last minute job interview and couldn't be there as planned. She then handed us a typed note from Maria Rosa explaining the situation and different options for how we could spend the afternoon before she picked us up after her interview. To top it off, Laura then handed us a spare cell phone to use for our time in the city (we had told Maria Rosa knew we didn't have one) and then bundled us off through the sticky heat into the car, explaining the city and answering our questions as we maneuvered through traffic. After dropping our backpacks off at the family's stunning and art-filled house (Maria Rosa's dad owns his own architecture firm), we walked to a nearby mall to wait for Maria Rosa's call that she was there to pick us up. From that point on, I started suffering from a serious case of Couchsurfer inadequacy. I like to think we took good care of our surfers in San Diego—we did airport/Greyhound bus runs, fed them, provided maps/coupons/bus route info and dropped off and picked up all over the city—but even that felt insufficient compared to what our lovely host provided.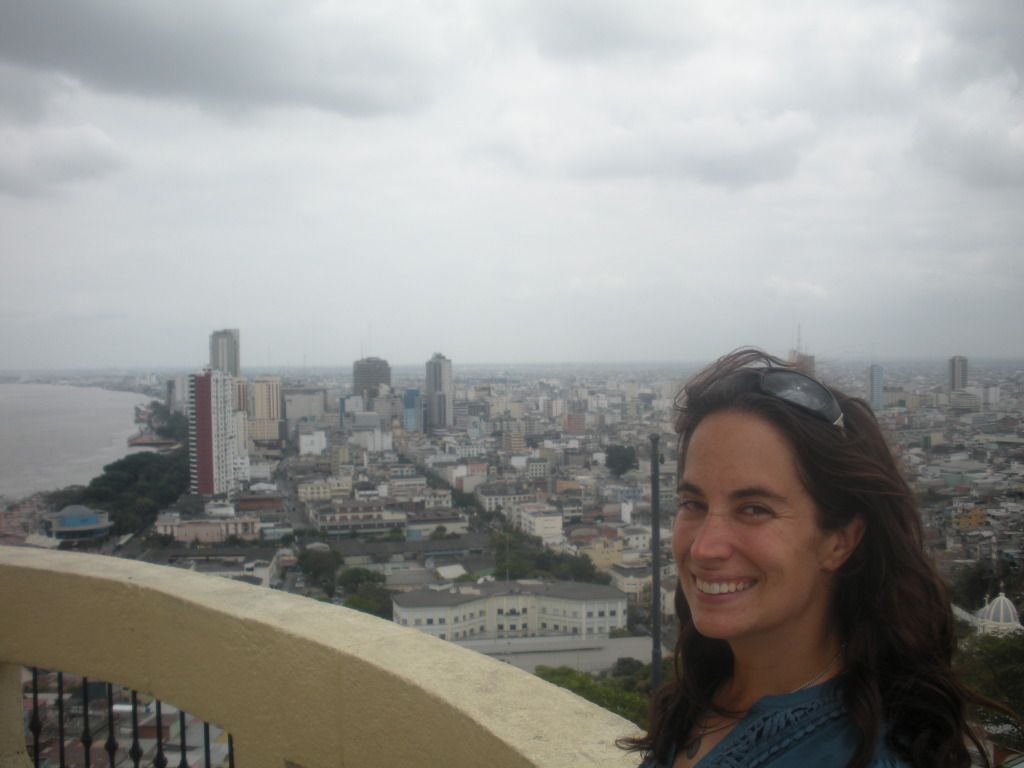 Maria Rosa embodied the spirit and expertise of a passionate Couchsurfer host; we realized immediately that going above and beyond with her surfers is just how she rolls. Not only did she bowl us over with the airport pickup routine, but she insisted on touring us around the city, dropping us off and picking us up around her work schedule, treating us to local foods and answering the barrage of questions we constantly threw her way. In addition, she's such a fervent believer in Couchsurfing that she convinced her family to get in on the action after she herself experienced this amazing global community while studying abroad in Barcelona (she's living with them for a bit before she moves into her own place, which means all surfers have the run of the family home). One day Maria Rosa lent me a small bag to use in the city instead of our backpack and then insisted we keep it because she could get many others just like it. Another day she presented us with a beautiful key chain made of Tagua wood that she purchased for us so we could remember Ecuador, and on our final day she not only drove us to the bus station early in the morning on her day off, but whipped together sack lunches for us to take on the bus and had also written and printed 3 pages of information regarding what we had done in Guayaquil and her recommendations for the rest of our stay in Ecuador. Maria Rosa is truly an ambassador of Couchsurfing and an exquisite example of how local people open their hearts and homes to travelers-we even have tentative plans to meet up with her in a few weeks again! But back to the start of the story…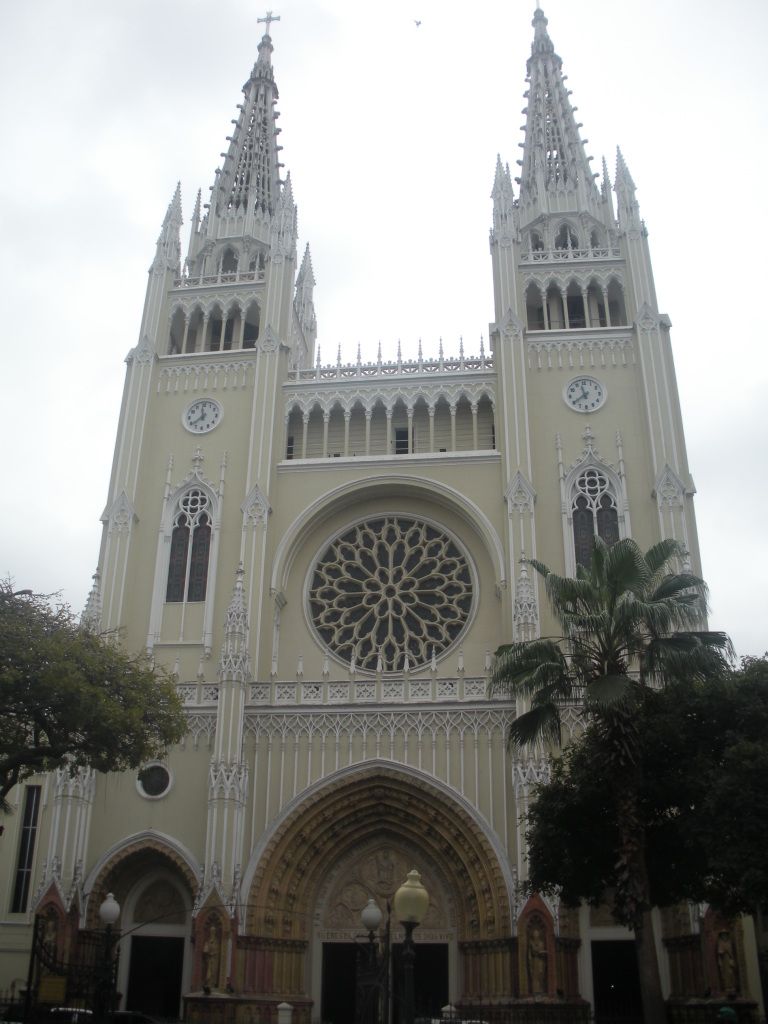 After meeting our petite, mahogany-haired, smiling host at the mall, our trio made our way to the ritzy enclave of Samborondon, the richest area of the city, where we enjoyed hot drinks and tasty treats at Plaza Lagos. As we watched the orange sun dip below the reflection pool on the horizon, we noshed on humita (steamed fresh corn cakes), torta de choclo (corn cakes) and torta de espinaca (spinach cake). In Ecuador humitas are very popular in highland cities like Cuenca and Quito and they are typically eaten for breakfast or with the afternoon coffee. Our other favorite culinary adventures with Maria Rosa included cheap shawarma, pan de yucca (amazing bread balls that taste similar to sourdough and are baked with cheese inside) eaten with freshly blended fruit yogurt, and the Ecuadorian style of ceviche, which is more soupy and made with a blended liquid sauce of ketchup, lime, pepper and onion and is served with popcorn sprinkled on top.

As far as sights go, Guayaquil's offerings are somewhat sparse and centered downtown; only a few years ago the city was once regarded as the most dangerous in Ecuador but a major regeneration program and police presence in tourist spots transformed the once dodgy riverside slum area into the gleaming Malecon 2000, which includes gardens, restaurants, shops, museums, theaters and famous monuments. However, old habits are hard to shake and the city still has its lurking devils. Maria Rosa's mom hailed a taxi one time, only to be abducted for the next few hours and driven around to various ATMs where she was forced to withdraw cash and hand it over. Her brother frequently uses the buses and related several stories over the year of thieves boarding and demanding everyone's valuables at knife and/or gunpoint. Both of these are apparently common enough occurrences that we were under strict order to eschew public transport and have hotels summon safe taxis for us if needed (which was also why Maria Rosa graciously and constantly acted as our chauffeur).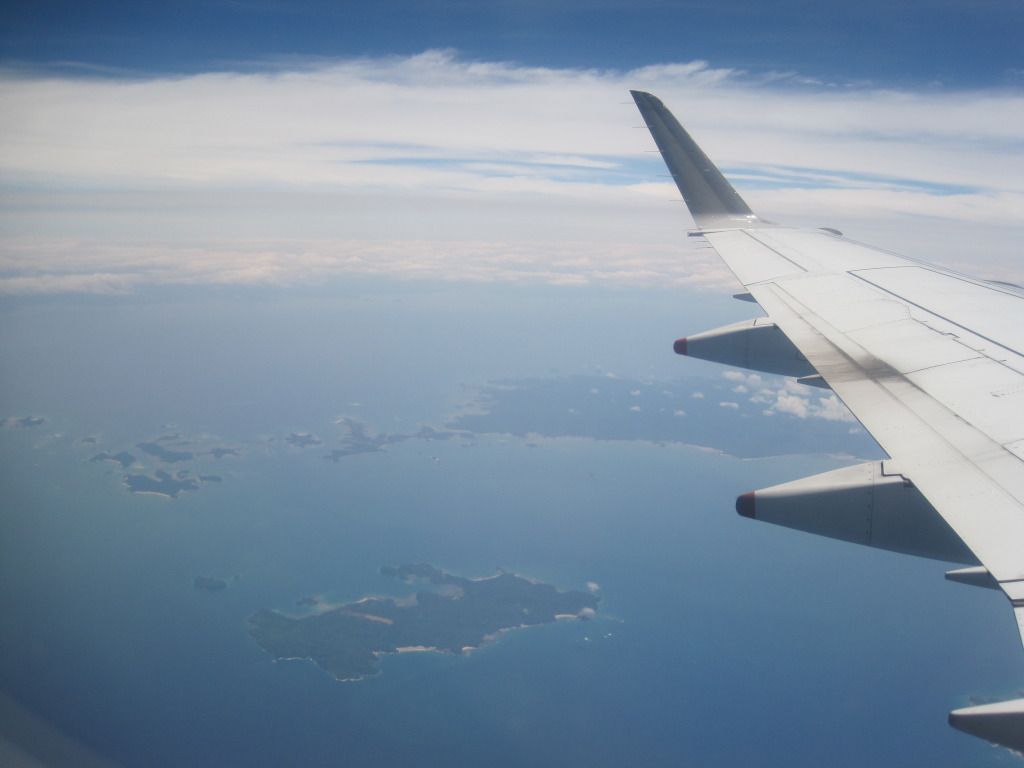 That being said, we enjoyed our time at the Malecon 2000, where we spent an entire day exploring and walking the miles of monuments, shops, vistas and gardens along the security-patrolled promenade. As luck would have it, our visit happened to coincide with
Aromas del Ecuador: Café y Cacao
, a massive expo featuring coffee and cacao/chocolate manufacturers, wholesalers and more. Being official connoisseurs on such subjects (we felt entitled to that label having worked on the cacao finca in Costa Rica for all of a week) meant that we were able to walk around to the various booths sampling all their products. While Steve became increasingly more tweaked out on mini cup after mini cup of (sometimes insanely sweetened) coffee, I zeroed in on chocolate consumables, letting the various taster samples delight my taste buds before moving on to the next table. Well played us. From there we simply strolled, also taking a fair amount of time at Parque Seminario, which abuts the gleaming-white cathedral. This particular park smack in the middle of downtown also happens to be renowned for its iguanas, which nestle high in the trees, on the monuments and around the grassy enclosures. They're fed and cared for and I could have watched them all day, but Steve happened to experience the misfortune of being peed on by above from one of these scaly beasts and that sent us on our way. We wrapped up our tour of Malecon at Cerro Santa Ana, once a notoriously dangerous slum which was recently transformed into an eye-catching hill of brightly painted houses, restaurants and shops. After ascending a winding 444-step staircase and cursing the heat and humidity the whole way, we were treated to a stunning panoramic view of the city, a colonial-style chapel and a lighthouse modeled after one of Guayaquil's first. Of course we felt this subir-ing escapade entitled us to a feast, so we enjoyed a lunch of pesto-drizzled chorizo, Greek salad, potato shrimp soup, drink and a slice of cake for a budget-busting (not) $3.50 each. Quite a productive day and we even managed to secure a safe cab ride home that didn't entail hijacking.
Steve:
All in all, this was a very easy introduction into South America. Great food, great sights and above all great hosts. Sightseeing done, now it's time to get to work…on a cob house outside of Quito that is. Until our next installment…
CLICK
HERE
FOR MORE PICTURES AND VIDEOS