Leah:
We headed out from our northern haven near Otavalo with heavy hearts and many a tear on our way to Baños. To add insult to injury, our bus crept out of the station and along the Panamerica Highway for the first 40 minutes, never topping speeds of 30 mph while other vehicles whizzed by in a blur of speed and horns. We asked the ayudante if there was a problem and he said no, so we sat there both grieving and irate as we stared at Cotacachi and the exit to the hamlet we already missed, passing by at snail's speed like a knife in the wound. Steve likened it to pulling off a band aid sloooowly and I had to agree—then the bus randomly gunned it right past the exit ramp to Cotacahi and we were flying. WTF?! I'll spare you the details on the rest of our bus ride, but let me just say that a 6 hour ride took 8 due to a never-ending traffic jam and the driver's 30 mph espcade at the beginning of the trip (Steve: Um, nevermind the little screaming girl on the bus that sounded inexplicably like Cartman yelling "Mooooooom." I felt just a tad bad laughing uncontrollably). We rolled into Baños at 10:30 p.m. tired, hungry and with bursting bladders, so we were thrilled with our pre-arranged lodging choice of
Princesa Maria Backpackers
, where for $14/night we had a private double room with ensuite bath and a balcony!
Baños itself is one of the most visited cities in Ecuador, despite its relatively small size and highly active 15,000+ foot Volcan Tungurahua that last erupted in 2006, wiping out three villages completely and killing several. The town actually has eruption evacuation routes painted on the streets in bright green letters, but tourists come here still to enjoy the thermal pools which give the town its name, as well as a multitude of adventure sport activities. Baños is also home to Nuestra Senora de Agua Santa, a miraculous Catholic icon credited with saving the town and its inhabitants from countless tragedies over the years, many of which are colorfully depicted in grand scale paintings inside the basilica.
After sleeping off our less than stellar bus ride, we awoke in the morning ready to rock. Our morning consisted of securing breakfast (having not eaten anything since lunch the day before), grocery shopping and slowly ambling the streets of this vibrant town looking at tours on offer, reading menus and watching store vendors pulling, twisting and coiling over-sized ropes of flavored toffee called melcocha in preparation for packaging. We also stumbled upon a serene shrine to
Nuestra Senora de Agua Santa
nestled at the foot of a cliff and flowing with spring water from the mountainside. People would pass through and fill jugs and bottles with the water, both to drink and use for holy purposes at home. Beneath the speckled sunlight and lulled by the sound of flowing water and breezes through the trees, I felt such a sense of peace and awareness of the blessings in my life, despite the anguish of 2011. I was also still deeply missing the people and animals at the farm in Quiroga, so it was quite an emotional moment that overtook me and held my heart.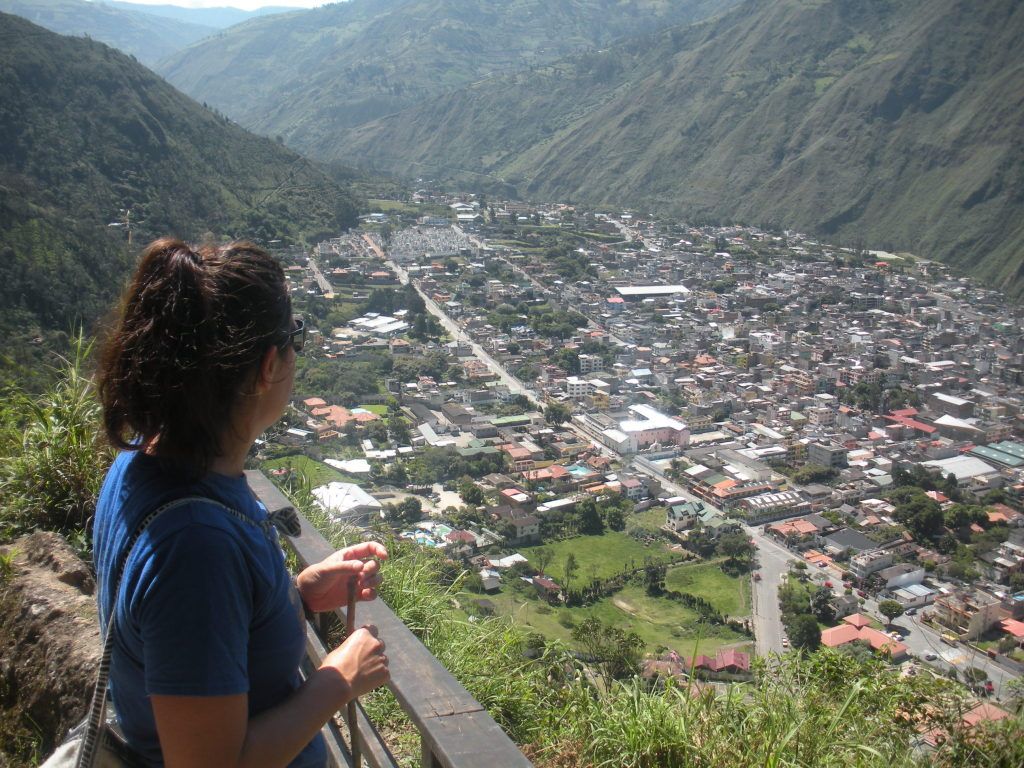 No matter where we went in town we were always under the watchful eyes of the surrounding mountains, so after lunch at the hostel we switched into hiking mode and decided to take in Baños from above. Now, as I've told Steve multiple time on this trip, I enjoy hiking for the trail flora and fauna, what I can see from any viewpoints or lookouts and the personal satisfaction that comes afterward from knowing I tackled a tough climb. However, the actual act of one foot in front of the other up a steep grade is never something I'll actually enjoy and my efforts definitely remain replete with expletives and copious amounts of whingeing. All this was in fact the case as we climbed ever higher on increasingly narrow paths, my hamstrings screaming in protest…but the views! Crayola-crayon colored buildings, the basilica soaring above the town square, soccer fields, the cemetery and even the thermal pools. We walked for hours, occasionally sampling the wild (and quite tart) blackberries while we talked about Steve's dream house (permanence still unnerves me) and all the baby animals I want to have in my post-trip life (never mind that kittens, calves, puppies and piglets actually need a permanent home. Oh, the delicious contradiction!)
However, the best part of this story occurred when we stopped at a beautiful lookout point right on the public path to set up our camera and take a
timed shot
with sweeping views of Baños in the background. No sooner had we fired off a couple versions when a knarled elderly woman came hobbling out of her modest house on the ridge behind us, screaming in irate Spanish. We soon discerned that she was seriously pissed about us taking pictures of her land—which we weren't, as the camera was in fact facing the opposite direction from her home—and she demanded that we pay her and stop taking pictures. We replied back pleasantly that we weren't photographing anything belonging to her and were taking pictures of the city below, all of which bizarrely incited her rage to where her top dentures fell out and her gums flapped a mile a minute. We were simultaneously ticked off for being screamed at for no reason and deleriously happy that the old crone received her comeuppance by way of lost chompers. At this point she also started screaming for her husband, so we decided to book it before we turned into a tourist fatality, but not before I volleyed some choice words back at her (in French, as even I don't feel comfortable cursing out a grandma using words she understands). Quite the escapade and one that we laughed at all the way over to the Mirador del Virgen, a statue of Mary and baby Jesus high above the city that was our last stop before our descent back to the hostel.
Our feet sore and bodies weary, we decided that a soak in the baths would be the perfect closure to the day, so as dusk fell we made our way to the Piscinas de la Virgen, right at the bottom of a tumbling waterfall that they light up at night with blue and green floodlights for dazzling effect. After paying $3 each to enter, we stored our clothes and picked our way over to the lower, less crowded pool, anxiously awaiting how good the water would feel on our aching limbs. We walked down the steps into the pool and immediately gasped, turned back around and exited as quickly as we could. The water temperature was unbearably hot; I'm not a huge hot tub fan and take forever to actually enter one, but Steve loves them and even he agreed that this was akin to boiling your body alive. We sat there tenderly dipping our toes into the steaming swirls of murky caramel-colored water as locals waltzed right in and nestled their backs again their walls. After about 10 minutes it felt like the skin was melting off our feet, so we decided to try the cooler chlorine pool upstairs where we could enjoy the waterfall as well. Let's just say opposite water temperature, same result---Steve actually got in because he's hard core like that, but he soon raced out and I refused to put my legs in below the knee. We were seriously bumming and getting ready to leave when Steve suggested that we try the upper hot pool, despite it being super crowded, just to make sure it wasn't any different. To our pleasant surprise the water was the perfect degree of hot; these Goldilocks had found their "just right" and we secured a spot against the wall where we could watch the waterfall while the minerals and warmth worked their magic. Quite the way to end our day!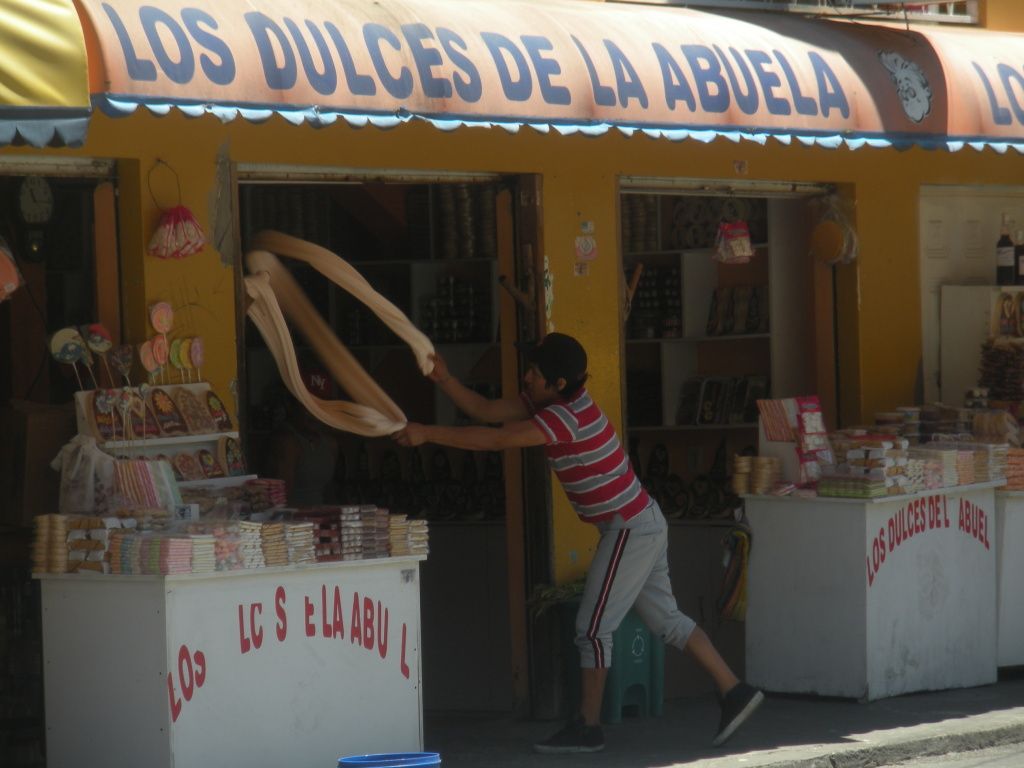 The last day in Baños dawned cool and cloudy, but we set out once again to explore different parts of the city that we hadn't seen before and found a hummingbird fountain and tambourine peace event amount others. We also discovered that if you walk right past the melcocha toffee vendors they'll rip off pieces of fresh toffee and hand them out as samples to entice you to buy their wrapped goods. We worked that angle for a few blocks, picked up some sugar cane juice for Steve to try, watched crazies hurl themselves off a bridge attached to a bungee cord and picked up deliciously cheesy
pizza in a cone
(!) for lunch…not too shabby. We also happened to be in town for Guayaquil Independence Day, which is apparently celebrated all over the country. Festivities coasted of pimped out vehicles cruising the streets with top-of-the-line sound systems blaring, streamers and banners connecting all the lampposts and fireworks night and day that sounded like bottle rockets exploding around every corner. Fun times.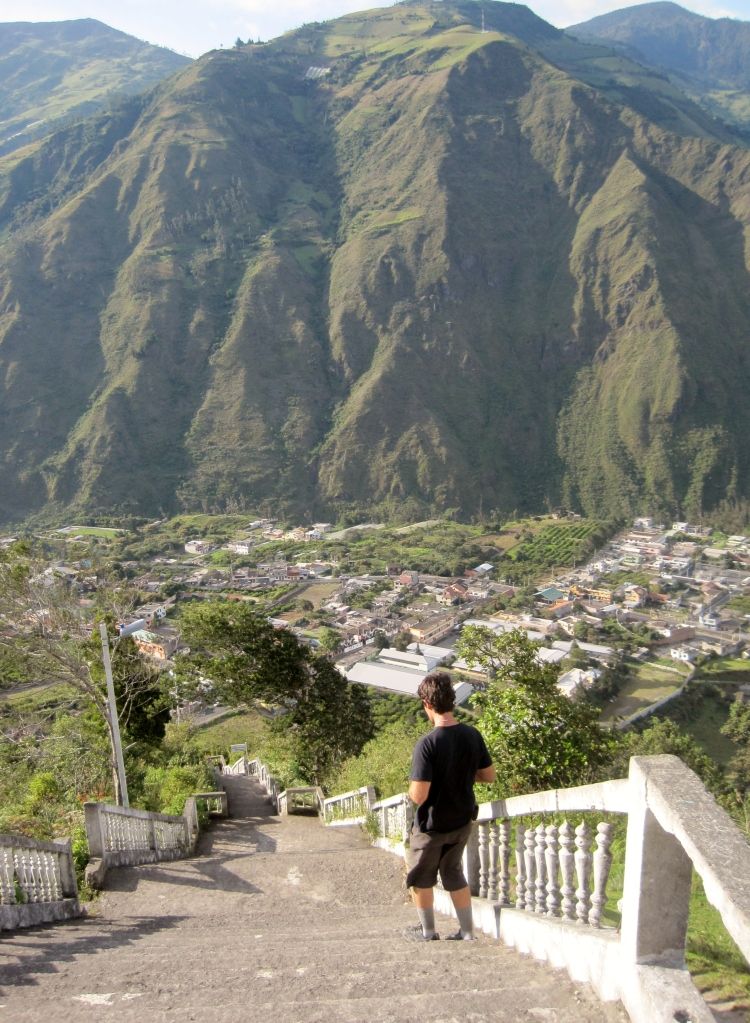 But the real highlight of the day was our successful completion of
Dare #2
wherein Steve had to eat a real steak without wearing a hat and I had to eat non-fried fish without wearing my ever-present green shirt. We had scouted a steak house previously with trout also on offer, so I donned my "fancy" shirt and put on makeup (first time in over 3 months), while my dashing husband fashioned his hair (facial and otherwise) to resemble
Rhett Butler
and off we went. The food was divine and a welcome respite from what we typically feed ourselves to keep the budget in check—it even came with garlic bread, which we downed by candlelight followed by swigs of sangria, all to the accompaniment of a traveling Argentinean accordion player. What a treat (and thanks Mom and Dad)! As luck would have it, however, we arrived back at our hostel to discover that our 5-month-old computer had blown its hard-drive and was completely nonfunctional, so our moods took a nosedive as we packed for our departure the next day.
All in all, we really enjoyed our time here and while we didn't take advantage of the adventure activities on offer, we created our own outdoor endeavors, complete with false teeth and boiling water! Now it was on to meet new friends in Cuenca with fingers crossed that our computer could be saved…
CLICK
HERE
FOR PICTURES OF BAÑOS