A Machu Picchu Birthday
CUSCO/MACHU PICCHU, PERU: October 26-30
Steve:
Where do begin this blog entry? How's about with the ball of stinky, nappy dreadlocks sitting in my lap? Let me back up…in our last entry Leah mentioned how we were both over dusty, dirty and overwhelmingly-touristic Nazca so we booked the only available overnight bus to Cusco via the as-yet reliable Cruz Del Sur. Unfortunately all of their buses to Cusco were of the "Suite" variety which included fully reclining bed seats and a hefty price tag to go with it. In all honesty I was more than willing to go with any of the cheaper and probably less comfortable buses but Leah was a bit worried about safety—she had recently read a blog post somewhere about a rise in nighttime bus robberies on this specific route and therefore rallied for the recognized name of Cruz Del Sur. We want to be able to talk to people at home about our trip one day so the price of safety isn't really something I can argue against.
After showing up a half-hour late, we boarded the CDS bus that was almost full of passengers traveling from Lima on to Cusco. Hungry and tired we went through the standard boarding procedures (passport verification and bag check) and climbed up to the second floor of the bus, eagerly awaiting our sleeper seats, pillows and blankets. Leah was the first to get to our seats only to find that the couple sitting in front of us were passed out and fully reclined. You would think that the design of the bus would have taken into account such a scenario but apparently someone was asleep at the wheel (no pun intended) as the amount of room between seats was perplexing. Leah had a hard time getting into her seat so imagine how I felt; I'm no midget and therefore needed WD-40 to squeeze my knees in (sorry if midget isn't PC…I should add that even a little person would have been uncomfortable). To make matters worse the guy in front of me was a 40ish Brit with a mess of matted dreadlocks. As the attendant brought our dinners (being on the earlier leg of the trip everyone else had already eaten) I asked if there were any other available seats. She curtly said 'no' and stormed off; apparently she was having a great day as well. So there I was…leg-locked in my seat with my backpack on my lap, food on top of my backpack and only mere inches from homeboy's Petri dish of a hairdo. I paid extra money for this? I was not a happy camper.
We moved bags and shoes around and figured out how to sort of make everything work. Sleep was still relatively hard to come by so our arrival couldn't come soon enough. (
Leah:
I myself stayed awake from 9 p.m. until dawn, unable to sleep with the frequent mountain switchbacks and dinner trays slamming around in the back, in addition to wondering if we were being held-up every time the bus slowed or stopped.) Did I forget to mention that this was a 15 hour bus ride? My word, I did! Anyhow I have to admit that the view on our way into Cusco reminded us of Ecuador's scenic highlands. Bus ride aside, we were glad to be somewhere pleasing to the eyes.
Leah:
We were more than happy to leave Cruz Del Sur behind, and backpacks in hand we bartered with several taxi drivers before one agreed to take us to our Couchsurfer's house for the appropriate amount of 4 soles. Our host, Lorenzo, originally hails from France, where he was a
classically trained pianist
and saw his share of highs and lows before hitting rock bottom and deciding to travel the world. He left France with $200 and an electric keyboard and for the last 21 years has been living and playing around the world, including the Middle East and a 10 year stint in Mexico. He arrives in a new city and typically finds work playing in bars or hotels, often only needing to do so a few times a week to support himself; when he tires of a location, usually 3 months to a year later, he simply packs up and moves on. Lorenzo and his charming Peruvian girlfriend Paty live in a spacious 4 bedroom apartment, of which 3 rooms are designated solely for Couchsurfer use. Our host revels in having a constant stream of travelers around, so much so that he sometimes needs to turn to the neighbors to house surfers when there aren't enough beds—it was pretty akin to a mini United Nations hostel experience! Anyhow, Lorenzo made us coca tea to help with the affects of altitude, chatted with us for a few and then sent us off to nap for a few hours so we'd feel less like zombies (Steve: Cusco sits at 11,200 feet so needless to say most people are tired and lightheaded upon arrival…throw in sleepless night on a bus ride and you're destroyed).
About 2 hours later we awoke to the sounds of two of his talented students singing opera in the living room in Spanish and French—I can think of worse ways to be roused from sleep! Soon thereafter we met Robin, a fellow surfer from Canada with whom I had much in common (Keen sandals and social/community development issues for starters) and we all made our way with Paty and Lorenzo to the local hotel where he plays on Fridays and Saturdays (Steve:
The Song
was a rather classy affair, associated with the stunning Hotel Arquelogico and lavish Divina Comedia restaurant). I'll spare you the minutiae, but we all chatted in a flurry of Spanish and English while he played, sipping our various beverages and drinking in the surroundings over the next few hours, after which we followed him to a cozy local bar/live music joint for a bit; Robin and I couldn't tolerate the smoky haze and it was almost midnight by this point, so we finally rallied the troops and headed back home in the wee hours with a highly inebriated Lorenzo in tow.
The next morning Steve and I headed into Cusco with Paty, who had graciously offered to help us secure a one day tour of sorts to Machu Picchu; our arrival would even perfectly coincide with my 31st birthday! At this point I should add that I had been to Cusco 4 ½ years earlier with my middle sister, Diana, when we hiked the Inca Trail as part of a Peru/Bolivia trip and I was excited to be back and share it with my hubs this time around. Despite being ridiculously touristy, I really liked the city—winding tiny cobble-stoned streets, lots of sky, the gorgeous Plaza de Armas central square, expansive markets and all set in a valley so that the houses and monuments dotting the hillsides are visible no matter where you are. Despite the ubiquitous offers for "massages," tours and marijuana and restaurateurs shoving menus in your face, it's a laidback and walkable city with lots of nooks and crannies to explore (Steve: Paty warned us to stay away from the "massages"…they were really much more lascivious than a back rub).
Having secured our tour to Machu Picchu, we picked a direction and started walking, although the altitude affected me more than I remembered and I frequently had to stop due to lightheadedness. I somehow managed to
find the hotel
that Di and I had stayed in the first time around, despite not knowing the name or exactly where it was, but allowing the muscle memory and buried recollections of roads to take over. We popped into the bustling San Pedro market where Steve bought a bag of fresh coca leaves to chew on for energy, enjoying a vibrant sidewalk art fair and sampling hard-boiled quail eggs from a street vendor on the walk there. It was also a priority for us to find the
Choco Museo
, having visited a sister location in Granada, Nicaragua where we became addicted to the frothy, chilled and slightly bitter chocolate drink we had sipped by the pool there. Our drinks in hand on the second story balcony of the museum, we had a perfect view of Plaza Regocijo and multiple
rainbow-colored city flags
of Cusco fluttering in the breeze (they look just like the gay-pride flags at home, so we had to keep reminding ourselves that Cusco isn't necessarily more progressive when it comes to the GLBTQ community).
So there I was sipping away, my eyes lolling back in my head in chocolate-induced ecstasy when I saw something that made me belt out some non-ladylike language and almost topple my stool. Below us in the square just
sitting down to lunch
was a trio of blondes, two of whom were under the age of 10. Sure enough, it was the Hollett family, so we booked it down to say hello and promise that we weren't stalking them through the continent. Gretchen was wide-eyed with shock but stoked to see us, as John was sick in bed and she was feeling a bit homesick herself, although Mia and Emma seemed to be in fine spirits. We caught up on all that had happened since Mancora,
snapped a pic
, wished them well at Machu Picchu when they made it there and promised that we'd let them know about hostels and visas down the line, since we were planning to hit Bolivia before them. Jubilant and buoyed by running into them so randomly again, we set off for more walking, picture taking and street gastronomy adventures. In fact, we caved for dinner and blew the budget at an English pub, since we were pining for our dear dining establishment,
Shakepeare Pub & Grille
, back in San Diego. The fish and chips and shepherd's pie hit the spot, sating our desire for comfort food and warming us up from the inside out. Once outside we encountered a ginormous parade/festival in the main square, honoring Nuestro Senor de los Temblores (Our Lord of Earthquakes), with locals
dancing in costume
,
playing music
, carrying offerings and even balancing crushingly heavy platforms supporting icons of Jesus and Mary. Truly spectacular, though we were on high alert for pickpockets in the shoulder-to-shoulder crowds. From there we decided to forgo the bus back to Lorenzo and Paty's, choosing the 40 minute walk instead, after which we tucked in early in preparation for our 7 a.m. tour departure the following morning.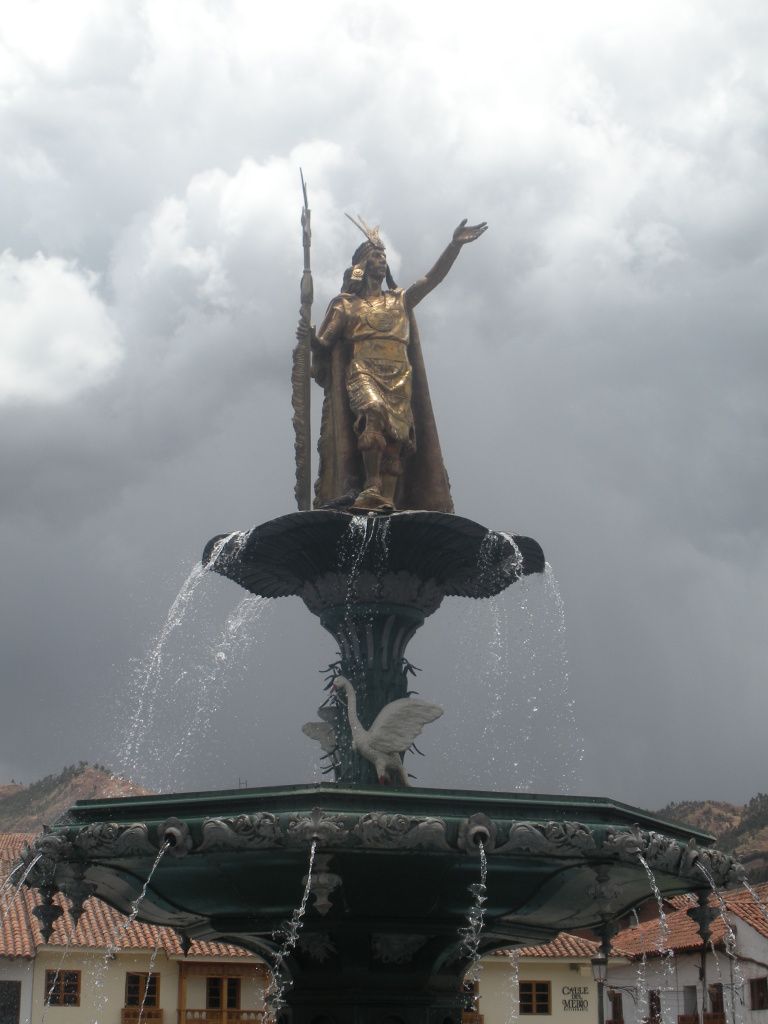 Steve:
Knowing that Lorenzo liked to party and that we had an early morning ahead of us we forewent another evening at The Song. It was a good thing since there ended up being a raging party in the Plaza de Armas and Lorenzo didn't get home until 3ish; I still didn't get much sleep as I listened to our host banging around in the kitchen for awhile trying to cure his late-night munchies. Soon enough morning came and we hastily made our way out to the street to catch a cab to the center of town to meet our shuttle. We probably could have slept in a bit as it took awhile to assemble all the paid participants of our tour, but hey, we were going to Machu Picchu. Que sera sera.
Everyone loaded in we embarked on our six hour shuttle ride to the starting point of our hike. We had quite a motley crew with us—three Poles, two Austrian girls, a couple of Spaniards , several Peruvians and we Americans—I think all we were missing were Tommy Lee and Nikki Sixx (a not-so-subtle Motley Crue reference for those in the know). It was a beautiful ride that took us through the Sacred Valley which is exactly what it sounds like, a valley containing multiple Incan ruins that were associated with the seat of power known as Machu Picchu. As we climbed up through the mountains, everything became distinctly greener and colder, with snow-capped peaks occasionally piercing through the cloud layer. It was a windy ride that eventually took us back down into the valley and onto dirt roads that hugged the mountains and followed the river below. Leah was particularly fond of this part of the ride since she loves looking out the window and seeing only six inches of road between us and a sheer drop hundreds of feet down.
After stopping for lunch, we continued the shuttle ride to the start of our hike at the Machu Picchu hydroelectric plant. This hike was no Inca trail mind you, as we essentially walked along the train tracks to the small town of Aguascalientes, where most travelers stay before making their way up to the City of the Incas. I must say that it was still breathtakingly scenic as we skirted the river and trekked along the basin of the mountains upon which Machu Picchu is situated. A continuous sprinkling accompanied us on our late evening hike so by the time we reached Aguas Calientes pretty much everyone was wet in some shape or form; as we were all in the same boat this only served to unite us in this shared experience.
A surprisingly delicious dinner in our bellies (lunch, dinner and a sack breakfast were included) we got ourselves into bed as soon as possible. Everyone agreed to be up and at 'em by 4:30 AM so as to get down to the bridge crossing to Machu Picchu by 5 AM when it opened. It was cold but the sky was gently turning a lighter shade of blue as the sun hinted at its arrival. The scene was exhilarating being part of a drove of backpackers denying their tiredness for a chance to see this epic site at sunrise. We got into line (we were already towards the back) and when 5 AM hit the gates opened, passports started being checked and people began the arduous one hour climb up the mountain. I should add that everyone had the option of taking a bus ($17 USD, and not included with our tour fare) but seriously, who would come here and do that? None of our group, that's for sure.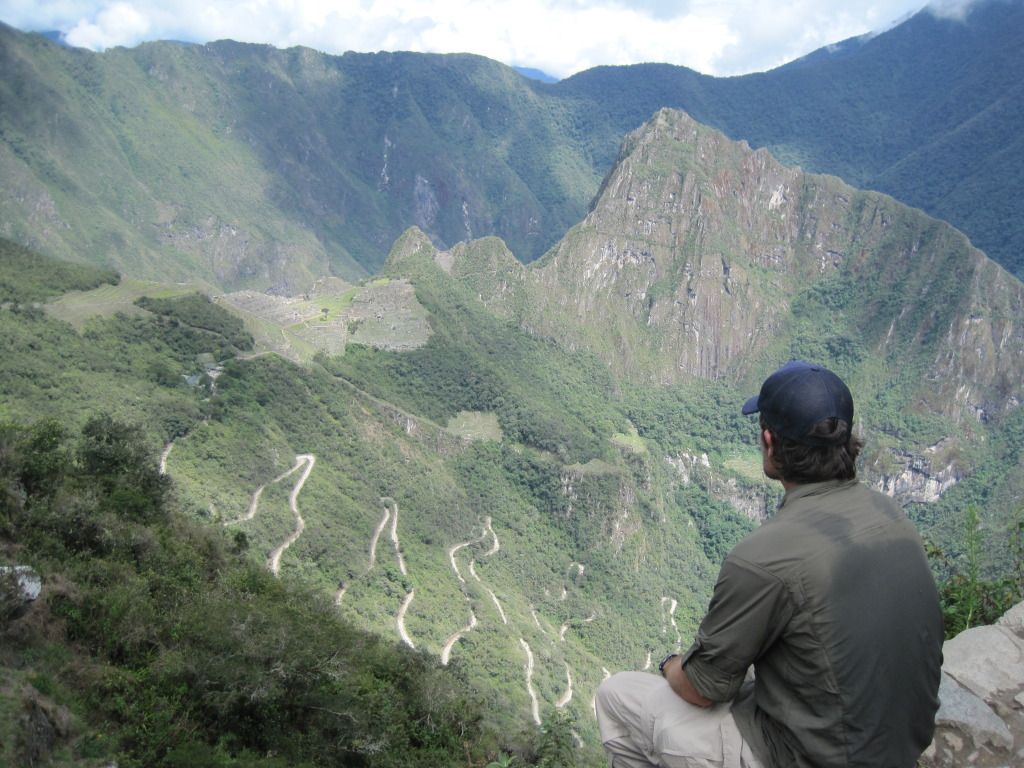 I have yet to mention that this beautiful morning was Leah's birthday. She was so excited to be pushing her muscles and lungs against gravity and altitude. She really was excited to be at Machu Picchu on her birthday (as you'll read ahead) but she was not quite having this early morning ritual of pain. I had to calm myself and put my competitiveness in check since this hike wasn't one of my trail runs back at home. I gently pushed my wife to keep her going but all the while found myself struggling to keep sight of the true goal—not to be among the first ones to the top but to complete this journey together. (
Leah:
a glaring difference between us sometimes arises in Steve's competitiveness and my lack thereof. Of course I was finishing this hike, but I didn't need to be first in line and my pace confirmed that. Steve was great at hanging back, although I knew it was difficult for him.) We were both working hard to keep our attitudes in check (we were actually doing a great job) when we found ourselves suddenly being
cheered on
by a hummingbird; Leah was convinced that it was singing her happy birthday and I'm not unconvinced that it wasn't As we lumbered up the steep trail it seemed that the little bird was following us, a constant reminder to keep our spirits up and our goal in sight.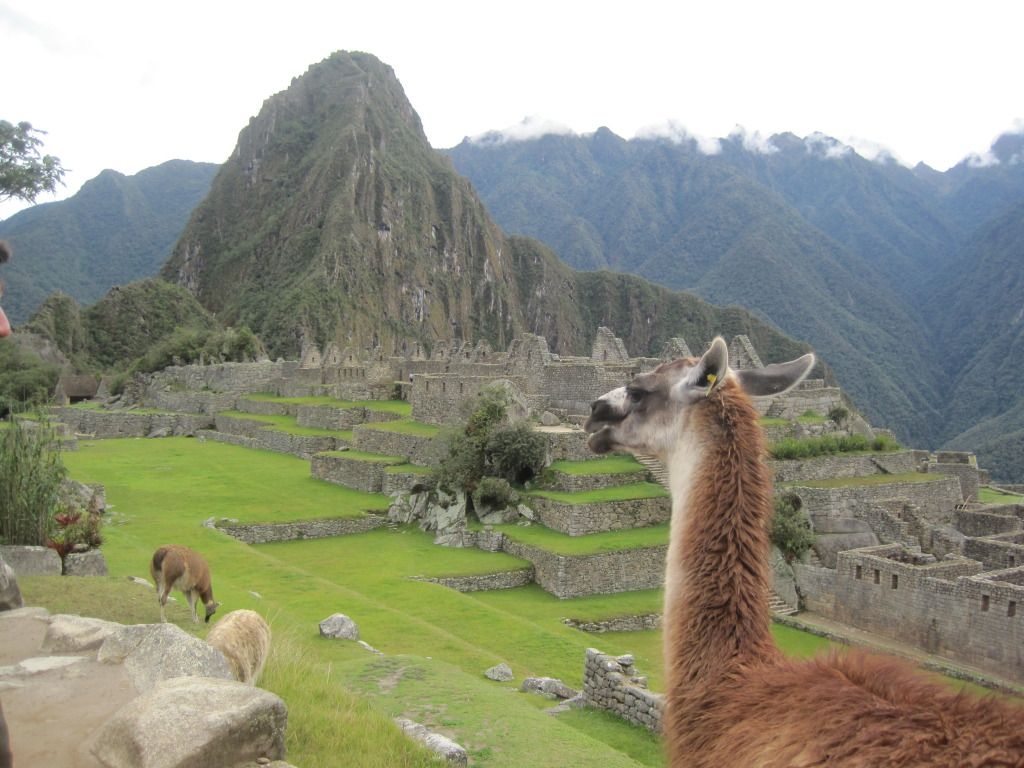 (
Leah:
for those unaware, hummingbirds have an almost spiritual significance for us now, since a hummingbird we christened "Bitty" moved into the peach tree in our backyard in San Diego within days of Minger's death. We had never had them at our house before and Bitty was there every day until we left for this trip, even during winter, to greet us mornings, afternoons and evenings, frequently hovering within inches of us and helping ease our grief with Ming's noticeable absence. Already on the trip we've encountered these amazing little birds at critical points when our spirits needed some extra nurturing, and this particular feathered friend sat right on a branch singing her brains out and then followed us up the last stretch when I needed encouragement. You tell me what you believe…!)
In just under an hour we made it to the entrance to Machu Picchu, just in time to be among the first to enter. We hurried our way into witness sunrise and soak in the wonder of this lost city before all views were speckled with tourists. We hugged and kissed knowing that this was a special moment we were sharing together. With Leah having previously been here before, we were already tied into this place through the birth of our relationship.
Leah:
I have to say that seeing Machu Picchu for the second time was just as impressive and emotionally moving as the first, although after that grueling hike up I have no idea how I hacked the actual 4 day trail several years ago! I found myself reflecting on my first glimpse of the site over four years ago, after Diana and I crested the final hill and arrived at the Sun Gate in the early morning. I had been through a nasty breakup a few months earlier, had recently started dating Steve and had actually received word the day before I started the trek that his cousin had been hit by a drunk driver and was in critical condition. To top it off, after 4 days of strenuous hiking, altitude, sleeping on the ground and wondering why I was nuts enough to do this, my body was physically and mentally depleted; I remembered how the first sighting of Machu Picchu in the distance on that hazy morning in 2008 reduced me to tears and my knees to jello. Now here I was 4 ½ years later on my 31st birthday, married to Steve, sweat sluicing down my body and standing hand in hand with my husband as we watched the llamas graze in the empty serenity of this remarkable place hemmed in by verdant mountains on every side—of course the tears came. I found myself thinking of all the blessings I've reaped since the last time I saw Machu Picchu, as well as the incredible tragedy and loss I've lived through. I reflected on being another year older and for one of the first times in my life, felt my thoughts turn to questions of fertility and a twinge of fear that I may be pushing my luck by not starting a family soon, followed by anger and frustration that as a woman this is something I have to worry about. I also realized that this time next year I'll be celebrating another birthday (and freezing my tush off!) in Finnish Lapland, surrounded by sled dogs and hopefully snow. But most of all, I felt a sense of peace and incredulous wonder that I was sharing this incredible moment with my best friend.
After firing off a few tourist-free pictures and petting a 3-day-old (!)
baby llama
, we spent a couple hours with a knowledgeable guide touring the entire site, which I appreciated having forgotten much of what I learned last time. We made wishes with coca leaves at the Temple of the Condor, learned about Incan construction and marveled at their ability to cultivate plants and life on this rocky and steep hillside. Tour over, we decided to make the 45 minute uphill hike to the Sun Gate, the very place from where Diana and I first saw Machu Picchu all those years ago. Beautiful vistas abounded from the top; legs swinging on the rock wall, we sat in silence marveling at the hill we had climbed that morning and the ant-sized people walking around below. We headed back down and then made our way to the
Inca Bridge
, a narrow chunk of wood and stone literally hugging the rock face that the Incas once used but that tourists are prevented from going near due to the danger and liability factor—I hadn't seen this on my last trip, so it was a neat experience. Back at the main site we were attempting some more pictures when I happened to glance down farther down the hill and right at, you guessed it, the Hollett family. Mia and Emma saw us first, and of course John and Gretchen were floored. I received birthday hugs, we took a group shot and parted knowing that there's no way we won't see each other again—what a lovely birthday bonus!
Steve:
With hours of hiking and a lifetime of awe-inspiring moments under our proverbial belts before noon, we made our way back to Aguascalientes to the train station where we would begin the reverse of yesterday's trip for our return to Cusco. We made it back by 10 PM for one more night's stay at our French friend's home (Leah: after our mini United Nations van of travelers sang a rousing and raucous rendition of Whitney Houston's "I Will Always Love You" when it came on the driver's iPod. Pretty damn funny.) We forgot to mention that he had just found out that he was accepted for open-heart surgery and therefore all his CouchSurfers had to leave a little earlier than expected. So the next day after saying our goodbyes—with his vivacious spirit and eccentricities we really liked Lorenzo (and Paty)—we made our way into Cusco to stay at the surprisingly cheap and pleasant Mirador Hostel before leaving the next day for Puno. We spent the day exploring a bit more and toasted Cusco goodbye with dinner and a couple of drinks at
Paddy's Pub
which touts itself as the "highest 100% Irish-owned pub on the planet." It was a fitting end to a lovely visit to this endearing and charming town.