A Wet and Roaring Feliz Navidad
PUERTO IGUAZU, ARGENTINA: December 24-26
Leah:
I'm happy to report that Iguazu Falls didn't disappoint and I've reached a truce with Argentina. Things still happen that boil my blood, but more than ever I'm determined to focus on the positive and the natural beauty of this country is definitely one of them!
We were meant to have a Workaway opportunity for a week over Christmas, so when we received a last minute notification that our host had to cancel, Steve and I were faced with what to do with almost 2 weeks of suddenly free time before we could check in at our lodging in Buenos Aires. We had been looking forward to spending Christmas surrounded by other volunteers in a family environment, so part of our conundrum was where to go now, realizing that it would only be the two of us.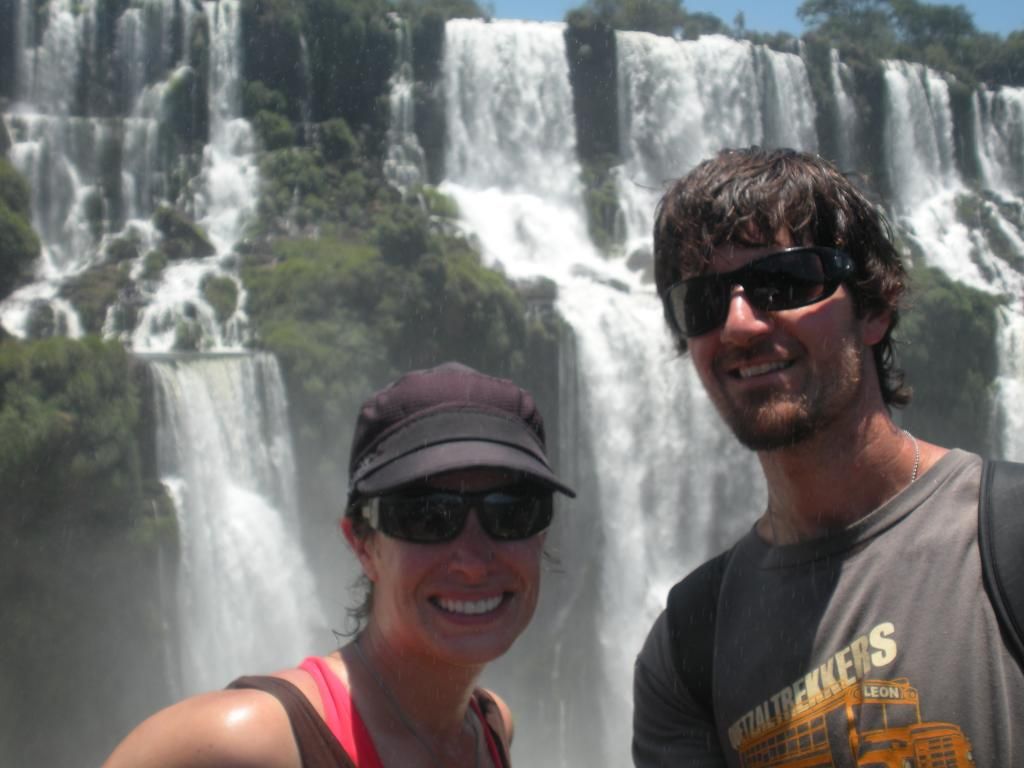 Luckily our
tomato farm host
, Johnny, had business on the other side of the country and was able to drive us 12 hours to the east, saving us hundreds of dollars in the process and depositing us in Rafaela. We then caught a bus to Santa Fe for a few days and then on to Rosario (December 16-22). Nothing too much to note at either of these places, as violent wind and rain storms plagued us the first few days and we spent the rest of the time catching up on sleep, resting our weary muscles, exploring the towns on foot and answering emails. However, we did indulge in our Lord of the Rings
nerdery
by taking in a 3D version of the newly released
The Hobbit
- it was even in English with Spanish subtitles, so we were thrilled to check it out after finally reading the book a few months ago.
After some deliberation, we decided that we should make the most of it and celebrate Christmas at the magnificent Iguazu Falls. Therefore, December 23 saw us catching a long haul overnight bus from Rosario up to Puerto Iguazu, a tiny town of about 35,000 nestled in the most northeastern finger of the country and almost literally a stone´s throw from both Brazil and Paraguay across the Rio Iguazu and Rio Parana respectively. Our views consisted of vibrant terracotta colored earth and dripping tropical forest foliage, our ears churned with the chainsaw staccato of cicadas (can´t say I´ve missed them!) and our lungs heaved with the effort of trying to breathe steamy air so hot and heavy it felt like we were sucking oxygen from a hair dryer filtered through a humidifier. Welcome to Iguazu! We settled in to a dorm at
El Guembe Hostel
($10.50 each and one of the cheapest in town) on the 24th and booked it to the tiny pool, anxious to escape the thick heat and soak the bus travel from our skin.
Christmas Day dawned just as achingly hot and sunny as the previous, so loaded with multiple water bottles, a sack lunch and charged cameras we made our way to the bus station to catch the regular bus to
Parque Nacional Iguazu
. Quite the racket there, as we paid as much for a 30 minute round-trip ride (50 pesos/$10.50) as we have for a 3 hour bus ride elsewhere in the country, but there were unfortunately no other options. The park entrance fee set us each back 130 pesos ($27) and tickets in hand we had to first make our way past an extremely graphic and over-sized sign admonishing visitors to drive slowly by showing dead and bloodied park animals (jaguars, tapirs, etc.) that had been hit by cars. Charming.
Steve:
The only wildlife they really needed to warn us about were the park's visitors. You've all seen People of Wal-Mart right? There should be a People of Iguazu. When the weather gets hot clothes start coming off...but that doesn't mean it's okay. To the credit of Argentina I can't say it was all Argentines; there were plenty of less-than-half-naked foreigners walking around in things that would get your arrested in several U.S. states. I am all for people having self-esteem and being okay with their bodies but there are some things that can never, ever, be unseen.
Leah:
A quick walk and subsequent tram ride took us to the beginning of the
pasarelas
, or metal catwalks, that would allow us to approach the Garganta del Diablo (Devil´s Throat), a deafening and drenching waterfall of spectacular magnitude set in the middle of the subtropical rainforest. We love our waterfalls on this trip, and La Garganta did not disappoint--a giant tumbling froth of muddy rapid water shooting over the semicircular edge and disappearing in a layer of mist and spray so dense we couldn´t see the bottom of the falls. Just across the banks lay the Brazil viewing platforms and farther down was Paraguay, so we also delighted in being able to stand at a truly amazing convergence of national borders. The spray drenched us to the skin, myriad rainbows danced in a shimmering mirage and our ears thundered with the deafening sound of water, water, everywhere. And this was just the first waterfall!
The rest of the day saw us hiking, sweating and marveling at every turn, our jaws on the ground as each new vantage point afforded us sights and sounds of the falls we couldn´t believe and which made us feel very, very small. I couldn´t get over the sheer amount of water, which made it that much harder when we learned that there have been droughts severe enough in the last few decades that the falls more or less dried up. Wildlife abounded, from the butterflies of every color and size that gathered at small waterholes to delicately probe for salt, bold and brazen birds with magnificent plumage, coati, lizards, fish and the countless other animals hidden in the foliage and murky waters (apparently in 1997 a jaguar killed a ranger´s infant son, so big cats lurk unseen as well).
Outside the Lens
, a literacy through the arts program, since I was in the nonprofit world. Not only did I know of and work with them at my previous job, but one of their rockstar employees, Niki, is a dear friend and was our wedding photographer to boot, so we both chatted about her for a bit. Small, small world!
From there we took the free boat shuttle to Isla San Martin where we had the privilege of hauling ourselves up steep flights of stone stairs, our shirts and pants sodden with sweat as fresh salty rivulets coursed down our backs and hairlines. However, at the top we had majestic views of the Garganta del Diablo upriver, as well at the massive white curtains of water free-falling to the river below which was comprised of about 6 other falls that hemmed in the island. The Rio Iguazu is so swift and strong that over the years several (stupid? risk-taking?) tourists have even been swept downriver and drowned around the island; looking at the walls of water it was easy to see how you would never stand a chance. The heat, humidity and environs soon made us delirious and we found ourselves shooting several short Christmas shout-out videos to our friends and family at home, one of which you can
see here
. Yes, we are that cool (
Steve:
the whole sequence of videos is actually quite comical; at one point I went off of the script and pissed off Leah and then she got flustered and so on and so forth. By the time we filmed this one we were just having fun).
Tired, dehydrated (despite plowing through bottle after bottle of water), almost out of sunscreen and resembling a human salt lick, we decided to wrench ourselves away from this natural wonder and back to the hostel, where we made for the comfort (if not the cleanliness) of the hostel pool. Puerto Iguazu was actually bumping on December 25th, which meant we blessedly had our choice of restaurants and corner shops to choose from. We went a little non-traditional with our Christmas feast, as it was too hot to fathom cooking in the kitchen, let alone eat anything warm. Therefore, we grabbed some pasta, tuna, canned corn, canned peas, tomatoes and onions and whipped together a cold pasta salad spiced heavily with black pepper, cayenne and a dressed with a mixture of mayo and vinegar. Divine. Our gifts to each other were more practical than anything but made us much the happier couple...we decided to pay a bit more and upgrade to the air conditioned dorm room for the next two nights, which was the most amazing present we could have gifted.
CLICK FOR
ROSARIO
PICTURES, CLICK FOR
IGUAZU
PICTURES