Eat, (Couch)Surf, Love
CORDOBA, ARGENTINA: November 23-27
Leah: Warning: extremely fabulous Couchsurfing experience to follow—we are on a mission to open everyone's eyes to this incredible organization and this blog post is no exception! Our overnight and uneventful bus from Tucuman safely deposited us in Cordoba around 7:30 a.m. and we sought out a coffee for Steve so we could sip and wait until 9:00 a.m., when our Couchsurfer host would be arriving to collect us. We already liked Cordoba for the fact that several of our Couchsurfer requests were not only replied to (we haven't had the best luck with people getting back to us in Central and South America), but that we had been accepted by multiple hosts as well, which meant that we were in the lovely position of choosing our "home" for the next few days. We picked Luciano, or Lucho, a kinesisiology student who spoke beautiful English and had never had surfers stay before! It seemed meant to be, since his school obligations and weekend trips home had prevented him from hosting for over a year; we happened to be in Cordoba the week after his exams ended and right before he left for a 4 month working trip to the US. I don't know who was more excited about this arrangement, but we definitely felt like it was meant to be.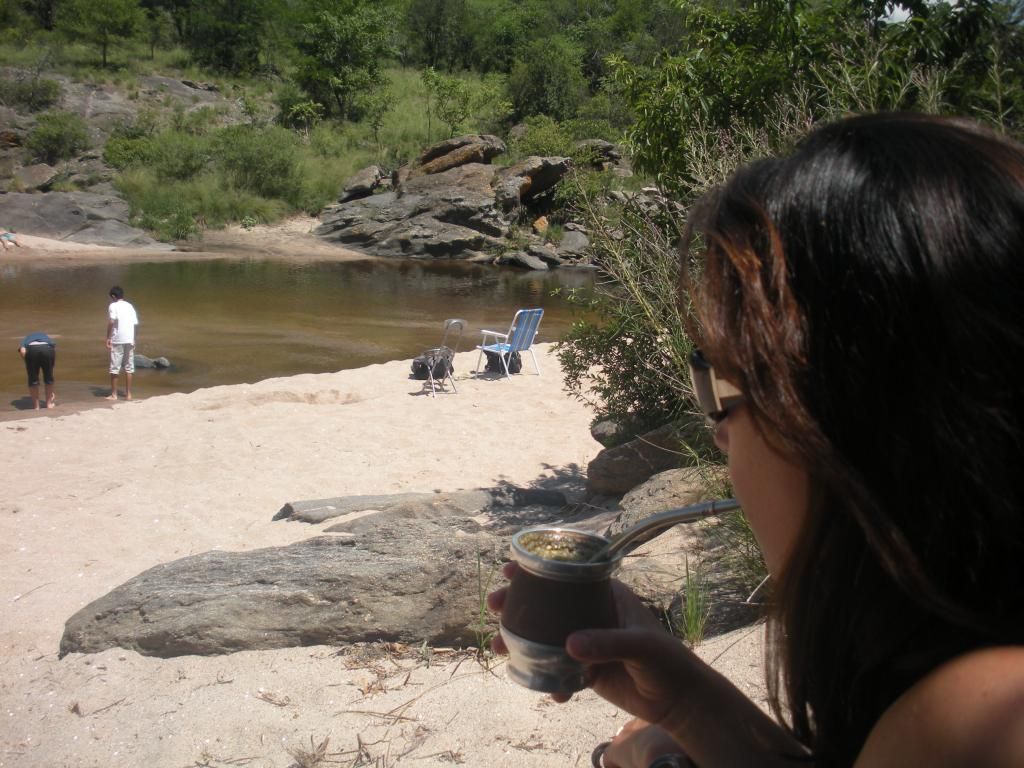 As Lucho promised, he arrived right on the dot at 9 a.m., greeted us with the Argentine cheek kisses, helped me with my backpack and walked us the 3 blocks to his 2 bedroom/2 bath high-rise apartment to get settled. As I later told Steve, if I were 10 years younger and single, I would have been crushing hard on our new friend (and did anyway in an I'm-married-and-old-but-still-think-you're-adorable kind of way)! Tall, charming and excited to experience the world of Couhsurfing, Lucho immediately seemed much older and wiser than his 21 years as we plowed our way through initial formalities and conversations surrounding our trip and current state of exhaustion (high). Despite his English, Steve and I slipped into Spanish-only mode, which we would use for the remainder of our time with Lucho, and quickly found our brains trying to adjust to the Argentine Spanish, with the locals' propensity to pronounce "ll" and "y" as "j", in addition to dropping the letter "s" when it falls at the end of a word. My brain hurt!
We informed Lucho that we'd be meeting our Salt Flat friends, Megan, Taryn and Augustin, later in the day for a belated "Thanksgiving" get together, but that in the meantime we'd love to explore his bustling student-oriented town (as the second biggest city in the country and home to 7 universities, Cordoba hums with young energy, bustling parks and myriad shops, restaurants, markets and tourist sights). We headed off to the Mercado Norte, where we purchased salad ingredients, cheese, meat and dulce membrillo, a solid block of fruit puree. It's typically eaten in the morning for breakfast, accompanied by cheese, bread and dulce de patata, another sweet puree made from potatoes. Back at the apartment Lucho schooled us in the local music, cuarteno, while we noshed away and chatted, only stopping to slice off another piece of membrillo or take another bite of salad. And then of course there was the mate (pronounced ma-tay).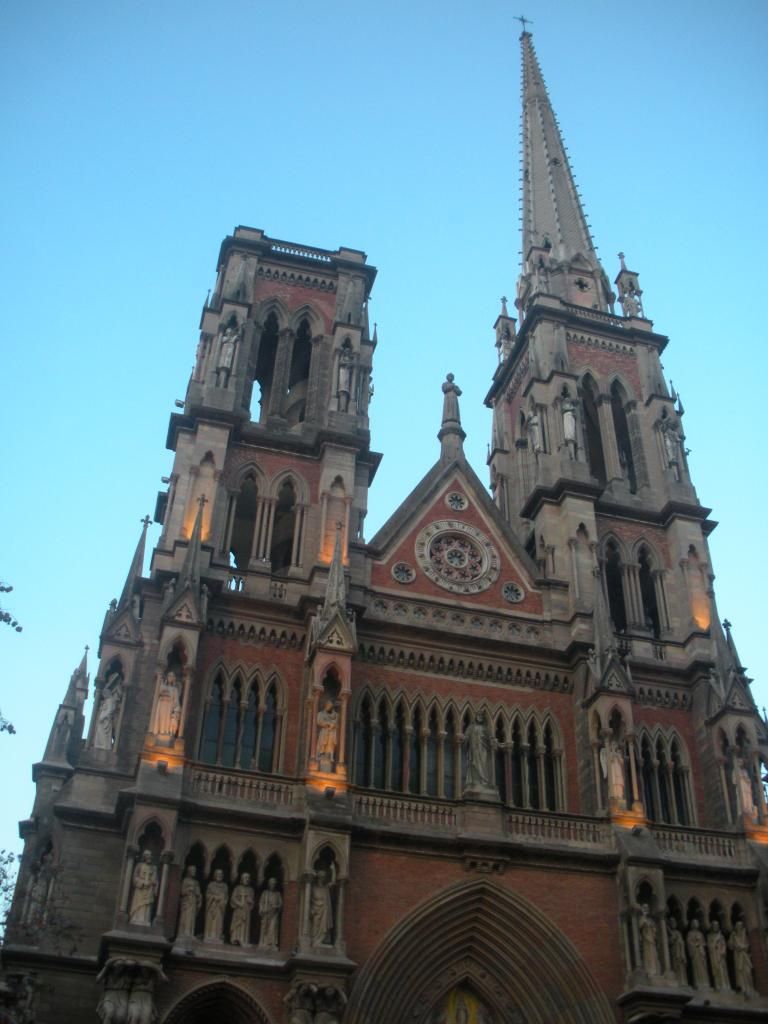 Argentina's mate culture was unlike anything we had ever seen and because we had moved south so quickly and hadn't spent a prolonged amount of time with locals, we hadn't yet been privy to this most sacred of rituals. For me, all other worldwide tea customs paled in comparison. The drinker first needs
yerba
, a bitter herb that when packaged resembles a dry loose-leaf tea. This is shaken into the
mate
, a small decorative cup, filled to the rim with hot water and then sipped through a
bombilla
, or metal straining straw. Because the yerba has such an acerbic taste, drinkers often add a bit of sugar before consuming. But above all, it's primarily a group activity, with everyone sitting in a circle sipping the mate; once a person has drained the water, you refill it again from a special thermos and pass it to the next person, completing the cycle until the thermos is empty. And of course there would have to be special food for this delightful pastime! Layered and flaky little bread squares called
criollos
, sold warm from the panaderia, or an array or bite sized pastries with fruit fillings, chocolate drizzle or more. After our first round at Lucho's, we traipsed to the nearby Parque Tejas with eating and drinking supplies in hand accompanied by his older brother, Marco. What a sight! Everyone everywhere had their own patch of grass, circle of friends and occasionally a dog or two, as they sat around with mate, thermos and snacklables within reach. We discussed our countries' stereotypes and views about each other, world politics, family life and education systems (college is free in Argentina!), all accompanied by the ever-present beverage, darkening light and whisper of wind through the trees.
(Steve: Don't even get me started on the free education available to students in Argentina. This had me riled up most of the time we were in Cordoba. Students still have to work hard and pass entrance exams but quality undergraduate and graduate degrees are offered for little or no cost to Argentines…as well as Chileans, Bolivians, and whoever else decides to come over. Tell me that the U.S's under-education due to the enormous cost of college isn't going to catch up to us…many can argue that it already has…)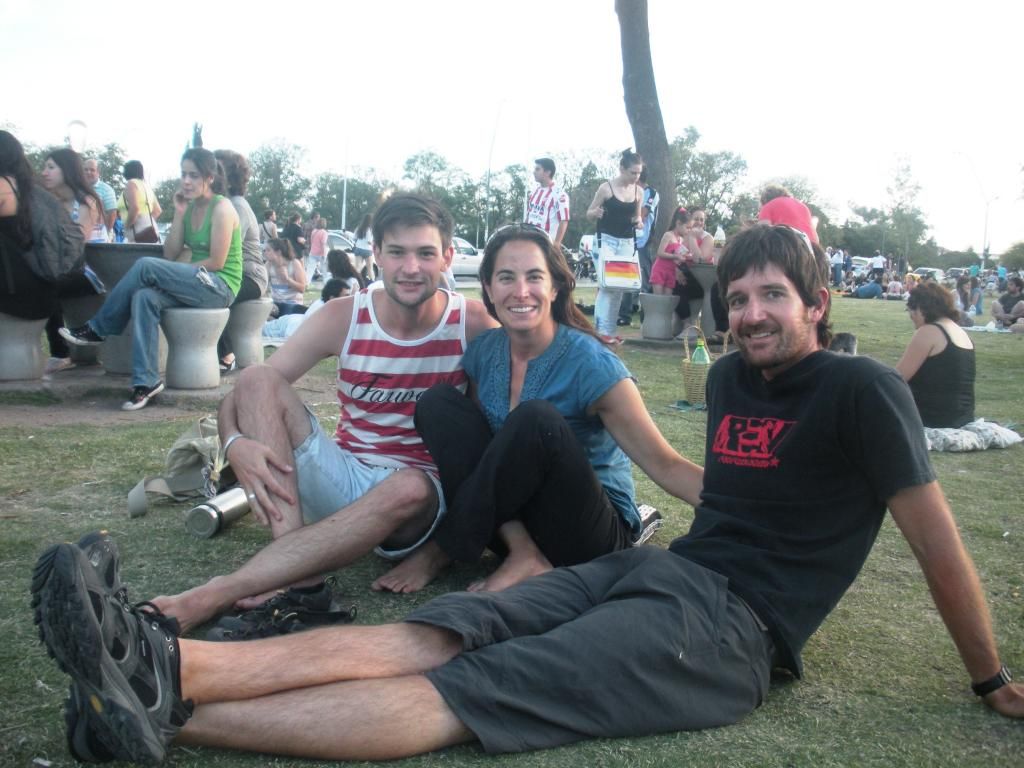 Leah:
Mate break over, we booked it home to change and cab to our meeting place with the Uyuni crew (Lucho was going to come but had something arise with a friend last minute and stayed behind instead). Upon seeing our buddies, you would have thought we'd been separated for months instead of less than a week—hugs, kisses and a frenzied cacophony of catching up on life and figuring out where to eat dinner. Over plates of empanadas and adult beverages, we heard about Agustin's final exams, complained about the exorbitantly priced buses and took in the city skyline from our table on the terrace. We also learned that a local techno wizard had somehow salvaged the Salt Flat pictures that we thought were lost and gone forever, so we were understandably thrilled beyond belief (we already uploaded some of them to the album in Photobucket, but others are not appropriate if
one of us who shall not be named
Steve ever wants to find a job again). Bellies full, we headed to a goodbye party Agustin's exchange student friends were throwing a few blocks away, where we dived into a houseful of Frenchies, Spaniards, Germans and even a Mexican (Steve was so excited to speak "normal" Spanish), all of whom spoke near perfect English, in addition to Spanish and their mother tongues—to be born a foreigner <sigh>.
As the clock neared midnight, we figured we should make like Cinderella and catch our pumpkin home before Lucho wondered if the city had swallowed his first surfers, so we hightailed it home where Lucho and a friend were sharing a beer. I was more than ready for bed, but Argentines typically finish (
Steve
: um, or
start
) dinner around midnight, so the evening was just gearing up, although I remained blissfully unaware of what was to come. Lucho informed us that we needed to try Fernet, the alcoholic toxin of choice for Cordobans which is always mixed with coke, so the four of us headed to a corner bar and grabbed a table on a sidewalk (as for the Fernet, I'm glad I tried it, but Argentina can keep it in my opinion). His friend was a warm and delightful evangelical (he good-naturedly ribbed her about it all night) and when I shared that I worked on HIV/AIDS issues at home, she confided that her father was living with HIV as a result of a blood transfusion in the 90s. Yowza.
We paid the bill around 2 a.m. as a light drizzle began coating the street and at that moment Lucho received a text from other friends who were out clubbing and wanted us to join. Remember that we had only arrived that morning on an overnight bus (i.e., hardly any sleep) and had been going nonstop since then, but we were determined to be proper surfers and agreed that a night on the town with a local was a way to see the city that we never would have otherwise…so off we went!
It was CRAZY! Nobody, I repeat nobody, really goes out dancing before 2 a.m., so we were right in the thick of it. Girls in perfect makeup and towering stilettos and spandex tight miniskirts that ended right below the curve of their derrieres sashayed down the street past the appreciative males , local club touts on the corners handed out coupons for free entry, music bellowed from every door and lines snaked down the sidewalks as the typical Friday night (now Saturday morning) club scene pulsed and shimmered with life. Now just imagine block after block after block of this—I've never seen so many bars and clubs one after the other in my life! But to top it off I felt woefully underdressed in my black travel pants, Keens, and thrifted tank top from back in Panama as we wove through crowds of beautifully dressed, perfectly coiffed and delightful smelling 20-somethings. Lucho happened to be friends with the door personnel at Aqua (hooray for connected CS hosts!), which meant free entry, so into the belly of the beast we went.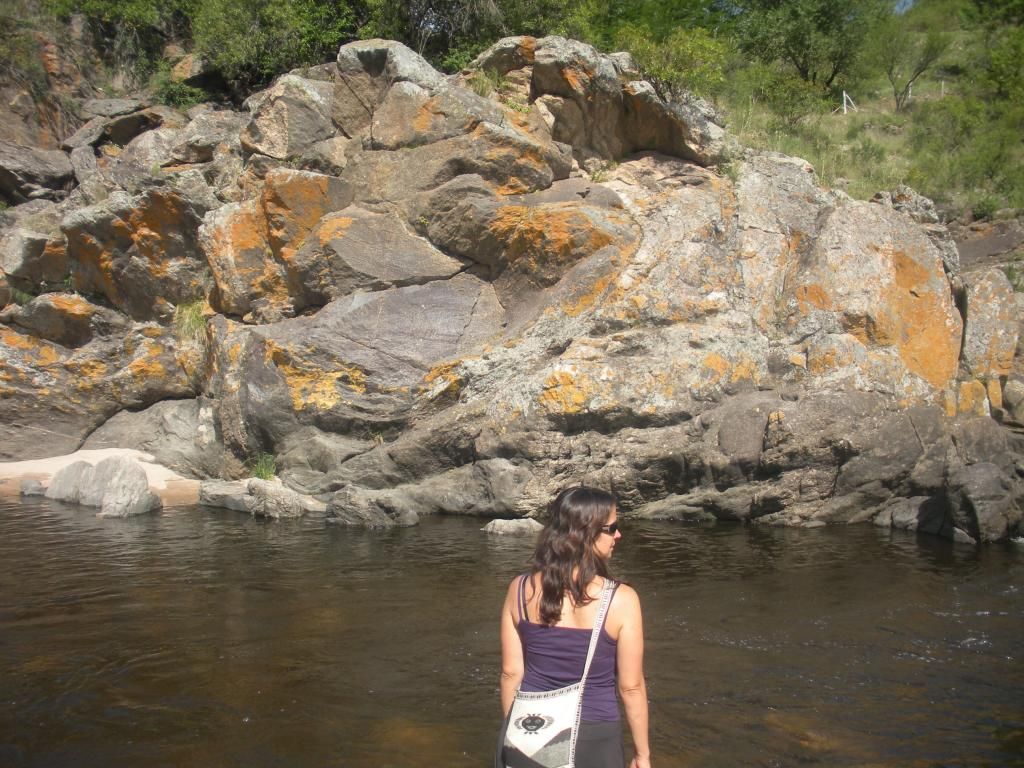 The DJ was spinning
cumbia
, a local musical flavor, and we soon joined Lucho's friends and more or less formed a circle so that oversized drinks could be shared and we could eke out our dance space. I immediately noticed that people were actually
dancing
here—no lewd pelvic thrusting, booty grinding or otherwise lascivious use of private body that too many people pass off as dancing, but rather a roomful of sweaty rhythm-filled people feeling the beat and letting their bodies take over without being crude or overtly sexual (
Steve
: correction, except for me). Amazing. We somehow kept it up until about 4:30 a.m., at which point Lucho could see we were sinking fast and escorted us home, informing us along the way that we were calling it quits quite early, since most people stay out dancing on Thursday-Sunday until about 7 a.m., at which point they grab some drinking food (hamburgers, fries, empanadas, etc.) and then head off to bed at 10 a.m. We reminded him that not only are we pansy-ass Americans, but old ones at that who usually enjoy eating by 8 p.m., being in our pajamas by 10 p.m. and under the covers by midnight at the latest (and that's pushing it for me!). We poured ourselves into bed after 5 a.m. with the agreement to somehow rouse ourselves 5 hours later. Dog-tired but delighted with the evening and our private tour guide, we awarded ourselves gold stars for being able to hang (almost) like the locals.
The next day found us going on an adventure outside of the city limits as we hopped a local bus to Cuesta Blanca, a small weekend retreat enclave with a shimmering, cool and clear river weaving through the homes on the banks. Locals splashed and swam in the mineral-rich water and the sand sparkled so much it looked like someone had sprinkled it liberally with glitter. We sipped our mate, nibbled on fruit and talked about our dreams for the future as the lazy heat of the day washed over us. After a while we walked through and along the water, taking in the views, scampering over rocks and enjoying this little slice of natural paradise that tourists would never even know about. In fact, on the way back we even stumbled across a tree laden with wild blackberries, so the three of us stuffed our faces like bears (and had the red juice stains on our skin to prove it.
Lucho informed us on the way home that his friends would be making lomo pizza for us that night and Steve was a salivating beast when he heard that it entails steak, tomatoes, lettuce, cheese, fried egg, mayo and ham sandwiched between pizza crust. As we sat on the terrace on the top of Lucho's apartment building listening to the bats swoop and the city life below us, we sank our teeth into the delectable mixture of meat, dairy, veggies and carbs and knew that life was good. To top it off, his friends were lively and wonderful conversationalists, so we enjoyed chatting and dining until after midnight when we begged off to hit the hay.
We fell into a comfortable and easy regularity with Lucho that entailed rising in the morning around 10:30 and enjoying breakfast while discussing the day's plan, further dissecting Argentine culture or helping him plot out his upcoming trip to Naples, Florida. We moseyed around the city sipping mate in too many parks and outdoor gathering places to count, played with street dogs, chatted with friends and family who dropped by the apartment and enjoyed the gorgeous architecture, cathedrals and museums on every corner. Meanwhile, our thoughtful and attentive host always made sure we were well-fed and up to speed on the various epicurean delights of Cordoba, often footing the bill for beverages or snacks despite our attempts to pay. He also went out of his way to escort us all over town and succeeded so well in correcting our Spanish that not only did we drastically improve, but also started speaking with an Argentine accent. Lucho's maturity also astounded us; he may have been our youngest host so far, but after living on his own for years (there are no dorms for his university) he was incredibly more adult than most 21-year-olds I knew back in college.
On our last night together, we took in a free jazz concert in Parque Tejas, accompanied by our faithful mate, thermos and flaky pastry treats. A stroll to
Paseo Buen Pastor
revealed a domed art museum with illuminated dancing fountains and a backdrop of the Capuchino Cathedral—a spectacular canvas for the setting sun. A few blocks more brought us to
Paseo las Pulgas
, the location of a sprawling weekend artisan market where we bobbed along in the human current inspecting stalls displaying everything from wire-wrapped jewelry and exquisite flower arrangements to decorative leather masks and mate accessories. As luck would have it we even ran into Megan and Taryn and were finally able to introduce them to Lucho before we parted ways.
We also intercepted Lucho's sister and her friends; since Steve and I had bought the ingredients for fish tacos earlier in the day and had more than enough to go around, Lucho's brother, sister and another of their friends came over for dinner. So there we were at 10:30 p.m. trying to make authentic San Diego fish tacos, including guacamole and white sauce, but without limes, jalapeños and some key spices. Despite the abundance of other citrus, apparently limes usually aren't used which came as a huge shock to us. However, we made it work and once plated the food really did look and taste divine, even without the missing ingredients. The only unfortunate part was that in our food frenzy we completely forgot to take pictures of our dinner party , so you'll just have to imagine the array of colors, textures and smiling faces! To round out the evening we had a decadent chocolate mousse made only from bittersweet chocolate and fresh eggs (a recipe from Couchsurfers who had stayed with us a few years ago) and topped with fresh mint sprigs from outside Lucho's apartment. Everyone oohed and aahed extensively over our taste of home (especially the fish taco sauce Steve whipped together), so we considered it a success although it was the lively conversation and list making of Argentine foods we still needed to try that we enjoyed the most. Lucho's friends and family are truly top notch and we enjoyed everyone we had the chance to meet through him.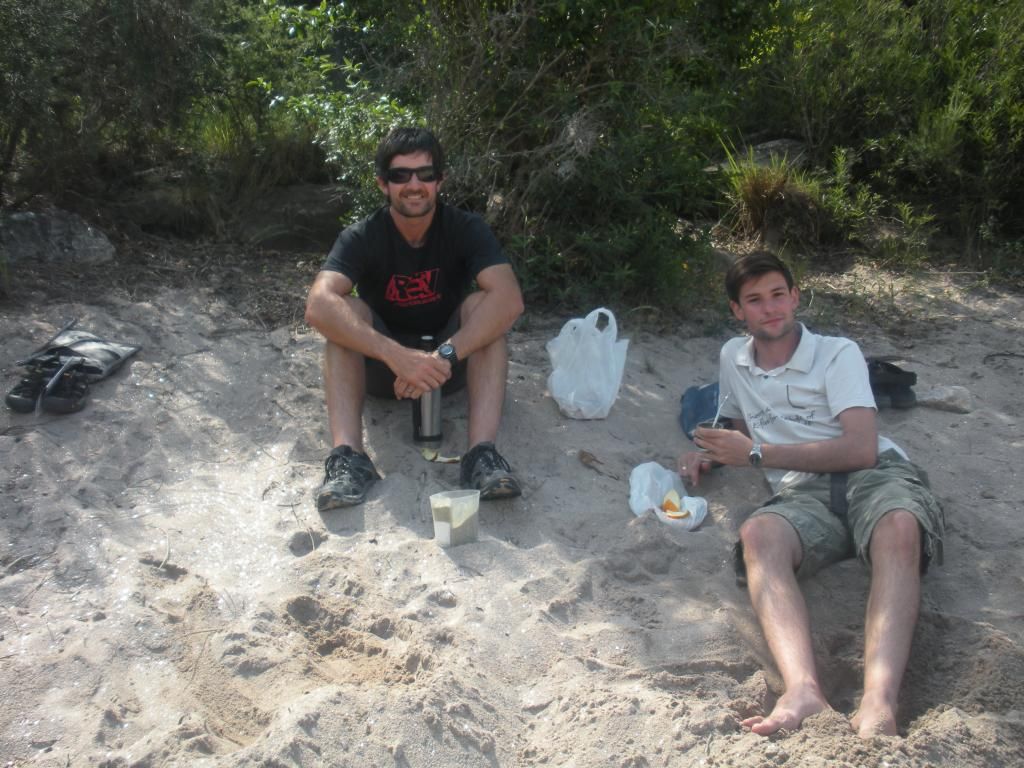 On the day of departure we slept in a bit, helped Lucho find apartments for rent in the Naples area and explained how the word "partner" in English has different connotations than the word in Spanish after Lucho expressed puzzlement over the usage in another Couchsurfer's profile. We were again blown away by his generosity once more when he took us to his brother's apartment to do laundry because his own washing machine was broken. The remaining hours saw us visiting a few last parks and Lucho's university campus before he made us a final meal, including the most flavorful roasted and seasoned yams I've ever tasted! As the 11
th
hour approached, ominous storm clouds moved in and the skies opened up in a deluge of rain and a symphony of thunder and lightning, almost as if even nature wanted to delay the inevitable.
After the squall passed we were heaving our traveling homes on our backs when Lucho exclaimed, "wait!" and ran into the kitchen, returning with his mate cup and bombilla. "It's not very beautiful," he said, smiling, "but this is what you first drank mate from and now you'll remember the city and places we went every time you use it." And then of course my own personal floodgates opened; an Argentine's mate is close to a sacred possession and I couldn't believe this final act of selflessness and hospitality. I mean, I could, as this was Lucho we were dealing with here, but the highly personal gift blew us away. I wiped the tears and we gave him multiple hugs and kisses while assuring him that he always has a place to stay in the U.S. wherever we end up.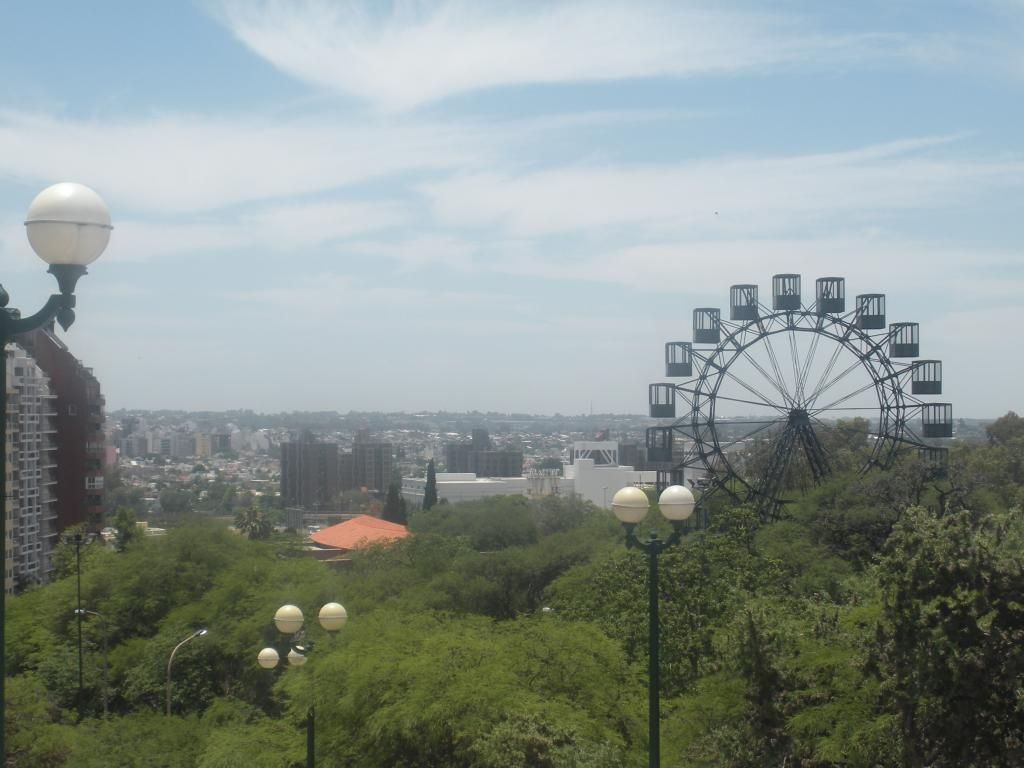 In the end, the gift of the mate personified the goals and objectives of Couchsurfing and helped us not only see Cordoba, but understand it in a way we never would have otherwise if we had stayed in a hostel. Just as the three of us sipped from that communal cup all weekend while laughing, sharing and pondering, so does Couchsurfing embody the idea of community, story-telling and bringing individuals together who otherwise may never have met. Hosts and surfers by necessity not only need to trust each other explicitly, but end up sharing an immediate and intimate physical and emotional space. In fact, we often find ourselves divulging more openly about our lives with other Couchsurfers than we tend to do with people at home. We also know there are many people out there who don't understand why opening your home to random strangers could possibly be a smart idea, but it's experiences like the one we had with Lucho that we hope drives the curious among you to at least check out the
Couchsurfing website
, even if you may not be willing or able to take the plunge yourself. This mate is for you, Lucho!