Sippin' and Cyclin'
MENDOZA, ARGENTINA: November 28-29
Leah:
Mate firmly nestled in Steve's backpack and missing Lucho already, we boarded an overnight bus to the heart of Argentine wine country, Mendoza. This city of just under a million people produces 70% of the country's wine and after a devastating earthquake at the end of the 19
th
century, was rebuilt for both aesthetic qualities and functionality. Megan and Taryn had arrived a few days before us and kindly made reservations at the
Break Point Hostel
($14.50/each for dorm bed with breakfast) so we could all be in the same dorm room. Upon arrival we made the 45 minute walk from the bus station to the hostel, eagerly anticipating the on-site pool. Megan and Taryn had emailed that they were already in love with the city and we could quickly see why; wide streets shaded from the stifling sun by arching canopies of towering trees, cafes and boutique shops on every corner, magnificently manicured public parks and an overall feeling that we could be in any one of the major cities back in the U.S. After months of roughing it, I have to admit that ever since Cordoba it's been a welcome reprieve to experience cities that feel more like home. After some glorious pool time and a hearty salad for dinner (too hot for anything else), we all hit the hay so we'd be ready for the next day's adventure…wine tasting by bicycle!
We caught a bus to Maipu, about 15 km outside of Mendoza and the hub for many vineyards and wineries, or
bodegas
. All-day bicycle rental cost us about $7.30/each and with our (not to scale!) map in hand, we headed out like a pedaling row of ducklings to see what we could find. The first few places were asking a bit too much for a wine tasting, but then we stumbled across the pebbled driveway into
Entre Olivos/Chocolateria La Antigua
, a smaller outfit that specializes in making their own olive oils, condiments, chocolates and flavored liqueurs. The 20 peso fee ($4.10) included a short tour and tasting of everything mentioned above—we were all in immediate agreement that this would be our first stop, and we were not disappointed! The first table held an overflowing breadbasket surrounded by 2 types of olive oil, balsamic vinegar and various spreads and tapenades made from green olives and complimentary ingredients such as Roquefort cheese, garlic, mustard and spicy chilies. After the staff explained each one, the four of wasted no time in taking on the flavors before us, stopping only when the breadbasket was reduced to crumbs.
The second table held another beckoning bread bowl, this time surrounded by sweeter accompaniments—both chocolate and coconut dulce de leche, quince jelly, apple-whiskey jelly and a soupy but delicious Malbec jam. Old pros by this point, we moved clockwise around the table, dipping taster spoons into jars and dabbing the flavorful spreads on our bread, which was of course only a conduit to get these amazing goodies into our mouths.
Finally, the liqueurs; we were invited to select 8 of the 12 on offer, passing the full shot glasses down the line sipping and remarking on our favorites. Steve loved the dulce de leche liqueur and the whiskey (
Steve
: a 5-year-old scotch that even the girls liked…well maybe not Leah so much. At 50 pesos a bottle (approximately USD $10) and on par with at least Johnnie Walker Green Label, this would have been a fantastic deal; unfortunately shipping is expensive and it wasn't feasible to carry a bottle around for 2 months), while I preferred the pineapple and sangria flavored liqueurs. And then the p
ièce de résistance
, toxic green absinthe with a spoonful of sugar set alight beforehand to make it a tad easier to go down, though we all cringed at the aftermath, our throats on fire (
Steve:
150-proof on fire). At least these offerings were served alongside chunks of artisanal chocolate which helped our systems to regroup!
Feeling full and happy, we headed a few kilometers back down the main road to find some actual wine.
Tempus Alba
offered welcome refuge from a tempest just starting when we arrived, as well as a place for Megan to clean up her knee after a nasty spill on the bike. Even though the 30 peso taster fee ($6.25) was a bit higher than we wanted, it included 3 generous pours of our choice, so we selected our reds and settled into a cozy patio area with sweeping views of the vines below.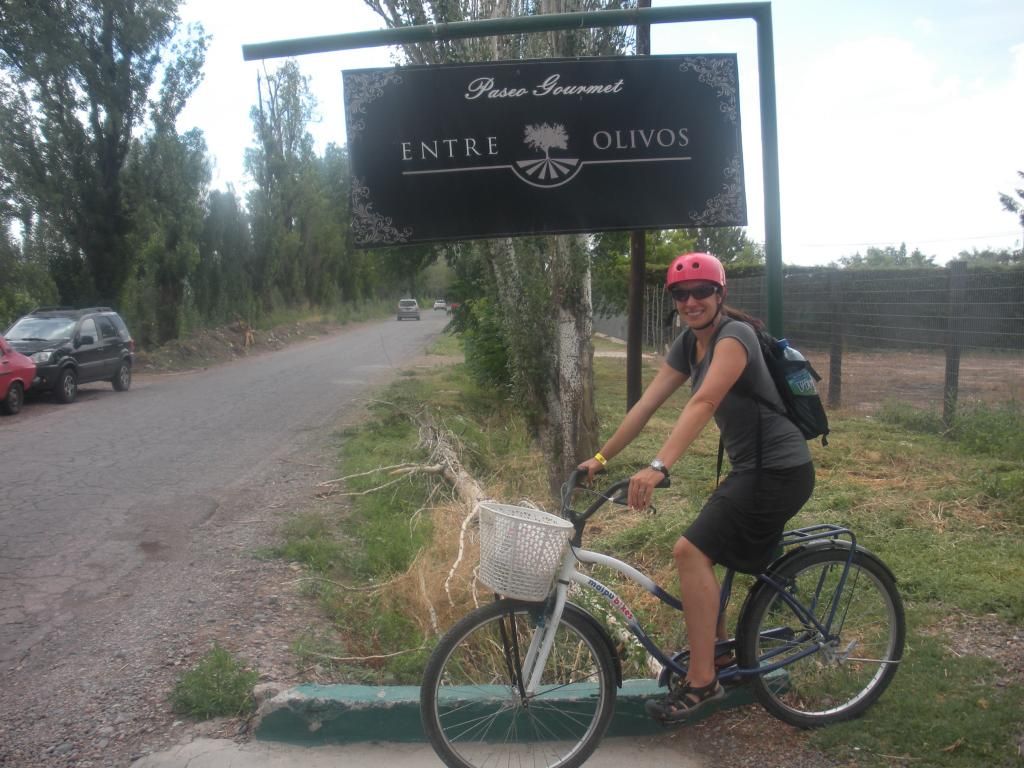 Steve
: We made a timely entrance onto the Tempus Alba outdoor patio where we were safe from the rain but able to take in the beautiful scenery. With a little bit of wine (tasty Malbec, Cabernet, Syrah and Rosé) to prod the conversation, we began to discuss the ups and downs of our lives back at home. We found out that Megan and Taryn also had some pretty devastating losses in 2011—Taryn losing her father suddenly and Megan having her childhood home in Tierrasanta (San Diego) go up in flames. They remarked how it seemed like everything and everyone around them were being hit with disasters; of course we couldn't agree more, mentioning the untimely and expected losses of Jayna and Minger to name a few. When it rains it pours, and sometimes the deluge feels like more than any one person can handle.
This topic notwithstanding, our time on the patio wasn't a pity session nor did it bring down the mood. In time the rain stopped and the sun came out. We talked about how life just happens, often without explanation, reason or regard for who might be affected. In between sips we remarked about how strange it was meeting each other the way that we did. Indeed coincidences such as coming across these two American girls (and a crazy Spaniard—I didn't forget about you Agustin!) in Bolivia is part of this very same fabric of life, good and bad being inextricably woven throughout people, places and time. We may or may not ever find out if there is anything (or Anyone) behind all of this, but my gut will always tell me that there really are no such things as coincidences.
Leah:
With a few remaining hours until our bikes were due back, we all agreed that
Di Tomasso
would be our last stop of the day. One of the oldest
bodegas
, we enjoyed the tour past the brick and cement fermentation cisterns now used for bottle storage, as well as walking through the aged subterranean wine fermentation tank, covered on the walls and ceiling with sparkling maroon crystallized remnants of the tasty beverage it once contained. We also learned that this
bodega
doesn't export its wines, nor does it even sell to restaurants, hotels or stores in the area, instead relying only on sales made in person at the actual facility-crazy! Our pours included a white and 2 reds, as well as Albina Di Tommaso Amábile, a sweet dessert wine still made from an ancient familial matriarch's original recipe. Once outside we purchased a chilled bottle of Sauvignon Blanc to share and sat on wine barrel furniture as the girls ordered some food and we continued chatting, the sun a dancing golden dandelion sinking over the fruiting vines.
Bellies full and palates sated, we somehow managed to whir our way back along the miles of road, receiving a glass of pear juice when we returned our bikes and wishes for a safe trip back into town on the bus. Tired after a long day of pedaling and sipping, we walked back to the hostel through the park, stopping to browse artisan booths that were just being arranged for the evening's customers and gawking at the risqué and often tawdry attire of local teenagers arrayed to attend a formal school dance. Steve and I grabbed a cheap hotdog with the works for dinner and we all sat in the room either reading or watching old school episodes of
Daria
online before we called it quits and curled up under our covers, grateful for the respite under crisp sheets.
Although Steve and I would be leaving the next day for an upcoming Workaway, we thoroughly enjoyed our brief time in this oasis of a city. Not only was this my first time wine tasting, but the unique way in which we did so will remain a delicious memory. I will always remember the crunch of gravel under bicycle tires as we whizzed past verdant vineyards: negotiating trucker traffic on the main thoroughfare in between
bodegas
:
the smell of a grape-filled countryside, resplendent under a sprinkling of rain, and sharing the type of intimate conversation with our friends that even previous travel together hadn't divulged. All hail Bacchus and the fact that fruit of the vine really is that much better with friends!