Ice, Ice, Baby
EL CALAFATE, ARGENTINA: January 10-12
Steve: During our stay in Ushuaia we planned ahead (shocker) and opted to take a flight to our next destination, El Calafate, rather than deal with the time and hassle of crossing borders with a bus. Fede2 and Candice had done the legwork previously and found that flying with LADE airlines (this is an acronym for Lineas Aereas del Estado which literally translates to "state airlines") was only slightly more expensive than taking a bus; throw in the fact that the flight was supposed to be two-and-a-half hours to the bus' twenty-four billion and we were sold.
Prior to describing our "flight" let me give you a little background. While we were at Parque Tierra del Fuego we had our hostel make a required confirmation call to the airlines since there was only a three-hour window for calling and we would not have phone access. They told the hostel receptionist that the flight was cancelled but would call back; they followed up saying that the couple (us apparently) had stopped by and everything was good to go for the next day…strange, but whatever. So off we then went to Fede1's place for the evening where he recounted Fede2's ordeal the day before. It turned out that their flight to El Calafate was cancelled and instead they were bussed to a town called Rio Grande which is the last major town before crossing into Chile's share of Tierra del Fuego. From there they flew to Rio Gallegos and then had to be picked up by their family friend who lived four hours away in El Calafate. Needless to say Leah and I were prepared for the worst.
Fast forward to the next day and Leah and I get to the airport early (another shocker). I'm sure you already figured out by now that I went into detail on Fede2 and Candice's ordeal because we were about to have an exact replica of their day. As the clock ticked away and fellow passengers joined the queue, we all stood wondering where the LADE rep could be. They nonchalantly made an announcement that we would be going through the whole bus-plane-bus rigmarole which made some of the other passengers livid. At this point Leah and I knew there was no use complaining, we would have to make the best out of the situation…even if it included a tiny turbo-prop flying us over the southern Atlantic.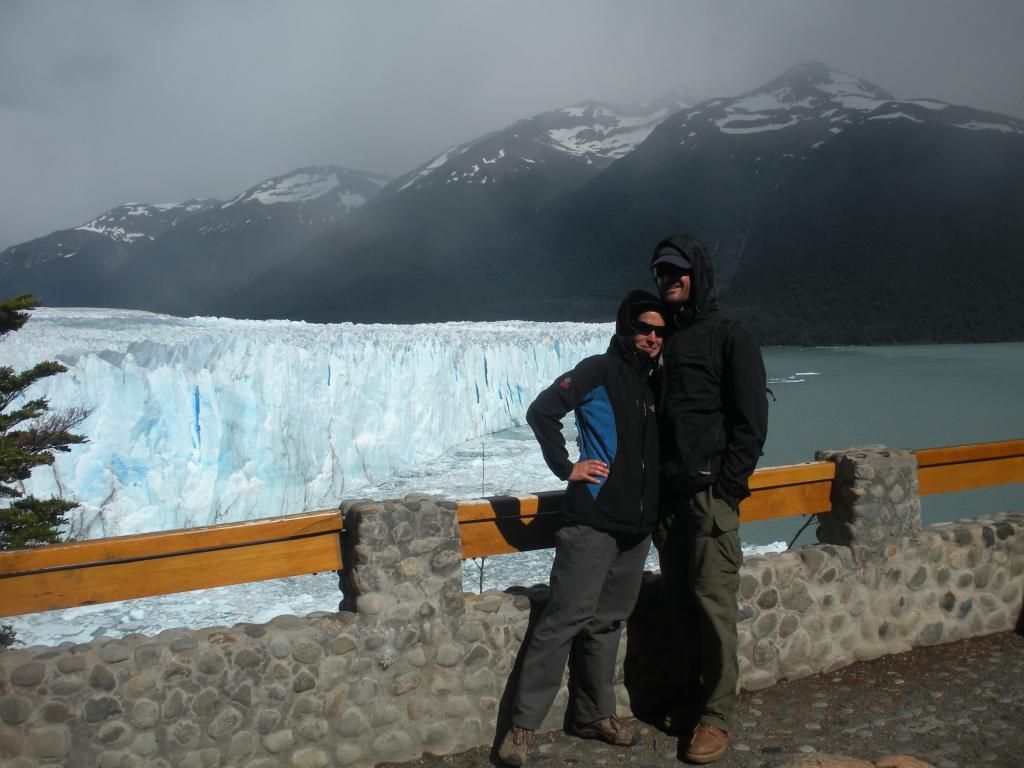 Leah:
Yeah, let's talk about turbo-prop planes, shall we? Not only were we already incensed at having to take 7 hours of buses after paying for a direct flight, but now they were going to shove us into a tin can and send us flying over the ocean. As I've mentioned before, I'm terrified of flying now due to a wretched experience with turbulence in 2009 and all planes wig me out, let alone tiny ones with propellers. Then, as I tightened my belt across my lap hard enough to cut off circulation, I suddenly experienced intense and crushing grief pangs over Jayna and Minger and soon found myself crying in fear and heartache as our little plane lifted up, up and away toward Rio Gallegos. I was miserable and sniffling when I happened to look out the window as we surged through the atmosphere and that's when I saw it…a
rainbow completely encircling
the shadow our plane etched on the clouds. I'm sure there's a very scientific explanation for what I witnessed, but I have never in 31 years seen anything like it and if you've been reading our blog, you know that signs like these keep appearing just when we need them most. So, thank you, dear angels, for providing me with a much-needed modicum of comfort and relief.
Steve: The rest of our trip to El Calafate was uneventful so I'll spare the details. Even though we arrived at the bus terminal at 1 AM, only a few hours (8 to be exact) later than our scheduled arrival, we were able to contact our CouchSurfing host and found ourselves safely housed in no time. Leo, whom we were in contact with because he had previously hosted Megan and Taryn, is a friendly Argentine chef who spoke English well due to having lived and worked in Miami for several years. We hit it off right away seeing as how he pretty much have identical CD collections and we had many similar concert stories to recount.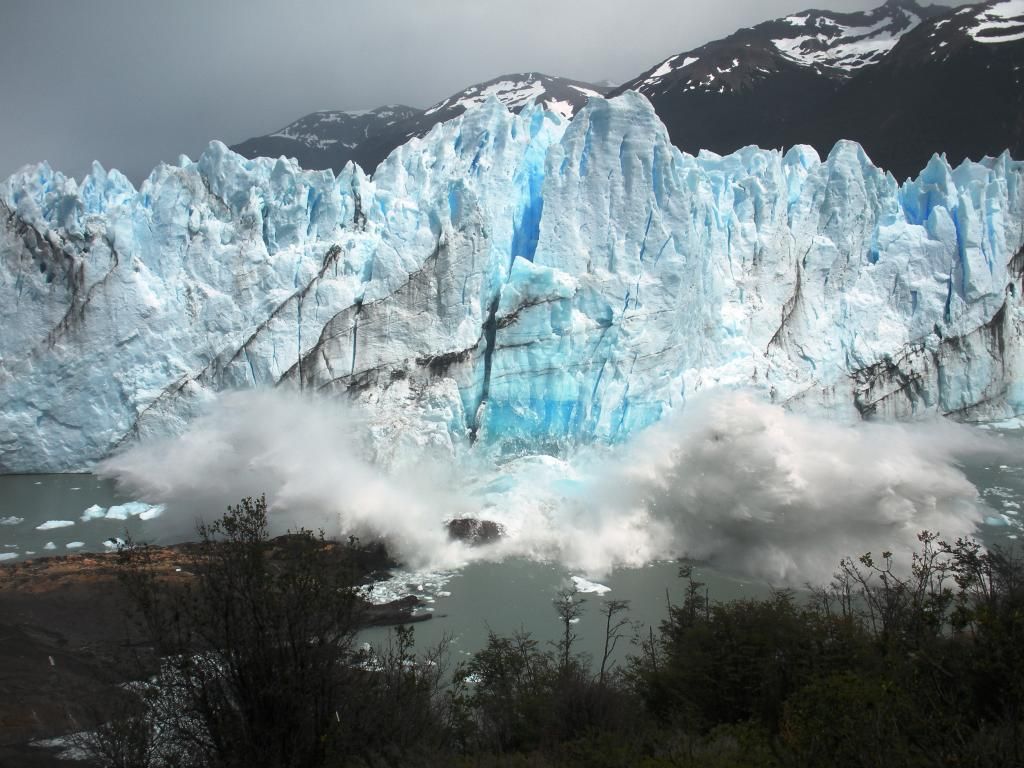 After a short but mildly replenishing 3.5 hours of sleep (
Leah:
speak for yourself!) we found ourselves back at the bus terminal so that we could get ourselves to Parque Nacional Los Glacieres. We had made it a point to stop in El Calafate even with its relative remoteness since it is home to the world's largest growing glacier—Glacier Perito Moreno. After shelling out another $100 to get to the glacier—not to mention all the difficulties of just travelling through southern Patagonia—we quickly found that Perito Moreno was worth all the headaches. As the bus winds through deciduous forests with stunning views of snow-capped mountains and turquoise lakes we suddenly found ourselves in view of a white wall of ice. It was as if a tidal wave was magically stopped in its tracks, suspended in time and space.
The bus dropped us off at a visitor's center where we could descend a series of steel-floored catwalks to get an up-close and personal view of this majestic feat of nature. We were able to get amazingly close to the roughly 240 foot spires of blue and white ice; in total the glacier covers about 97 square miles, being approximately 3 miles wide and 19 miles long. From time to time you could hear thunderous moaning as the glacier cracked and calved within its incredible mass. The weather alternated from sunny with blue skies to cloudy and windy with cold rain pelting our faces, however we were so awestruck that we withstood the weather in the hopes of getting a glimpse of ice calving and falling into the adjacent Lago Argentino. We were not to be disappointed as we watched massive chunks of the glacier break off and cascade to the lake creating an incredible display of waterworks—for all you at home we lucked out and were able to catch one of the smaller ones on video (click
HERE
).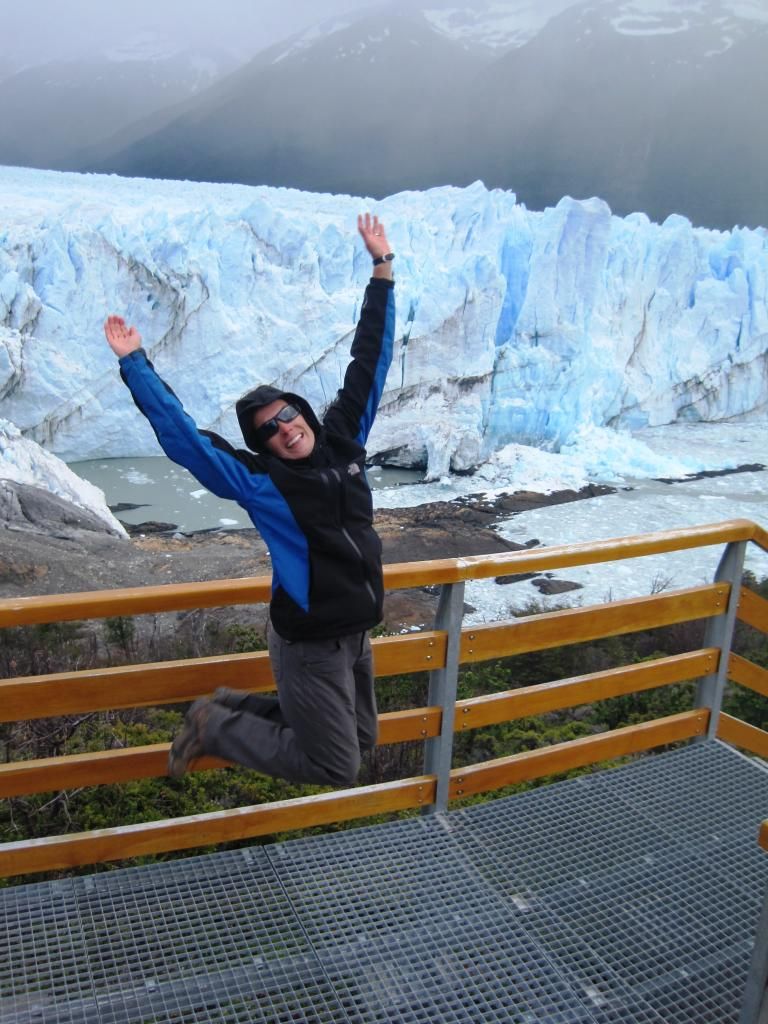 Leaving the glacier feeling both humbled and fulfilled we made our way back to our host Leo's place where we would clean up, relax and rest before heading out for a nightcap. Once again he made great company giving us another perspective on life and politics in Argentina—I have to throw in that I tried probably the best craft beer that I've had on the trip, a barley wine from
Antares
out of Mar de Plata (don't worry Stone and Mission Brewery, you're still my faves). (
Leah
: It would prove to be an eventful last morning, as an earthquake strong enough to rattle me from sleep and shake all of Leo's kitchen implements jarred me awake) It was a pleasant end to our visit to Patagonia before heading out on a thirty-hour bus ride to Bariloche, where we spent the night before crossing into Chile. There have been ups and downs in Argentina, as there have been with all countries, but we will always remember the warmth and hospitality of our CouchSurfing and WorkAway hosts. Until we meet again Argentina (and we will),
hasta luego…