Boiling Beaches, Hairy Hobbits, Sulfur Stink & a Side of German
COROMANDEL PENINSULA/HOBBITON (MATAMATA)/ROTORUA, NEW ZEALAND: February 17-21, 2013
Steve: Nerd alert. Consider yourself adequately forewarned that this blog entry enters extreme nerd territory. Enjoy!


Leah: After bidding farewell to John and his pups, we hitched a ride into Thames with Marilyn, a nurse for over 30 years who was heading to town on her day off to buy a new computer. The ride to this adorable former gold mining town set right next to the water was short and sweet and she plunked us at the entrance to the supermarket so we could stock up before looking a ride north into the peninsula. Laden with food we threw out our thumbs for the second time that day in an attempt to flag the traffic heading north, but after close to 2 hours and with the sun sinking, we realized it might not happen. A quick call to the car rental agency revealed that there were no available cars to rent and without public buses, we were out of options.
Defeated, we made our way to the Sunkist Backpackers, where we had the joy of being welcomed by Cheryl, the most cantankerous curmudgeon we've met on the trip—we didn't know such grumpy, hostile Kiwis existed! She was rude, unwelcoming, told us we were keeping Kiwis out of jobs because of our Workaway experiences and was generally a total troll. We tried to ignore this particular louse since the hostel itself was adorable—super clean, right near the water, gorgeous outdoor area and in an aging but exquisite old building. Besides, that night we were even able to gather a hostel group in the lounge for a viewing of Lord of the Rings #1: The Fellowship of the Rings. We'd been aching to see it since hitting NZ and despite the movie being on VHS (do those still exist besides in my parent's basement?) we were deliriously happy for the next 3 hours as all our old Middle Earth friends filled the screen. Nerds, maybe, but happy nerds at that and we went to bed content, even with Cheryl the killjoy lurking behind corners and yelling at guests and shutting off the lights on everyone.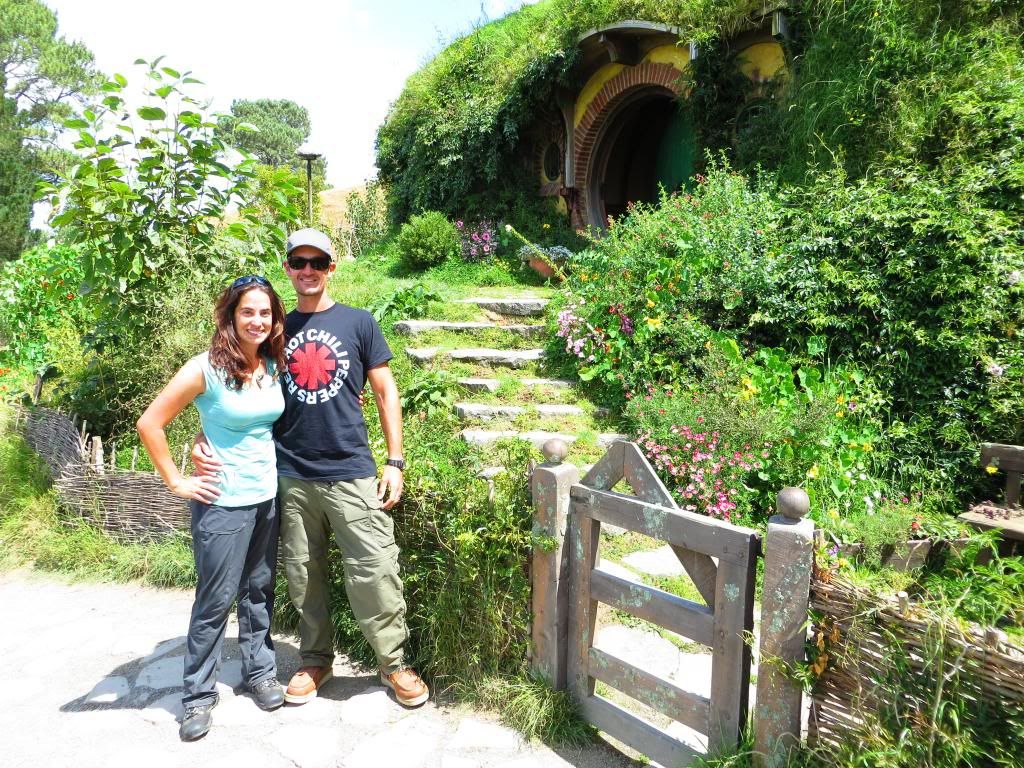 At least the next morning we had better luck getting a ride! Peter, a DOC (Department of Conservation) Senior Park Ranger, circled the block to pick us up after he missed us the first time and regaled us with stories of possum control measures, underwater protected reserves and the end of free camping. He was a treasure trove of knowledge and answered our never-ending stream of questions with more information than our heads could hold as we gazed out at the panoramic views and dazzling greenery. The windy hour-long coastal track to Coromandel Town flew by and as he shook our hands before taking off he warmly welcomed us to stay with him and his wife in Thames if we headed back out that way.
No sooner had we enjoyed a pee and chocolate break (both very critical) and picked a good hitch spot under the soggy grey sky when a bright green and purple Jucy sleeper van pulled to the side and we met Katinka (27) and Janeke (21), smiling German sisters from Frankfurt. They were heading across the peninsula to the Hot Water Beach—exactly where we wanted to go—and after introductions and a swift reorganization of the van interior, we were buckled in and chatting up a storm. As it turns out, this was only their third day in the country of a whirlwind 3 week stay and we all swapped stories about what we were hoping to see during our time here, life in our countries and general travel tales.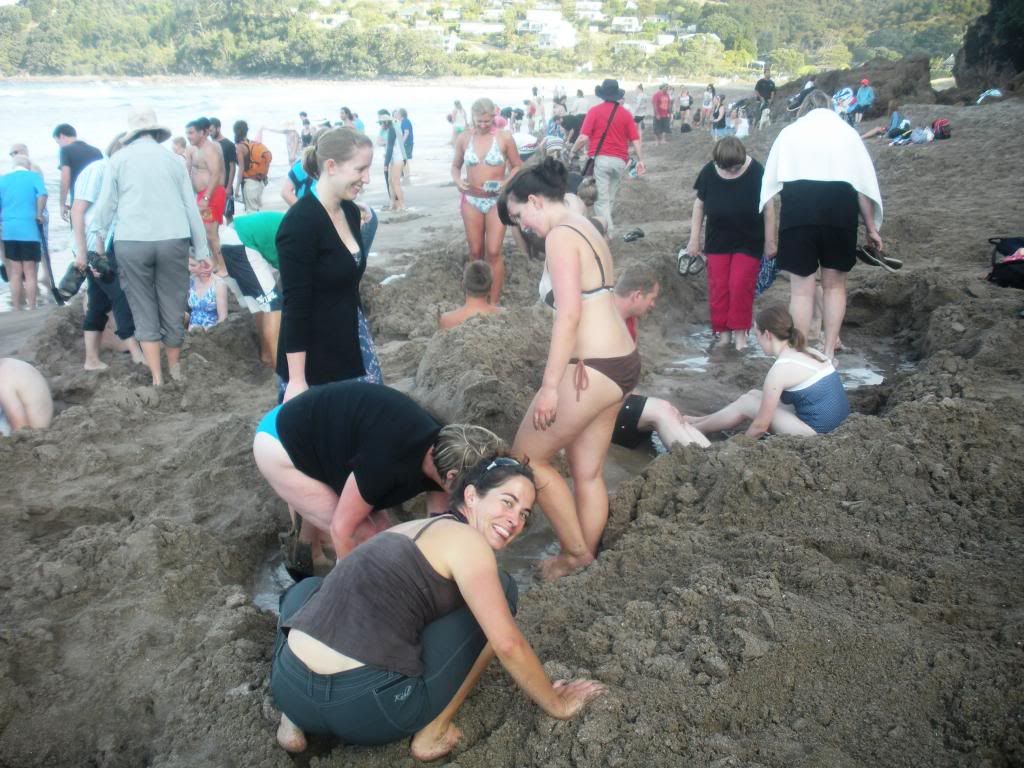 Steve
: Within an hour or so we pulled into the parking lot for the Hot Water Beach which just so happened to be directly across from the local holiday park (New Zealand's upscale version of motor parks that typically have space for tent camping). We pulled our packs on and were in the process of saying goodbye to the girls when we started talking about our plans for the rest of the day. We mentioned that we were probably going to hike north to see Cathedral Cove and the girls figured they would probably do the same, only by driving to the eight kilometers to the trailhead. They quickly offered to drive us up and back so our backpacks and bums ended right back in the van for a quick trip up the peninsula.
After spending an additional several hours hiking and taking in the breathtaking marine reserve, we were back at the Hot Water Beach holiday park. The girls drove us in and although they didn't plan on staying the night, they offered to cook dinner for all of us prior to heading out to the beach. It was just easier to use the park's well-stocked and spotless kitchen (or was it our magnetic personalities that kept them by our sides?). In reality, we were all enjoying each others' company—dinner was delish and hearty and we had a great evening joining tourists and locals at the famous Hot Water Beach, a curious geothermal amalgamation where hot water lies just below the sand; all you have to do is dig several feet down during low tide and you find yourself immersed in warm to boiling water, all while the cool ocean laps several feet away.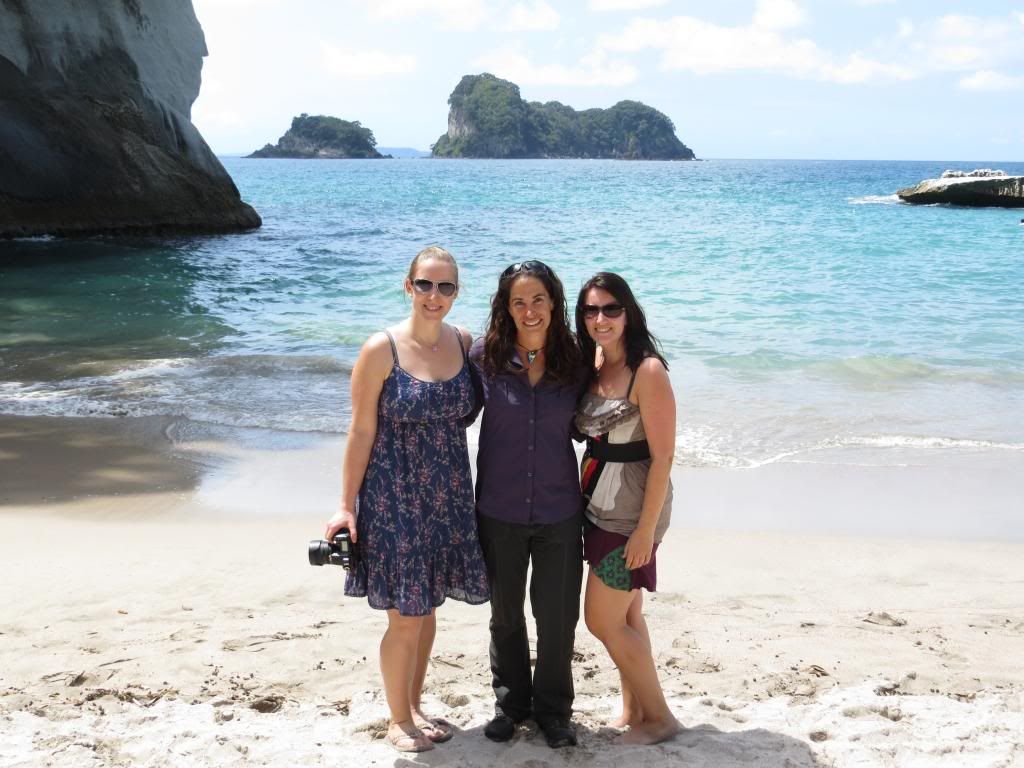 With the evening wearing away the girls were planning on driving an hour or so south in hopes of finding a free campsite. The thought then crossed my mind that they could probably park right in front of our tent and no one would know the difference or care. Katinka and Janeke agreed so we weren't about to part company just yet; after discussing the next day's plans we found that they were going to Rotorura with a possible stop in Matamata (also known as HOBBITON!!!). Rotorura was going to get us on our way towards Waitomo (more on that in a following post) and we were suddenly elated at the thought of passing through the home of the Hobbits. We offered to chip in for a continued ride/invited ourselves/got invited and we were soon dreaming of tomorrow's adventures.
We wake up, have breakfast, brush teeth…all that good stuff. Drive several hours through beautiful countryside. Right, right, let's get to the important stuff. The Jucy-mobile and its multinational occupants pull past a "Welcome to Hobbiton" sign in the town of Matamata and park near the information center which is built to look like a house out of none other than…you guessed it, Lord of the Rings. We go in to inquire about the Hobbiton tour since we had read that it is only reachable via a paid tour. After choking at the price ($75 NZD or about $62 USD) we wander around looking at maps and flyers, disappointed that we weren't going to see Hobbiton. Five minutes later the sisters come up to us and say "we're going to do it." Without hesitation we said we would too. Looking back on it we were appalled at ourselves since we were so close to passing on something as epic as a visit to the actual Bag End and Hobbiton seen in all the LOTR movies.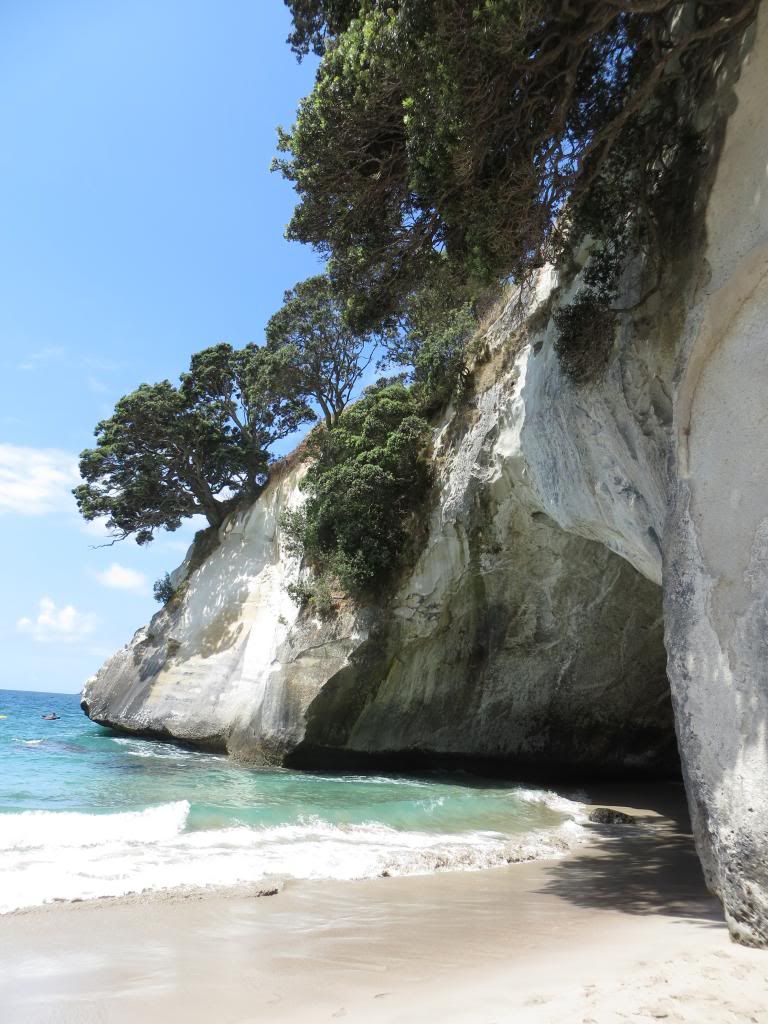 Let me put this in perspective for you: several New Year's ago, Leah and I ended up back home after a visit to our beloved Shakespeare Pub and opted to cuddle on the couch and watch a movie for remainder of the evening. Somehow
Lord of the Rings
got thrown in the mix and I was totally against it—I had seen it years before and couldn't remember much except that I wasn't all that impressed at all the fantasy. In my English-draught-induced-euphoria I saw the trilogy in a whole new light. I came to appreciate the well-crafted storyline and timeless thematic elements; furthermore Leah would point out all the New Zealand landscapes shown throughout the movie—talk about a tourism selling point. A new tradition was born with Shakespeares and
LOTR
becoming our New Year's folly. When it came time to name our blog, we decided to use a Tolkien quote (the books are absolutely filled with them) that applied perfectly to our mindset. Taking it one step further, I read the trilogy on the first leg of our journey (McBookworm my wife had read them way back during her Peace Corps days). Fast forward to 2013 and here we are, in Hobbiton itself, and we almost pass on it. For shame!
So there you have the background. Now the fun stuff…the four of us boarded our bus from the i-Site (New Zealand tourism's information centers) and venture fifteen minutes out of town through rolling farmlands. That's right, Hobbiton itself actually lies in the middle of a working sheep farm. Back in 1998, an unsuspecting farmer was approached by Hollywood location scouts (Leah: they actually knocked on his door during rugby playoffs and asked him to show them around—he more or less told them to show themselves around and quit bugging him while the game was on), pushed to sign a confidentiality agreement and then offered $$$ to have the Shire built on a portion of his property. For those of you familiar with the movies or the books, the farmer's land happened to have rolling green hills (reminiscent of Tolkien's English countryside) replete with a large pond and a picture-perfect pine tree—in fact it was this pine tree that sold Peter Jackson and the crew because it was the Party Tree exactly as described in the novels. Four movies later (eventually six since the last two installments of The Hobbit still have yet to be released) and now this lucky farmer will retire on the revenue generated by his lucrative and busy tours.
A second bus later and we were soon pulling into the parking lot for Hobbiton itself. The guided tour lasted several hours and was really just a stroll around the Shire, stopping frequently for long-winded picture sessions…which was exactly what everyone wanted. Gardeners work daily to keep the Shire looking as they do in the movies (the tour enterprise is contractually obligated to Warner Bros. to keep up appearances) and we can attest that nothing is out of place. Lucky for us, we found out that for the first trilogy all Hobbit holes were actually built with impermanent materials (i.e. cardboard, paper mache, etc.) but that for
The Hobbit
all home-fronts were built for permanence. Everything was so meticulous that we half-expected a hairy-footed Halfling to open a door and come out to check for mail.
Even though this didn't actually happen we were thrilled to wander through the Shire and to finally see Bag End for ourselves…that's the home of Bilbo and Frodo Baggins for those not in the know. (Leah: We even learned that the tree right above it on the hill is a fake and that the leaves had to be manufactured and individually attached for painstaking detail) However the highlight for me came as a surprise—after a visit to the Party Tree we were informed that our tour would be ending with a pint at the Green Dragon, the actual pub that the Hobbits frequent in the LOTR movies. To be true it was really an exact replica of the movie set but for all intents and purposes we were at the Shire and in the Green Dragon, enjoying a draught and a cider at Frodo and Samwise's favorite drinking hole. I should add that the beer was actually pretty good which made my visit to Nerd Heaven more than complete.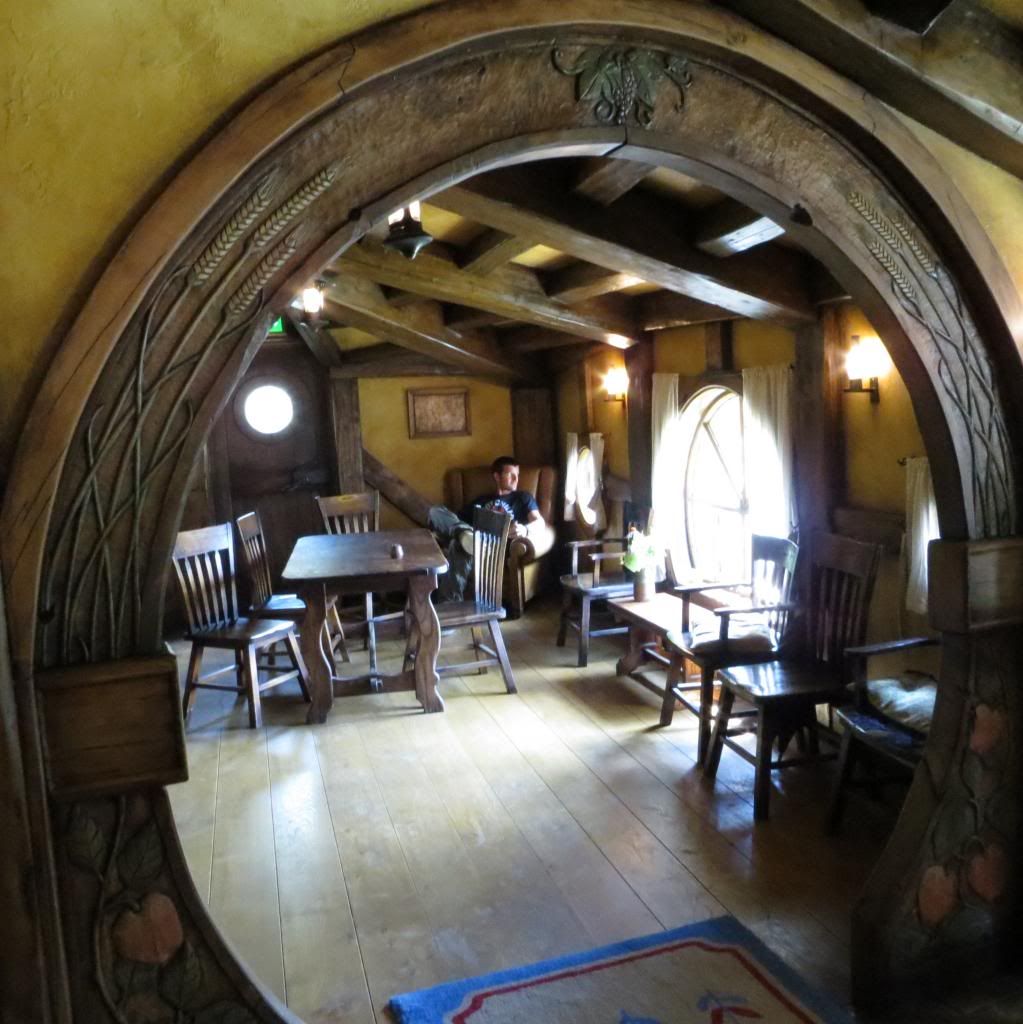 Leah:
I echo all of Steve's sentiments and observations on this one, especially the disgust with myself for almost passing up on an opportunity like this. Of all the books and movies I've experienced, Tolkien and the LOTR trilogy holds my heart and memories in a way that nothing else does. I remember reading the trilogy in the Gabonese rain forest during a particularly rough patch of Peace Corps service. I had never read anything in the genre before (and had only picked it up at the volunteer book exchange since there were no other real options) and found myself clinging to the characters and story as an escapist support system. When I finished the last sentence, I remember crying inconsolably on my couch with Minger curled next to me, so attached had I become to the characters and adventure. And then when I had the chance to see NZ for the first time in 2006 and some of the film locations and inspiration surrounding me, it was all over. Steve always labeled me a nerd for trying to get him into LOTR, but when he finally fell for it that fateful New Years Eve, I knew it was hook, line and sinker for him. It was a moving experience to share something this silly but also meaningful with my husband and a memory I'll always cherish, especially now that we can watch the movies and say we stood
right there
!
Our Hobbit appetites appeased, Janeke and Katinka drove us to central Rotorua, since they'd be continuing farther outside of town to a cheaper DOC campsite. We were able to smell the city before we could see it, as the sulfur fumes of geothermal activity assailed our noses from miles away. Upon arrival we tried to offer the girls some gas money, well aware that our hitchhiking had blurred into ride sharing, but they refused our attempts and instead offered hearty hugs and open invitations to Couchsurf with them in Frankfurt if we make it to Germany. Even though we'd only shared a night and few days with these generous, personable sisters it felt like much longer; we once again found ourselves standing on the side of the road feeling a bit forlorn as our new friends drove away into the dusk.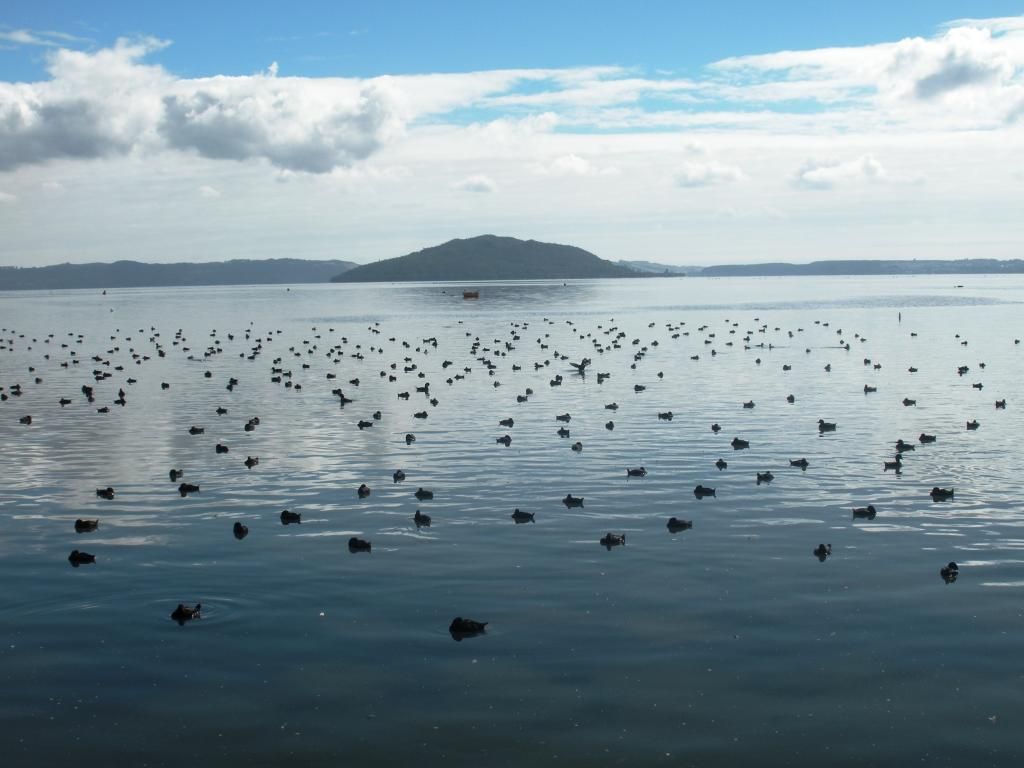 After making our way across town to the Rotorua Top 10 Holiday Park (cabin/camper/tenting options complete with lounges, kitchens, showers, a pool and a few thermal pools), we were tired and anxious to pitch our tent before darkness descended. However, an older middle-aged couple entered reception behind us and as we heard the familiar timbre of North American speech, I turned around and asked, "Canadian or American?" And thus we met Steve (hereby known as Steve#2) and Jane, a couple from the Sonoma area of Northern California. In the span of only a few minutes, we found ourselves falling into an easy conversation about travel and life experiences and they soon invited us over to their camper for drinks the following night since we all knew there was much more to share and it was getting late. Settling into our sleeping bags inside our tent, we counted our blessings, especially the friends we'd just left behind and the ones we'd just met.
As I mentioned, Rotorua is a literal hotbed of geothermal activity and serves as the canary in the mineshaft for the entire country in terms of earthquakes and volcanic eruptions, seeing as how the entire length of NZ sits directly on tectonic plates. Eschewing pricey tours to surrounding thermal parks (and because we had seen some pretty similar sights in South America) we decided to take in a free stroll around Lake Rotorua and moseyed past long-necked black swans and bobbing ducks, poofs of steam shooting up from fissures in the craggy, mineral-colored earth and bubbling sulfuric mud pools where people came to treat arthritis and alcoholism over a century ago.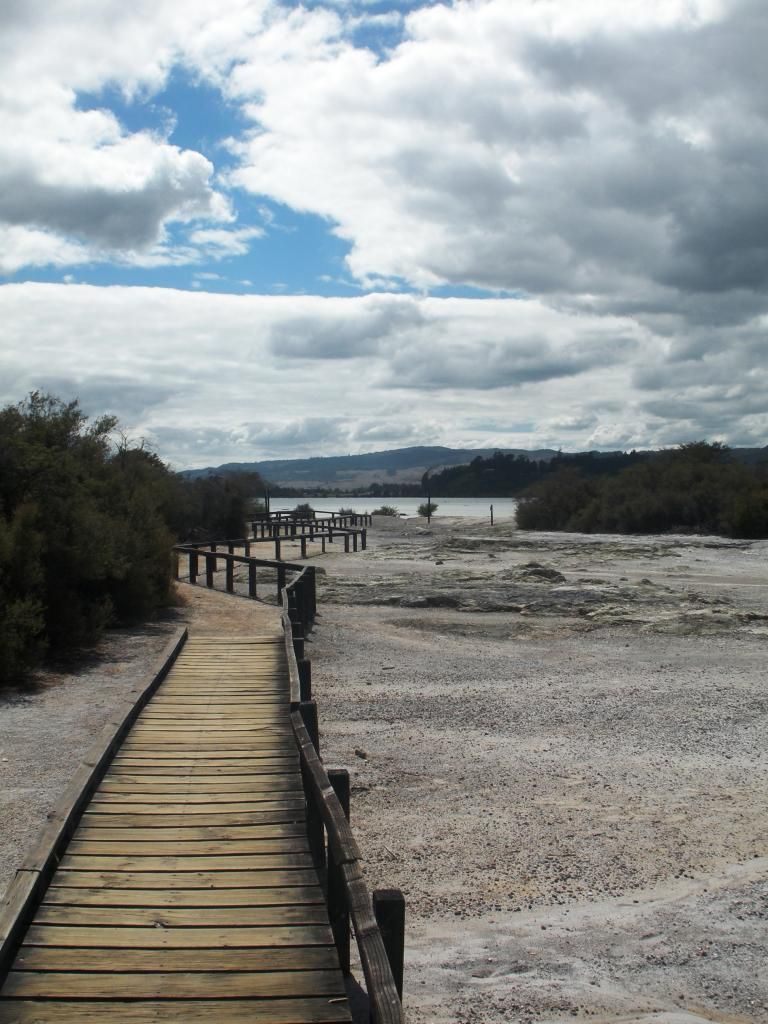 Back at our lodging we enjoyed a delightful chat over wine and appetizers with Steve#2 and Jane. They regaled us with tales of camping in Kenya in the 60s (Jane) and summiting Mt. Kilimanjaro in 2012 (Steve#2), all interspersed with questions and joy in regards to our trip and further zany stories about their world travels together. Jane even shared that she had read about Couchsurfing a while ago and had been intrigued, but when she pitched it to Steve#2 he shot it down because he was a self-proclaimed "tight-fisted Jew" and wasn't keen on the idea of sharing space with strangers. It was nice to be "adopted" for an evening and we loved our casual chat and information sharing with this vivacious couple. We spent our final day putzing around town, lounging by the pool, reading and grabbing free drinks (we had coupons!) at a local pub, The Pig and Whistle, where we split a plate of nachos and took in the live music. From here we'd be catching our first InterCity bus of the trip to Waitomo Caves in the morning, so we once again huddled into our sleeping bags and readied for the next stop on the route.