Hitchhiker's Guide to New Zealand
PAIHIA, NEW ZEALAND: February 8-12, 2013
Steve : Our first week in New Zealand was in the books and it was time to head north. We had been banking on lots of hearsay that NZ was a hitchhiker's haven and it we were ready to put it to the test. After saying our goodbyes to Simona, Hemi and the kids we took the scenic ferry ride back into Auckland where the bus station was conveniently located across the wharf. We took a 45-minute ride north to the town of Orewa (still considered a part of greater Auckland) which Leah's research suggested might be a good place to stick out our thumbs, since there was no way to hitch out of the city itself. An affable lady at a car rental agency directed us to the best place to hitch and a short walk later found us standing on the road, eager and anxious to see how our day—and really the rest of our trip in New Zealand—would fare as officially we became hitchhikers in the land of kiwis.
At the suggestion of Hemi and Simona we had prepared a cardboard sign that read "Harmless!," both to show a little humor and to maybe dispel any fears that we were nomadic axe murderers. We opted to hold off on the sign and Leah posted herself on the curb, her best I'm-a-happy-American smile plastered all over her face. Within ten minutes our first ride pulled over—Andrew, an English bloke heading home from his job as an arborist. He only took us about 15 kilometers up the road (state highway 1 actually, a two-lane motorway that is actually the
largest
highway in New Zealand), but we knew from his friendliness and overall eagerness to help that hitchhiking was going to be a successful venture.
Within ten minutes of being dropped off by Andrew we found ourselves being ushered into a station wagon by John, a signmaker from the nearby town of Warkworth. This would prove to be another short ride with the highlight being that John pretty much force-fed me a cold bourbon-and-ginger ale drink that he had in the back of his car, even sending us off with a roadie since it was a hot day- Leah and I were not complaining as this was turning out to be quite the adventure.
After a twenty-minute walk with our packs we found a safe and responsible place to petition passerbys. We stuck with the formula of not-scary Leah taking the lead and surely enough not even five minutes passed before we struck gold in the form of a carpenter ("chippy") making his way from Auckland to his home in the north for the weekend. Craig proved to be both incredibly pleasant and informative as we talked sports, politics, travel and everything else in between during our three hour ride higher up the North Island. We were ultimately making our way to the tourist town of Paihia in the Bay of Islands for our rendezvous with a friend of Leah's but we opted to head to the nearby town of Kerikeri; it was Craig's destination and he had a contact for a holiday park where we could pitch our tent and camp for the night. After a round of sincere smiles and handshakes we parted ways and we settled in at the Hideaway Lodge for our first night of camping in Aotearoa.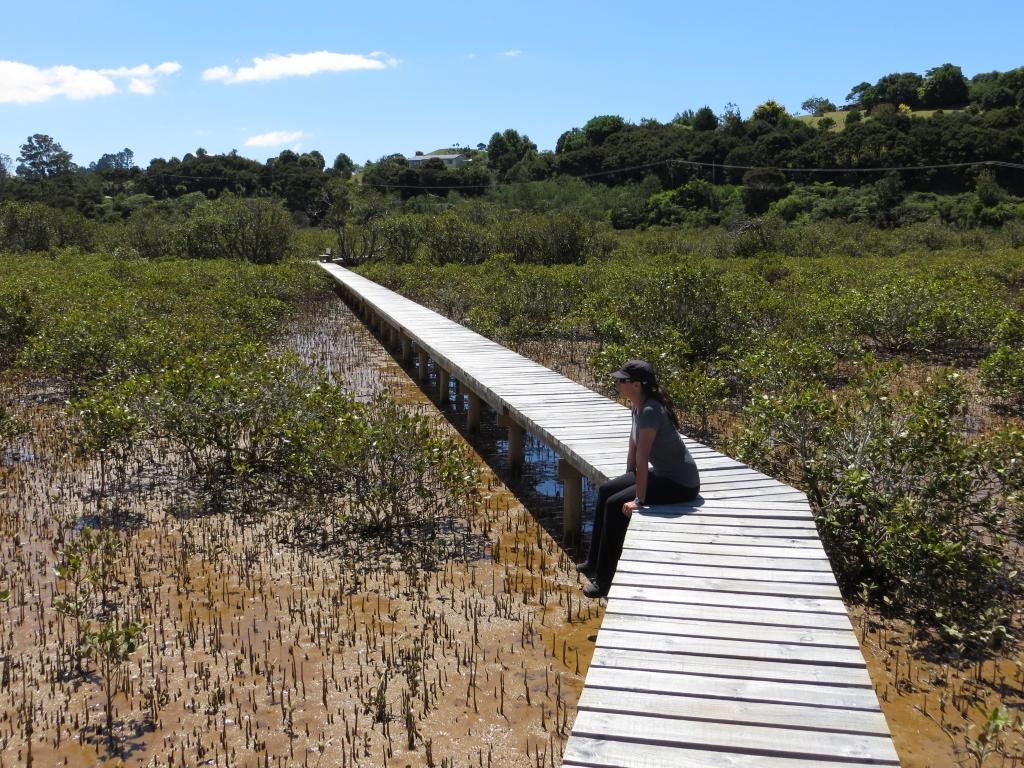 The next morning we had a quick breakfast and packed up to try our luck at hitching to nearby Paihia (we had trekked the five kilometers into town the evening before so while attractive and quaint, we knew there wasn't much else to see in Kerikeri). As we approached the roundabout that would put us in the right direction we had just crossed the road when a motorhome pulled over and someone began to wave towards us. No joke, we didn't even have a chance to put our thumbs out before we had a plush ride to Paihia with a couple of friendly Maoris who were off to sell some sweet corn and nectarines on the side of the road. It was a bit interesting though because without speaking to each other Leah and I both deduced that these guys had actually been set up at the Hideaway Lodge close to where we had pitched our tent; our attention had been brought to them because the proprietor of the Hideaway had mentioned as a sort of a warning or complaint that these guys were Mongrels—members of the worldwide motorcycle club (let's not kid ourselves, gang) who he was sure were up to no good. The irony not unnoticed, we ended up having great conversation, never felt unsafe, and were even sent off with ears of corn as we got dropped off at the wharf in Paihia. Just another you-can't-make-this-stuff-up experience for our history books.
Leah: Fresh sweet corn in our backpacks and a spring in our step, we waited at the wharf for Amanda to swing by and pick us up. When I had put a shout out to my Facebook community that we'd be in NZ and looking for accommodation/contacts, my friend Megan from my Semester at Sea days immediately let me know that her sister, Amanda, was currently living in Paihia and would be happy to help. I had last seen Amanda at Megan's wedding about 8 years ago, but a friend's a friend and Amanda had graciously agreed to put us up for a few days in the house she shared with her girlfriend Kerry, their housemate Dunny, and his handsome pitbull mix, Nugget. In fact, we later learned that the dashing Nugget is also "kiwi trained", meaning that he's gone through classes that teach dogs not to attack and kill kiwi birds, as they're quite susceptible to over-eager dogs, being both slow and flightless. As luck would have it, Kerry's delightful Grandma, "Nan," was also visiting for 3 weeks from England so we never lacked for conversation or company!
Amanda informed us that about 3 years ago after graduating with her bachelor's degree and abysmal job prospects , she tried her hand at some odd jobs before deciding that the New Zealand seemed like a much better place to be jobless than in the States (
Steve:
never mind she had played water polo for the U.S. national team which I only found out about through a comment she made with regards to earlier travels…and then I also found out her
dad
was a DL coach for Stanford and had previously played for the Chargers. It appears humility and athleticism run in the Tipton gene pool). She applied for a job at a ski resort as a barista and never looked back, moving down, meeting Kerry and then together dividing their time between the NZ winter season near Lake Taupo and the summer season in Paihia in the Bay of Islands. Along the way they worked their way up through a combination of tenacious hard work, helpful contacts and the right opportunities before landing their current gig as head chefs at the Upper Deck Restaurant. In fact, they were even given free rein to design and implement a dinner menu (the restaurant had never been open for dinner before), which we definitely reaped the benefits of!
After catching up on life the girls headed off to work and we headed off on foot to Waitangi, the small town a little bit north of Paihia where the Treaty of Waitangi was signed in 1840 between the British and the native Maori populations. The treaty and ensuing events are still a sore spot for many Maoris, but you'd never know looking at the peaceful coastal inlets and cicada-filled wooded hills. We popped into the grocery store on the way back to the house before freshening up, chatting with Nan and heading out for the main event—dinner at the restaurant! After extensive food trials with Dunny as the guinea pig, the girls had settled on a
Kiwi-infused Mexican menu
, which of course had our palettes doing a preemptive dance. After studying the menu for close to 10 minutes and having the poor waitress return at least 3 times to see if we were ready, we placed our orders and settled in on the outdoor terrace overlooking the wharf.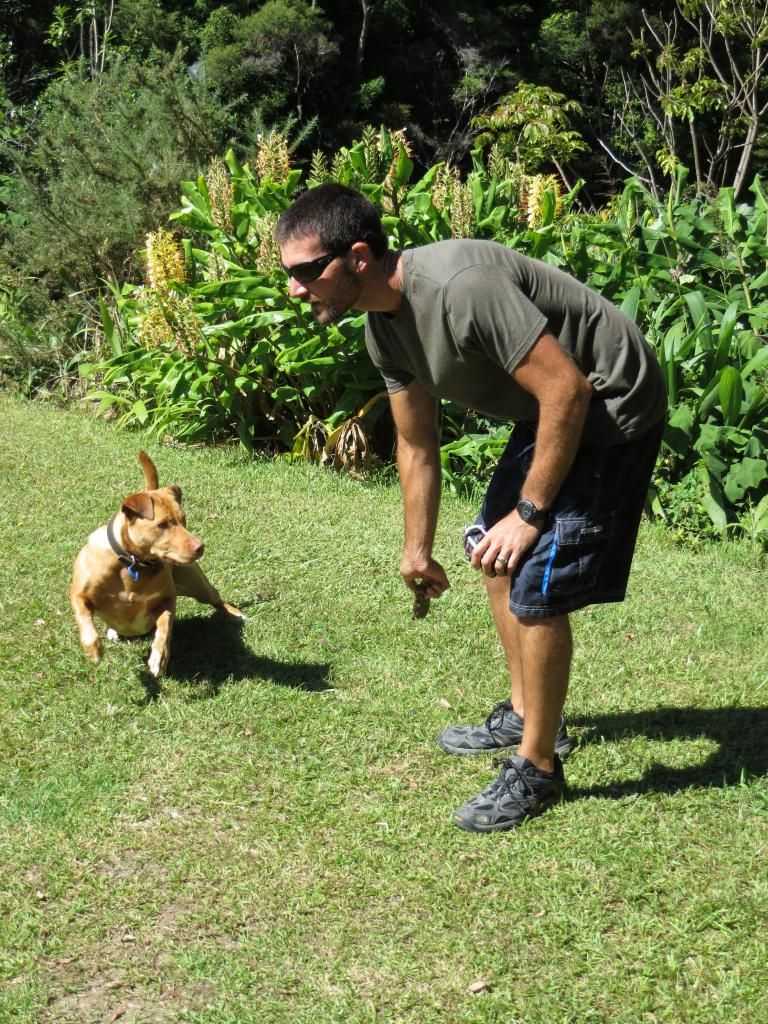 When our plates arrived less than 5 minutes later, our jaws dropped and we started salivating like Pavlov's dog. I had ordered the smoky pork tacos with cabbage, chili, cilantro and pineapple salsa and Steve chose the chili bean quesadilla pizza, which consisted of beans, cheese, onion and sweet chili sauce sandwiched between two sundried tomato and basil tortillas. Both were accompanied by pesto rice and mine had a green salad while Steve's had a cabbage slaw. The presentation was a work of art (we may have eaten it all before we realized that we should have taken a picture!) and the menu delivered exactly what promised—a fusion frenzy of kiwi and Mexican. Hats off to the extraordinary chefs and their genius ideas! We had that much more respect for them when they later explained that even sourcing ingredients for Mexican-style cuisine is tricky—the cilantro is different here, small corn tortillas don't exist (Megan makes them by hand), the proper beans are hard to come by, chili peppers are damn near impossible to procure and essential components like lime are almost $12/lb, making them too cost-prohibitive to work with. Despite all that, Amanda and Kerry made the menu a smashing success and after singing their praises and helping close up the place around 10 p.m., we all walked home together.
After a delicious egg-scramble breakfast (prepared by the girls with fresh eggs from a regular customer), Steve and I packed a picnic lunch, laced up our boots, slapped on some sunscreen and headed off on the 5-hour-long coastal trek between Paihia and Russell that Amanda told us we couldn't miss. We hugged the ebbing tide and scrambled over rock pools and dining sea birds as cotton ball clouds dotted the sky and the sun pierced brightly through it all. The undulating trek led us to the small town of Opua 2 hours later, where we caught the passenger ferry to Okiato across the bay. This tiny coastal hamlet was the first capital of NZ and signs everywhere also alerted us to the fact that we were in kiwi bird territory so to please exercise caution. While we knew we wouldn't see them (they're nocturnal, flightless and notoriously elusive), it was pretty cool to know they were in the underbrush somewhere nearby!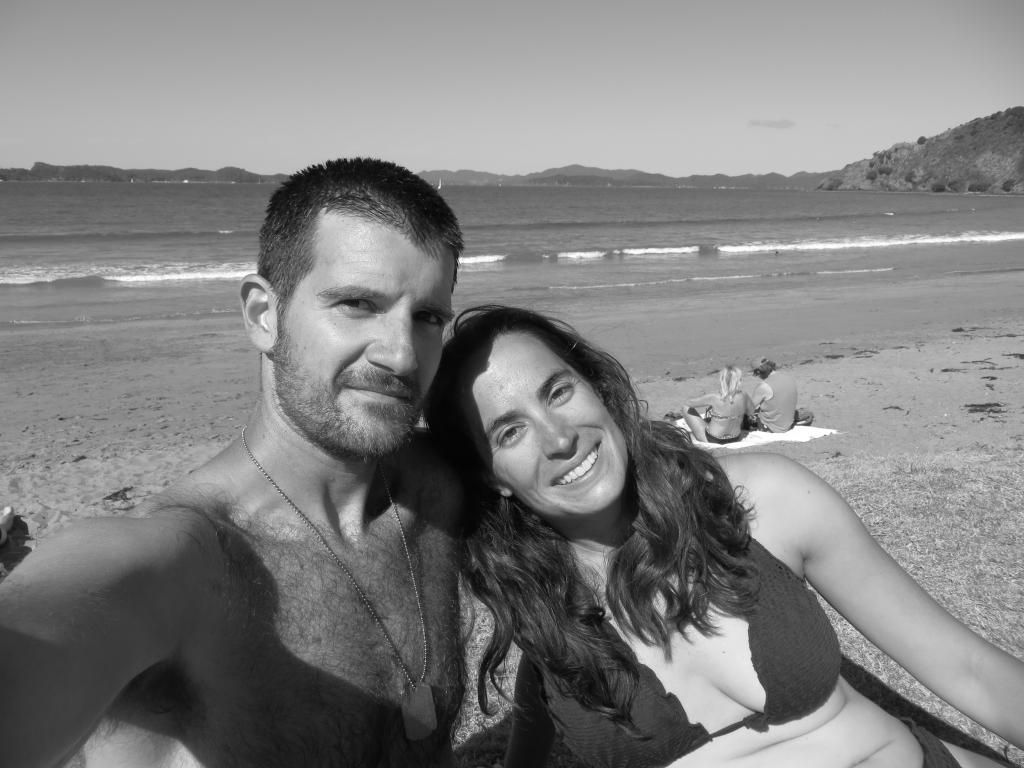 At this point we traded magnificent estuarine scenery for a trail through palm laden forested hillsides, oyster beds, mangrove swamps and farm landscapes. We even passed a sign warning us not to
feed the zebras
, but the only animal in evidence was a solitary goose—a local later informed us it's a bit of a joke, as the "zebras" are nothing more than metal sculptures in the back of the paddock but we don't recall even seeing those! The trail had us hopping fences and huffing and puffing for 7 kilometers between Okiato and Russell, the latter of which is now an exclusive and delightful hillside settlement but used to be the Sodom and Gamorrah of NZ back in the day, with merchants, sailors and the ilk coming to do their drinking, gambling and whoring. You'd definitely never know it now to see the white-washed colonial buildings and charming boutique shops interspersed with fashionable B&Bs and restaurants.
We rested our weary feet in the cooling waters of the expansive Long Beach just up the hill from town and even had the pleasure of watching parachuters descend with uncanny precision to their landing spot on the beach. A quick ferry ride brought us full circle back to Paihia, where we made a beeline to The Upper Deck for "Margarita Sunday". We indulged in divine margaritas on the rocks accompanied by a cheesy garlic aioli quesadilla that we had been eyeing the night before and yet again we weren't sorry for that decision!
Steve: The following day was a lazy one, highlighted by confirming our South Island WorkAway dates and finished off with a hearty barbecue put together by the Amanda-Kerry super duo. Even though Leah and I have lost a bunch of weight from constantly moving we can never say that we weren't fed well. Before we knew it Tuesday morning had come and it was time to pack our bags and head south for our next WorkAway adventure. As always it was refreshing to be around familiar company (even though I hadn't actually met Amanda or Kerry before, they quickly felt like old friends) and our parting was too soon. But alas, such is the life a nomad.
CLICK
HERE
FOR PICTURES.