A Walk in the Clouds
GREYMOUTH/FRANZ JOSEF/QUEENSTOWN/TE ANAU, NEW ZEALAND: March 19-28, 2013
Leah: Unfortunately I will not be doing proper justice to some of my favorite places in all of NZ and for that I apologize. We're overdue for a blog post, we're physically and mentally drained and we've had a recent death in our circle, so forgive me for my lack of description and vigor. And for anyone who has voiced concern over my tone in the last post, I'm doing much better. We all hit the doldrums from time to time and no, I'm not divorcing my husband. No matter how in love you are with your significant other, I challenge anyone to travel the globe with them and tell me that it's rainbows and butterflies all the time!
Steve:
Leah made a promise to herself and us from the beginning to always be brutally honest; while this blog would serve to tell our friends and family back home how and what we are doing, it is also a personal journal of our travels around the world and within our relationship. So whether her or our feelings are normal or not they are what they are. And what's normal about a couple of American thirty-somethings quitting their jobs and globetrotting anyways?
Leah
: We stopped in Greymouth for one reason only: beer. We had purchased discount tour tickets to
Monteith's Brewery
and I wouldn't be a good wife if I didn't afford my boo the chance to drink good beer when available (
Steve:
that's Honey-Boo-Boo to you my dear). Oh, and for $10 each we received the tour, poured our own taster and then received any three glasses of our choosing, as well as a coupon for another free pint in a local restaurant. When a single pint usually costs around $7 in a bar here, that's a hell of a good deal!
Steve: While I didn't learn or see anything new on the tour itself—there was no production actually happening and the tour was only ten minutes or so—I did learn that New Zealand has great beer. Well I already knew that but the rediscovery was fun. Monteith's makes a varied line of craft beers including a great IPA rivaling those out of Southern California as well as a lemon-infused Sprite-like brew that Leah absolutely loves…we'll have to look for them back in the States.
From Greymouth we had decided to hitchhike to Franz Josef, since it was less than two hours away. Well, we waited 2 hours for our first ride (Shane, a Kiwi diesel mechanic who had spent a year in Zambia, so of course I grilled him about the sex workers in the camp and HIV/AIDS problems). Our second ride was another 2 hours later (Jes, an Indian fellow who owns a restaurant in Dunedin and a giant farm about 30km outside Franz Josef) and left us about 15 minutes short of our destination. Luckily a trio of recent Thai college grads rounded the corner and somehow we all crammed in to their rental car and made it, vowing that there would be no further hitchhiking for us on the West Coast. Our night in Franz Josef entailed eating, avoiding the rain and sweating away in the hostel's sauna. Not bad.
A bus the next day carried us to the adventure capital of New Zealand, Queenstown, where the highlight would be a rendezvous the following morning with my friend, Katie. We've been friends since high school but from college onward she's spent most of her time on the east coast and I hadn't seen her since the fall of 2011. Oh, and I should mention that she had recently quit her job as Deputy Director of Office of Digital Strategy for the White House and was traveling through New Zealand and Southeast Asia before deciding what to do next. Yes, I have the coolest friends. Anyway, the 3 of us spent a lovely couple days/evenings strolling through the touristy shops, sourcing out happy hours, tasting the infamous beef offerings of
Fergburger
, walking along the banks of the lake, attending elementary school fairs and reveling in the Remarkables Mountain Range at sunset. We even partook of a cocktail at the
Below Zero
ice bar, where we had nabbed super cheap tickets for entrance and cocktail through
BookMe.com
and completed a recent
dare
in the process. Despite being kitted-out in gloves and a furry parka it was bloody cold, so we slurped our fruity drinks, took the requisite pictures, played some frozen foosball and smashed our ice glasses in the bucket on the way out (
check out the video here
). Way fun! It was beyond brilliant to catch up and trade travel stories and with the knowledge that our paths may cross again in Thailand, we bid Katie adieu and headed to Te Anau, the gateway to our next adventure.
Steve and I had decided to tackle the
Kepler Track
, one of NZ's Great Walks. It's a 61 km circular track that encompasses everything from alpine saddles to beech forests. It's recommended that you take 3 nights and 4 days to do, but since we would be camping (cheaper than staying in the DOC huts) and there were only 2 camp sites, we would be doing the whole thing in 2 nights and 3 days (
Steve
: really in just over 48 hours). Oh, and the forecast had taken a turn for the worst and indicated rain but since we had already booked our campsites we had no choice. We also subsisted on canned beans, carrots, Spam, granola bars and Nutella since we decided not to bring cooking gear with us. Yup, we're
hardcore
dumb. There is too much to say and describe about this highlight of our trip, so I won't even try. Here's the abbreviated version:
DAY 1: 5.6 km, 1 ½ hours. Poured rain. Beautiful forest, Brod Bay campsite on beach. Everything drenched, fell asleep to the drone of mosquitoes. Rained all night.
DAY 2: 22.8 km, 8 ½ hours. Poured rain through our steep uphill slog to Luxmore Hut. Passed Mt. Luxmore and hiked along alpine saddles where wind threatened to throw us against the mountain or off of it. More rain. More wind. Too miserable to take many pictures even when the weather would have permitted it. However, most amazing scenery ever and worth every damned uphill step. Then a steep downhill descent through verdant forest to Iris Burn. Gorgeous valley, celebratory scotch (Steve) and Dr. Pepper (me) but zipped into tent at 4 P.M. until the next morning to avoid the omnipresent sandflies. Heard stags grunting all night long, as they're currently rutting and protecting their harems from other males.
Day 3: 31.7 km, 8 hours. Gorgeous day. Perfect really. Only ones on trail since we started so early. Looked like Mother Nature upholstered everything in green lichen and moss. More or less flat, but our bodies were in agony at this point and all we could do was push on. Back at the hostel we could hardly walk. Maybe we don't try and condense a great walk like that again? Lesson learned but my favorite part of the trip so far the scenery was something that'd indelibly etched in my brain.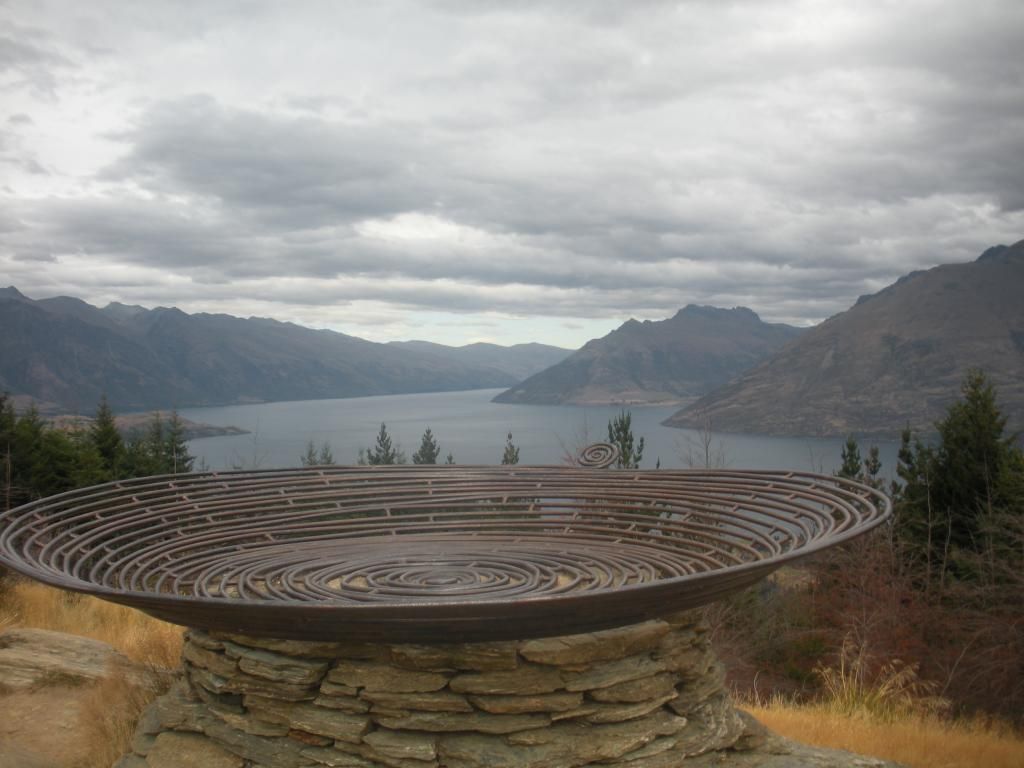 Upon checking email for the first time in days we were slammed with bad news from home. My family has been very close with a family down the street for years and years—my sisters and I all babysat the two children, Madison, aka, "Addie" and her brother, Jack, and we celebrate birthdays, Christmases and everything else together. The Huberts are family. So imagine receiving word that Addie, a freshman in college in Iowa, had been killed in a car accident the second day of our hike. She had been driving back from dinner with her boyfriend and his family on a snowy evening when an oncoming car lost control and hit them—the other driver was killed, as well as Addie.
There are just no words. I can't relive it all now, but I was immediately crushed that I couldn't be at home for the people who need me and the similarities to Jayna were just too much (I found out about her murder the day I returned from a hiking trip after being off grid, not to mention that Addie was also vivacious, talented and gathered friends wherever she went). It made me wonder again about if I can have kids after seeing how they can be ripped from your life by a sick person or a freak accident. And most of all it brought up the all-too-familiar feelings of grief and rage. I thought there had been enough suffering in my circle to last a lifetime—was the whole cycle starting over again after just a few years? And losing Addie is just too much—a bright 18-year-old just hitting her stride who had been excited for our trip and made me promise the last time we talked that I'd consider going to Ethiopia (where she'd been with school and fallen in love with the children and culture). It was just too much. I cried and moped and locked myself in the hostel TV lounge with Steve and a The Lord of the Rings movie as distraction, falling into a fitful sleep later that night.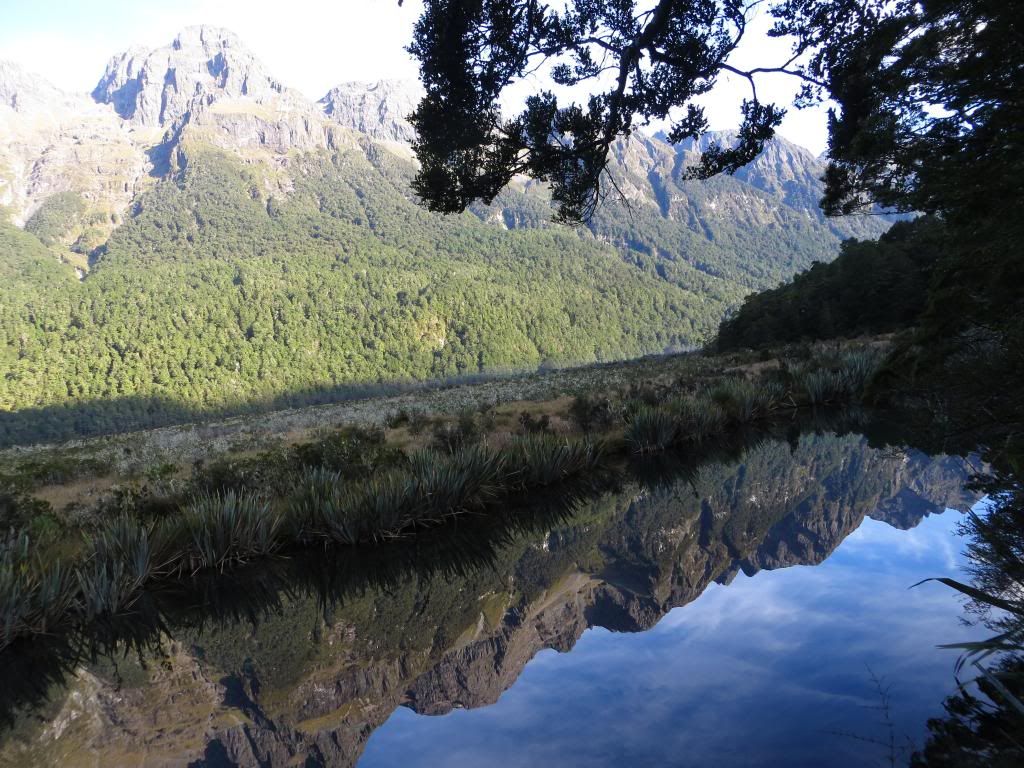 We had already scheduled a tour of Milford Sound for the following day; despite not being in the greatest of spirits, we both knew that getting out into nature on a glorious day would remind us that despite horrific tragedy there is still joy and life in the world. I had been to Milford before and loved seeing it again through Steve's eyes. It's actually a fiord with forested mountains plunging almost vertically into the sea. When it rains there are literally hundreds of waterfalls but there are only two permanent ones when it's sunny. And due to the extremely high rainfall, the first layer of water has less salinity than the pure salt water underneath and the light and environment mimic that of a much greater depth. As a result there are corals and sea creatures relatively close to the surface that are usually only found hundreds of feet deep. But overall it consists of peaks, sky and water merging into a splendid landscape that words and pictures simply can't capture.
So there you have it. Fiordland is absolutely my favorite region of NZ and it was brilliant to be back while tackling new adventures and places with Steve. It was especially nice because it's the start of fall and the air is crisp and the trees are starting to change, something I always missed in San Diego. However, the end of our time here was bittersweet and in closing I'd like to ask that you send any healing thoughts and prayers to the Hubert family and all those affected by Addie's passing. Life is full of highs and lows, incredibly joy and agonizing pain, all of which serve to continually remind these travelers why we're risking it all to follow our dreams now instead of later. No day but today.
Steve:
During our hike through the Kepler Track the thought came to me that you cannot perceive great beauty without experiencing intense pain. Although it may be cliché and not exactly a new concept, I kept coming back to the idea that the highest highs and the lowest lows are indelibly intertwined. Is it possible to truly experience intense joy without having felt deep loss? Is one required for the perception of the other? As we summited Mt. Luxmore and looked out over Lake Te Anau and the surrounding mountain ranges, swirls of multi-level rain clouds drifted around us before briefly parting and giving us a misty glimpse of the sun-dappled water. You cannot convince Leah or myself that we weren't given a snapshot of heaven. Would we have felt the same if our bodies weren't overflowing with endorphins from a three-hour ascent? This question continued to linger as I was consumed by the overwhelming immensity of Milford Sound. For me, this place is on par with the Grand Canyon in terms of sheer beauty and awe-inspiring views (if you can't find some kind of spiritual connectedness to this Earth here, then well, I just feel bad for you). I also found myself going back to Leah's questions of having kids…how do you leave yourself open to the potential for such tragedy? All of these questions are simply what they are…questions. I'm guessing there are probably a few people in this world who live happily having experienced minimal to no heartbreak. But for the rest of us I cannot help but feel that all of life's sorrows aren't for naught…
Peace be with you, Addie.