Learning to Fly
WAITOMO & TAUPO, NEW ZEALAND: February 22-26, 2013
Steve: Waking up around six and trying to be as quiet as possible we broke down our tent and packed our bags. We would be taking our first paid road trip in New Zealand in the form of an Intercity Bus leaving from Rotorura's iSite at a quarter to eight; we had booked a cave tour in Waitomo for later that day and couldn't risk being late by hitchhiking. So after a quick breakfast these two Americans were hoofing across town on a crisp, sunny Kiwi morning, looking forward to the day's adventures.
It was oddly comforting to be back on a bus. After spending inordinate amounts of time on buses in Central and South America it was nice to have time to ourselves. Don't get me wrong, hitchhiking has been great fun, cheap (i.e. free), and it's still my preferred means of travel in New Zealand. But on a bus ride you don't have to talk to someone if you're tired and don't feel like it…you can read, sleep, take in the passing scenery in silence. And if you're like me you can pop in your iPod and zone out, which is one of my ways of relaxing (I need to throw out a huge thank you to me best mate Kris for throwing me a bro-down in the form of a music-filled USB drive, and to my wifey and Manda for coordinating this early birthday present).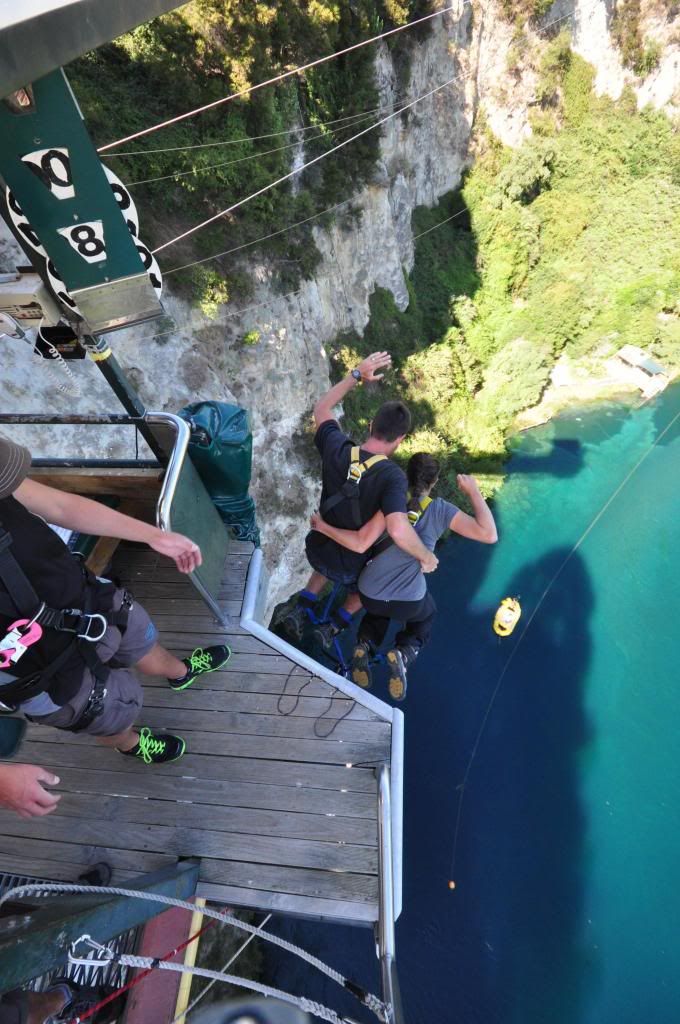 Two hours after leaving Rotorura and we found ourselves dropped off directly in front of the Juno Lodge hostel where I had pre-booked a tent site. Although this hostel is located several kilometers outside of the town of Waitomo, it was conveniently situated across from
The Original Blackwater Rafting Company
, with whom we had booked our cave tour. I should mention that when Leah visited New Zealand years ago one of her splurges was a Waitomo glowworm cave tour…she has raved about it since we'd met and it was a must-do as far as she was concerned. (
Leah:
I used another tour company last time, but I had loved pushing my limits physically and mentally with long abseils, tiny squeezes through subterranean tunnels, and jumping into water far below with no lights on. Definitely an extreme face-your-fears situation and one I knew Steve would enjoy.) So we pitched our tent, ate some lunch and relaxed for a few before making the daunting journey across the road for our 2 P.M. cave date.
After a short wait in the bustling cafeteria within the tour offices we were gathered up by Anna and Janna, our guides for the afternoon
Black Abyss
tour. Introductions followed with the six other participants before we were led down to lockers where we would be outfitted with wetsuits, boots, helmets and abseiling gear. Yes, you can call me Scuba Steve. Anyways, once everyone was good to go and a few silly pictures were taken we hopped into a musty, B.O.-filled van for a ride to Blackwater's proprietary cave (each tour company in Waitomo pays for rights to one of the hundreds of caves that lie beneath private properties). Anna and Janna gave the group a quick lesson in abseiling and away we went.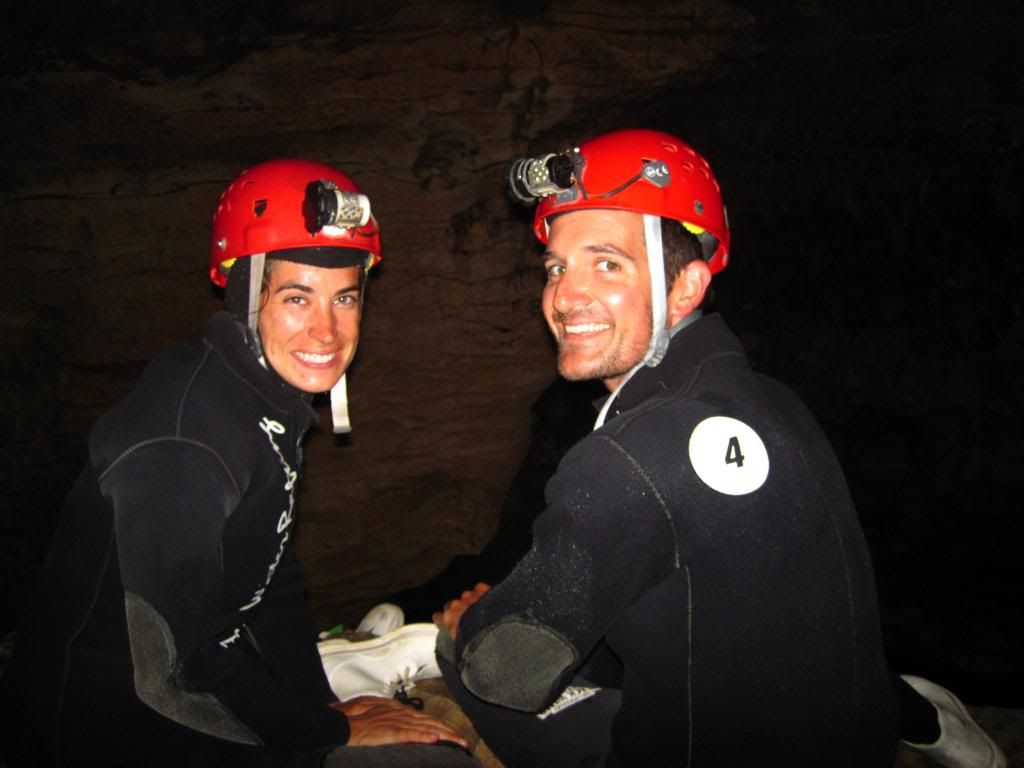 Hooking onto a system of ropes, the first portion of the cave tour began with a 35-meter (approximately 115 foot) abseil down into a pitch-black cavern. Each person was outfitted with a headlamp, however even then not much could be seen on the way down. As I was the second-to-last person to descend into the cave I expected to hear the others below me but as I inched my way down I was enveloped in nothing but black silence. I was startled when I unexpectedly heard Anna say "good job" behind me and my feet touched down on the cave floor—turning around and walking down stairs to join the others I turned my headlamp off at which point I was suddenly aware of being in a whole new world. Above us like a thousand blue stars were the glowworms which I had heard so much about.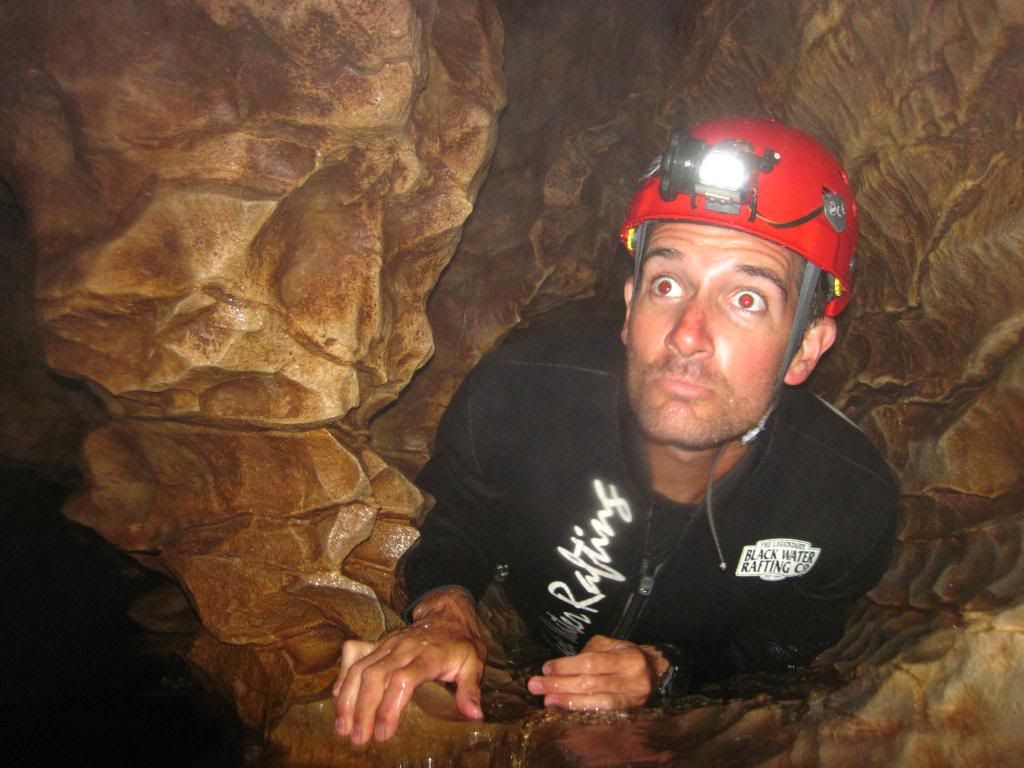 As we would soon find out from our guides, these little buggers spend nine months of their lives feeding by luring unsuspecting victims into a series of mucous-like strands that hang around their bodies; the phosphorescent blue glow given off by their food digesting attracts them of course. The rest of their short lives are spent eating, pooping and reproducing. Janna had a very crass yet pithy description of a glowworm's life cycle but it escapes me now…unfortunately traversing through dark caves is not conducive to note-taking (
Leah:
To the rescue! The description more or less went like this: "Glowworms are cannibalistic cave maggots with glowing shit who fish for nine months and then shag themselves to death.")
With Leah safely below the group was once again whole and we followed our guides through a system of tunnels which allowed us up-close-and-personal views of glowworms and the castles of stalactites and stalagmites that make up their kingdom. Before long we found ourselves at a long crevasse over which several ropes stretched. Being one of the first in line, I found myself being hooked onto the flying fox, not knowing what to expect. During each person's turn the guides would turn off all lights; I lifted my legs and was hurled down into the darkness, the blue glow of the worms above and in front of me. It was a rush not knowing when and how you would be suddenly brought to a halt. Although the ride itself was only five to ten seconds long this was one of the highlights of the tour.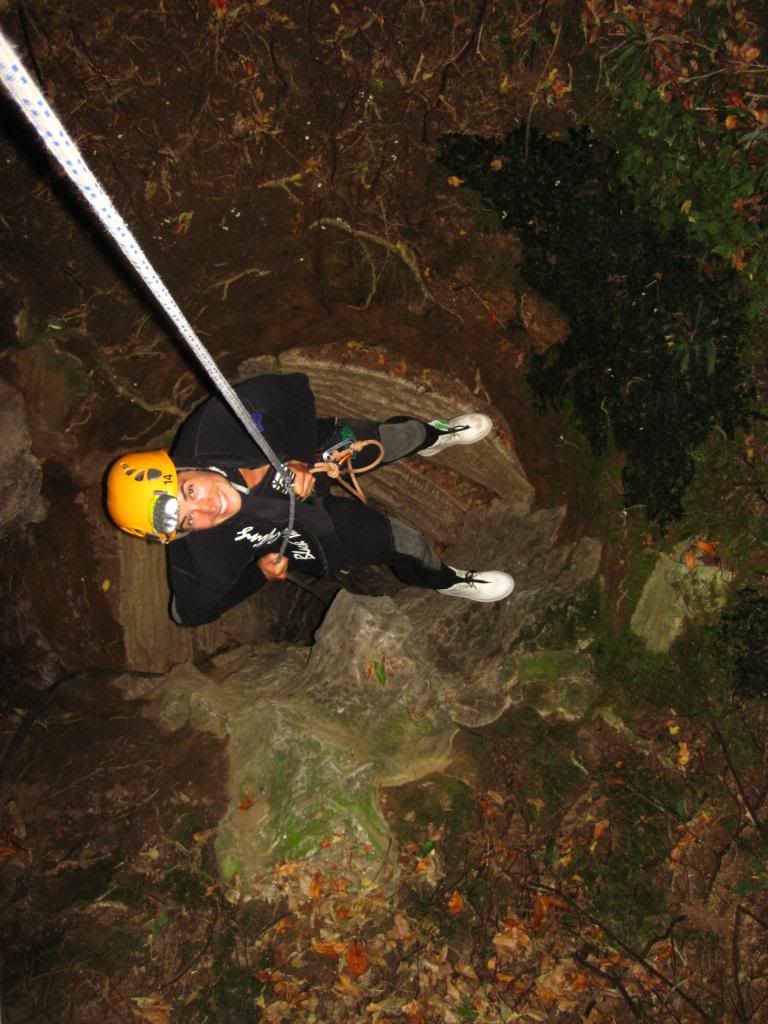 After everyone was across the gap and had their turn on the flying fox, we were given an unexpected but welcome surprise of hot chocolate and "cave cookies." This was a treat since down below the earth's surface this cave was getting bone-chillingly cold, even with our snug wetsuits on. Tea time over the guides began passing out innertubes which would be used in the black water rafting portion of our tour. I knew about this part but what I didn't know was how we would be getting into the water—I was the first to make the ten foot "butt-flop" into the dark, icy water and everyone quickly followed. We then drifted down through the shallow underground river in a human chain, staring up at the galaxy of stars suspended over our heads. I think I speak for everyone when I say that floating along in silence this was truly a surreal moment.
The rest of the tour consisted of crawling and sliding deeper and deeper into the system of caves. At one point we even met one of the resident eels who greeted each guest by slithering through their legs. The piece de resistance was a climb up, through and over several waterfalls which brought back memories of our Semuc Champey cave excursion back in Guatemala. Surprisingly I'm not sure which climb was the least-safe but either way it made the ensuing sunlight that much sweeter.
The tour over we walked back up to our tent site exhausted but still in awe at the sights. Although tired we struck up conversation with a pair of friendly Kiwis (seriously, find me one who isn't) on a holiday road trip, as well as an American couple in the middle of a sailing trip around the Pacific Rim. Throw in some hammock reading time and we were spent. We had an early rise the next morning since we knew the road through Waitomo isn't heavily traveled and could make hitching to our next destination difficult. To make a long story short we ended up with one of our longest hitchhiking waits in Te Kuiti, a town just south of Waitomo. We kept positive and after waiting a couple of hours we found ourselves with a ride all the way to Taupo with Richard and June, a nice older Kiwi couple. We weren't short of conversation with this friendly pair and the two-hour ride passed in what seemed like minutes.
Leah:
We parted ways with Richard and June and set out to the iSite a few blocks away in hopes of securing information about a major hike in the area, as well as accommodation. We'd heard rumors earlier in the day about a major event in Taupo the same weekend and the hordes of relay running teams we encountered driving through town should have triggered a sense of dread, but we naively marched into the i-Site anyway and started calling hostels to see where we could stay. In short, unless we wanted to be 3km outside of town or directly over a raucous bar that even the hostel employee warned us away from there was no room at the inn for these travelers. There also wasn't any camping left at any of the hostels either!
We were fast approaching cranky and desperate when Steve called
The Berkenhoff Lodge & Backpackers
, the last place on our list. The woman on the other end told us she had one dorm bed available but that she'd be fine if we pitched our tent outside under a tree near the parking lot. Oh, and did we want a free pickup, since they were a 20 minute walk from town? SOLD! Thus we met J.B., one of the owners, and she went above and beyond to make sure we were fine on our little patch of grass adjacent to the parking lot and right near the clotheslines. She even gave us a key to a storage shed where we could stash our gear when we'd be gone for long stretches of time instead of leaving it in the tent. It immediately felt like home and over the next few days we took advantage of the fantastic kitchen, lounge (with book exchange! I…can't… break…the…habit…), location to the grocery store and all sorts of outdoorsy pursuits.
One highlight was walking the Huka Falls trail from town to Huka Falls, a turbulent waterfall of frothy water funneled through narrow cliff walls that supplies 15% of the country's energy. The trail took us past blackberry bushes (I may have tarried once or twice to stuff my face), fast moving cerulean water playing host to birds of all species and even natural hot springs that pour from the rock in skin-boiling temperatures and then mix with the river water for the perfect range of temperature options. Heaven! It was a mostly shaded walk and Huka Falls itself was quite the raging beast, although we remarked that it still didn't hold a torch to Iguazu Falls in Argentina.
Another must-do we had previously decided to tackle was the Tongariro Crossing, something I hadn't done on my previous NZ trip but have always wanted to—who doesn't want to spend 8 hours walking 16km across lava flows, crater floors, geothermal areas and emerald lakes? To top it off, you walk right underneath Mt. Ngauruhoe, which not only resides over Lake Taupo and the cities dotting the banks, but was also reworked with a little CGI magic to create Mt. Doom in
Lord of the Rings
. Yes, the nerdery continues.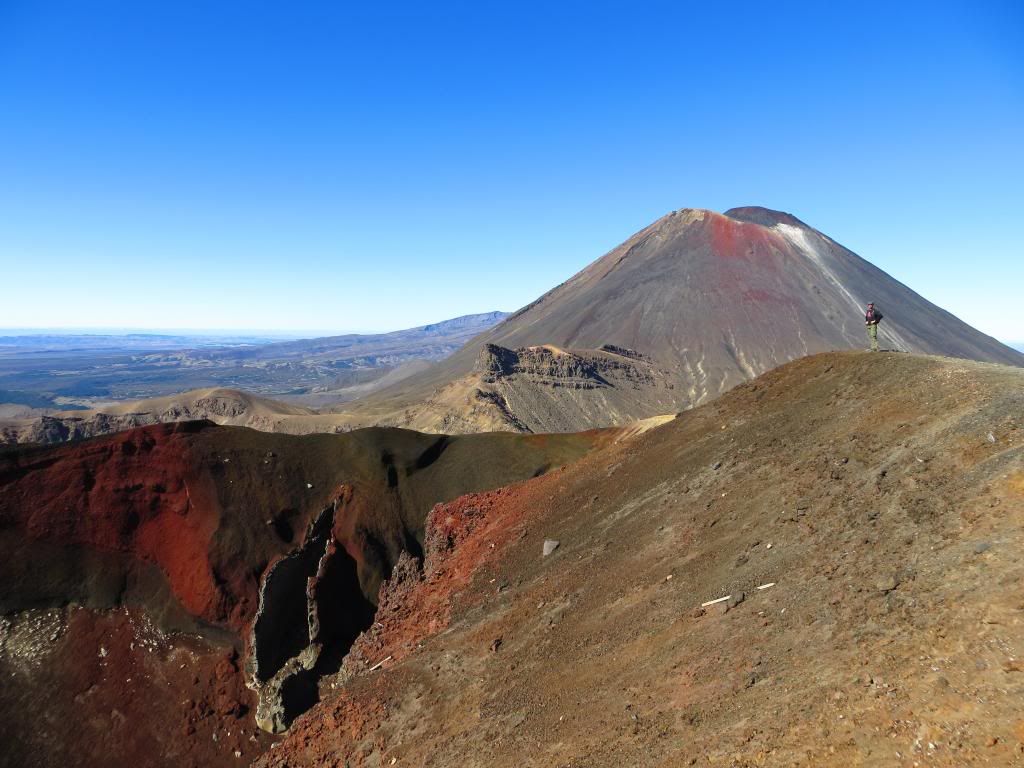 However, the only hitch in our plans was that nearby.Mt Ruapehu had erupted twice in the last 7 months after laying dormant for over a century, though thankfully hadn't killed anyone since it erupted at night when the trails were empty. In an effort to avoid potentially having dead hikers on their hands, the national park decided to close off the usual second half of the famous trek, therefore only offering tourists two choices: walking out to the Emerald Lakes and back the same path or continuing through the park on an alternate crossing that would add 2 hours and 8 kilometers to the ordeal. Because we don't like walking the same trail twice and decided to go big or go home, we chose the latter and set about making trail mix, buying fruit and packing our can opener for a trailside baked bean lunch. Bring it!
Our 4:45 a.m. wake up was not entirely pleasant, and we blundered around our tiny tent in the chilly pre-dawn air trying to make sure we had all our clothing layers, water and food for the day. We had paid for roundtrip transport to and from the park, so we trundled aboard the bus for the hour-long ride and our feet hit the trail at 7:20 a.m. This walk is lauded as one of the best one day walks in the country and for good reason (
Steve:
it is one of New Zealand's nine "Great Walks" after all). The topography is incredibly varied and changes by the kilometer, while the views are staggering and it feels like you're walking through alien landscape. It was also a perfect day, sunny and clear but chilly in the shade, so while some of the terrain had me cursing every step (like ascending the steep one-step-forward-two-steps-back scree fields), I delighted in the flora (not much fauna to speak of), the quiet meditation of walking and the geological wonderland we had the privilege of tramping through. It was a loooong day and everyone disembarking from the bus staggered off like an arthritic drunkard, but this was an instant NZ highlight for us and as an added bonus we didn't have to justify scarfing down calorie-laden fried fish sandwiches with fries and 1.5 liters of pear cider!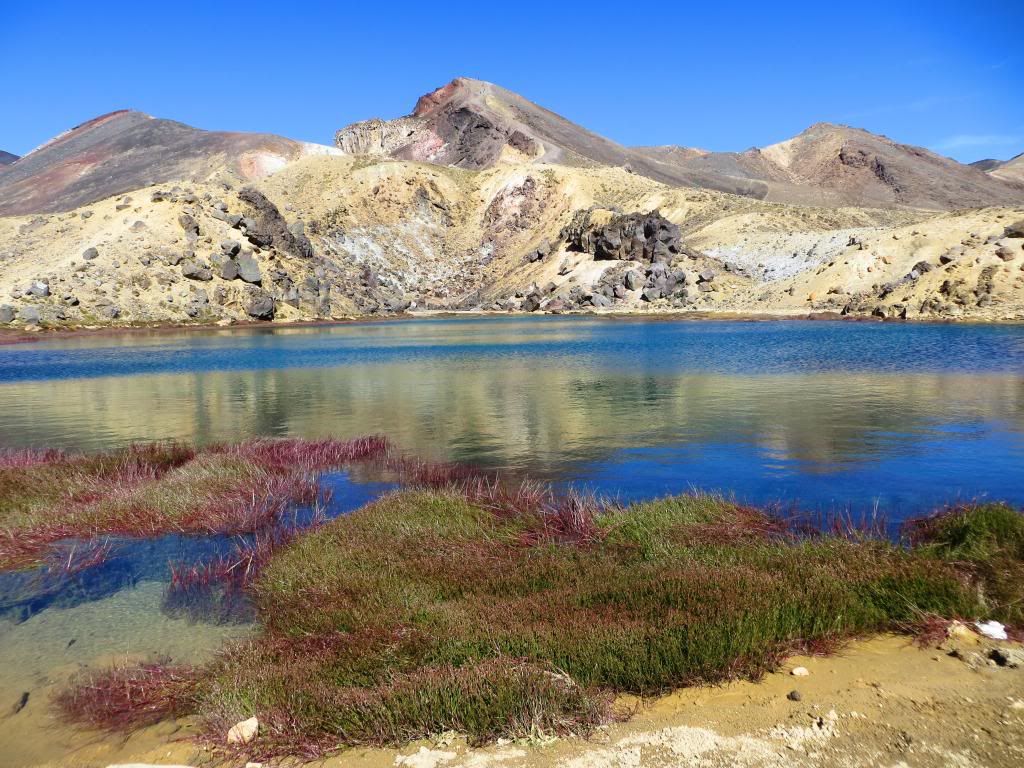 And then there was our last day in Taupo…On our way to the Huka Falls Trail a few days earlier we happened to walk right past
Taupo Bungy
and jokingly agreed that our WorkAway jobs here as well as some recent donations (thanks Marivic and Mike!) are helping free up some cash for other New Zealand pursuits, which could include bungy jumping (at which point we laughed jokingly). I should inform our followers at this point that I'm not an adrenaline junky and hate the sensation of free falling and/or extreme speed; while my husband is more adventurous than me and would like to try sky diving, I'm just fine with my feet planted firmly on terra firma, thankyouverymuch. Neither one of us has ever harbored the remotest desire to bungy, but we were in Taupo with a chance to jump over the glorious Waikato River and
honor Jayna
, so you can probably see where this is leading!
We tried to pretend we were just going for a walk as we set out for our destination, but once we arrived and stared at the jump platform jutting out 150 feet above the river like a pirate plank I felt the fear tears start. We paid and weighed in (I knew that Steve and I had dropped a few sizes, but it floored me to see that we've both actually lost between 20-25 pounds
each
in the last 8 months) and with our combined weight scribbled on my hand with permanent marker, we awaited our tandem bungy moment of glory. I continued not being able to breathe and was in fact terrified, but kept alternating between channeling Jayna and pretending I was jumping to win one million dollars on The
Amazing Race
. Luckily there were two Irish blokes on the extreme swing right before us and their accented exclamations of fear and copious use of the word "shite" provided much needed comic relief.
Once on the platform and having my ankles lassoed with Velcro to what Steve called a "giant stretched out Koosh ball", I kept having out of body sensations and not really believing I was about to voluntarily heave myself into the open air attached to my husband. I knew Jayna was there (with Minger along for the ride) and I kept reminding myself how easy she made it seem to fly, but my insides were liquefied. As we shuffled toward the edge, I kept telling Steve he was going too fast, cursed my brains out and kept saying, "nonononono". However, I did manage to smile for the camera and use sign language to spell "I love you, J" before the technicians told us how to fall with our chins down and arms up. That last moment took both an eternity and a nanosecond as we stepped off into nothing. And started screaming. A lot. The exhilaration of feeling yourself hurtle toward the earth and knowing (hoping?) you won't hit it can't be compared to anything else. Even though I still hated the sensation of free falling, the adrenaline rush was unsurpassed, the views exquisite and once the bungy rope kicked in and we bounced back upward only to fall again on a smaller scale, I was euphoric (but still screaming my head off—see if you can hear me shout "I love you, Jaynaaaaa!").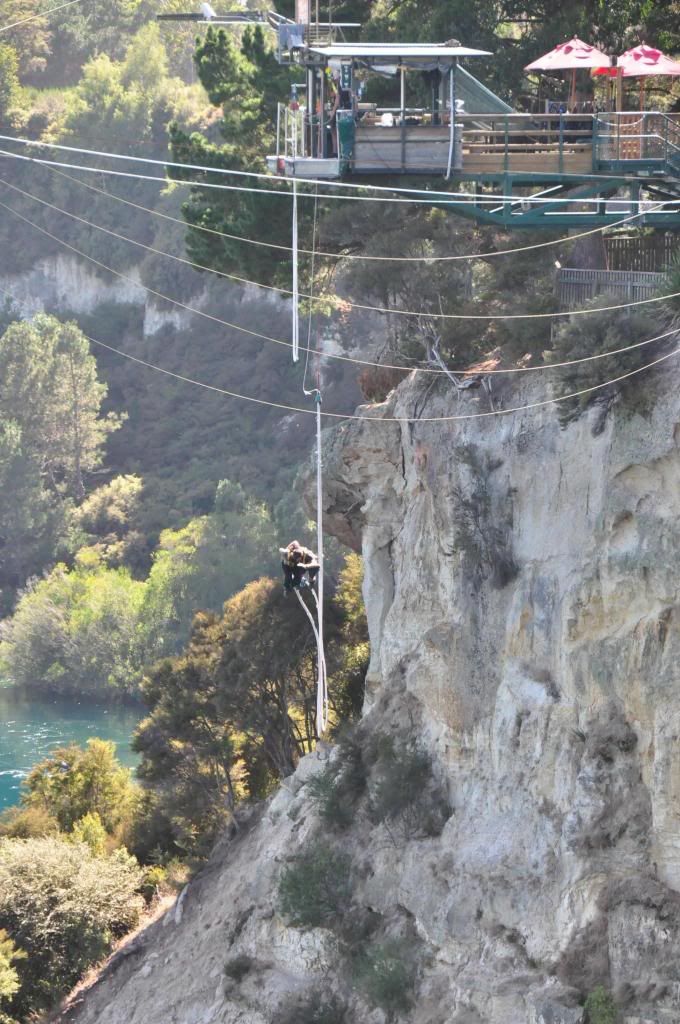 Our yellow raft attendants got us safely down and unhooked before motoring us over to the shore where a blackberry strewn path to the top awaited us. As soon as we were on land and away from other people, the emotion took over and my legs turned to jello as I doubled over sobbing. All I wanted to do was call her and talk about pre-jump nerves, the crazy rush and how we should do it together some time where she can show me her more graceful moves, but my brain rudely reminded me that I did this memorial jump because I
can't
call her anymore. I ached and the sense of loss gutted me like a fish and left me heaving in an attempt to catch my breath. Then, just as quickly, I felt enveloped in love as the pain lessened and I realized the personal fear I had just faced and how Jayna was absolutely by my side cracking up at my screams the whole way down and shouting encouragements of, "Go, Smelly, go!". I laughed out loud at the thought, grabbed a few blackberries warmed by the sun and headed up the path holding hands with Steve so we could go watch
our bungy video
. Learning to fly isn't so hard when you have the best teacher...love you, J.