The $11,760,000 Question
MOTUEKA, NEW ZEALAND: March 10-18, 2013
Leah: Bidding Windy Wellington farewell, we roused ourselves for a pre-sunrise walk to the ferry, which would take us across Cook Strait and over to the South Islands on the ferry, where a Workaway awaited us. I had warned Steve that the last time I took the ferry we were delayed for hours due to weather and then once on board the sea was still so rough that many people were puking nonstop for the duration of the 3 ½ hour passage. Luckily the weather was with us and even though our ferry company had cancelled our departure time, they had already booked us on their competitor and our sail through Cook Strait and Malborough Sounds was sun-dappled and anti-climatic.
Once the ferry docked in Picton, we hiked out of the tiny port town to the highway to catch a ride to Motueka a few hours away. Thumbs out and smiles on we enticed Paul to take us the first leg. He was a Kiwi about our age who had worked at a summer camp in the US where he met and married his South Carolinian wife before they moved back here so she could be a Presbyterian minister. Paul dropped us at the turnoff to Nelson and our next ride was with Peter and Reba, distantly related expats from the UK who despite living within minutes of each other had only met for the first time that past weekend when Peter's family flew into town. They plopped us in Nelson where a jeep soon pulled over and we met Mary and Mike, a young teenage couple of Burmese descent although they were raised in Thailand. They didn't speak much English, but we learned they were on their way with friends in the car behind them to go catch crabs for a typical Burmese dish.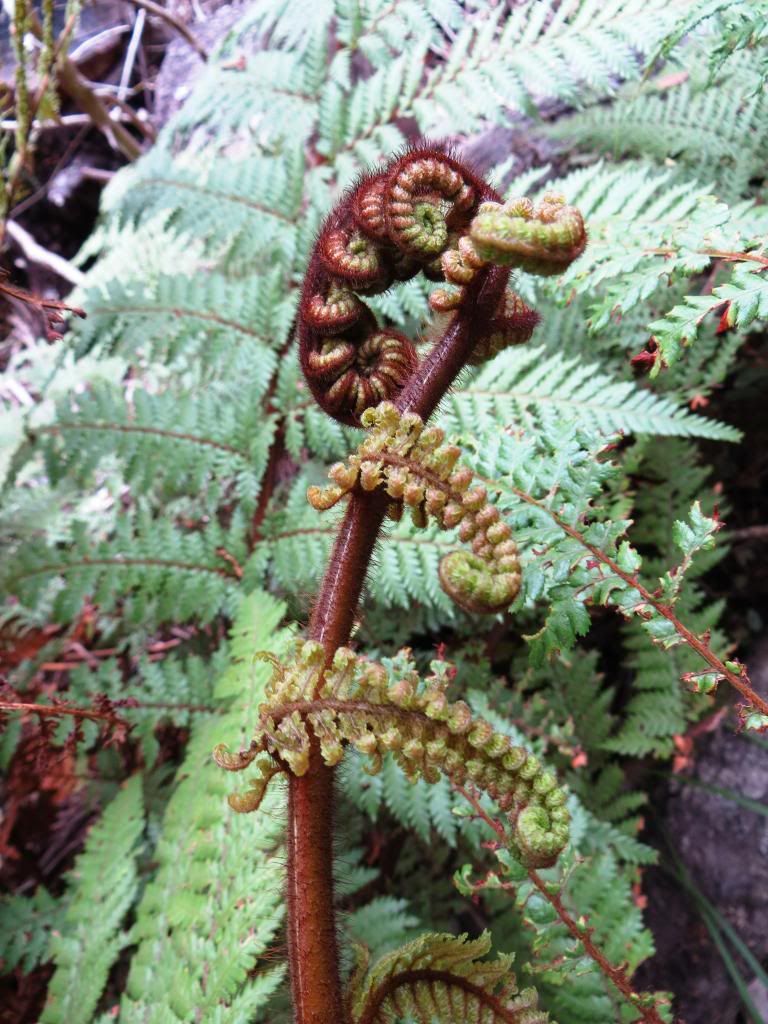 Our home stretch ride into Motueka came from another Mike, an older gentleman on his way back from playing a birthday round of golf with his son. We were tickled to learn that he was a WWII baby, as his father was a serviceman from Oklahoma City stationed in NZ, where he met his wife. Apparently Mike was born in the US, but his parents soon decided they liked NZ better and he's been here ever since he was a year old. Mike dropped us right near our Workaway house and we made our way down the drive of this rural, lifestyle property to meet our hosts.
Dennis and Rima were born and raised in the area and have been married for 37 years and have 3 children together, one of whom lives right next door with his partner and children. Rima is a proud, feisty Maori (my only complaint is that she didn't know how to use her mouth and ears proportionately (Steve: oh snap!)) and we'd been looking forward to this opportunity for months because they made it clear in their profile that there would be a great deal of Maori culture immersion during the Workaway. She works in care-taking when not immersed in the running of her local iwi (Maori tribe) board and Dennis is the groundskeeper for the high school up the road and having been here for decades they always had stories about the locals and ways of life here. Dennis himself is actually a bit of a history buff and exactly the kind of person you'd want on your Trivial Pursuit team, as his breadth of knowledge is exhaustive and comprehensive. Oh, and he paid for Rima's engagement and wedding ring in addition to the down payment on their house by trapping possums back in the day when he was getting the modern equivalent of $30 a skin—gotta love it!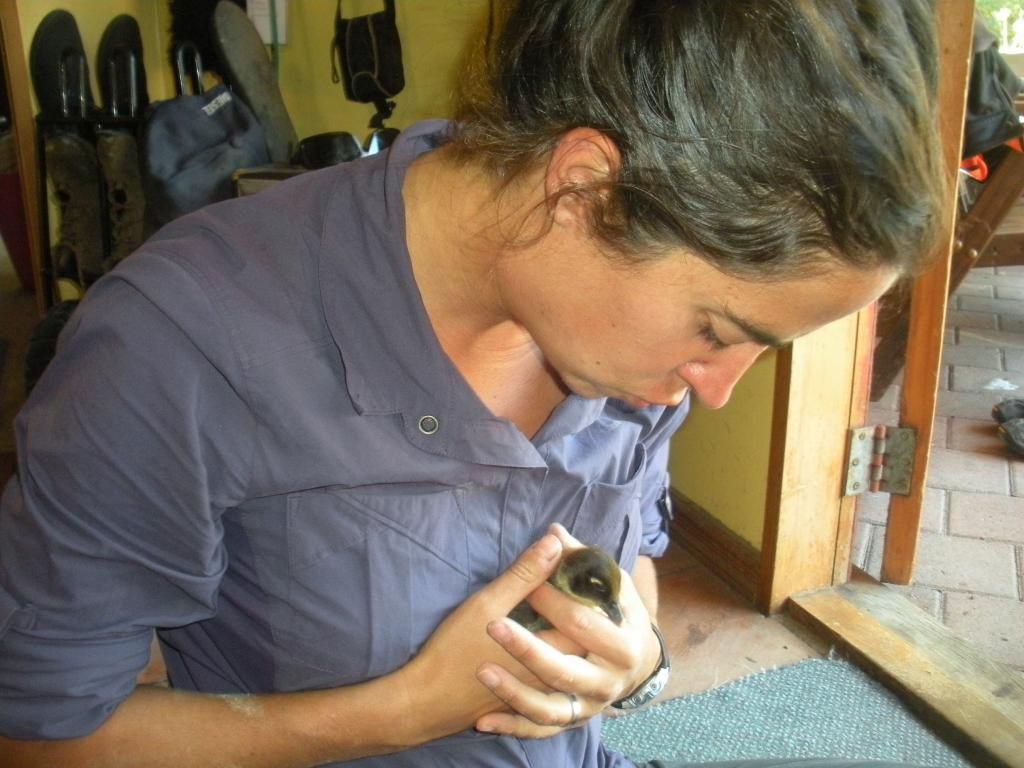 The work itself was easy enough, from cleaning gutters and pruning trees, to spreading mulch and transplanting shrubs in the garden. There are also dozens of egg-laying chickens and Dennis and Rima sell them for $5/dozen in their driveway. Then there are the three 16 year-old fox terrier siblings. Booboo, Skanky and Pipi. Their mother died giving birth and Rima hand-raised them from puppies, waking every hour when they were newborn to feed them (hooray for dog lovers!). Oh, and then there were the baby ducks. 11 of them. 5 days old when we arrived. It was a total cuteness explosion to say the least and I was in total heaven staring at the yellow and black balls of feathered fluff as they explored their world in a frenzy of high pitched peeping and clumsy antics.
I very much needed the presence of new life, as a deep melancholy had settled over me since arriving in Motueka. The second anniversary of Jayna's death occurred the day after we arrived here and I was moody, removed and stuck inside my own head; I can't believe it's already been 2 years without her. I was also preoccupied with the fact that many of the people I love are embroiled in periods of upheaval and pain back at home and I'm powerless to be there for them and help. Friends in my circle are facing their own monstrous anniversaries marking loss, confronting a long-term long-distance relationship, reeling from a breakup after years together, struggling with job crises and preparing to move a young family to a developing country for an indeterminate amount of time.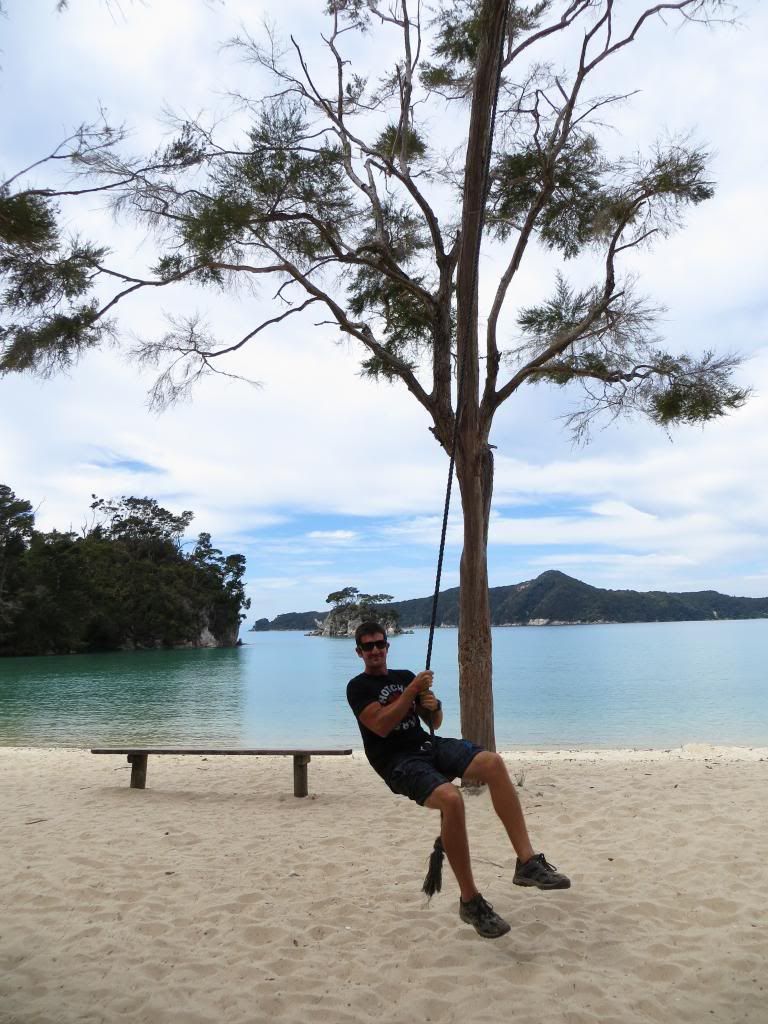 We knew when we left on this trip that we'd be missing out on life back at home—both the happy and the sad—but we knew that was part of the tradeoff for being able to travel like this. And of course we have bouts of homesickness, especially around holidays and celebrations; but again, that's to be expected. However, knowing that I'm unable to offer at least an ear and a hug to so many people I love who are simultaneously going through such angst and change is tearing me apart. Granted, I know these friends are thrilled for me and wouldn't want me to change anything for them. I'm also not so full of myself as to think that being home would drastically change their day-to-day life as they work through these situations. However, not being able to see them in person, call them when I want and offer hugs, tears and an open ear has been eating me alive.
And then there's my own relationship. We've touched on it before, but traveling with anyone long-term, let alone your life partner, is not necessarily the euphoric second honeymoon one often imagines. Steve and I know how to push each other's buttons without realizing it and even the tiniest personal habits or behaviors can drive each other up the wall if we're already in a mood, which can be more often than not if we're tired, stressed or hungry. And of course the personal space component—we never have a chance to miss each other since we're glued together 24/7 and this has been particularly hard for me since I needed so much solo "Leah time" back at home and get none of it on the trip. So despite the fact that I love my husband to the ends of the earth and wouldn't want to be on this trip with anyone else, I end up treating him like crap because all this comes to a head and you tend to blow up the most at those you love the most. So anyway, it's been a really rough go for me the last few weeks and for only the second time on the trip I can honestly say that if someone gave me a plane ticket home tomorrow I'd take it and not look back. This will pass, just as it did in Bolivia, but I never thought that I'd be having a reaction like this in NZ, one of my favorite places on earth.
Head and heart issues aside, we still had an enjoyable time in Motueka. The town is situated a few kilometers from Abel Tasman National Park, the country's smallest, yet most popular due to its accessibility, dazzling ocean views and prolific DOC campgrounds. Water taxis are widely employed to move people back and forth from the many beaches and bays, especially since the tide fluctuates as much as 15 feet between low and high tide and certain trails can only be crossed at low tide. After bussing from Motueka to Kaiteriteri, we jumped onboard a water taxi that allowed us to see the park from the water before we were dropped at Medlands Bay to walk to Anchorage Bay for our pickup at Kaiteriteri.
The water alone was astounding—a deep cerulean fading to green that often looked like the fake water color at amusement parks achieved with chemicals and dyes. New Zealand fur seals and their pups lounged on the rocks or lazily somersaulted through the water and fish shimmered through the depths. The trail itself was resplendent with all manner of songbirds, including the Tui and Fantail, and tree ferns offered up their new curled shoots, or koru, which much local art and jewelry is based upon. It stayed overcast (perfect hiking weather) and after a quick seaside lunch and swing we hiked a few more hours to our boat pickup point, a little sandy but no worse for wear.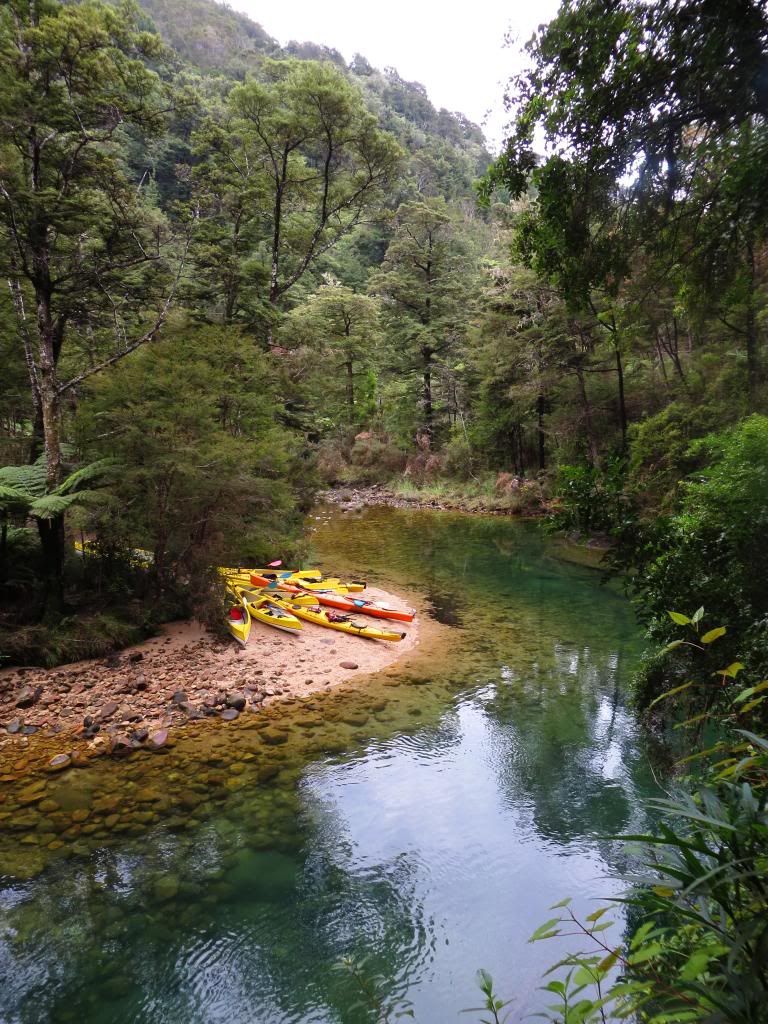 Steve:
The next day, Saturday, was scheduled for our total immersion in Maori culture—it was to be our visit to the local
marae,
which is a Maori tribe's meeting house. It is here that they traditionally have meetings to discuss all matters concerning the tribe. I wasn't sure what to expect of this WorkAway and our Maori experience but it wasn't necessarily this—and when I say this it is not a bad thing, just not what I might have pictured.
Before our visit Rima had given us a plethora of websites and reading material, as well as a lot of verbal background, with which to orientate ourselves. In a bit of a nutshell, the current state of Maori affairs seems to mirror a bit of the struggle that our Native Americans have had with the United States government in their search for redress for the wrongs done to their ancestors. The main differences are that the Maori grievances are with the Crown (British government) and they actually have a written agreement with which to back up their claims, the
Treaty of Waitangi
. I should also preface that our experience at this WorkAway is specifically with one
iwi
, the Ngati Rarua; additionally Rima is on the board of trustees of the one agency that the Crown has recognized as the official entity with which to make reparations for this tribe, and that is the
Ngati Rarua Iwi Trust
. There are multiple Maori tribes that are currently in different stages of negotiation with the Crown, and to further complicate things there are often multiple trusts, corporations or entities that all lay claim on behalf of one or more different
iwi
. What, did you think that anything concerning land and money would be simple?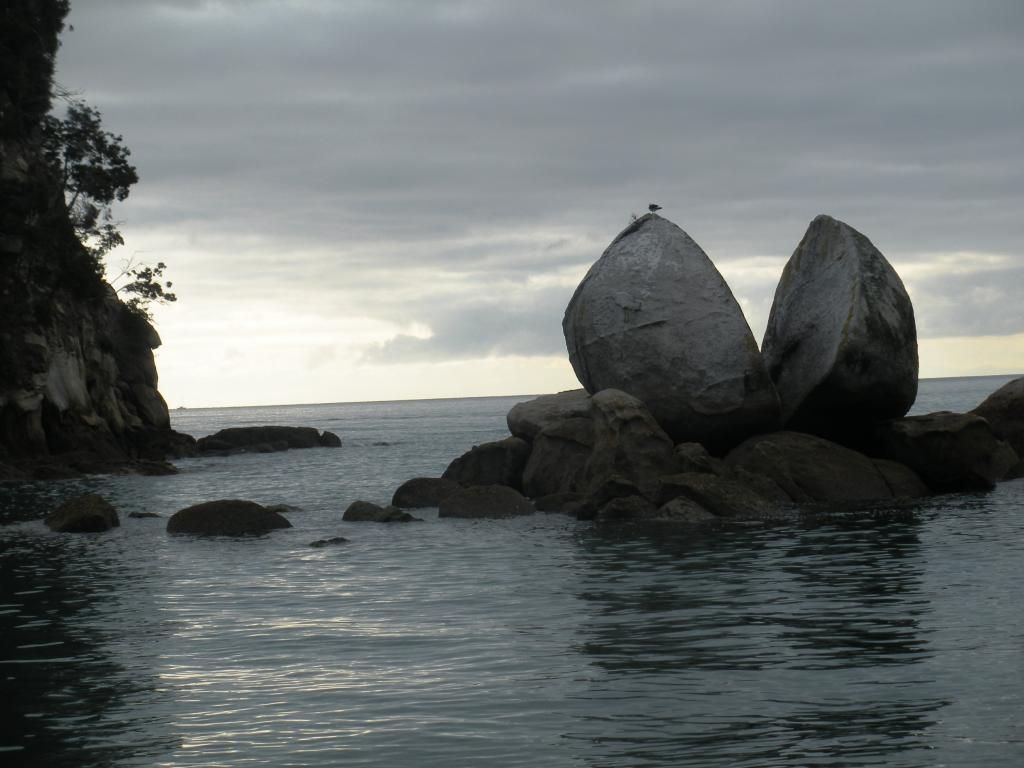 Our actual visit to the
marae
would be to witness a
hui
(meeting) which was actually concerning the ratification of a Deed of Settlement that had been provisionally accepted by the Crown and the Ngati Rarua Iwi Trust. The last step (for all intents and purposes) before actually agreeing to this deed and receiving their reparations would be to have a majority of the existing Ngati Rarua people to vote in favor of the offered settlement. On the cover it sounded like a decent deal but everyone is offered an opinion and this was to be one of several town hall meetings of sorts to discuss the particulars.
Actually showing up and entering the
marae
was a special experience. The front of the structure is ornately adorned with wood carvings and Maori art that represent the history of the
iwi
. Before walking in we had to remove shoes as a sign of respect and were instructed that no photos would be allowed of the interior. The inside was a large carpeted room that had several rows of benches facing tables where the trustees and presenters would be sitting. Two detailed pillars anchored the room and more carvings and art ordained the walls with stories of the Ngati Rarua; the abalone eyes of many
tiki
would be watching over this
hui
and probably many more to come.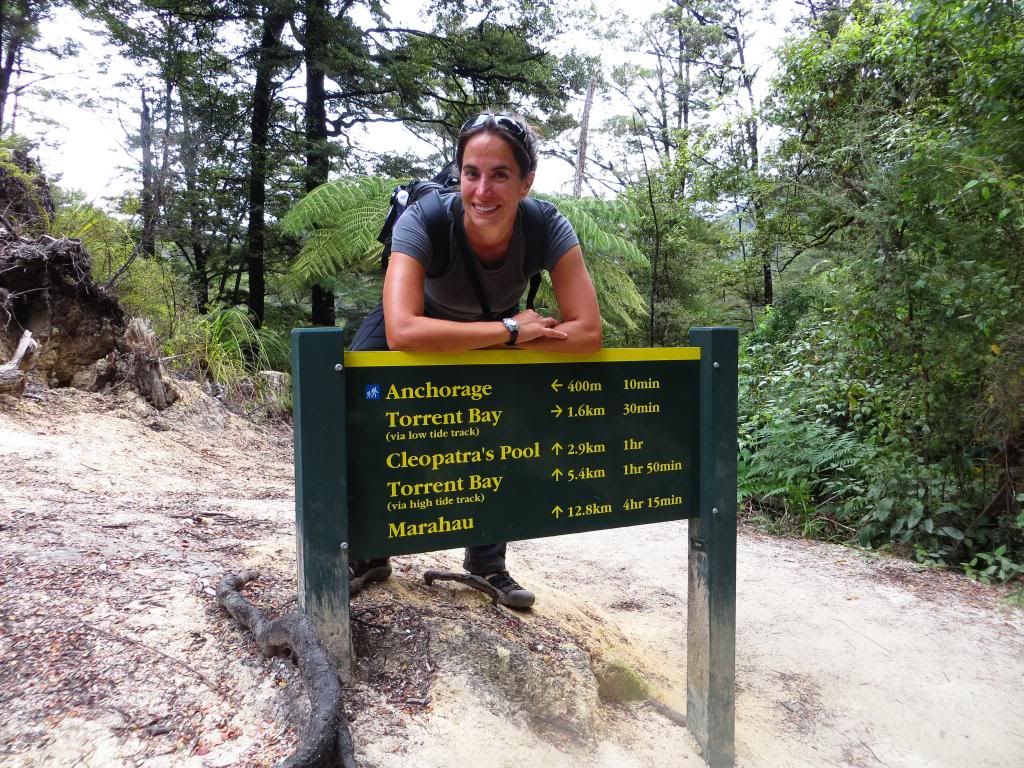 As I mentioned this was very similar to the town hall meetings that some people back home may have attended or at least seen on TV or movies. As an American I was struck by how I was seeing democracy in action—after the presentation there were quite a few tribespersons that took issue with different aspects of the settlement and they had a chance to voice their questions, opinions and concerns. Additionally I found myself constantly aware that I was watching history unfold; which chapter I was watching only time will tell.
The issue at hand concerned the land and money that would be given back by the Crown as well as the economic, social and cultural strategies that the Trust would undertake with these reparations. The deal itself offered approximately $11.76 million (New Zealand dollars so really less than $10 million USD) as well as a relatively small portion of land in areas that were historically owned and inhabited by the Ngati Rarua people. The general consensus seemed to be that this was the best deal on the table…and really the only deal. While many people had their concerns and felt that they were still getting cheated by the Crown they also felt this was better than nothing and still a stepping stone with which to rebuild the legacy of the Ngati Rarua.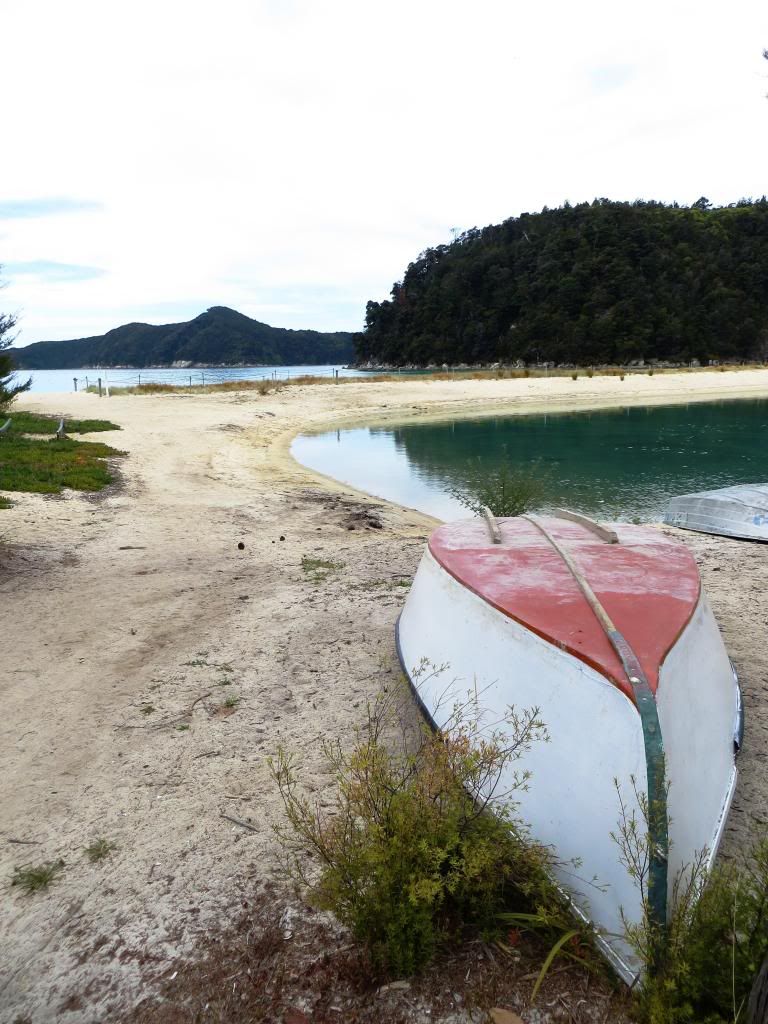 Leah and I left under the impression that the Deed of Settlement would receive the required votes. However until voting ends on March 28
th
no one can say with absolute certainty whether this is the culmination of their struggle. And who knows, future generations very well might file claims against the Crown contesting the fairness and validity of today's decisions. History is an unending book and what chapter this is no one can guarantee. What I do know is that we were lucky to witness a watershed moment in this people's struggle.
Leah: Having heavily focused on ethnic and indigenous issues during my college years, it was fascinating to be a part of this. We'd been hearing about reparations from the crown to Maori iwi since we arrived in NZ and never dreamed we'd have a front row seat to history being made. As an outsider, it was particularly interesting to hear the pros and cons from audience members and how events have shaken down over the years. Many pertinent issues were raised, especially concerning water rights, and some parts of the settlement just smacked of absurdity (we'll give you back this piece of land and then you can own it for a week but then you have to deed it back to the Crown…whatwhat?). Ancestors and cultural pride were commonly called upon and people kept reminding each other that this was the past, present and future of their culture—did they want to refuse this crappy settlement, go to the back of the line and start the fight over again, or did they want to accept the less than stellar offer so that the next generation can move on and work to strengthen and grow what they'll be receiving? Heady, heady issues and nothing that has a black or white answer—how do you place a monetary value on a culture?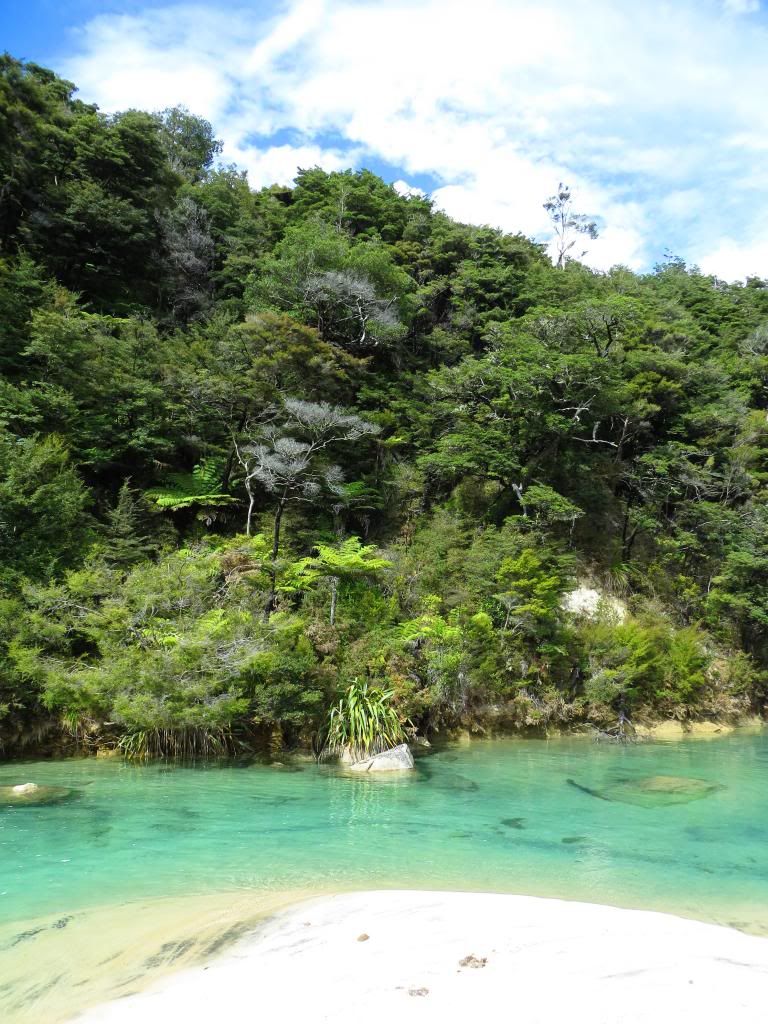 Steve:
Our visit to a Maori family showed me that cultures across this world aren't quite so different nowadays. I came expecting some kind of islander experience, and really, I got that. However it is the experience of today's Maori which mirrors those of indigenous, underprivileged and/or misrepresented people across the globe. Pretty heavy stuff and a history lesson that I doubt I will ever forget. And on that note we'll be leaving Motueka for hopefully lighter and maltier (
hint hint!)
topics down the rugged west coast…
CLICK HERE FOR
PICTURES
OF MOTUEKA AND ABEL TASMAN NATIONAL PARK