The Ashhurst Chainsaw Massacre
ASHHURST, NEW ZEALAND: February 27-March 6, 2013
Leah: So maybe there was no massacre, but then it wouldn't sound nearly as exciting, would it? Well, everyone came out alive on this one, except maybe the possums (but more on that later). We intended to give our hitching thumbs a workout from Taupo to Palmerston North, about 3 hours to the south, so we set right to it. I could go on for a while about our rides, but I'll give you to the beta recap. Ted: father of 3, recently purchased second home in Taupo. Bill: on his way back home after delivering a baby goat to his 11-yr-old granddaughter in the north (her pregnant pet sheep had just been mauled and killed by a local dog). Sally: earth mother, lived abroad in Europe for 15 years, artist, was going to bring us home with her if we didn't already have plans. Steve: middle-aged biker returning from meeting his first grandchild, great music selection, regaled us with tales of travel in Thailand and Laos (Steve: his being my namesake aside, Steve was probably my favorite single-serving hitchhiking host-friend. We plan on visiting Thailand and possibly other nearby Southeast Asian countries and his well-wrought stories had me enthralled). We had another great batch of rides and made it to Palmerston North in time to meet our host Bev when she got off work, after which she whisked us to Ashhurst about 14km away.
Bev and Stu own a "lifestyle block," which basically translates to a small, non-commercial farm. Theirs happened to be about 10 acres and housed cattle, goats, pigs, ducks, chickens and two sweet canine gals, Maddy (Chocolate Lab) and Meeka (Jack Russell), all surrounded by rolling (currently drought-ridden) countryside and larger farms. As if the demands at home weren't enough, both have jobs as well with Bev in property management and Stu as the local "postie", or postman. You can probably surmise why they decided it would be a smart move to offer a
Workaway opportunity
to willing volunteers, seeing as how there were always jobs that needed attention!
We knew immediately this was going to work out well when Bev showed us to our accommodation, a small house complete with a fully stocked kitchen and pantry (we'd be in charge of preparing our own breakfasts and lunches), two bedrooms, living/dining room and even a TV with movies provided. Not only that, but a guest book graced the armoire in addition to artfully arranged maps and brochures for the region, as well as books on New Zealand and a giant world map even covered the wall where volunteers were asked to mark their hometown with a push pin. I'm happy to report we were the first Americans west of Colorado to represent! All our Workaways have had their charms and pros and cons, but this living situation was the best we've encountered yet. There's so much to be said for having our own space, not only from our hosts but from each other, and we loved the self-sufficiency. A few minutes later and our pushpin was in the map and our clothes were strewn about the second bedroom; soon after we traipsed over to the main house to help with dinner preparations.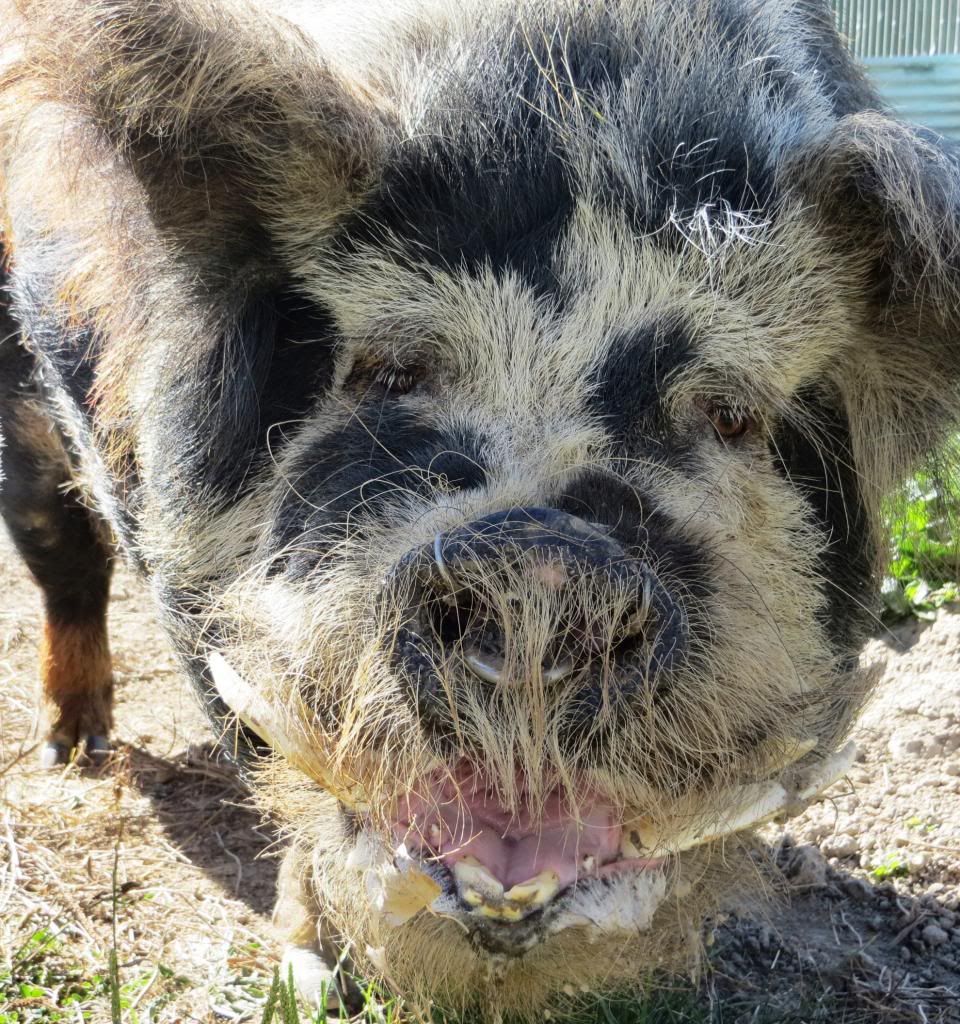 Speaking of, I should give a food run-down while I'm at it! Bev had off-handedly mentioned that several of her volunteers often leave with a few extra pounds than what they arrived with and we could immediately see why. Many/most of the animals they keep are in fact later turned into food (except for Basil, the biggest damn pig we've ever seen and the four goats—Charlie, Leroy, Coco and Lula), so Bev and Stu's freezer (and even the one in the small house) is full of pork and beef they've raised on property.
In addition, they have some of the most organized and bountiful raised garden beds I've ever seen, as well as fruit trees everywhere and wild blackberry bushes by the dozens. They compost and keep a worm farm and collect their eggs from the hens, so the food we ate every night was literally fresh from the garden and as locally sourced/unprocessed as you could get. I still couldn't raise my own cow and then eat it, but I had no compunction about diving into a perfect slice of corned beef or wrestling pork off the kebab skewer, all accompanied by fresh beets, bean salad or corn on the cob. Dessert often followed on several nights, from fresh blackberry & apple crumble with cream to homemade apricot, chocolate and cranberry cookies. We did end up making fish tacos for them one night to give them a taste of SoCal, but otherwise we just helped prep and clean up—with a healthy dose of eating in between of course.
Since Bev and Stu both headed in to work in the mornings, we also appreciated that we were allowed to set our own working hours as long as the jobs got done. We were still up by 7 or 8 A.M. (since we like to finish up before it gets too hot), but that was the first time we encountered an arrangement like that and we were fans. Our days were mostly spent acquainting ourselves with lots of power tools and other farm equipment. Hedge trimmers, weed wackers, chainsaws, industrial weed sprayers, a hydraulic log splitter and an old diesel 4x4 with flatbed trailer all made our acquaintance while we were there. And then there was the tiny matter of remembering to turn off the electric fence everyday so we didn't get zapped—we almost forgot a few times but I'm happy to report we remain unscathed. I was glad for that fence more than once when I happened to notice Hugo, the russet Highland bull, staring me down from only meters away and lowering and tossing his impressive horns.
Tasks were usually completed by about noon or 1 P.M., at which point we'd whip up lunch (beans on toast, frozen pot pies, fresh veggies, soup) and then go sit in the river right down the street to cool off, read, brush the goats, play with the dogs or help Stu with the occasional odd task until Bev got home. I even picked blackberries a few times and tried my hand at making jam with no recipe or clue how to do it. I know Steve will back me up by agreeing that the end result was scrumptious and we slathered jam on everything we could after that, in addition to vowing to make our own from now on at home.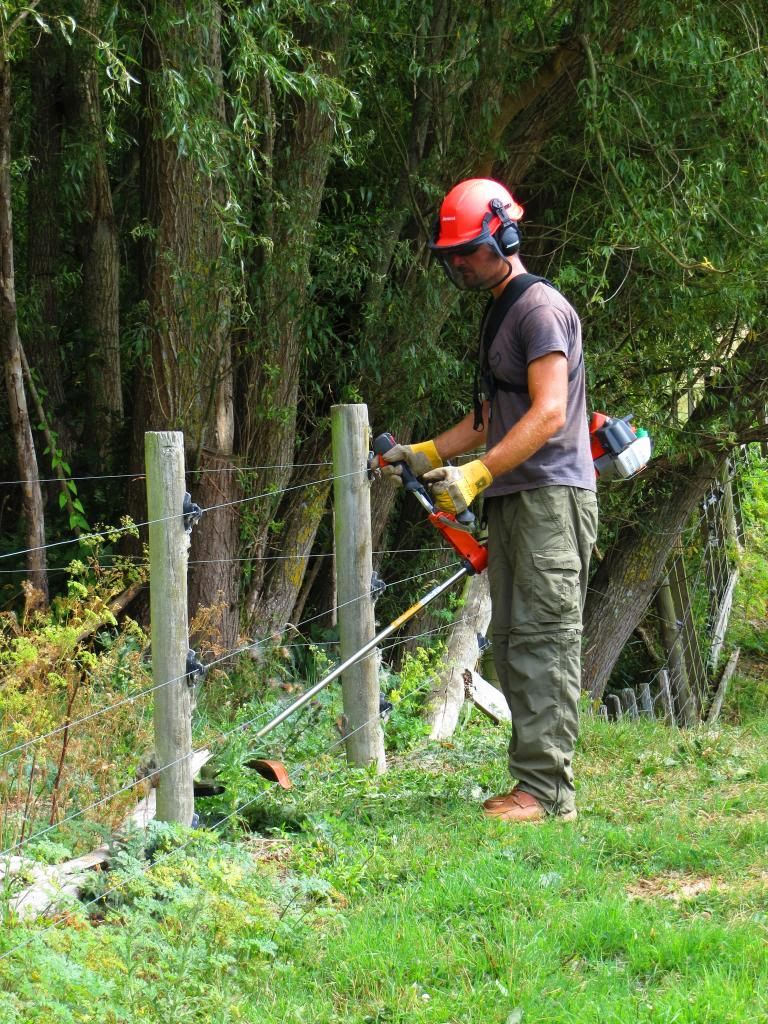 One night Stu grabbed a few flashlights and his rifle and silencer and told us we were going on a possum hunt down in the woods bordering their property. After a few eerie moments tramping through crackling underbrush a few pairs of bright red eyes reflected back at us (creepy!) from high up in the trees where two of them froze. I hate seeing animals die/be killed, so as Stu shot them out of the trees one by one I had to keep reminding myself that these guys are pests and ruin crops and native habitats in New Zealand, in addition to spread TB to cattle.
Steve: I have to admit the little buggers are actually kind of cute—more of an Australian marsupial version than their rat-faced U.S. cousins—and I'm not particularly a fan of (senseless) killing. But like Leah said these vermin are huge unfettered pests here so que sera sera. If anything I have to tip my hat to Stu for the good shots…no wasted bullets at the Duncan farm!
Like many of our WorkAways, we were sad to say goodbye to Bev and Stu and their furry family (Leah: and tho we debated trying to fit the dogs in our bags, we decided Bev and Stu might notice, so we opted to leave them behind). Time absolutely flew by and we had grown very comfortable with our accommodations. More importantly we were leaving some very kind and friendly people whom we enjoyed being around (I hope they felt the same!). But alas the job of a traveler is never done and greener pastures (pun fully intended) hopefully await us. Our mirth at having to say goodbye was only diminished by our excitement of our upcoming visit to windy Wellington and our next Kiwi frontier, the South Island.
CLICK FOR PICTURES OF
ASHHURST