Wellywood!
WELLINGTON, NEW ZEALAND: March 7-9, 2013
Steve: We spent the morning of our departure from Bev and Stu's home-away-from-home wandering around downtown Palmerston North. It was a bit of a shame that we didn't have more time there since for a city it had quite a charming small town feel. As Leah can quickly attest, they had an incredibly modern and inviting public library where we could've spent hours (Leah: or just pitched our tent and spent the weekend!) and there were cool shops and restaurants aplenty. We even made a stop inside a furniture store—not to shop for a couch or some other domestic accessory (that'll happen when we eventually return to the States) but rather to pick up our very own box of NZ Girl Scout cookies; before I'm corrected I should note that in New Zealand they're called "Girl Guides" and they're not referred to as cookies but rather the English biscuits. Not the same as the Samoas or Thin Mints back at home but quite delicious nevertheless (Leah: there were two types—a shortbread like our Trefoils and a shortbread with a chocolate dip like our All Abouts. Of course we chose the latter!).
Cookies in hand and we boarded our bus for the much anticipated capital of Wellington, a.k.a. Windy Wellington, a.k.a. Wellywood. These nicknames should be rather self-explanatory but I'll give a little background just because: the first is because Wellington is the windiest city in the southern hemisphere due to the almost constant wind blowing through Cook Strait, and the second due to Wellington's impressive contributions to cinema and its rapid development into the go-to place for movie wizardry (more on that shortly). Couple this with the word-of-mouth that Wellington is beautiful with plenty to do and we were excited to get on the road once again. It appears that the three-year-old little blonde girl sitting next to me on the bus was just as excited, seeing as how halfway through the trip she decided to vomit all over her mother. Leah and I helped mom clean up as much as we could before making our arrival—ah the joys of parenthood.
I could tell upon arriving into the city that everything I'd heard was true. I could see before me a wonderfully modern metropolis sitting on a turquoise harbor, all surrounded by lush green hills. Needless to say I was reminded of our own jewel in San Diego—I don't think I'll ever stop making comparisons to our home back in the States. (
Leah:
with every Workaway that we spend on a farm I could see myself living in a more rural environment when we go home…and then we hit cities like Wellington and I'm reminded of how much I love museums, fantastic thrift stores, book shops, food, art and bustling humanity on every corner. There's a reason I feel more city mouse than country mouse!) Anyhow, after getting dropped off in the middle of the CBD (central business district) we packed it down to our hostel
Lodge in the City
. We were a bit wary due to the relatively cheap $18 NZD per night rate but it turned out the place wasn't that bad; our dorm room had a bit of a foot aroma (or "it smelled like a boy dorm room" as Leah put it) but I've paid more for worse. It would prove to suitable if not modest base for our explorations around the city.
After settling in we spent a good portion of our first day at Wellington's absolutely impressive and modern
Te Papa
museum. This epic building was what I kept referring to as an information bomb—with six levels, it had wonderfully produced exhibits covering New Zealand's history, Maori culture, and civil rights as well as Kiwi animals, marine life and geology (the latter having all too real demonstrations and footage of the devastating quake that rocked Christchurch two years ago). Considering the size and scope of Te Papa we split our visit between the first and the third day so that we wouldn't be more overwhelmed than we already were. Seeing as how entry was FREE to everyone everyday this wouldn't be a problem.
Leah: I personally loved the preserved giant squid on display, which was a new exhibit since I had last been in 2006. NZ fisherman caught it live near Antarctica feeding on their catch and since relatively little is known about these leviathans, they carted it home to study. Fun facts: they have an eyeball the size of a soccer ball <eeeew> and their throat runs through their brain and they therefore have to take tiny bites and nibble their food or risk brain damage. These cuties also have tiny hooks on their tentacles that swivel 360 degrees to help ensnare prey, so the harder something struggles the more it has no chance. A male giant squid has never been caught or studied and it was fascinating to watch the video of scientists from around the world thawing out the frozen squid popsicle, dissecting and then preserving it. Wouldn't want one in the water with me, but a definite highlight of Te Papa for me (besides the trolls from The Hobbit, which apparently made their debut at the San Diego Comic Con right after we left in July 2012)!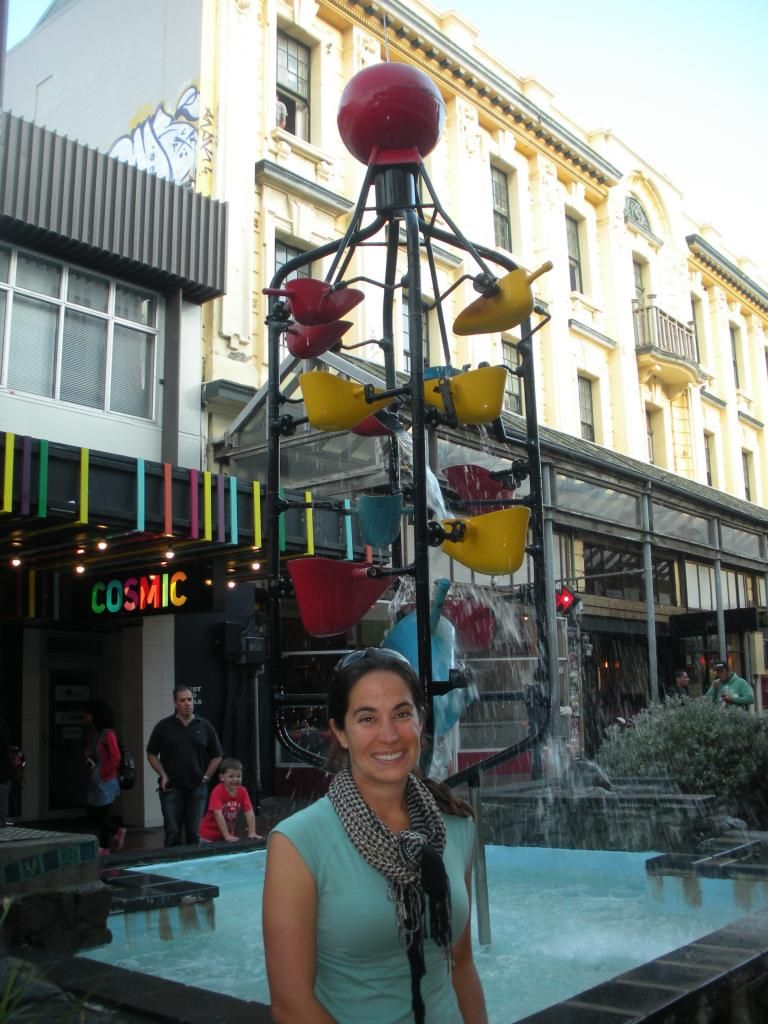 Steve:
On our second day we decided to pick up a day bus pass and get out and around the city. Our first stop was in the suburb of Miramar (seriously, the San Diego similarities don't end) which sits on a peninsula just outside of the city center. This promontory is the home of the
Weta Workshop
, which was co-founded by
Peter Jackson
, director of the
LOTR
films among many, many others. (
Leah:
by the way, a
weta
is a prehistoric- looking insect endemic to NZ that likes to hang out in trees and caves. They're a little too close to cockroaches for my liking and can be a bit monstrous, but there you have it). We scoped out the small but free mini-museum (there was also a pricey prop tour that we chose to pass on) and got to see some costumes and memorabilia from some of Hollywood's biggest blockbusters. Unbeknownst to me, Weta Workshop and its digital counterpart, the aptly named
Weta Digital
, was the home of all or large parts of movies such as
Avatar, King Kong, Hellboy, X-Men
and of course
The Hobbit/Lord of the Rings
franchise. With such an impressive resume, it became apparent why Wellywood has become the place where more and more movie magic is being created.
Leah:
I'll just jump in here with a few quick fun facts, all of which are
LOTR
related because the employee we talked to at Weta was an extra in the films. We were wowed by the scale of the replicated Uruk-hair orc warrior, Lurtz, only to learn from our new Weta friend that it was all to scale, except for the feet which used some prosthetic artistry. Apparently the actor is a local Maori and stands over 7 feet tall and weighs in at a petite 320 pounds; he worked out for a solid 8 months to prep for the role and for his morning snack alone consumed a couple steaks and a dozen eggs. Yes, those are his real muscles in all our pictures.
We also heard about how movie scouts swarmed Wellington for months and would pick random people off the streets who fit a certain body profile. One such occurrence involved a tall (7'1"), beanpole of a teenager who was approached by a scout and asked if he knew how to ride a horse. When he applied in the affirmative, he found himself in the role of a Ringwraith, earning 6 figures a year annually for 4 years. Oh, and that was his very first job. Seriously?! We got to look at Hobbit feet, touch the incredible material they developed to look like chainmail and has been used by studios worldwide, sidle up to Gandalf and marvel at all the props and collectibles that blew us away. Truly spectacular, and all for free.
Steve:
Leaving Miramar with a newfound appreciation for New Zealand's place on the world's stage, we took a city bus back towards the CBD but got off at the base of Mount Victoria. This urban summit sits adjacent to downtown Wellington within the well-planned greenbelt that surrounds the city. After breaking a bit of a sweat climbing one of the many dirt trails, we found ourselves astride the lookout which afforded 360 views of the entire city as well as Cook Strait, the aquatic divide between the two islands of Aotearoa.
Even though we had already left Weta Workshop our brush with cinematic history wasn't over; one of the trails leading back down to the city was used as a filming location for the first
LOTR
(the "Hobbit Hideaway" was used for the scene where Frodo, Sam, Pip and Merry hid under a tree from the Nazgul—if you're a nerd you know exactly what I'm talking about). You really can't go anywhere in New Zealand without stumbling across a scene from
Lord of the Rings
. It truly is Middle Earth. (
Leah:
and while the original tree they used for the "get off the road!" scene was fake, I had to
recreate
the scene from the movie myself. Sorry, folks, the LOTR stuff probably won't stop till we leave NZ behind!)
As I mentioned we spent our last day inundating our brains with info thanks to the Te Papa museum. To prevent a full mental meltdown we walked around the scenic wharf and took in the calming seaside scenery (
Leah:
and slid down giant slides, chanced a picture near the famous bucket fountain that splashes those unaware-Elijah Wood apparently peed in it on a night out with LOTR cast-mates and enjoyed a glorious sunset outside the library we never got a chance to visit). Within a day we would be saying goodbye to the North Island and boarding a ferry, crossing the watery expanse that the ancient Maori ventured across in their adorned
wakas
.
As with everything else in life, our time in Wellington and the North Island had come and gone too fast. However just like the winds that cross the strait with daily certainty we too had to keep moving. With God's will the wind will continue to be at our backs aiding us along our way…