From The Ashes
DUNEDIN/OAMARU/CHRISTCHURCH, NEW ZEALAND: April 8-15, 2013
Leah:
Having bid the Pringle family their assorted animals farewell, we made our way to coastal Dunedin (which is "New Edinburgh" in Gaelic), the first city in NZ and a place I remembered fondly from my 2006 NZ visit. We planned to spend a few days in this bustling university city steeped in bucolic history; once settled into our accommodation we made our first game plan and followed the smell of hops to the
Speight's Brewery
a quick walk away.
Speight's Gold Medal Ale is the best selling beer in NZ and for good reason—it's one of the oldest breweries in the country and sits right on top of its own crystalline spring water. In fact, they have a tap on the street where anyone can fill water bottles with this pure water and one of the local papers even pulled an April Fool's joke a few years back where they ran a story saying that the Speight's water tap was now dispensing beer as a result of a technical pipe glitch. Apparently the lines were around the block with (sorely disappointed) people waiting to fill every available vessel with beer. Hysterically cruel.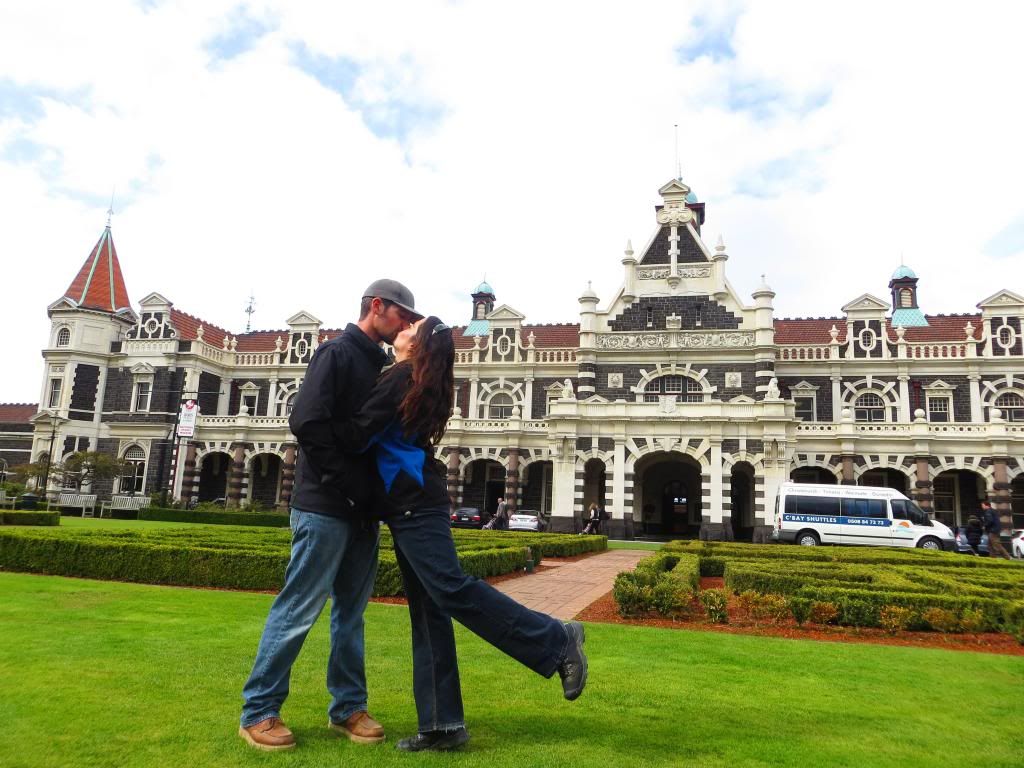 Anyway, this brewery tour was the real deal at over an hour long with museum quality displays and tour covering four floors, including vast copper brewing kettles that were more a work of art than anything else. We even learned that due to the 2010 Christchurch earthquake the Speight's brewery there was destroyed and right before St. Patrick's Day to boot. This is important because that was the only NZ brewery licensed to brew Guinness; as a result, the Dunedin location needed to apply to Ireland for an emergency permit to brew this St. Patty's Day staple and all was well…in terms of beer, that is.
The tour culminated in their tasting room where we were given free reign over their taps dispensing 6 different brews for about half an hour. Luckily for this gal they had a delectably dry cider on tap, so while Steve sampled his way down the line I stuck with my tried-and-true and everyone was happy. Not a bad start to our Dunedin sojourn, especially because Michelle (Pringle) had given us a coupon for a 2-for-1 tour and we received a further discount because we were doing the Cadbury Factory tour the next day, so for a grand total of $22 NZD (about $18.50 USD), we enjoyed a fascinating and historical tour as well as an open bar. Not too shabby and we followed that up with a 2-for-1 Irish pub comfort food dinner thanks to another coupon from Michelle. Hell yeah! Now all we had to do was figure out a way to avoid our dorm mate back at the hostel who we had affectionately dubbed "50 Shades". A young Dutch guy, he spent his evenings under the covers in only his underwear reading 50 Shades of Grey. We were slightly skeeved out and did our best not to laugh in his face/run away in disgust and fear.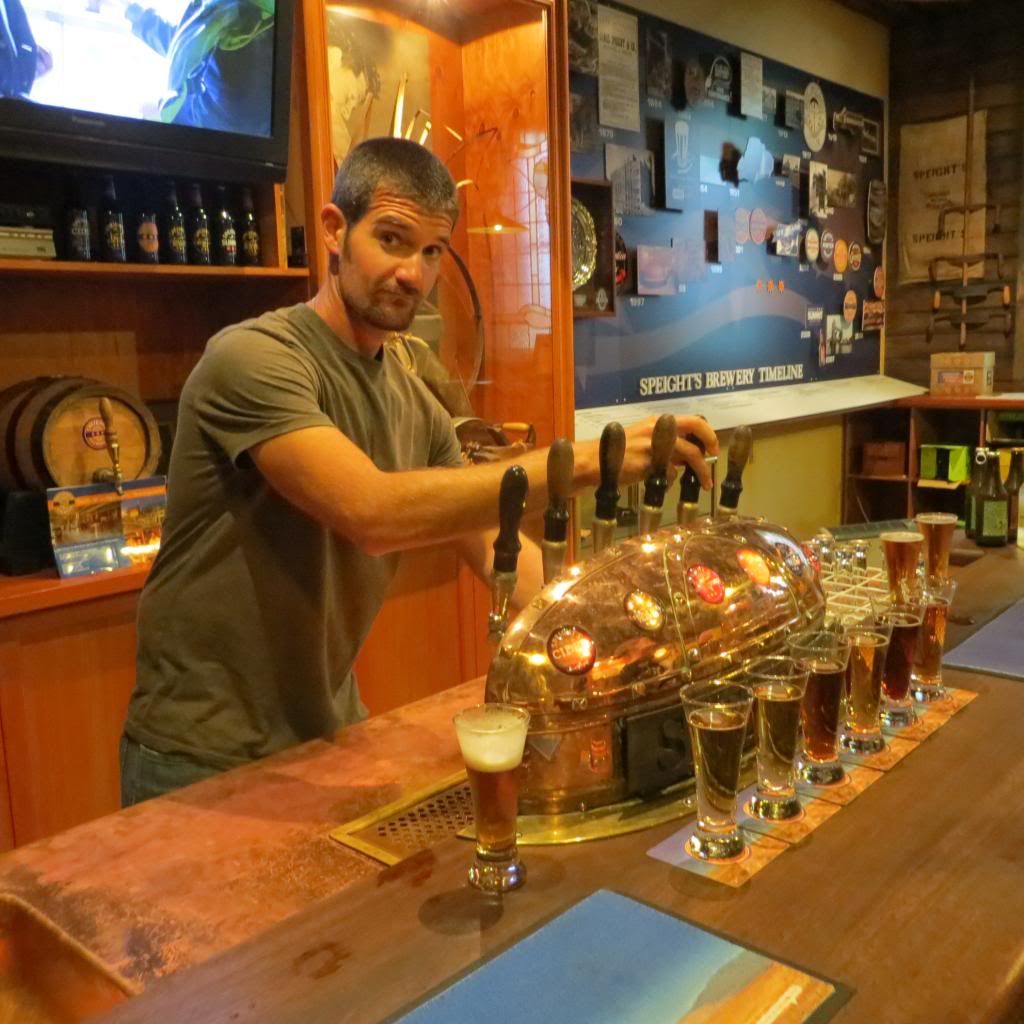 Our second day was a whirlwind, starting with our 10 a.m. tour at the
Cadbury Chocolate Factory
, another Dunedin slice of history (and another ½ price excursion thanks to a coupon: $19 NZD total). After loading my pockets with bitter cacao nibs from the sample basket we joined the rest of our tour group, donned some sexy hair/beard nets and followed our host Lynne as she led us through the ins and outs of this confectionary heaven. Samples awaited at almost every turn and we felt like kids at Halloween as we were repeatedly instructed to open our plastic bags so Lynne could fill it with chocolate goodies. As our sugar levels soared we saw (and smelled) production lines, hand-packaging and even the color-coded pipes carrying the necessary ingredients overhead. This olfactory explosion was a great way to start the day and somehow we exercised extreme restraint in the retail shop and only bought two individual reduced Easter goodies for $0.50 each.
From Cadbury's we bounced—quite literally thanks to our soaring insulin levels—next door to the
Otago Settler's Museum
. This museum re-opened in December of 2012 as a marvel of architecture and technology married together in an effort to bring Dunedin's eclectic history to life. The display cases all featured touch-screen computer portals that allowed you to pick and choose which pieces of the exhibit to learn more about. There was a re-created ship's berth to meander through, period clothing to try on, audio and visual stories and voice-overs throughout and (often hysterical) ads and appliances from the last century that brought this former mud-covered settler city to life.
After our brain saturation levels reached a critical point, we walked next door to the
Dunedin Chinese Garden
, where not only did we have a coupon for 2-for-1 admission, but another one for a free pot of tea. Yes dear readers, clearly my couponing addiction has not receded with time or distance! The gardens were a lovely respite in the middle of the bustling city and we marveled at the harmony of water, rock and plants—the manmade and the natural—and the exquisite details that had us both drawing a breath at every twist in the path. We were able to try on traditional Chinese attire and sipped our delicately flavored lychee tea from tiny ceramic cups while overlooking the wishing tree in the courtyard. Perfection.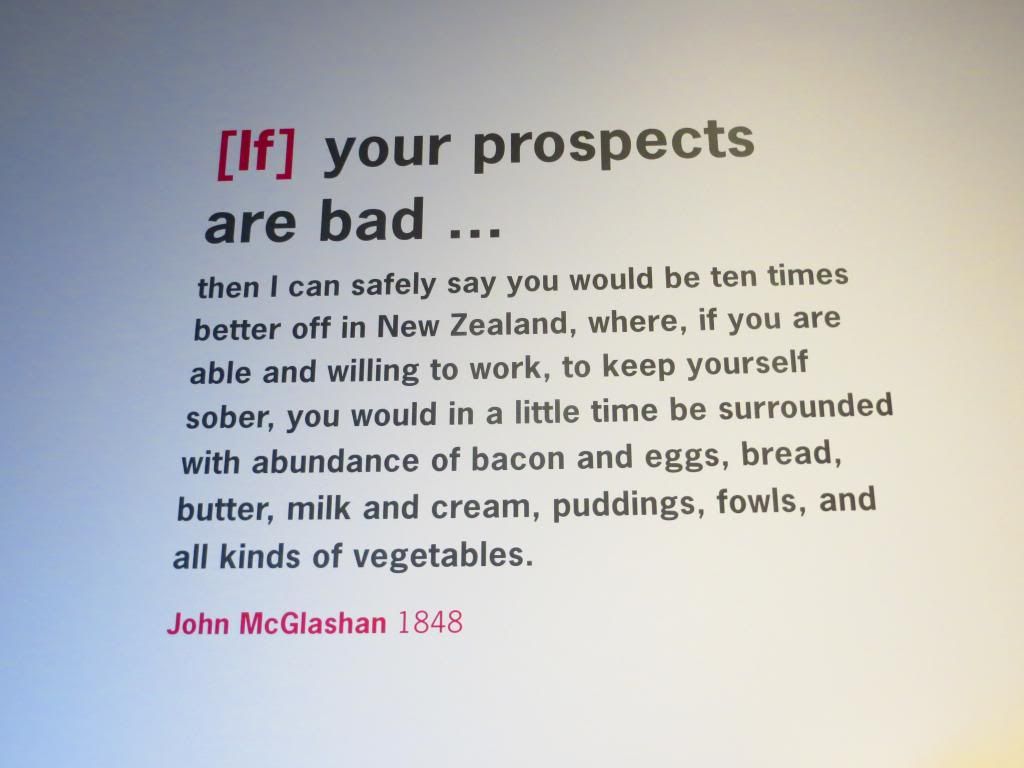 The following day had us face the fact that we are in indeed adults of a certain age and aren't quite part of the younger backpacker crowd anymore. Namely, we awoke with excitement toward our trip that that day on the
Taieiri Gorge Railroad
, a train trip that I would have whinged to my parents over a decade ago to please not make me go on due to perceived boredom. Another slice of history, this railway was used during the gold rush and as the only way to transport goods and livestock to remote reaches of the area decades ago. Even the bridges were a feat of incredulous engineering, as the laborers who built them were untrained and had never worked in masonry before, yet the quarried the rock from nearby the tracks and created stone bridges and trestles with naught but trial and error and perseverance. In fact, they did such a bang up job that modern engineers have studied their work and remarked with surprise that they're just as strong and supportive now as they were then. So there we sat for an afternoon, chins on our hands staring at the varied scenery and listening to the conductor's commentary as we reflected on a bygone era and struggled not to fall asleep to the clattering and swaying of the carriage. Yup, we are now officially old enough where we decide to splurge on a slow train trip to nowhere and back—can't say I'm sad about it either!
From Dunedin we made a one night stopover in the seaside hamlet of Oamaru to see the blue penguins, the smallest penguins in the world. They nest in colonies right around town but since we didn't know what to look for or where exactly to go, we forked over $20NZ each at the
Blue Penguin Colony
to get up close and personal for when they arrived just after dusk. I have only seen penguins once in the wild before (and Steve never has), but this experience was unreal and unlike any other. As we sat there squinting at the ocean in the near-dark, Steve pointed out what appeared to be flotsam in the distance. However, as we watched, it approached a lot faster than seaweed or driftwood should and soon we could make out a penguin formation, or "raft", with their white breasts and dark backs. As they crested the breakers and slid into shore in a tumbling and belly-flopping unit, we could hear their distinctive vocalized calls as they
quorked
back and forth making sure everyone was there. A steep hopping waddle up the beach and these little lovebugs were safe in the refuge of their nesting boxes or nestled in the nooks and crannies of the rocks below.
The blue penguins mate for life and typically return to shore in a raft formation for safety in numbers. They lay two eggs at a time and in a really good season they may have two clutches at different times; the chicks are on their own at 8 weeks and for that reason only about 30-40% survive their first year. They can also stay out at sea for days, weeks or months at a time, coming up and sleeping on the surface on the water, although they apparently only need a few minutes of sleep each night (apparently the ones in the research colony chatter back and forth all night until they leave before dawn to go fish). We saw 3 different rafts come to shore and each time was just as thrilling as they meandered their way up the rocky shoals. I vowed to say 'hi' to their bigger cousins in Antarctica when we get there later in life! On the way back to the hostel we played spot the penguin and saw little feathered blobs huddled under overturned boats, nestled against fences and basically snoozing anywhere dark and cozy (the adults have no land predators, as the weasels and possums only eat the eggs and chicks). We weren't allowed to take pictures, as it greatly disturbs these little guys—sorry!
Next stop: Christchurch (Chch) and we were attempting to hitchhike again, though we were understandably wary after our luck in the South Island. Our first ride took us almost 2 hours of waiting and got us 10 minutes up the road as we chatted with Leo (from Argentina) and his girlfriend Matai (from Brazil) who work on a dairy farm. We ate some lunch roadside and headed back out to thumb, fully realizing that we'd probably fall short of Chch and would be happy to get as far north as we could given the late hour. However, after 15 minutes our road savior came in the form of John, a former Brit who moved down to NZ almost 20 years ago with his wife to teach high school and has since changed careers and now works as a union organizer for the rail and port workers. Needless to say, we didn't run out of questions or conversation topics during the 3 hour ride and we learned that not only had our driver cycled from Denver to Los Angeles, but that he grew up the son of an avowed English communist father, which actually helped him nail his union job. The time flew and before we knew it the flat, irrigated Canterbury Plains had given way to the industrial area of Chch; John dropped us right in the parking lot of the holiday park where we would be camping and headed back to his wife for a relaxing weekend.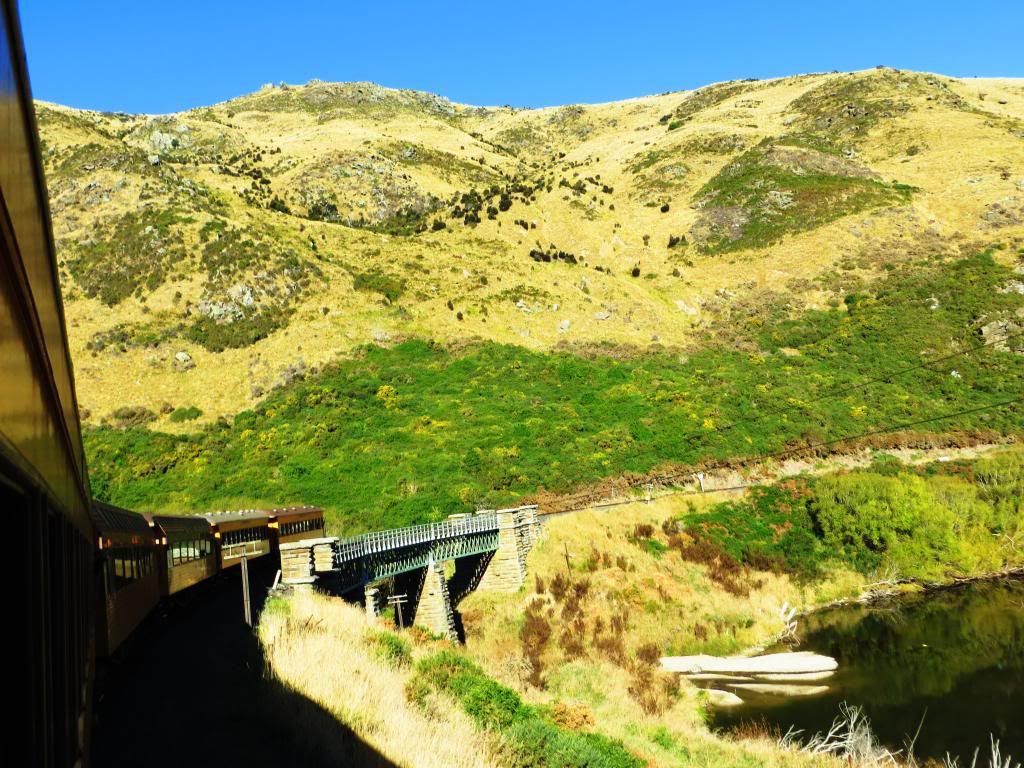 We decided to employ the use of our trusty tent for one last hurrah since camping would allow us a nightly rate ½ that of a hostel and our holiday park was a walkable 4 km from the city center or a quick bus ride away. However, the affable owner behind the counter raised his eyebrows when we told him we wanted to camp and incredulously said, "It's gonna be pretty cold at night now!" We assured him we were no strangers to camping in the cold and snow and his hesitation assuaged, he showed us to our site. There was no way we'd make into town that night, so we trundled off to the grocery store to find food that could be cooked using only a skillet and a spatula. Since this is a holiday park and not a hostel, most everyone travels in an RV or campervan and has their own cooking utensils, cutlery, etc. We only have two mugs and a few forks between us so creativity was key. Luckily one of the kitchens had the aforementioned skillet and spatula for general use, as well as two plates, otherwise we would have been looking at microwave meals only.
However, we were overjoyed to see "free food" bins here (they're in all the hostels too) where travelers can jettison any unwanted food items for anyone to use so they don't go to waste. Every morning after checkout time we'd peruse these treasure troves and came up with some truly yummy items, which caused us (Steve: 'us' should be read as 'me') to make a list of all the free things we've acquired from around NZ. In no particular order: soup mix, dehydrated veggies, pasta, pesto, bread, cheese, vinaigrette dressing, rice, Nutella, (full unopened) box of our favorite granola bars, eggs, milk, yogurt, hummus, butter, cooking oil, cottage cheese, taco flavoring, canned chickpeas, stewed tomatoes, spices, white wine, red wine, fresh squeezed orange juice and unsweetened almond milk. We're always amazed at what people leave behind and not only have we enjoyed some splurge items we never could have afforded on our daily budget, but we've saved quite a bit of money and eaten entire meals thanks to other people's leavings.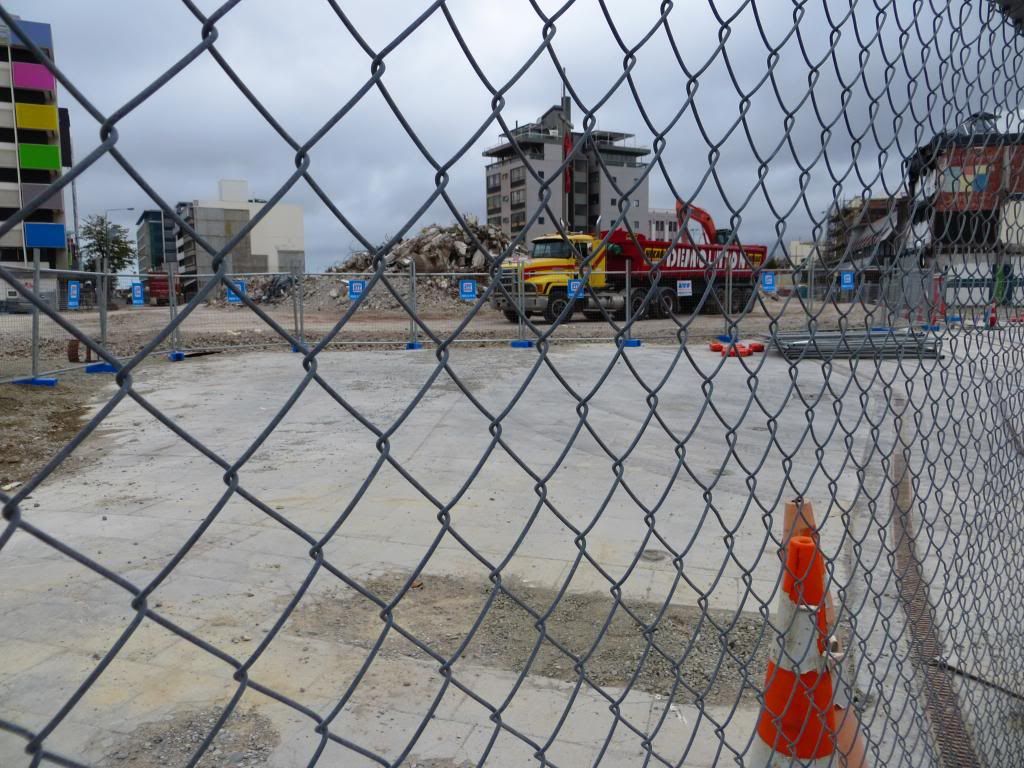 The following day dawned grey and chilly with a brisk wind to boot. It seemed fitting given my mood—I had last been to Chch before the earthquakes of 2010 and 2011 and I already felt a deep sense of foreboding as to what would greet me now. We walked into the city center (why pay bus fare when you can use that money for pints?!) and immediately felt like we were on the set of a post-apocalyptic zombie movie. The entire main central business district was decimated in the quakes and remains cordoned off behind high chain link fence and orange cones. This "red zone" still has storefront displays and mannequins wearing 2011 fashions peeking through the rubble, brick and mortar facades crumbled to the ground and backhoes and cranes parked liberally waiting for the drivers to appear. Standing in front of this devoid, bombed-out landscape painted in monochromatic colors, we felt like we were in a war-ravaged country and not the former business district of the biggest city in NZ's South Island. Whether it was the crappy weather, seeing the devastation somewhere other than on a webpage or a combination of the two, my heart was broken and I struggled with intense melancholy for the rest of the day, often breaking into tears for no apparent reason.
The landmark
Anglican cathedral
in the center of town where I once spent a whole afternoon in its shade watching boats punting down the Avon River and shopping in the outdoor artisan market is now a tangle of stone and glass with the interior exposed. There are plans to rebuild and three different architecture choices being debated, but with many of the residents still lacking flushing toilets and having to use port-o-potties, priorities are being debated and tempers are flaring (based on conversations we've had with locals). Our hitchhiking ride, John, also postulated that with the influx of young Irish laborers who've traveled down for the money to be made in rebuilding, it will be interesting to see the exodus of Kiwi women who will inevitably fall in love with and want to follow their foreign loves home, much like after WWII with Kiwi women and US servicemen.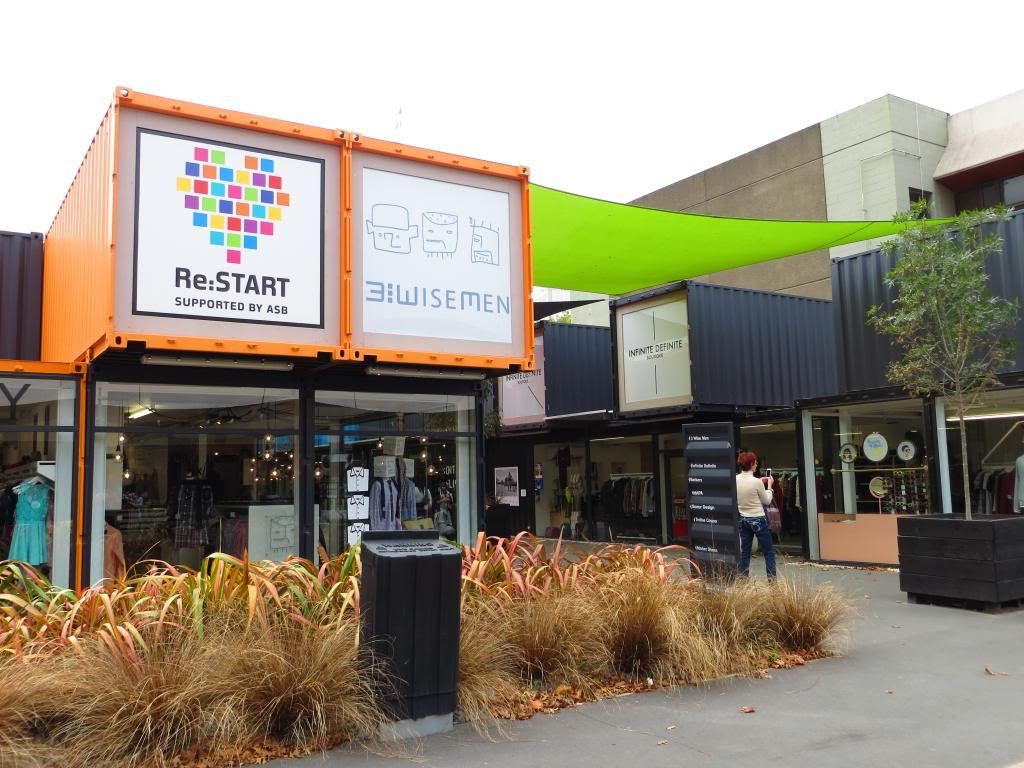 However, despite the visual pain and loss at every corner (museums closed, the bus station gone, landmarks in a heap on the street, the library in a temporary hangar of a home), there is life and a visceral, animated spirit pulsing through the city in an effort to rebuild. For one, the unflappable Kiwis created
Re:START
right in the center of town sandwiched between the destruction. This outdoor shopping mall consists of former shipping containers painted and kitted out as retail shops, cafes and art galleries; in our stroll through we witnessed a runway show, street performers and more food and items for sale than we could believe.
There are also unique areas around the cities that spring up as "gap fillers"—sometimes for just a few days and sometimes semi-permanently—to inject the void with color and creation. For example, you can find mini soccer fields, soaring murals, book exchanges and even a dance-o-matic open air space with disco ball and dance floor where you plug in your iPod and groove to your tunes with friends old and new right in the open. It didn't feel fake or forced, but truly a way for locals and tourists alike to galvanize and support one another. In the spirit of change and revitalization, I even picked up hair dye on our swing by the grocery store and (at Steve's urging) am now the owner of a new black mane, a color I've never tried before and a decision that will remind me every time I look in a mirror that though the outside may change, the character and soul remains the same. It was definitely hard returning to Christchurch in its current state, but in the end it served as further testament to the resiliency of the human spirit and a reminder that the phoenix will always rise.