Irish Blessings & Farewell NZ
BARRYS BAY/AKAROA, NEW ZEALAND: April 22-28, 2013
Leah:
Where to even begin in describing our magical final week in New Zealand with one of the most
incredible families
we've been privileged to meet…From the vineyards of Waipara we headed back into Christchurch, where our next host, Joan, would be meeting us to take us to the family home at Barrys Bay on the Banks Peninsula near Akaroa. From the moment our curly-haired hostess and her eldest son, Jamie (18), met us at the bus stop, we immediately felt at home and welcomed by this affable Irish family of six.
Joan and Odhran (pronounced "Ore-an") emigrated to New Zealand from Ireland over a decade ago with their four kids (Jamie, 18; Zed, 17; Aoife (pronounced "Ee-fa"); 15; and Lia, 12 and built the most magnificent home on a slice of land overlooking the sea. We quickly learned that the whole family is talented beyond belief, from Joan's restaurant-style cooking to the kids' abilities to do everything from self-learning the piano to heading off for gainful employment with Google in Australia at the (soon-to-be) age of 19. And the house…it was an architectural dream, from the corrugated blue sheet metal on the outside to the sweeping window views of the bay, high ceilings and full guest house overlooking the pool. Upon swinging wide the double doors of our bedroom in the guest house to take in the expansive land and sea views, I proclaimed to Steve that if he found a way to recreate something like this for me I'd never feel the need to leave the country again and would give him as many babies as he wanted. Okay, so maybe not entirely true, but this home had me giddy with joy and our new host family put me over the edge.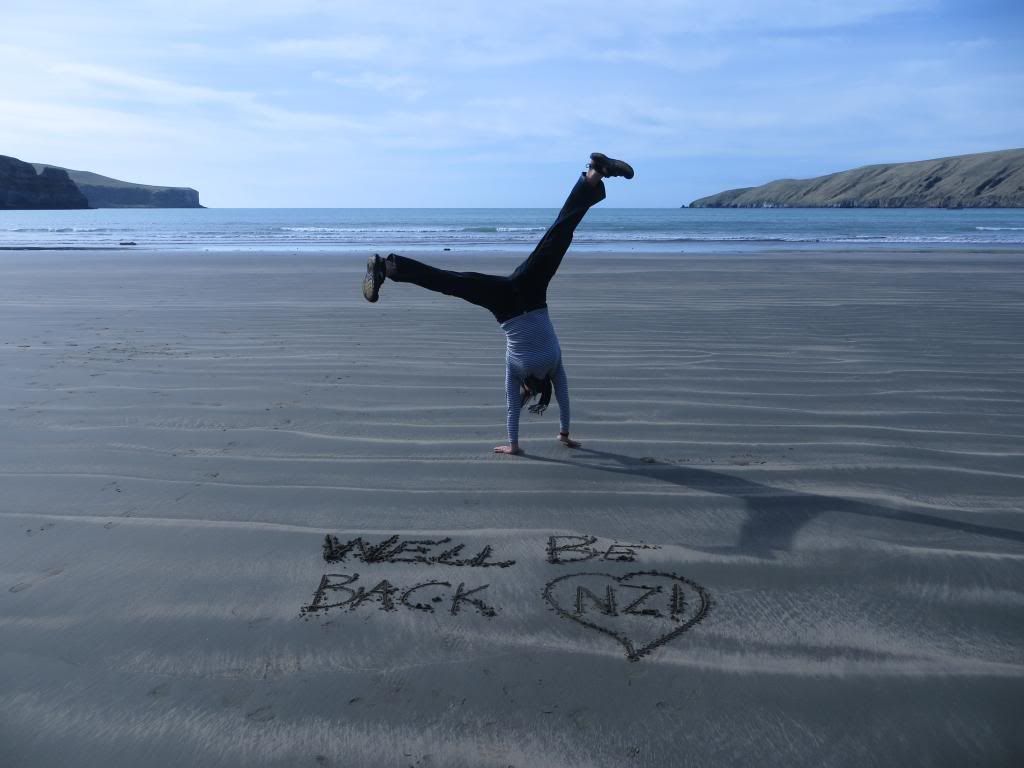 I'll give you a quick gloss-over of the work so you know that we earned our keep. We worked for several days to dig holes for wooden fence posts and then inserted said poles and attached wire fencing to create enclosed paddocks. Another day had us scraping off old wax and removing the wires from bee hive frames, as well as reconstructing a metal and wood beam pig shelter that had been blown apart by the strong winds so common to the area and needed to be re-erected and sunk into the ground. And of course, we weren't really helping an Irish family until we dug up that stereotypical staple of potatoes—6 different varieties in a profusion of colors. But above all else, this was hands down our most scenic and jaw-droppingly gorgeous Workaway in New Zealand, as we did all our work surrounded by high hills and panoramic views of the bay and peninsula, dotted with bobbing boats, picturesque clouds and sunsets that looked as if they had been painted by hand.
Late afternoons and evenings we found ourselves taking walks around the shore or simply sitting agog in our bedroom with forgotten books on our laps as we stared at the last rays of light splashing the water and grazing sheep on the hills. One of the days Odhran graciously drove us into town so we could head out with
Black Cat Cruises
to swim with the
Hector's dolphins
, the smallest member of the dolphin family and an endangered species.
These sea mammals are 100% wild, swim in pods of about 2-6 dolphins and aren't fed or micro chipped in any way. The small tour boat simply found a group of these guys, waited for a "positive encounter," (i.e. the dolphins had to express interest and approach the boat instead of swimming away) and then had us jump in with firm instructions not to touch them. Then we proceeded to make fools of ourselves by twirling in circles, slapping the water and screaming, singing and blowing into our snorkels to entice these sleek creatures to come closer and check us out. Turning around to see a shiny dorsal fin cruise within feet of your body, or a playful dolphin leap out of the water in front of us was a once-in-a-lifetime experience and one that still doesn't feel real.
And then came one of the best parts of our day….dinner. Joan loves cooking and with a family of six she has plenty of guinea pigs, including one vegetarian and one very picky eater. Every dinner was a 3 course affair (with everyone sitting around the grand wooden table in front of the floor-to-ceiling windows), resplendent with savory appetizers, followed by a main and various sides and then a mouth-watering dessert. And the plating! I've been in fancy and over-priced restaurants that couldn't hold a candle to Joan's presentation and medley of flavors and textures! In between the main course and dessert everyone cleared the table, loaded dishes and returned the kitchen to a clean and orderly state in mere minutes and with a precision that would put even the military to shame.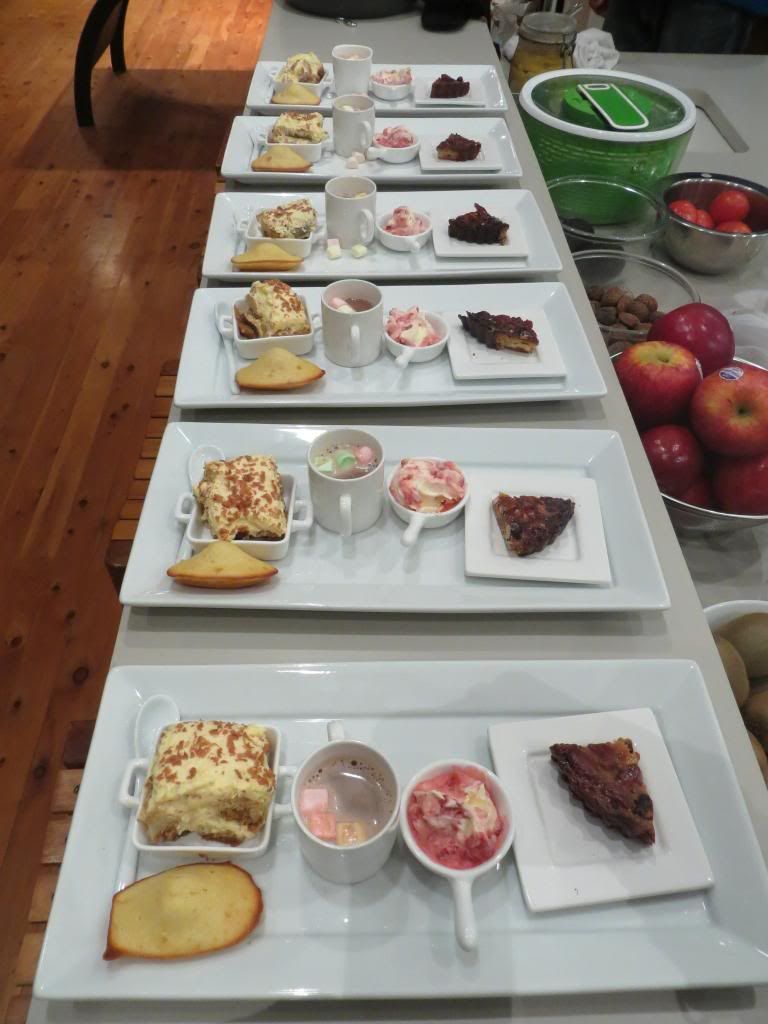 Coffee and tea were produced to accompany the dessert and everyone lingered over conversation and belly laughs until well into the night, at which point some or all of us would play a board game or retire upstairs to the TV room for an episode of
Dr. Who
or a BBC comedy show (another reason to love these guys—they'd never had a TV until about a year ago, as the family had previously only occasionally watched TV episodes or movies crowded around their computer screen). Oh, and this crew were big-time readers as well, which we immediately noted by the sheer volume of books in their home, as well as the simply magnificent
earthquake book sculpture
they installed on a prominent wall after the Christchurch earthquakes. I will be borrowing this idea in the future for sure!
Every day we felt more like family and after nine months on the road and about halfway through our trip, we appreciated the little idiosyncrasies and comfort that comes with being part of a vibrant and loving family unit. Each of the kids had their own personalities and interests and we delighted in learning about what made them tick and seeing this slice of NZ through their eyes. And of course my heart damn near jumped out of my chest and swelled with pride when I learned that Aoife wants to be a Women's Studies major and has a keen interest in not only gender issues, but youth, travel and health—it was like going back in time and meeting an Irish teenage version of myself! I spent hours regaling her with my own stories, as well as looking over her prospective courses of study and helping her understand potential career paths she could follow. All the kids were a joy, but I definitely had a special affinity for their oldest daughter and her unbridled excitement for the subject matter (it also didn't hurt that she hooked us up with the first two seasons of Game of Thrones before we left!)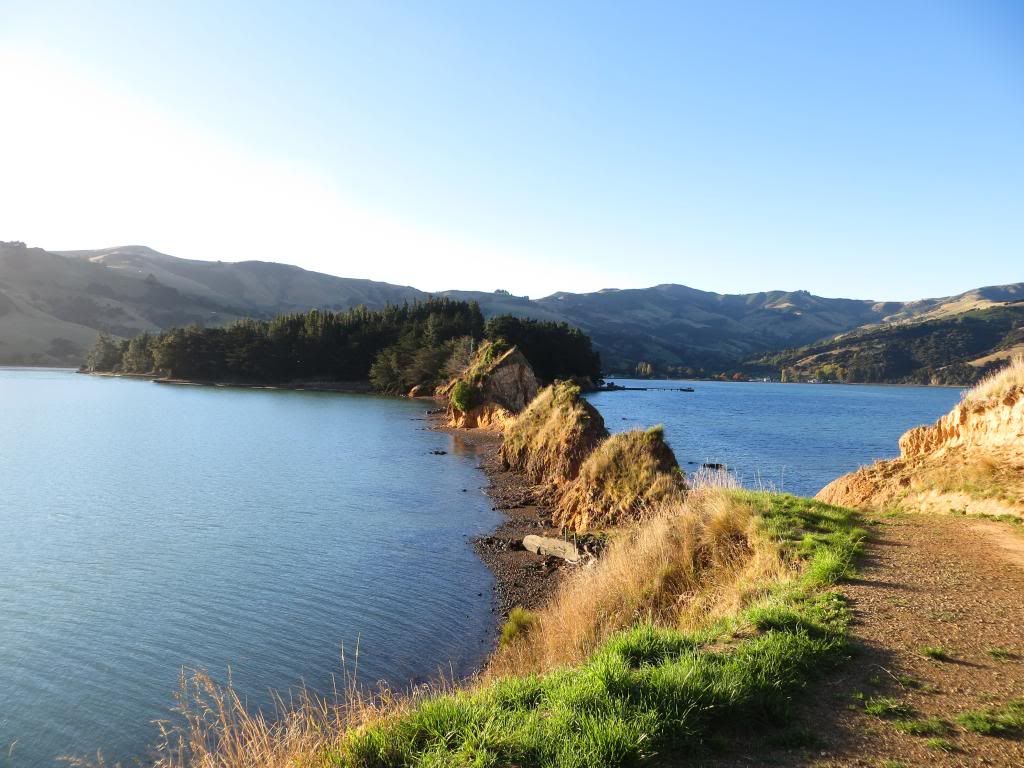 Our time with this most amazing of Irish-Kiwi families and the inevitable end of our travel in New Zealand brought much reflection as we looked back on our 3 months journeying and living around the North and South Islands, and in particular the Workaway hosts we've been privileged to meet and stay with. It goes without saying that raising kids and creating a home feature in our musings and Steve and I have noted some commonalities among the families we've volunteered for here in NZ. Most importantly, across the board our host families have been more or less removed from heavy consumerism. That doesn't mean they don't have smart phones or wear stylish clothes, but living how and where they do they don't seem to be bombarded with billboards, ubiquitous TV ads, magazines with the latest and greatest and crap toys that will break or be forgotten in months. Creative play still thrives, imagination is king and TVs are either non-existent or regaled to an out-of-the-way room where they don't command attention from a prominent location. And I know we've mentioned it before, but our hosts live closer to the land, growing dazzling gardens full of bountiful produce and knowing the exact animal they raised and butchered and are now eating. And because NZ is most similar to the US in mores and culture than the other countries we've already been to, it's not hard for us to spend hours discussing the ideals and methodologies we see ourselves adopting for our littles when the time is right. Fascinating stuff.
But all good things must come to an end and with our tourist visa about to expire we had to be moving on. With bittersweet hearts we took in the unreal view once more, said our goodbyes to the boys and Odhran and headed into Christchurch with the ladies; they were going to clean the family's rental property (charmingly called
Bartlett By The Park
) before Lia was dropped off to ice skate and Aoife went to pick up some yarn and a birthday present for her brother. Steve and I soaked up some excellent history by wandering through the excellent (and free)
Canterbury Museum
, including a marvelous Antarctic wing detailing conditions, past expeditions and equipment, including two beloved sled dogs from a 1970's expedition that were preserved thanks to taxidermy.
Almost
as good as the real thing…
Back in the city center we met up with the gals of the family to pick up our backpacks (Joan had kindly kept them in the car so we wouldn't have to walk with them) and say our goodbyes. Hugs ensued all around with promises to stay in touch and of course we offered to return the hospitality if they ever found themselves our way in the future. And then Joan pulled out one of her tea towels that I had fallen in love with at her house, exclaimed over once and had vowed to find on our travels. Passing it over with a warm smile she remarked, "There are a few stains on it, but I know how much you liked it and I'd love for you to have it." And then my eyes came dangerously close to flooding over; just another example of the culture of Workaways and the people we've been blessed to meet. Not only did we feel like family, eat ridiculously tasty food and live in a fairy tale setting, but we were encouraged to use their phone plan to call home, were offered the car for an afternoon of sightseeing, driven in and out of Christchurch and now handed a pieced of their home to take with us!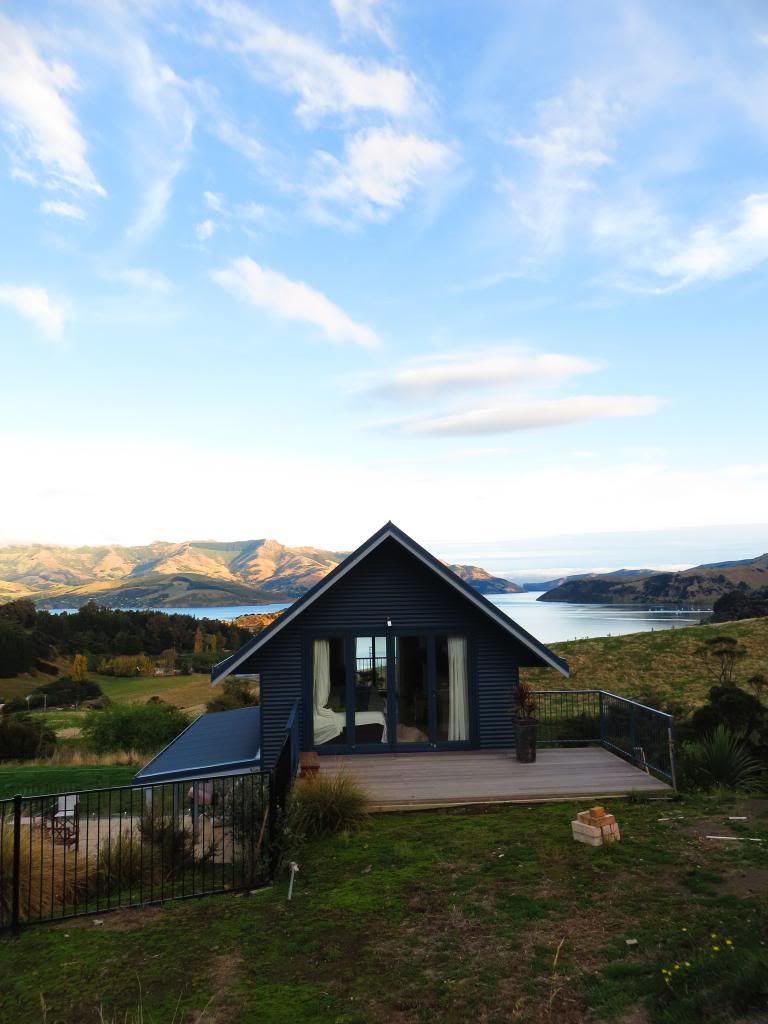 Our last personal link to New Zealand receding through the parking lot (after more hugs of course), Steve and I hefted our bags and set off to find some (regrettably non-Joan-crafted) dinner and muse over 88 days in paradise on earth. We knew we had a long night of waiting overnight in the airport (with a 3:30 A.M. check in time for our flight to Bangkok we sure as heck weren't paying for a hostel!), but reflecting back on the people great and small who have blessed our lives in NZ would prove to occupy the time well. The next leg of our trip will be markedly different, but we leave this Shangri-la knowing that we'll be returning and hoping that our paths converge in the future with some of the people who made our time here such a dream. To New Zealand and her generous people, we thank you from the bottom of our hearts for three months of nature, nurture and memories to last a lifetime; we'll be seeing you again!