All Expenses Paid: Bangkok
BANGKOK & NAKHON RATCHASIMA, THAILAND: April 29-May 5, 2013
Steve: With our last episode of voyeuristic volunteerism over, it was time to say goodbye to New Zealand. This country treated us well and it set the bar again for raw natural beauty, friendly people, good food and a new way of looking at daily life. It couldn't have been any different from our next destination—Thailand.
After saying goodbye to our Irish Kiwi host family we made our way down to the Christchurch airport for a fun filled evening of trying to sleep sitting up in a noisy airport. Check-in for our flight was at 3:30 AM so it made sense to while away our time in the airport instead of spending money on a hostel, only to get a few hours sleep and deal with taking a taxi in the middle of the night. By the time we boarded the first leg of our trip to Sydney we were completely spent and both of us don't remember much of the three-hour flight. The second leg was a different story, seeing as how the Qantas flight was equipped with personal entertainment systems such that we had plenty of time to catch up on some Modern Family as well as films we had yet to see during our travels. Additionally, we were well fed with meals and snacks better than most other airlines. Needless to say Qantas gets two thumbs up from us.
We arrived into Bangkok's Suvarnabhumi International Airport almost on-time late Monday afternoon. Although the airport is a sprawling modern concrete mass, we were able to get through customs and pick up our bags fairly quickly. Even though there was plenty of signage in English we also found ourselves dumbfounded with the beautiful yet foreign Thai script that adorned the walls. Pictures of the king (the Kingdom of Thailand is a constitutional monarchy with a democratically elected prime minister/parliament), elephants and Buddhist characters shared equal space with advertisements for electronics and other goods that many of us use. It was our first taste of the dichotomy that is Thailand.
Picking us up from the airport was a host family that Leah had been put in contact with through her good friend Alison Gubser back at home. Alison works for a firm that places foreign exchange students with American families and one of her Thai clients was gracious enough to contact her friend Jane back in Bangkok, who said that she and her family would be happy to have us stay with them. Jane (whose given Thai name is Thitichaya) and her mother Rattikarn (who is affectionately called "Mam") were waiting for us in the airport lobby with a "Leah + Steve" sign and two pink roses. We were welcomed with hugs and quickly whisked off for our first taste of the bustling traffic jam that is Bangkok.
Looking on a map of Bangkok it would seem that the family's home is a rather short distance from the airport. Looks can be deceiving though as this city of eight million (fourteen million in the greater metropolitan area) is spread across a large and densely populated area. There appears to be construction going on all over the place and everywhere in between is filled with decaying urban sprawl, opulent residential and office towers, and finely detailed Buddhist temples. It took us almost an hour to get to the Tankmuk family home but thankfully they have rather new and nice air-conditioned cars—with mid-90's heat and high humidity the weather can make any commute exhausting.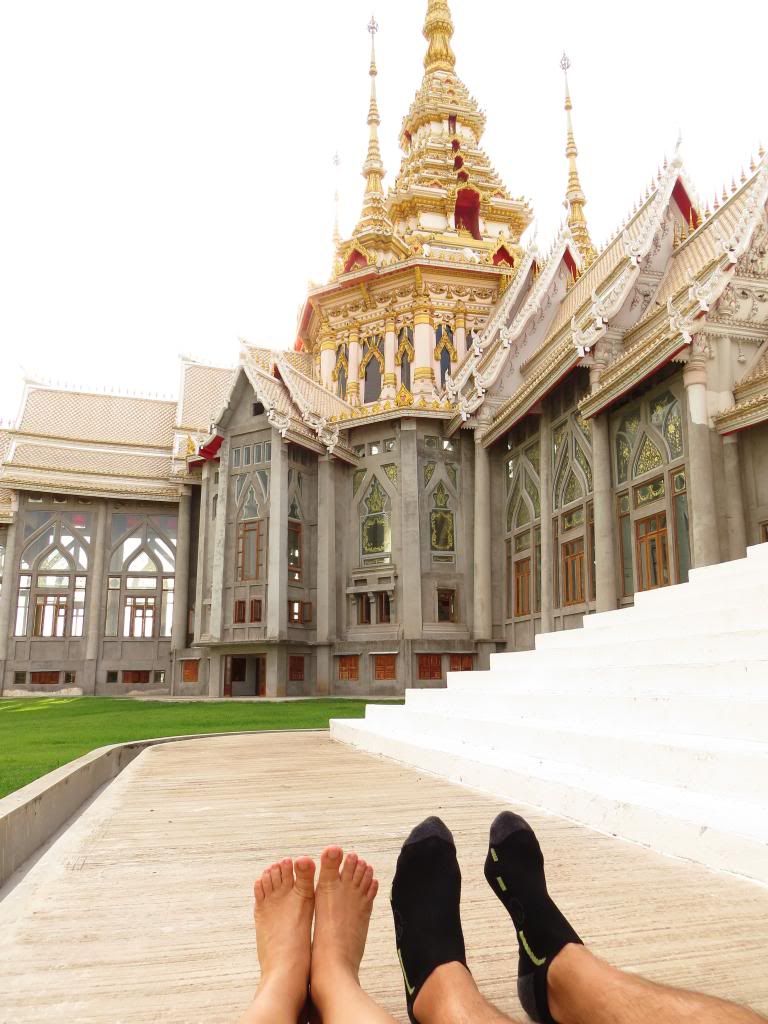 Leah:
We also agreed that it wasn't the weather or foreign language that shell-shocked us, but the re-immersion in a heaving metropolis complete with 10-lane highways, miles upon miles of urban sprawl and the absence of personal space and serene pastoral settings that comprised our life for 3 glorious months in New Zealand. And for me, I had been expecting something more…I don't know…in your face? Perhaps teeming masses of people, beggars and trash with a malodorous breeze to top it all off, or even a lack of road rules and blaring car horns from every direction, but what greeted us from the car windows was an organized urban landscape that just happened to feel as if it were located inside a boiling soup pot. Oh, and lest I forget, we are back in the land of street food vendors—can I get an "AMEN!"? We stopped on the way home for some flame-roasted fish and fresh vegetables, as well as mango sticky rice (
kao neaw ma moung
), all of which was quickly turned into a culinary feast back at the house, with assistance from Kob, the housekeeper.
Over dinner we learned more about out host family—Jane had studied abroad in Hot Springs, Arkansas for 10 months a few years ago and just happened to be celebrating her 19
th
birthday the day we arrived (we had picked her up a small present in NZ, as we knew this beforehand). Her brother, Panut (nickname "Jump") was currently in Georgia on an exchange and her father, Damrong (nickname "Deaw") was an architect and would be home later that evening. It was decided over
tom yum kung
(a spicy noodle soup dish featuring shrimp, broth, Thai basil, veggies and an assortment of spices) that the next morning we'd head off with Mam to her hometown of Barn Pa Nao in the Nakhon Ratchasima province 4 hours northeast of Bangkok for an overnight trip to see a different part of the country. Mam, a teacher, currently had some time off and delighted at the idea of showing us around, as well as visiting her family. Before leaving the table, however, fresh
durian
arrived from the refrigerator, a most polarizing fruit if ever there was one. It's forbidden to carry one in public in many parts of Asia because if a fresh one breaks open the noxious smell lingers forever. Despite having been around them before I've never actually tasted one and as I put the creamy, yellow-hued flesh into my mouth and chewed, I turned to Steve and remarked, "Tastes like foot and onion." I gave it a few more tries and while my dear husband apparently has more of a taste for it than me, that's once fruit I never need to try again.
We were soon trundled off to our room, shown how the air conditioner worked (VERY important, believe me) and instructed that our dirty clothes should be placed in a basket and Kob would take care of washing and returning it to us. I couldn't tell you the last time when I was able to chuck dirty clothes in a basket and have them returned to me clean and pressed the following day; it was a little slice of heaven, especially for these souls used to quick launderings in hostel sinks and showers, and from then on I referred to this device as the "magic basket."
The following day set the tone for what we would soon learn to be the munificent-to-a-fault default setting of this incredible family. Mam whisked us out the door at 6: 30 a.m. for a brisk walk around the park, after which we returned home for an egg breakfast and showers before leaving with Mam and Jane for massages. Jane left us at the mall to head off to her English class and Mam plopped us into a serene and sweet-smelling massage parlor where the three of us sat side-by-side on luxurious cushions as our feet were washed and scrubbed in porcelain basins before we were hurried into the massage room, seated in recliners with a view of the lily pond, our pants rolled up, and every kink, ache and swelling below the knees kneaded and massaged away, which was followed by a back and neck massage. Steve and I drifted in and out of a dozing state and after such a long day of plane travel, it was divine to have such love and attention lavished on our bodies. We went to pay only to discover that the crafty Mam had beaten us to the punch and wouldn't hear of accepting our money…and it began.
Floating away on scented and moisture-drenched soles, we bundled into the car for the 4 hour drive (although Mam admitted she takes 5 hours because of her speed), stopping along the way at Luang Phor Tou, an immense and ornate Buddhist temple situated not far from the highway yet worlds away. Although Mam speaks some English, Jane was the official translator for the family and in her absence and our ignorance of Thai, we had many questions that couldn't be answered about what we were seeing and the significance behind it, but even being relatively in the dark we could still appreciate the familiarity of ritual and worship that transcends religious sects. A quick lunch stop at a floating market found us yet again outsmarted when it came to pay for our noodle bowls, but Mam made sure to usher us behind props for some ridiculous pictures before jumping back into the saving grace of the air conditioned car and arriving at our destination around dusk.
This was apparently the house where Mam and her 2 sisters and 5 brothers grew up, but her niece and her family now lived there and they had made tasteful renovations and updates over the years, all keeping with a traditional Thai style. After dinner out with the extended family (you guessed it, our money was scoffed at) and a stroll through some nearby night markets, we were shown to our own guesthouse. The large one room abode sat on stilts overlooking the garden and large main house and was decorated inside with pink curtains, a garish pink heart duvet and pink decorative pillows, all offset by screened floor to ceiling windows and beautiful dark wood. As it so happens, the following day would mark our 3
rd
wedding anniversary, so despite my loathing of all things pink, we decided this
"honeymoon suite"
was simply meant to be.
On our way out of town the following morning Mam took us to Pra Sard Hin Pa Nom Wan, an ancient cluster of buildings where the former palace stood centuries ago to house the king, his wives and those who served them. A scrawny cat appeared from the shadows and led the way to the Buddha statue still in residence (and worshipped), as we clambered over doorways and rocky outcroppings, the only visitors to this slice of history in the middle of the steamy Thai countryside. From there we swung by the market where all we had to do was exclaim with delight over a new fruit we hadn't seen yet on our travels or point to an interesting looking street food concoction and we found it bagged up, paid for and in our hands before we knew what had happened. Even once we had learned to shut our mouths to avoid more expenditures and armloads of bags, Mam would do things like rush off to purchase two fresh coconuts brimming with sweet coconut water and brightly colored straws, or excitedly shove a package of fried dough treats into our hands. We made quite the comic sight by the end, trundling through the packed market with an oversized green coconut balanced in one hand and the other laden with bulging bags of produce of every hue and size.
Our only triumph thus far came when we stopped for lunch at a shopping and eatery complex styled after the idea of an Italian piazza and Steve managed to get the credit card to the waitress before Mam could pull out her wallet. However, she again one-upped us by rushing off to buy ice-creams from a nearby vendor. Once back in Bangkok after several snoozes and silly photo opportunities later, we were informed that Deaw wanted to take us out for dinner since we had paid for Mam's lunch. SERIOUSLY? So we soon found ourselves being "punished" for paying earlier by being treated on our anniversary to mountains of tasty Thai food in a lovely restaurant, topped off by a dessert concoction of Thai sweet bread, Thai tea ice cream and tapioca balls of various sizes with our adoptive Thai family. All the while they worked patiently to teach us some words and phrases that would be helpful during our trip and we reveled in being surrounded by family once again, even if it wasn't our own. Yup, anniversary #3 is definitely one for the memory books!
Steve: I've always felt like I am a relatively generous person but the Tanmuks have brought this concept to a new level. Yes, during our WorkAways in New Zealand and Latin America we were often showered with good food, warm beds, kindness and favors. The difference is that at least with those there was a social contract where we were working as a trade. Many hosts went above and beyond (reference every WorkAway in New Zealand) but at least we could work that much harder to compensate for any guilt we might have felt in getting more than we put in. But what do you do when a family opens their home, drives us everywhere and insists on paying for almost everything? It made me moderately uncomfortable at times since neither Leah or myself is accustomed to being the objects of such generosity; even with our parents it can be difficult at times but at least we can chalk it up as an expression of their love for us. So what is the source of our host family's wellspring of kindness? Is it that we are foreigners or even that we are American? (Leah: or that both of their children were fostered by American families?) Maybe a little bit of each but I believe that the answer is that Thais are just plain generous people.
Leah:
The following day Mam once again ferried us out the door, this time for a tour a little closer to home—we would be seeing the cultural and historical sights of Bangkok. A somewhat stinky 40 minute canal ride from the mall near the house (the bus would have taken forever apparently) deposited us near the Golden Mount, or
Wat Saket
, the holiest Buddhist temple in the city with panoramic views in every direction and a shining golden speared dome pointing skyward, complete with the requisite monks and bells within touching distance. From there it was off to
Wat Pho
, or the temple of the reclining Buddha, featuring an immense golden Buddha, complete with mother of pearl feet, before moving on to the Marble Temple, or
Wat Benchamabophit
. We also hopped a river taxi to the west bank of the Chao Phraya River which bisects the city to climb up the steep stairs of
Wat Arun
, the royal temple dedicated to the 2
nd
reign of the Chakkri Dynasty.
And finally, we completed our hot and sticky tour of the city with the
Grand Palace
, established in 1782 consisting of the royal residence, throne halls, government offices and Temple of the Emerald Buddha (
Steve:
this last temple also included a not-funny-at-the-time clothing snafu for Miss Leah as her large shawl covering her tank top was not considered appropriate enough to enter—rental of a men's button up shirt was included in this visit). Though as Steve mentioned, I was steaming mad the whole time, since I usually cover myself from head to toe when visiting any holy sites but Mam had assured me that the scarf would be sufficient. I'm fine being rebuked by guards, but not when there's no consistency. They let in harlots wearing a hell of a lot less than I was (a red bra underneath a completely see through gauzy white shirt?) but still sent me back to the entrance to wait in line forever for a disgusting already-sweated-in shirt.
Admittedly we probably would not have tried to see all these sights in one day on our own, but saying we appreciated Mam's dogged determination to show us as much of her city as possible would be a massive understatement. Nevermind that she once again paid for meals and costly entry fees while slapping away our money, but she shared with us what she knew, guided us through the knarled and twisted Bangkok side streets and always did it with a smile, despite the fact that she was just as sweaty and heat-stricken as we were. This little lady had some stamina!
The ensuing couple days saw Mam in meetings, Deaw at work and Jane at school, so with a barrage of cell phone numbers, bus instructions, our address in Thai and English and detailed maps, we were reluctantly allowed to explore the city on our own. Despite our assurances that we had traveled unscathed for 10 months and were quite resourceful and able to ask for help when needed, I think the Tanmuk Family was slightly worried that we'd somehow find ourselves falling into a canal or accidentally on a bus to Cambodia. Our placations didn't do much to mollify their fears, so they reluctantly waved us goodbye, even though we had already decided we would spend the day at the mall, a 10 minute bus ride and one right turn away.
For anyone who thinks traveling the world to visit a mall defies the spirit of cultural exploration, I beg you wholeheartedly to reconsider. What other bastion of society so succinctly encapsulates a culture's ideals, dress and food more than a mall? From the moment it opened, we were ushered through doors and saluted by gloved male attendants all in white. The department store employees stood perfectly polished and at attention at their stations, the epitome of posture and customer service—I've never seen anything like it. The food court featured a McDonalds with a Ronald McDonald statue performing a
wai
, or the Thai traditional greeting of pressing ones palms together and bowing the head, and the bookstore listed among its inventory a book titled
"Cooking with Poo"
, of which we may need to eventually purchase.
Beauty and cosmetic stores proffered creams, ointments and serums, all of which promised to whiten and gently bleach skin (Asian countries prize a pale, light complexion over anything tan) and the grocery store stocked seaweed potato chips and green tea and red bean ice cream. We also managed to see a movie:
The Expatriate
was our only option and I can safely say that nobody in the cast could act their way out of a paper bag, but it was cheap, air conditioned and in English. Even this was elevated to a cultural insight status when the music swelled, the few Thais in the audience stood to attention and a video reel of the king and his lifetime accomplishments played across the screen for a few minutes. I rest my case that malls are a fun and easy way to explore a culture and country at their surface!
Steve
: After the movie we had made contact with Jane since she was stopping back by the mall on her way home. As it turned out, her father would be meeting us all and taking us to dinner. After several minutes of indecision it was decided that we would eat at
Shabushi
, a "shabu shabu" type restaurant in the "Kaiten style." What does that mean you ask? It is actually translated in English as "f&*%ing awesome." A system of conveyor belts whisk plates of raw meats, seafood, veggies and noodles around the restaurant and the diners pick and choose whichever ingredients they want to cook in their own boiling soup, which are individually controlled by each diner. In addition to this there is a large selection of freshly made sushi, different tempura options, drinks and ice cream…all-you-can-eat for about $10 USD. The only catch—if you can call it one—is that there is a 90 minute limit. Thank God for that.
The next several days included more sightseeing and shopping throughout several of Bangkok's downtown districts. We found our way to Ratchaprasong and Siam Square, which could be considered Bangkok's city center (if there really was one). In minutes we would find ourselves going from glamorous malls where we could probably blow our entire travel budget in several purchases to crowded outdoor vendors hawking anything and everything under the sun for virtually pennies.
Saturday's last stop found us at the
Bangkok Art & Culture Center
, a free and well-air-conditioned sanctuary with exhibitions on Southeast Asian writers, Buddhist-inspired modern art, and counterfeit goods (the latter of which was particularly interesting). Sun-drained and tired we made our way back home for a dinner courtesy of street vendors only a short walk away from our hosts' house. I even managed to squeeze in a twilight run through a nearby park which was filled with Bangkok citizens doing the same. Note to self however…with heat and humidity like this plan on sweating for at least two hours after you're done.
Our last day turned out to be a wet one as a thunderstorm took its time crossing the Bangkok area. Luckily enough we were indoors fulfilling Leah's long-standing dream of getting her teeth cleaned whilst in Thailand. Jane already had an appointment for her braces and it wasn't any problem getting the both of us in as well. I must say that after this experience I can see why medical tourism is so big in places like Thailand. For $25 USD out-of-pocket each we were able to get a thorough and professional teeth cleaning for a fraction of what we would pay in the States (even with dental insurance). Prophylaxis in Southeast Asia? Check. One more thing off my bucket list.
We had originally never intended on staying in Bangkok for more than several days. The plan had been to get in and get out since we had heard it was an overwhelming and dirty metropolis. Some of that may be true but after being here for a week we felt like we only saw a fraction of what there is to see. Thanks to the obscene generosity of our host family we tackled quite a bit of Thailand's largest city and made memories that will doubtless live with us for the rest of our lives.