Life on a Husky Farm
HELSINKI/HETTA, FINLAND: September 3-October 3
Leah: Never mind that we've been here a month and this is the first post we've been able to write. This will be a true flurry of info in non-narrative style just to attempt to even bring you slightly up to speed.
Helsinki- We arrived at the beginning of September via ferry from Estonia and had the pleasure of Couchsurfing for two wonderful nights with Kalevi and his roomies. He's half Finnish and grew up in both Oregon and Colorado, studied abroad in Finland, had a stint in the US Air Force, and is now back in Helsinki for his second master's degree. A true history buff, we enjoyed a walking tour of his adoptive city, made sushi with his roommates and generally had a relaxing final few days before we had to be up north for huskies. We'll be staying with him on our way out of Finland, so more on him later.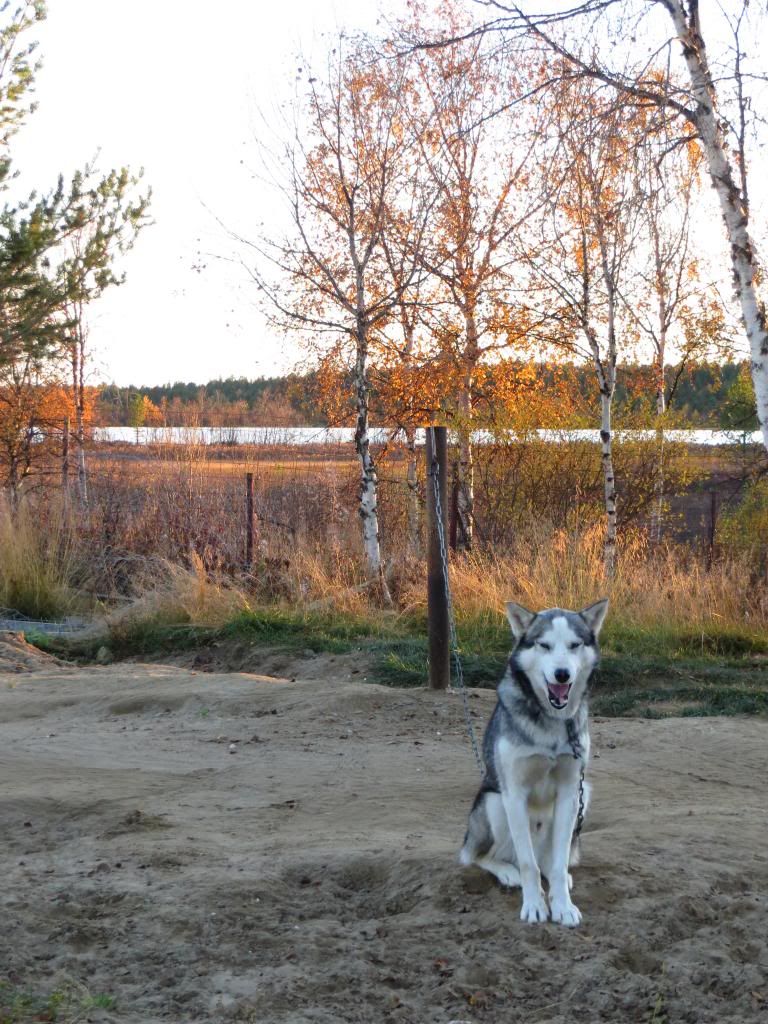 Emmanuelle-
Another fellow Coloradan, we'd been emailing with this darling 22 year old for months once we found out she'd be with us at Hetta Huskies (we even trusted her enough to ask her to carry Steve's new ATM card over from the US). She's half French, a recent Berkeley graduate, grew up in Boulder and will find out in December if she's been accepted into vet school. We met her at the Helsinki airport before the three of us had to board our overnight train and I think I can speak for Steve as well when I say that we felt an instant connection with the 6 foot tall beauty who waved at us from the airport café. Intelligent, worldly (studied abroad in Africa and the Caribbean, traveled extensively and previously volunteered in an animal sanctuary in Bolivia), quick to laugh and a joy to converse with, we immediately knew that yet again a bond had been forged with a fellow American who had the potential to be in our lives for years to come. She even reminds me slightly of my youngest sister, Bridget, so our little trio felt like family instantaneously.
The 12 hour train ride was super cush (there were even showers and fluffy duvets) and before we knew it we were smearing peanut butter and jelly onto our breakfast croissants before our disembarkation in Rovaniemi, the gateway to Finnish Lapland. From there it was another five hour bus ride northwest to the tiny one-road town of Hetta, where we'd be until mid-November. The driver let us off on the side of the road, gestured that our destination, Hetta Huskies, was a few hundred meters in front and before we knew it we could see huskies and the farmhouse and we met Anna (English) and Pasi (Finnish), the owners of Hetta Huskies and our bosses for the next few months. There's way too much to even try and encapsulate after four weeks here, so I'll bullet point some basics for you:
*We're some of the oldest volunteers here. There's one 41-yr-old and a 29-yr-old, but everyone else is usually in their late teens to mid twenties. They also rarely accept/have couples apply, so we're a bit of an anomaly. The bulk of us are Americans or Brits, but there's also a Kiwi, a couple Germans and a Hungarian. Many volunteers are on gap years or already living a semi-nomadic lifestyle, which makes sense since Hetta
Huskies prefers a 3+ month commitment.
*During this time of year there are about 10 volunteers living in the guidehouse, although 2-3 are always stationed on a rotating basis at the second farm, Valimaa (more on that later). We are a 30 minute walk from work and 20 minutes from the "heart" of the town at the opposite end of the drag. We live dorm style, with everyone in bunk beds in two rooms sharing a toilet and a shower. We rotate cooking and cleaning duties (some people are better than others at jumping in, of course) and every night we have between 4-5 dogs from the farm who spend the night with us for either medical or socialization purposes.
*The town of Hetta is quite small and doesn't have a whole lot going on, but it's cute. There's one grocery store, a church, a café/souvenir/bakery/post office combo, a thrift store, a boat launch/silver jewelry store, a sport store, a school, a restaurant, a few seasonal hotels and that's about it. Reindeer herding is a popular industry here and the herders tend to be traditional Sami or Lappish families who are quite conservative and also aren't huge fans of huskies. The natural setting must be seen to be believed, as we're situated right on a lake and the fall colors were resplendent with fiery reds and coppery golds when we arrived.
*We have one day off a week, although you may work more than six days before you get a day off and it's never the same day. We're expected to take advantage of all the hikes and outdoor activities in the area on our free day, but that's also some of the only time we have to check internet in town (the guidehouse doesn't have wifi), visit the grocery store, sleep, do laundry and just sit still. Hence, we often feel torn when it comes to experiencing Lapland yet maintaining our personal sanity.
*Speaking of days off, on our second day off we were actually given two in order to hike 55km between Hetta and neighboring Pallas. The walk itself took our breath away, from the water taxi across the lake, to the fields of wild blueberries, gurgling streams and free(!) sleeping huts scattered along the way. There was hardly anyone on the trail and while some of the weather was a bit crap and freezing cold at the top of the fells (eroded mountains), we saw reindeer for the first time, cooked sausages and s'mores over a campfire and marveled at the striking beauty of this pristine land.
Oh yeah, and then there are the huskies. We're in charge of 116 howling, furry, excitable powerhouse work dogs (and 86 at the second farm) who need to be fed, pooped and trained daily. Here's an average day to give you a better picture, although every day of the week has specific additional tasks on top of the ones listed below:
7 a.m.- Wake up, breakfast, overnight dogs outside for a pee, general prep for the day

7:30 a.m.- Leave if walking into work

7:50 a.m.- Prepare dogs, everyone loads into car if driving to work

8:00 a.m.- Work starts. Morning tasks include medicating dogs in sick dog area, prepping water and other supplies in the quad bike and trailer to be taken down to the main farm, sweeping steps, taking out recycling, walking dogs inside the main farmhouse, burning paper items to reduce waste in bins, attending poo compost, general groundwork maintenance (refilling holes dug by the dogs, raking running circles near the kennels, making sure there are no tree roots/other to tangle in the chains, heat checks for the females and general medical checks for all, cage repair, training, giving farm tours if tourists show up, babysitting Eliel (Anna and Pasi's 3 yr old son), cleaning the house, computer work and data entry, etc.

1:30 p.m.- Back to work. Some of the above tasks carry over if not completed. If cold enough we may train the dogs for winter sleighs by harnessing them to the front of a quad and letting them pull the quad (while we drive slowly) over a 2km track. There may be building work (lately we've been digging lots of trenches), runs to the shop for supplies, sorting out supplies and kit for the upcoming winter season and a plethora of other tasks depending on the weather and the day.

5 p.m.- Food prep in the dog kitchen. Giant meat blocks (previously frozen by-products from human grade meat manufacturing) are cut and fashioned into meatballs for each dog while buckets are filled with high-protein and nutrient-rich dry food. Water canisters are filled and we need to know what the feeding quantities are, since there are different dog weight delineations, from small dogs (most females) to big dogs (most males), to skinny dogs and fat dogs and all determine what quantities they receive of both meat and dry.

6 p.m.- Feeding normally starts. Everyone needs to be fed and re-watered, although the dogs in the cages need to be pooped again as well. The cacophony when they hear the quad bike coming assaults your ears and doesn't stop until the last dog is fed.

7:30/8 p.m.- Back up to the farm where we clean up the bloody meatball buckets and wash down the kitchen, in addition to administering nighttime medications if needed, walk the dogs that will be staying in the farmhouse and retrieve the dogs who will be coming back to the guidehouse. There may be other tasks, it just depends on what's going on that day.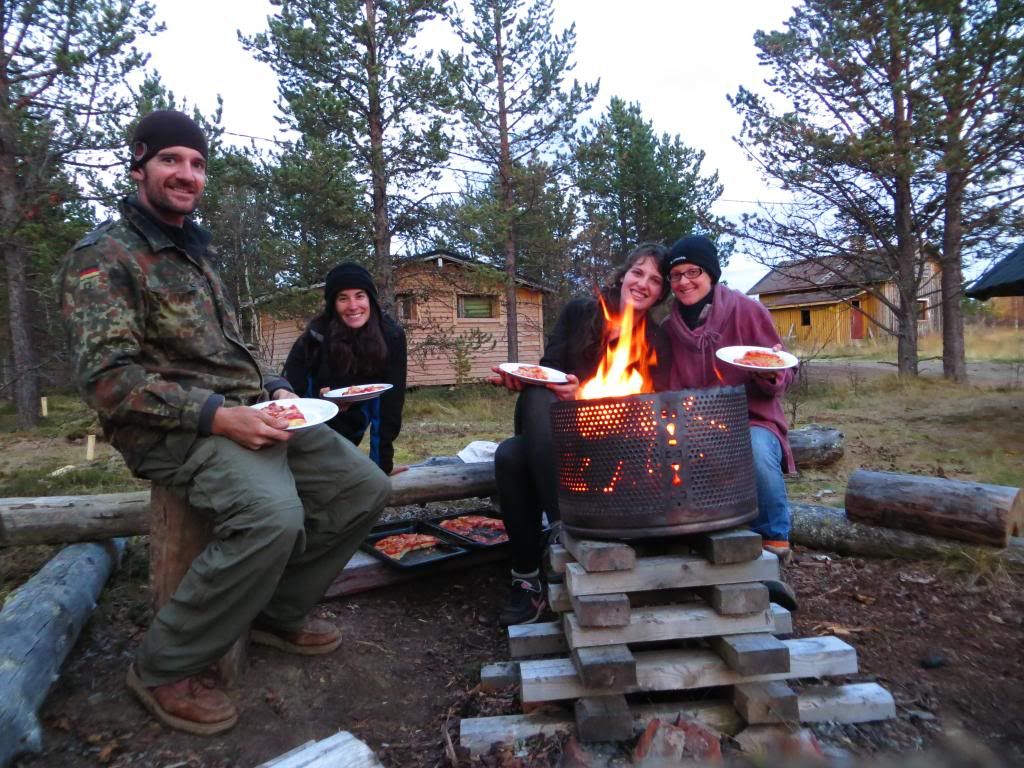 8:30 p.m. or later- back to the guidehouse to start cooking dinner. Showers, eating, cleanup, reading, etc.

11 p.m. or later- bedtime for most, although others stay up later. Repeat the following day.
In the very beginning we were trained by a 17-year-old American girl who had been here for three months and would be returning to the US soon to start college. Neither one of us has any problem taking instruction or constructive criticism from someone younger than us if a) they're a competent trainer and b) we respect the individual. Unfortunately, both stipulations were missing and as a result we spent the beginning of our time here in borderline misery. Our trainer was undoubtedly comfortable with the farm and the dogs, but she had no interest in teaching us, seemed to be annoyed by any clarification questions we asked, would instruct us to complete a new task without showing us how first and generally treated us like scum. We took it like champs and treated her lackadaisical approach like a hazing of sorts, but we breathed a collective sigh of relief when she left, after which we learned that many of the things she had taught us were flat out wrong and we had to re-learn them.
From there we spent our second week at the other farm, Valimaa, which Hetta Huskies has been contracted to oversee for another company. The set up there is a bit more primitive and remote and the dogs themselves need a little extra love and attention, since they can be a bit wilder and/or scared of humans than the Hetta dogs. There's even a fluffy, massive, jowly 8 year old Pyrenees Mastiff named Roi who patrols the farm, helps keeps the dogs in line and has even fathered a few sons currently at Valimaa.
While out there we were expected to carry on with the same daily schedule as at Hetta, in addition to maintaining phone and Skype contact with Anna to keep her apprised of our daily progress and to see if she needed anything extra from us. Valimaa definitely carried with it both pros (washing machine and dryer, wilder nature and private rooms) and cons (higher chances of miscommunication with Anna and lack of a vehicle/immediate assistance if there were to be a human or dog emergency). While we had a much better trainer while there, we were often frenzied trying to complete all assigned tasks as well as our self-training assignments (Steve: as in homework) in the evening when we were completely knackered. However, the vibrant sunsets over the lake, the ability to cook creatively with limited ingredients, being closer to the dogs and having some personal space was much appreciated.
And on one memorable evening, Friday the 13
th
in fact, I was walking back from my evening foray to the compost toilet when I spotted a pulsating green aura and my heart jumped into my throat….aurora borealis, aka the Northern Lights, live and in otherworldly greens! I shouted to Steve and raced to Emmanuelle's room to alert her as well. Once outside we stood in the frigid night air hugging each other and our overnight pups close, our eyes teary as a sonorous canine chorus rose up and enveloped us in the moment. It was pure magic. The show lasted for about half an hour as we all lay on the frozen ground, transfixed by the celestial show as we used the sky as our open air planetarium.
As you can tell, our days are long and we're often on our feet the whole time. If we had attempted this at the beginning of our trip when we were fresh from our desk jobs, I shudder to think of the implications on our bodies and brains. It's also incredibly stressful knowing that everything you do affects the daily health and safety of over one hundred animals, which is why there are systems and trainings in place here that rival those in any corporate setting. The learning curve was (and is) incredibly steep and both of us struggled to complete our assigned reading and self-training in the allotted time all while trying to learn and apply the proper methodology and practices at the farms.
Having proven ourselves as a non-drama couple with a fierce work ethic, we seem to have slotted in here just fine. The skills we've acquired in under a month are astonishing and while I still can't name every dog on both farms, I do know the majority of them (after having to employ mnemonic devices like remembering Midori's name because my mom's name (Dory) is in her name and they both have blue eyes, or differentiating Aurora from her two similar looking daughters because she's the one with "roar" in her name and she's the most vocal of the lot). Every time this giant pack raises their call to the air or I drive behind them on the quad and see six exuberant dogs working in unison to pull, it gives me goose bumps (and maybe some wet cheeks, as several of the dogs look uncannily like Minger from behind).
While we still make mistakes and are constantly learning, the time flies and we've become more accustomed to not even remembering when our last shower was because we're just going to get covered in mud, shit and meatballs all over again the following day. Sorry again that it took so long to put words to the page. One of the hardest parts of being here is the lack of communication with the outside world and those we care about. We've already missed births, engagements, weddings and other life milestones in just three weeks, but when internet access means walking into town at 9 p.m. at night to borrow wifi outside of the visitor's center or staying after work when you've put in a 12 hour day and just want to eat and pass out, the primal instincts prevail no matter how heavy it makes our hearts. We miss you all like crazy and hope you understand that our current incommunicado nature is not self-imposed but a reality of this environment. Until next time (and who knows when that will be), here's to arctic furballs and a volunteer opportunity that may just rival the Peace Corps in terms of the toughest job I've ever loved.
P.S. If you have any husky farm questions you'd like us to try and answer in a future post just leave us a comment or shoot us an email and we'll try to include that info next time.