A Downton of One's Own
BRIMPTON, ENGLAND: February 4-20, 2014
Steve:
As we rode the bus up from Portsmouth to what would be our last Workaway adventure of this trip, we entertained visions of a grand English estate, replete with haughty demanding landowners, clear if not antiquated class distinctions, debasing work and maybe even living quarters somewhere deep below the main house. In short, Downton Abbey. Unfortunately we found ourselves with something closer to the other 90% of our
Workaways
—a really nice, down-to-earth and inclusive family, cozy accommodation and labor-intensive yet rewarding tasks. The house did not fall short of expectations though and we did in fact see the real Downton Abbey but I'm getting ahead of myself (that's the bait, read on!).
We were met at the Reading-Calcot bus station by our prompt and polite host, David, and started our WA by doing a quick grocery shop at Sainsbury's for our next two week's provisions (it was kind of obscene the amount of food that we picked up but needless to say we didn't end up wanting for anything while here). We knew right away that we had happened upon our kind of host and our first impressions were backed up during our stay. David, his wife Cassilda, and their children Sam and Rosie are a quite well-to-do family who while successful were also impressively normal. David, formerly a corporate lawyer cum entrepreneur, instantly grabbed my attention when he told me about his current start-ups
Slicethepie
and
SoundOut
, two increasingly successful websites that consolidate user reviews to advise record labels on which unsigned acts to sign next (ahem, I have a couple of suggestions…).
Sam is currently in his final year at boarding school after which he will travel prior to attending university, and Rosie is already in her first year at university; like her mother she is also a competitive horse rider and has numerous pictures of her riding in front of Her Majesty the Queen. Cassilda is currently a volunteer instructor at
Riding for the Disabled
which in addition to show jumping, hones her passion for horse riding. She does this of course while also managing rentals for Little Park House, the true star of this WorkAway. (
Leah:
And somehow my dog loving husband leaves out the canines! The furball residents included Raffity, a chill and almost regal five-year-old brown Cocker Spaniel with the best hair ever and Tilly, a five-month-old black Cockapoo full of puppy energy. They were both total lovebugs in their own ways and Raff even accidentally caught a pheasant on one of our last days there and didn't know quite what to do. Cassilda is thinking about breeding them and I can guarantee that their puppies would be ridiculous cuties.)
Little Park House
is a 10,000 square foot English country estate that sits on over 20 acres of manicured and natural grounds. Built in 1860, the house is a relatively new addition to parkland that was recorded back in the 1086 Domesday survey. After switching hands and seeing innumerable and infamous changes to the political landscape, Little Park House is now a tranquil 10 bedroom estate with several adjacent cottages, offices and paddocks. During our visit we stayed in the attached Garden Flat and the family often lives in the Paddock Cottage while guests are staying in the main house. Starting at a cool £1,650 per night this luxuriously appointed estate could be leased for you and 24 of your best friends (that's $2,722 with today's crappy dollar-to-pound conversion!). Popular with hen and stag parties, this locale is also fortunate to have the now-famous Highclere Castle within 15 minutes—that's known as Downton Abbey to most of the world.
Cassilda gave us a story about a group of Americans that booked Little Park House for a weekend after she was able to arrange a private viewing of
Highclere Castle
. Knowing the owners, all she really did was make a phone call, pass on the £4,000 price ($6,600!), and assume that the Americans would balk at the viewing fee. The next thing she knew they gratefully booked the house and purchased their flights. As Highclere viewings are obviously pricey and booked out well in advance we didn't get to walk through the house (er, castle) but instead got a free viewing courtesy of David who knows the back way into the property. Sitting on a ridiculous 1,000+ acres Highclere Castle is really an unbelievable sight. Home to the Earl and Countess of Carnarvon, the castle has been in the family since 1679 and currently hosts an Egypt exhibit seeing as how the 5
th
Earl discovered King Tut in 1922. Talk about impressive. We were so overawed that we followed up our visit with a binge-viewing of season three of Downton Abbey on David and Cassilda's HD projection screen.
When not exploiting our hosts' audiovisual capabilities we actually did some work. On a property this size there is
always
work to be done and with an unheard of number of rainstorms there was no shortage of tasks. We came at a curious time since David and Cassilda had decided that it was time to sell and downsize their lives so during the first week of our stay there were several viewings from interested parties; needless to say we focused on keeping the main drive and entrance clear(ish) of branches and leaves—although with each storm it looks like we didn't do a thing (anyhow we must have done well enough since it looks like they have a committed buyer…fingers crossed!). We spent quite a bit of time taking down the last of a huge pine that fell around Christmas time. This was fun since I got to use David's chainsaw that curiously enough rumbled "m-m-man, man, man" every time I got her started. During the last weekend of our stay another storm toppled several other trees but they aren't in plain view and alas will probably be inherited by some other Workawayer in the coming months.
Speaking of storms, Leah and I will now have a Valentine's Day ritual thanks to our stay at Little Park House. Around 7 P.M. after having taken showers and made dinner the lights started to flicker and sure enough a power outage followed. Cassilda and Sam brought us some candles and Leah and I ended up enjoying an evening of urban camping, complete with books, chatting, charades and all the things you do when you can't use power. Seeing as how almost everything is run by electricity—the stove, water pumps, sewage, internet, lights of course—this got a bit old after two days but thanks to our hosts we still enjoyed our time. They invited us over for Indian take-out on Saturday night and Sunday was a visit to a swank yet homey pub for a proper warm meal. When the power finally kicked on at 2 A.M. Monday morning we were quite thankful although I'm pretty sure power outage or not every Valentines to come will be remembered by candles and a lack of electronics (Leah: In fact, I told Steve that he should be grateful for the forced romanticism on a holiday that I usually ignore completely).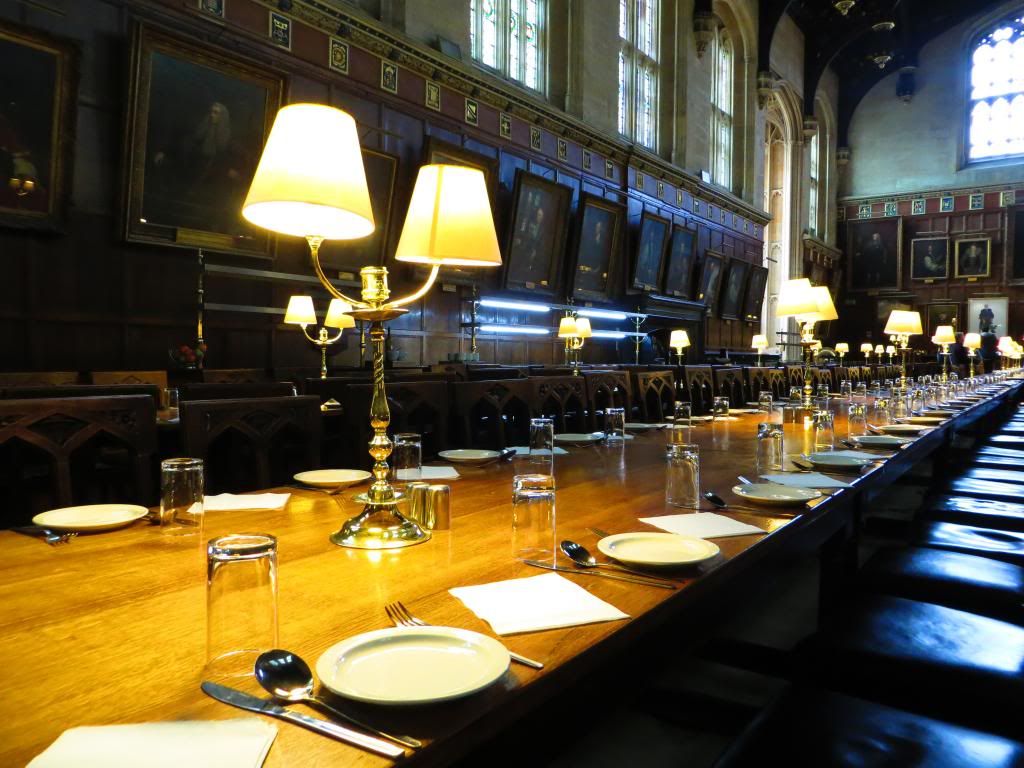 With southern England being inundated with the worst rains since the 1940's our power outage was nothing compared to what others are dealing with. On one of our days off Leah and I made a trip up to the famous academic town of Oxford for a day exploring the eponymous university and—nerd-alert—places where Harry Potter was filmed (
Leah:
including Christ Church College's Great Hall which was recreated in a studio and served as the inspiration for Hogwart's Hall). We had originally planned on taking the train but David thankfully diverted us to a bus since he got word that all trains were cancelled due to flooding. Sure enough on our way in we saw whole sections of the town underwater with the Thames and other tributaries unable to handle the runoff. Our visit to the actual town, including the magnificent
Christ Church College and Church
, wasn't affected but we did get a firsthand look at the ordeal that much of England is trying to cope with.
Leah: Although initially bizarre that we were so removed from our hosts and could literally go days without seeing them, in retrospect I think this arrangement suited our needs perfectly. At this point in our travels we're road weary, tired of physical labor and even exhausted with the getting-to-know-you conversations. In short, we're done and much like we felt with life and our jobs before we started the trip, now we're feeling the same way with long term travel. That doesn't mean we're not enjoying the remainder of our time away and Lord knows that we may want to be right back out here once we hit home, but having our own physical and mental space has been most appreciated. And of course when we did see our hosts they were most genial, went out of their ways to drive us around and answer our questions and plied us with top shelf adult beverages when we dined together. The lack of power for two solid days was a definite low point, but we made the most of it. All in all, I feel like we've now ticked every conceivable box in terms of Workaway lodgings and environments.
Steve:
With this our nineteenth and final Workaway of our trip (
L:
altho it's actually 21 if we include our "unofficial" WAs with our friends in Thailand and with Sally here in England) truly ended on a high note. A regal English country estate, castles, power outages, storms, chainsaws fueled by testosterone…this was truly the way to go out in style. But the main ingredient that makes it work, from the shabbiest of accommodations to classy digs like this one, is the kindness and generosity of other people. It really puts into practice the idea of "paying it forward." With the imminent end of this trip looming closer we have our sights set on the day that we'll have our own castle and be able to return the kindness to fellow travelers.