London Calling
LONDON, ENGLAND: February 20-24, 2014
Leah:
I'm writing this post after returning home and I have quickly realized that it won't do our time in this city justice since I'm currently exhausted from jet lag (hooray for waking up at 4:30 a.m.) and sick with a nasty cold (Mucinex, anyone?). Besides, writing from the suburban snowy winter wonderland of Colorado is literally a world away from the hustle and bustle of one of the world's major cities. However, London was our final UK stop on our world tour and the second-to-last stop before flying home so it deserves a bit of justice. Therefore, I'll hit on five highlights in no particular order.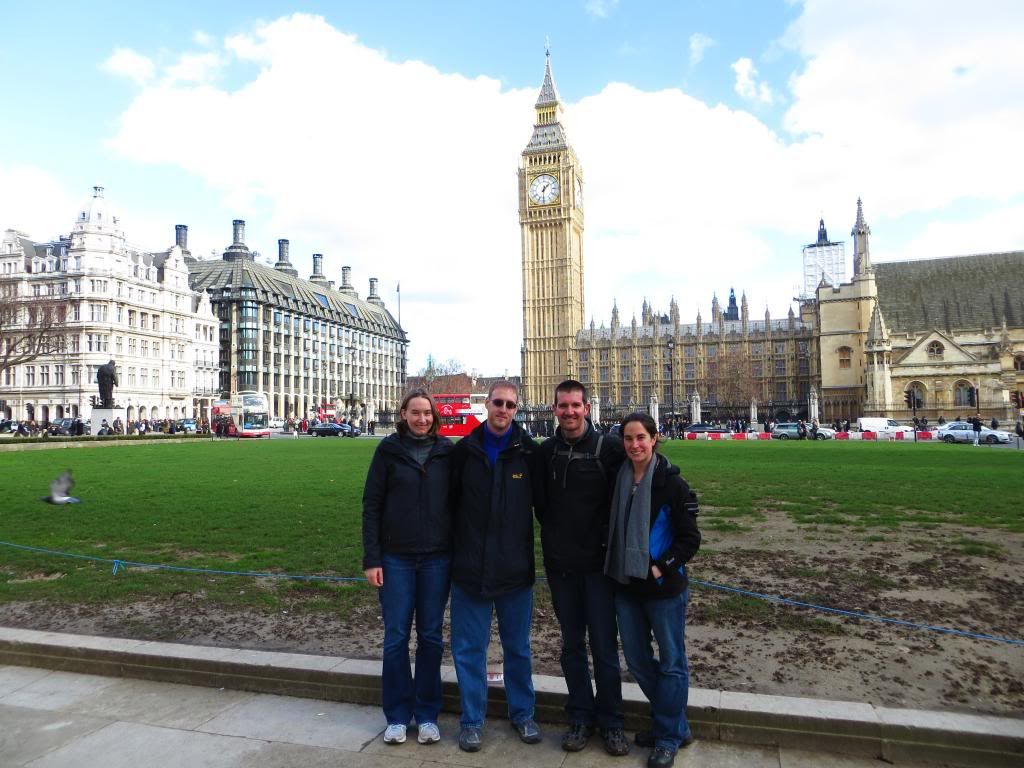 1.
We made plans months ago to meet up with my cousin, Mike, and his new wife, Jackie, as they were currently living in Germany for work and had also never been to London. Mike even sorted out an AirbnB accommodation for everyone in a central Regent's Park location right near the Warren Street tube stop and across from a handful of embassies. This was the first time the four of us had used AirBnB and I think I can safely surmise that we're now all converts. It was brilliant to meet Jackie and catch up with my cousin and we enjoyed a perfect mix of navigating the city together (free walking tours and meals out, including an Indian place where our waiter fell in love with me and plied our table with endless free shots of Baileys) and going our own ways when our interests diverged. There was even an absurdly memorable evening when we settled in with adult beverages and the game
Cards Against Humanity
, which quickly proved that my cousin and my husband share the same twisted mindset.
2.
Speaking of divergent interests, one of those days occurred when Steve and I left our companions to board a train to Great Missenden, a small village about 40 minutes northwest of London. You may be asking yourselves why we pointedly
left
London when it hosts a plethora of free museums to explore and places to discover, but I have two words for you. Roald Dahl. You see, this beloved author lived and wrote in the country hamlet of Great Missenden for 36 years and as an avowed fan from a very early age I had to go. Back in the day Dahl's
Matilda
introduced me to a young female character who was also a serial bookworm; in her I found the permission to bury my nose in books despite how my classmates teased me and I never looked back, devouring his works with gusto.
The Roald Dahl Museum and Story Centre
, while small and geared toward families with kids, was nonetheless a delectable sensory feast and contained everything from his original letters and journal entries, to the entire contents of his writing hut, recorded audio interviews, activity stations and endless personal photos. And of course it featured the whimsical drawings of his longtime illustrator and friend, Quentin Blake. After tackling the museum we made the short trek through town to visit his grave at the Church of St. Peter and Paul where other pilgrims had decorated his headstone with pens, pencils and personal words. Truly moving to pay homage to the man who flew planes in WWII, wrote the screenplay for the James Bond flick
You Only Live Twice
and gave the world
Charlie and the Chocolate Factory
and
The Fantastic Mr. Fox
, not to mention my favorites,
Matilda
and
The Witches
. London may hold a treasure trove of history, art and culture, but my priorities lie with the written word and an author's character who spoke to my soul.
3.
We did take in some of the standard museum highlights, including gazing up close and in person at the Rosetta Stone in the
British Museum
, although many of the plundered collections there make one wonder why they're essentially hostage in London when numerous countries continually request that their priceless artifacts be sent home (case in point, the exquisite
Elgin Marbles from the Parthenon
). Another highlight consisted of our trip to the Tower of London where we enjoyed a lively walking tour through the grounds before being set free to explore the White Tower, marvel at stories of the animals that used to occupy the grounds (ostriches, lions, monkeys and alligators, many of which were fed live cats and dogs by visitors of yore) and see the spot where Anne Boleyn and many others lost heir lives.
We also gawked at the opulent Crown Jewels, which I thought were so ostentatious and over-the-top that they looked fake, almost as if someone went to a Michael's craft store, grabbed some imitation gems and glued them into a cheap crown. While it was fun to marvel at our proximity to items that have played- and will play- such a pivotal role in the English monarchy, the effect was entirely ersatz for me (although I am admittedly unmoved by copious amounts of bling).
4.
Two of our evenings in the city saw us spending time with a special "guy" from my past. Guy Kewish wa a former flatmate of mine from my 2002 Edinburgh days; we dated the entire summer and have stayed in touch since then although it makes me feel old to realize that we haven't met in 11 years! We've seen each other through everything from foreign job placements (me in Gabon, Guy in Beirut), to romantic woes and triumphs and the deaths of those we've loved (he lost his dad in 2011 a few months after I lost Jayna and Ming). Despite the emails over the years we'd hadn't physically seen each other since New Years 2012, so I was beyond thrilled to catch up in person, meet his new fiancee and see the man my former 19-year-old ex had turned into.
5.
Our final night in London proved to be the culmination and a poignant example of the fact that there are some splurges that are worth making if you seek to avoid travel regrets while working under a budget. Mike, Jackie, Steve and I are all Harry Potter fans and despite the transport and entrance costs, a visit to the
Warner Bros. Studio Tour
outside of London needed to happen. Never mind that Steve had only gotten into HP on the trip and doesn't know how the series ends because he's still reading. We were determined to visit, geek out and hopefully get him through the exhibits without disclosing who lives, who dies and other major plot points he hasn't yet reached. From the moment we stepped through the doors and into the Great Hall set, goosebumps decorated every inch of my body.
We strolled past the costumes from the Yule Ball featured in the
Goblet of Fire
, felt humbled standing in Dumbledore's study, watched cauldrons stirring themselves in the Potion's classroom and even visited Diagon Alley and the Gryffindor common room. I've never been on a studio tour so I have nothing to compare this too, but living and breathing the books come to life was- pardon the pun- a magical experience for this Muggle. The backlot hosted butterbeer (deliciously frothy and full of buttery caramel), the Knight Bus, 4 Privet Drive and even the Wizard's Chess pieces.
Hogwarts castle model
which was used for aerial photography and scanned CGI scenes. And while Steve unfortunately walked ahead of me a few times and therefore unfortunately learned of the demise of a certain house elf, somehow I think we more or less made it through without him knowing exactly how the books end.
Click here
for an interactive map of everything we saw and squealed over.
There's our London experience distilled into five digestible bits for you. While I had never harbored a burning desire to visit the city and was indeed a bit apprehensive after spending so much time out in the country on our Workaways, I remain pleasantly surprised at how much I enjoyed our time there. From the ridiculously efficient, albeit expensive, public transport to the procurable array of every cuisine known on the planet and the endless list of museums, art galleries and explorable nooks, crannies and squares, we reveled in what London has to offer.
CLICK FOR PICTURES OF
LONDON
and
HARRY POTTER
.
CLICK FOR UK
BUDGET SYNOPSIS