Honduran Standard Time
SANTA ROSA DE COPAN/LA ENTRADA/COPAN RUINS, HONDURAS: July 31-August 2
Steve
: Our second border crossing is in the books and we now have a passport stamp for Honduras (El Salvador didn't stamp coming in or leaving the country...bummer). The borders are still a huge departure from what I grew up with...my image of a border comes from all the times I went to Baja California as a kid and up through college. The Honduras border with El Salvador was a couple of parking barriers and a shack; we got there at a good time though so it only took about 5 or 10 minutes to fill out a form, get our stamp and go on about our travels. But that's where things get interesting...
We hopped in a taxi with a nice English couple, Oliver (Ollie) and Katie, that we met in Suchitoto and were headed in generally the same direction as us. We headed north 10 km to the nearest town, Nuevo Ocotepeque, where we could catch a bus up to our first destination of Santa Rosa de Copan. I told the driver to take us to the bus terminal to which he replied that there wasn't a terminal per se, but that we had to pick which bus line we were taking. We told him to take us to the cheapest bus which was on the main drag in this dusty, the-only-purpose-is-for-passing-through town...he pulled up by a line of buses and honked and then things got crazy. Before we could even open our doors and get out of the taxi guys were running up to the taxi and yelling, vying for our patronage. We turn around to realize that our bags had already been grabbed out of the taxi's trunk and were already in the cargo hold of one of the buses; had this been in the States or had I known what was going on I would have punched somebody for running off with my possessions. But when in Rome...er, Honduras. Apparently this is just a sign of how desperate these people are for the tourist's dollar (or
lempira,
since we were no longer in El Salvador using the US dollar).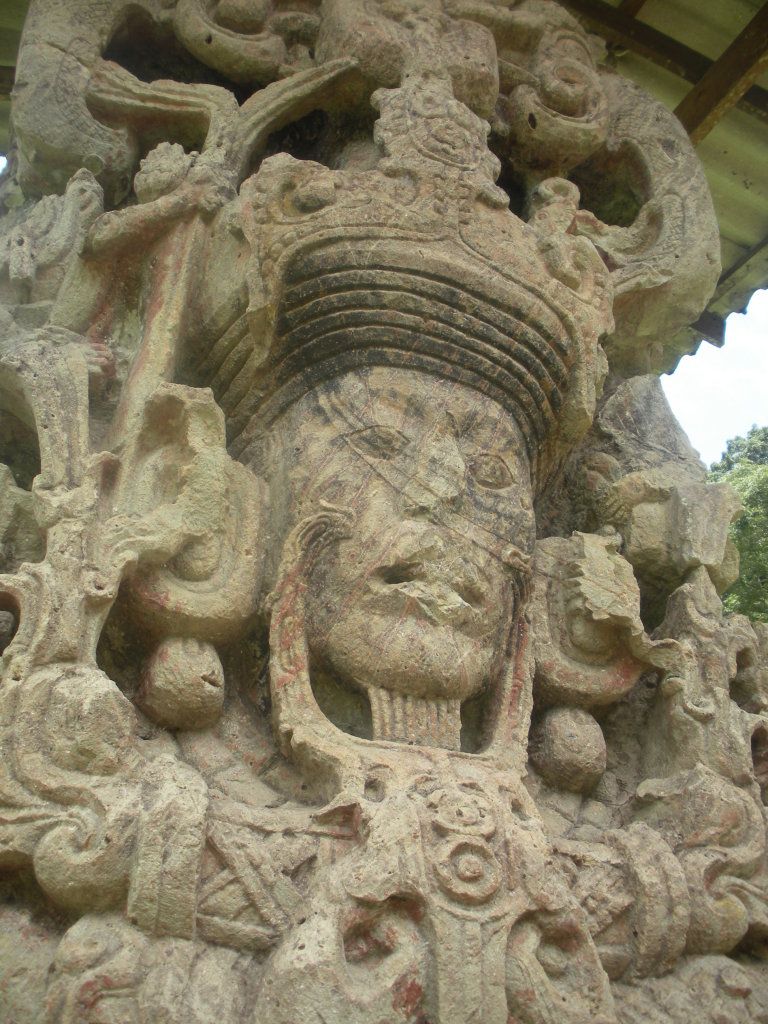 Then came the next Honduranesque trait that we would find is true across the board. My aunt Landa jokes about being on MST (Mexican Standard Time) which is her humorous excuse for being late to something. HST (Honduran Standard Time) takes this to another level. Considering the urgency with which we were slammed onto the bus, the actual getting there part was another story. We would stop in all the small towns, which is common so as to pick up or drop off people. But instead of continuing on our way we would stop for 5 or 10 minutes, one time stopping for 30 minutes for God-knows-what. It's just the way things go around here...but when you're a 6'+ tall guy riding in buses made for midgets (excuse my un-PCness) that makes for a long, painful, cramp-filled ride. Woe is me.
Ok, I'm done crying...onto our travels. We made it to Santa Rosa de Copan safe and ready to meet our first CouchSurfing host in Honduras. We had to wait in the central park for a bit as Heric (pronounced "Eric") was apparently 45 minutes away in the nearby town of La Entrada. This wasn't much of a problem since the Parque Central was a well-shaded and pleasant place to hang out. Heric showed up pretty close to when he said he would, which is always a good sign. We weren't sure what to expect as his profile didn't go into great detail about his life but he had great references. Well...where do I begin. It turns out Heric is a pastor of a couple local Evangelical Christian churches (as you can tell from some of our posts, if people in Central America aren't Catholic they're Evangelical Christian...or Mormon, as we've seen a Mormon church in
every
town we've been to). We were even able to
watch him
live on TV. He's Argentinian by birth and of El Salvadorian and English descent--in fact we found he has three passports (Honduras, Argentina and England). His wife is in the States along with his daughter who is about to give birth. He is quite the entrepreneur having businesses in money-transfer (US to Honduras), home building, and even pharmaceutical production. Which lead us to wonder how he even has the time to devote to CouchSurfing especially considering the time that he gave talking to us, taking us to local restaurants and showing us the town of Santa Rosa.
Leah:
I must concur that our time spent with Heric and Jenalee has been simply astounding; Heric takes generosity to a whole new level and our conversations with both of them run the gamut from hysterical to spiritual. And in keeping with what matters, we've already enjoyed quite the local gastronomic safari with him as a guide:
*
Atol de pina:
a thick, sweet pineapple drink served hot in a gourd bowl and floating with big pieces of cinnamon.
*
Ticucos:
look like a small tamale made with a similar type of masa, but the inside is sprinkled with beans and various greenery. They're eaten with
crema
, which can't quite decide if it wants to be cream, butter or cheese.
*
Mamones:
small green fruit encased in a paper-like shell that you bite through to get at the sticky, mucousy fruit that surrounds a rather large pit. Way better than it sounds, though it's like sucking on a eyeball. (
Steve:
I recognized the bad word and Heric confirmed that unless you're talking about the fruit it has a whole different meaning...so don't use it.)
Xela
. One of our favorite things about this house is his parrot,
Bebe
, who goes crazy every day from about 4-5 p.m. when she talks, (hola, como estas and more), screeches, squeals and laughs like a maniacal harpy--we were in tears listening to her from inside the house (and I promise that all the laughing on the video is her-honestly). From here we voyaged to Copan Ruinas (a 1 hour ride by car that took close to 2.5 hours on a public bus, which Steve explained above!), home to incredible Mayan ruins, including the most intricate carvings in the region. Hardly anyone was there and we enjoyed strolling the site mostly solo, marveling at the gnarled, ancient trees growing through the stone, the scarlet macaws screeching in the branches (the national bird of Honduras and prized to the Mayans), the deer that materialized like a mirage from the woods and the relative lack of heat and humidity compared to our experience in Tikal (although some subir-ing was definitely involved and I definitely whinged). Good times and so glad we went. We even enjoyed the BEST
minuto
(shaved ice we talked about a few posts ago) ever while waiting for the steamy bus to leave--they packed this one with not only flavorful and sugar-laden orange and pineapple syrup, but fresh bananas, tamarind and maybe dulce de leche drizzled on top? Delicious. Needless to say that the heat and exhaustion from the day caused us to take turns uncomfortably passing out and head-snapping on the bus ride back to La Entrada.
CLICK
HERE
FOR MORE PICTURES AND VIDEOS