How Ecuador Says Goodbye...
CUENCA, ECUADOR – October 13-17
Steve:
Cuenca, Cuenca, Cuenca…oh right!
After making all the proper preparations we headed out of Banos with our now defunct laptop in tow (with all due respect to the hostel Maria Princesa, I think they are cursed: 1) the hard drive on our laptop took a nose dive; 2) another traveler who I shall not name had a friendship-ending fight at said hostel; and 3) we met a Kiwi while in Cuenca who had his passport stolen in the dorms at the Princesa Maria. Poor little princess…). As our infinite luck would have it, our bus left 15 minutes late which in effect made us miss our transfer in Riobamba by mere minutes. In all honesty a two-hour wait at the terminal wasn't that bad but our long-hauls across Ecuador haven't been the smoothest. We were of course a bit disheartened knowing that we didn't have the disposal of our communication gadget but hey, people traveled for years without computers or cell phones right? Anyways, we got our connecting bus to Cuenca and made it there without any further complication. I should note that the drive south across the Ecuadorian highlands was absolutely beautiful—idyllic farms pocked the rolling green hills and we weaved our way through mountain roads overlooking craggy valleys that cradled numerous rivers. There are some places where you want to get from point A to point B and there is nothing to see on the way. This was not one of them.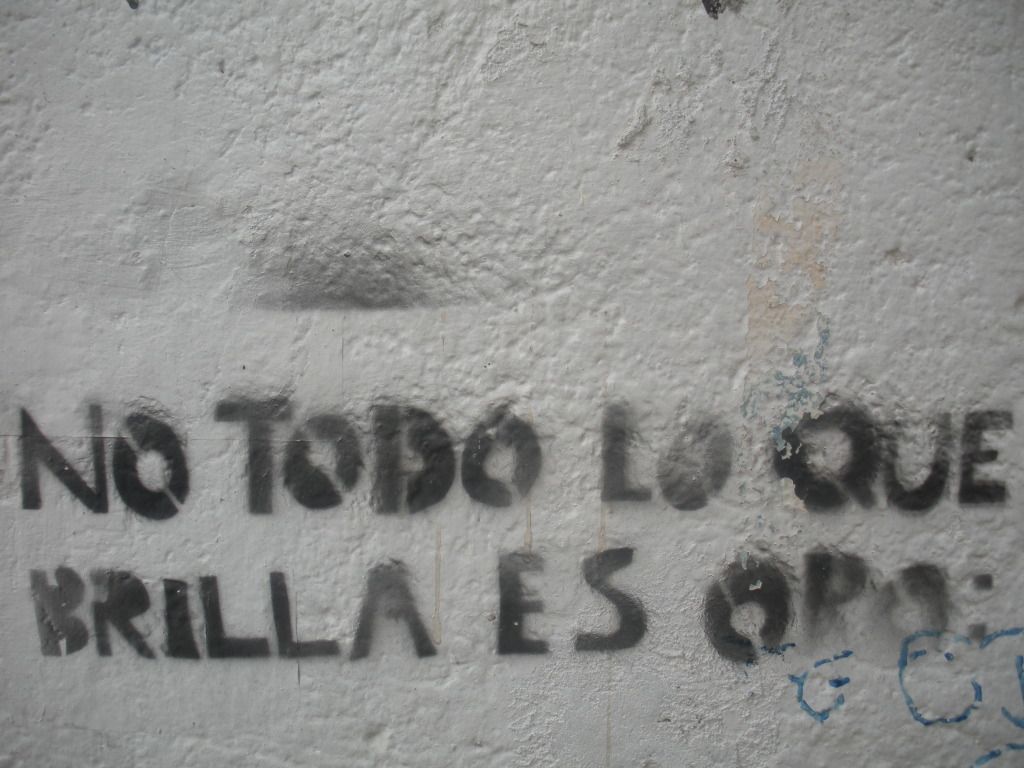 After a quick phone call at the Cuenca bus terminal we were soon greeted by our hosts for the weekend, Dorian (cousin of our Guayaquil Couchsurfing host,
Maria Rosa
) and his
family
. We loaded our bags in the trunk and hopped in the back of his little red Chevy, sharing the back with his 9-year-old son Juan Francisco. As we moved our way through the city we exchanged pleasantries which included an introduction to his wife Diana in the front seat; it took us about fifteen minutes on our little tour to realize that we had a sixth passenger on board. In Diana's lap was their newest addition to the family, 1-year-old Pedro, who Leah would promptly
fall in love
with (and become irrationally jealous of his long eyelashes) (
Leah:
this kid looked liked something out of a Japanese anime cartoon--expressive, over-sized eyes coated in eyelashes that damn near reached the end of his nose. It was unreal). In keeping with Maria Rosa's incredible skills as a host, Dorian promptly took us on a whirlwind car tour all over the colonial town that is Cuenca (the actual name of the town is Santa Ana de Los Cuatros Rios de Cuenca). It is a friendly and vibrant town, impeccably clean due to the municipality's investment in trash collection, full of history and culture. In the southeastern corner of the city are the ruins of the Incan city of Tomebamba which sits along the river of the same name; as the city's full name implies, there are four rivers that weave through different parts of the city creating a watery backdrop to an already impressive highland landscape. Dorian and his family carted us along the various old town sights, pointing out the numerous impressive churches, historical sites and points of interest. Before taking us to their new home they even stopped off so that we could pick up a pizza to make sure we were fat and happy before bed (I should add that Diana even supplemented this with some eggs and rice…we really were fat and happy…
que rico
!)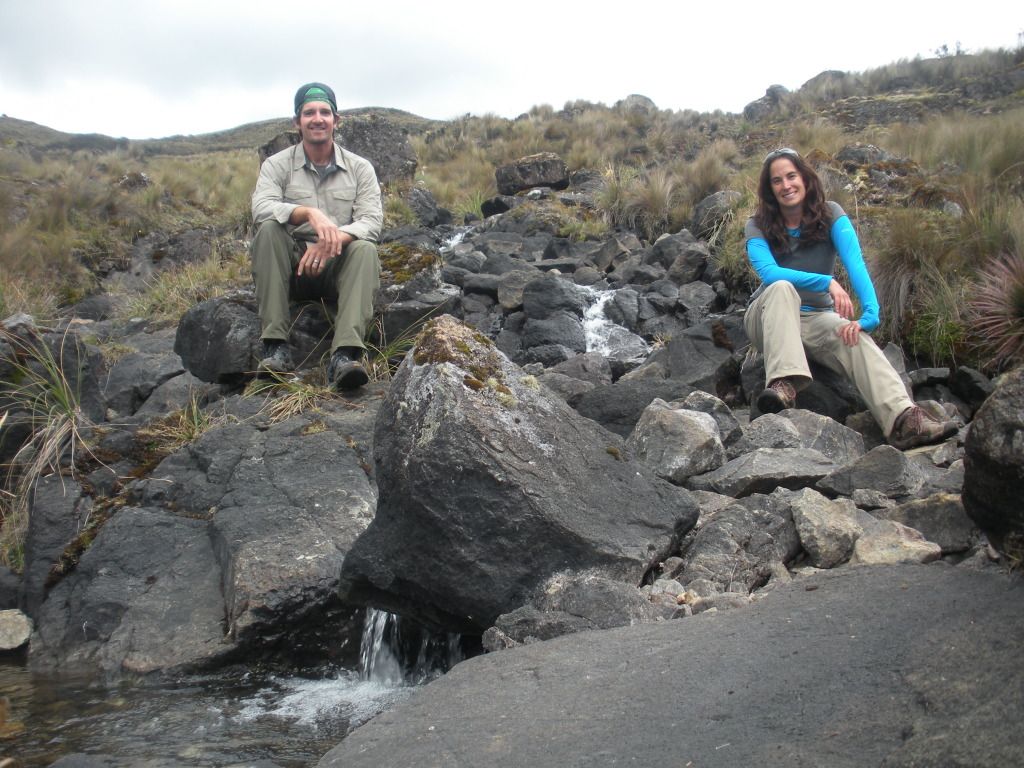 The next morning we had breakfast with the family and discussed our plans for the day. Dorian would give us a more in depth tour around the center of town while Diana and the kids did a little bit of shopping; after that we were going to join them in their weekend ritual of visiting Diana's parent's farm (theirs is a
qinta
, which is a smaller version of a
finca
) where all the aunts, uncles, cousins and the like gather for lunch—we were at once excited and daunted at meeting potentially 50+ of her extended family. As we would soon find out this was to be one of the most enjoyable and memorable moments from our visit to Cuenca.
The first part of our day entailed walking with Dorian around the central park and visiting some of the historical sites that he has enjoyed during his life in Cuenca as well as some sights that he had yet to see. We first visited the aptly named Catedral Viejo ("old church"), an antique church with sculptures and frescoes dating back to the 16th century. We had a tour guide that blazed through his monologue (even Dorian said "mas despacio" ("slower please!")) but luckily our Spanish has been improving so we caught most of what he said…just don't ask me to repeat it all now. The refurbished church/museum was filled with ornate trimmings and intricate touches. One of the most interesting items were the four chapels dedicated and paid for by none other than some of the richest and most influential of Cuenca's early townsfolk; money and power got you privacy in prayer and eventually prime real estate to eternally rest your bones.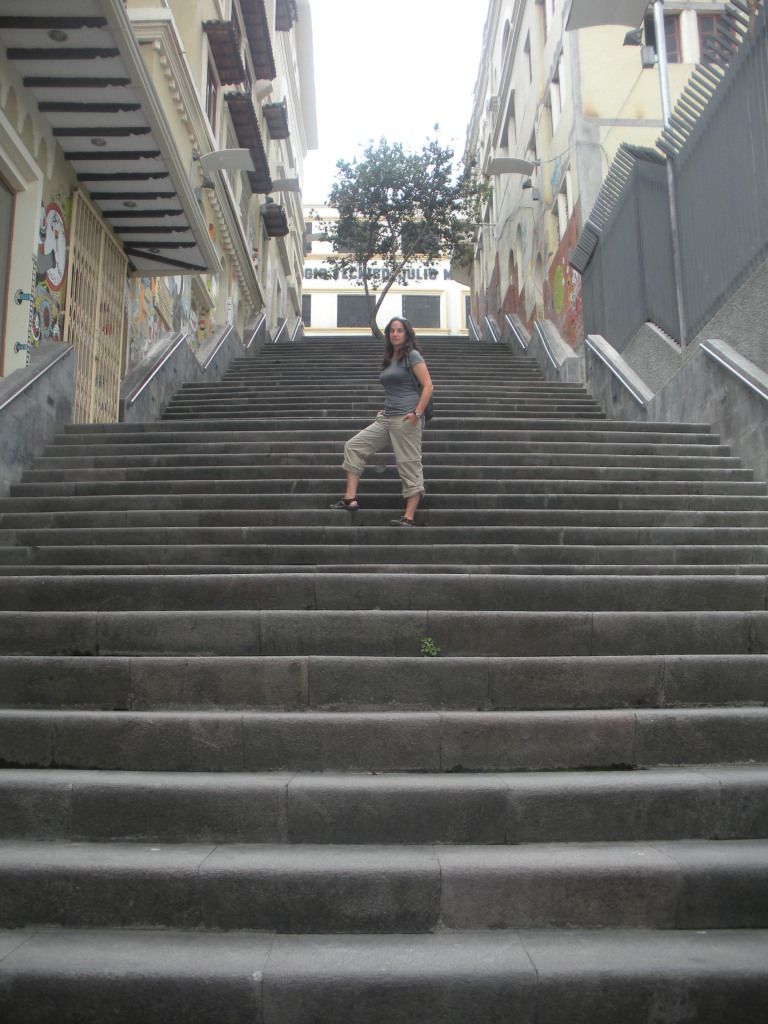 Around the church were pictorial displays of Cuenca's rich past. As we walked by, Dorian pointed out a picture that is apparently famous in Ecuadorian lore—a
family
is posing in a salon for a portrait and on the right hand side is the apparition of a girl poking her head around a door. Supposedly there was no explanation for this image other it being a ghost. It's really rather creepy (see it
here
). Before leaving the Catedral Viejo Dorian took us to one of his favorite exhibitions, a 400-hundred-year-old model of the Catedral Nuevo ("new church") that was built just on the other side of the central park. It shows the intended design of this magnificent structure which was never built to completion. After years of building the marble and brick edifice, it became apparent that the design could not withstand the placement of the two domes on the front; there's even a
crack
running through the middle of the façade indicating its inability to bear any more weight. We made a quick visit of the interior of this amazing church (we visited again later as mass was being said during our first attempt) taking in the impressive gold adornments and marble statues. For whatever reason, the Catedral Nuevo has been my favorite and most awe-inspiring church on our trip. Rightfully so, Leah found it almost too sterile, with even the smell of the cleanliness being hospital-like. I'm surprised that I don't agree with her more given my dislike for the Church's (any religion for that matter) excesses.
After our stroll through the downtown, the three of us met up with Diana, Francisco (Juan Fran as he's called, great nickname) and Pedro and made our way outside of Cuenca to the municipality of Ricaurte for our rendezvous with the family. As I implied earlier, Leah and I were just a tad nervous at the prospect of meeting so many people with our improving but at times lacking Spanish. It turns out—as it usually does—that there was nothing to be nervous about. There were about 30 people there in total, most eating and the others serving. We were quickly ushered through the courtyard to seats where we were served a hot dish of mushroom steak, chicken with gravy, rice, mote (a starchy corn that is eaten with many Ecuadorian meals), and fresh-squeezed mandarin juice. Needless to say I was immediately impressed…I like these people.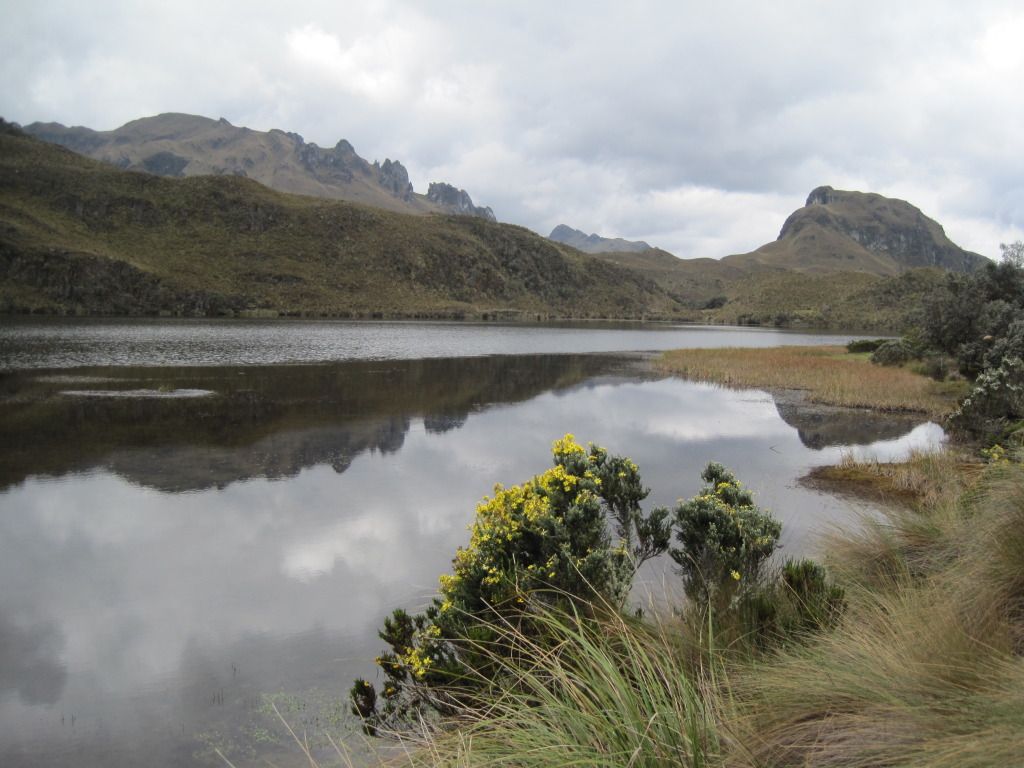 Meal over, Dorian and Diana—with Pedrito in tow—took us for a walk down to the local village of Solano, a quiet, dusty town well off the backpacker trail. There wasn't a whole lot to see but the scenery never gets old. It gave us more time for chatting and served to stretch my legs…for the wicked game of volleyball that I was about to play. Back at the farm one of the uncles asked me if I knew how to play and I said "sure," seeing as how I last played back in eighth grade. Turns out the Ecuadorian rules (apparently volleyball is
really
popular) are a bit different, the most notable of which is that it's only three-on-three. That's a lot more ground to cover. Also, pretty much everyone (except me) used a two-hand throwing maneuver to set and toss the ball, although I generally used the traditional two-hand underhand technique (I have no idea what this is called, sorry). Since we pretty much used a soccer ball my arms felt broken for the next week but it was well worth it since it reminded me of the epic two-games-out-of-three that my team won. Leah didn't take any video of the game but if you watch the
Top Gun
volleyball montage that was it to a T. Just call me Iceman.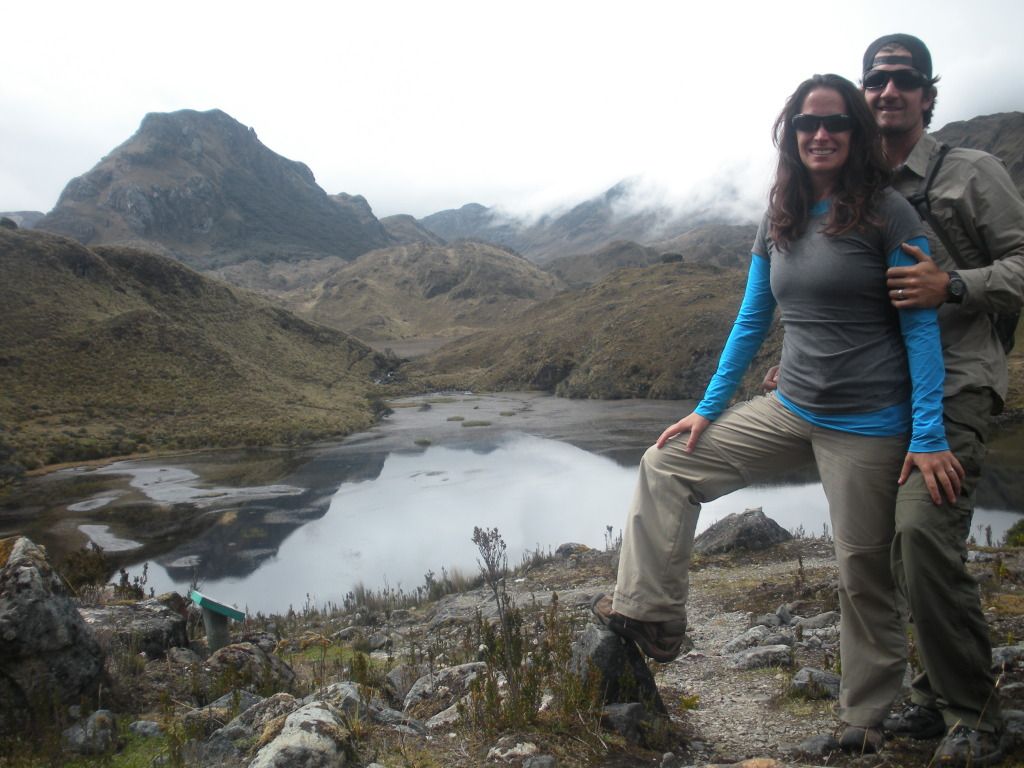 To our surprise we ended up staying an additional night at Dorian's abode; we were originally told that they could only host us Saturday night but as usual these people were way too generous. Fully rested, we had breakfast and said our goodbyes the next morning. Just prior to dropping us off downtown, Dorian mentioned that if we had time we should visit Parque Nacional Cajas, a national park about 45 minutes outside of Cuenca. (
Leah:
And as our insane luck would have it, his brother, Patricio, also happens to be a laptop tech and his storefront was mere blocks from our hostel. Dorian said he would be calling his big bro to let him know we'd be arriving later that day with our broken netbook. Seriously?!) After situating ourselves at the cheap yet charming local family-run
Hostal El Capitolio
(
Leah:
giant private room with beautiful wooden floors and numerous windows looking onto the street for $16/night), we set about figuring how to get there since it came highly recommended in our guidebook as well. It made sense to go the next day so we set off to explore old town Cuenca for the day. We made it to several museums, including the Museo de Arte Moderno—a free museum housing, you guessed it, fine examples of modern Ecuadorian art—and the Museo de Artes Populares. The latter housed rotating exhibits of artisan crafts from all over Latin America, basically including all of South and Central America, Mexico, the U.S. and Spain. This museum, again free, had some striking costumes and handiwork that left our jaws on the floor. Some we wanted to take home, others scared us out of our pants, but overall we were left impressed at the sheer talent of these artisans. Steve also mailed his election ballot back home from Cuenca, which of course we
documented
.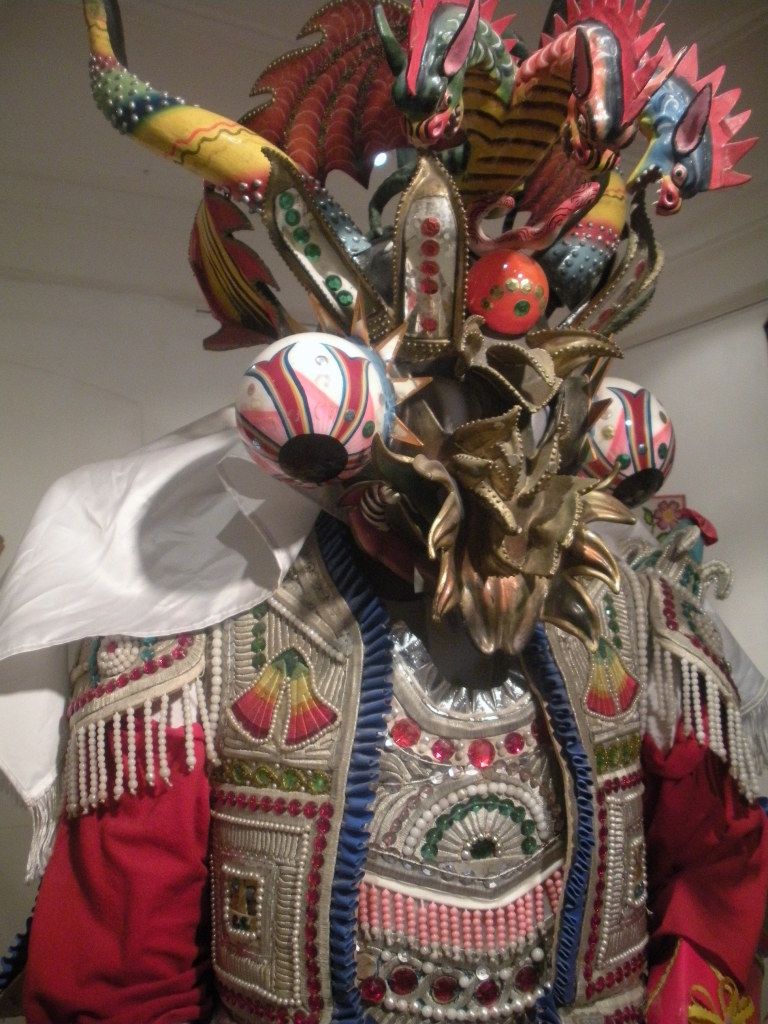 General sightseeing out of the way, we got an early start the next day by prepping our lunch and making sure that we had everything we needed for Parque Nacional Cajas. (
Leah
: I have to add here that on the way out we sat next to Ezriel, a charming Kiwi Jehovah's Witness who also happens to be from Whangarei, a city in the North Island where I had my entire backpack stolen at a bus stop while on my backpacking trip in 2006. Small world! He also gave us some fab insider tips for our eventual arrival in NZ…) The guidebook warned that conditions in this park could quickly deteriorate so we made sure we had everything—gloves, jackets, beanies, fleeces, etc. After disembarking our bus at the information center we were slapped with the chilly air and realized that they weren't kidding. We registered at the center and were pleasantly surprised to find that in contrast to what our guidebook mentioned, entrance to the park was free (there were small fees of course if you're camping). I fully appreciate how our parks in the States are generally well-maintained and understand that this usually comes with a cost, but Ecuador gets a point in my book for making this amazing site available to everyone at no cost. We only made a relatively small hike in this massive national park but were completely enthralled with what we saw. Lakes, streams and waterfalls were abundant; in fact there are over 235 lakes (and counting) within the park limits, fed by precipitation and glacial runoff. Part of our trail made its way through a quinua forest (not to be confused with the grain) that was otherworldly (
Leah
:
tour guide Esteban video commentary
here
). Twisting branches with colors reminiscent of manzanitas made for scenery taken straight out of
Lord of the Rings
.
At one end of the trail we came upon a pack of llamas who have been newly reintroduced to the park. Leah couldn't help but be entranced with the baby llama (she of course wants one now) that was still trying to get used to running around on his four legs. We thought we had seen the last of them but while sitting down to a scenic lunch by a lake we turned around to find one of the llamas walking up the path past us; soon enough the other llamas reappeared but instead they started walking right at us, the biggest one leading the way. Things were tense for a moment and we thought there was going to be a showdown—the lead llama pretty much stared us down for 15 seconds, being only ten feet away from us. It turns out we were just in some of their grazing land and they were just making sure we weren't a threat. They walked right by us and everyone went about their lunch. (Leah: I should also mention here that we may have found piles of dried llama poo and in being the mature adults that we are, engaged in a bit of a war. I chucked a few pellets at Steve's back while he was watching the lake, and in return he pelted me with an entire handful when I wasn't looking. Those boogers stung and may have brought tears to my eyes, so we eventually had to call a "poo truce" before things got worse. Like I said, we are nothing if not mature).
Upon finishing the loop and returning to the information center we were greeted with an onslaught of hail. Fog had been rolling over the mountains and at this point all the peaks were completely shrouded in secrecy. We made it back just in time to evade the weather and were even able to hitch a free ride with a tour group that was returning to Cuenca. The only problem is that it was pouring back in town by the time we arrived so we still ended up drenched as we had to walk several blocks to pick up our laptop. Of course, it wasn't ready yet so we ended up having to pick it up the following afternoon just prior to our departure.
Our final day in Cuenca ended up being rather wet as the rain continued on through the evening. With several hours still to spare prior to leaving for the bus terminal we decided that we would find an internet café to send out a couple of long overdue e-mails when we came across a man slouched motionless on the ground at a bus stop. A good Samaritan was trying to figure out if he was even alive and I was essentially convinced that he was dead. We propped him up and realized that he was still breathing ever so slightly so the Samaritan called up to a local resident to summons an ambulance. I helped carry the (dying?) man across the street so as to get him out of the rain where a crowd then began to gather around him. Leah and I helped flag down the ambulance who promptly checked the man, loaded him into the back of their jeep and took off. And so ended our visit to Ecuador…
Leah:
The above story aside, well and maybe the crazy old lady in Banos who cursed us out for taking pictures of a public view, this country was a magical experience for us. The people, the traditions, the scenery and the lifestyle really resonated with us and we've already had several serious discussions about if/when we could see retiring in Ecuador---assuming we'll ever be able to retire. It's safe to say that Ecuador now holds the torch for us in terms of favorite country visited so far; while that's only based on the very small percentage of this land we managed to see in a month, it's safe to say that even if we don't retire here, we'll be returning in the future. Hasta pronto, beautiful Ecuador!