Life with a Possum Hunter
URETITI/PAEROA, NEW ZEALAND: February 12-17, 2013
Steve : With a day to play with, Leah and I weren't quite sure how far south we were going to make it. In true vagabond form we decided to just see where the hitchhiking took us. After being dropped off by Amanda along the southern road out of Paihia, we quickly found ourselves in the backseat of a sedan with a dozing toddler sandwiched between us and two young women up front. They were only able to take us 15 minutes up the road but we've adopted the belief that every bit helps. The next stretch took a bit longer before being picked up but it was worth the wait since Simon, a dreadlocked Aussie, would give us an interesting lift to a spot just south of Kawakawa (Leah: please note that he was actually heading in the opposite direction from where we wanted to go, but saw us, turned around and went completely out of his way to drive us to the next junction about 15 minutes away). After exchanging pleasantries we quickly found out that he splits his time between Oz and Peru where he has studied to become a curandero, which is pretty much a shaman that leads hallucinogen-induced spiritual trips. We were brought back to our time in Ecuador where our Italian hosts lauded their experiences with local shamans and the San Pedro cactus.
Our next ride took a typical less-than-ten-minutes to catch. Nick and Joan, an artist and costume designer respectively, proved to be an engaging and informative couple. On a bit of a holiday they hailed from the south but were visiting family in Whangarei where they would drop us off. As we set up to begin hailing our next ride we found ourselves remarking on how beautiful this place really is—we were at a
roadside rest stop
that had views of shimmering bays and islands, green rolling hills and warm blue skies. There might not be a more beautiful place to hitchhike.
Before long we were picked up by a middle-aged blonde woman with her four-year-old in tote. She was on her way home but thought she would get us farther down the road and to what she thought was a good place to hitch. The drop-off turned out to be a weigh station situated at the entrance to Uretiti campground which was just south of Waipu. It felt like a bit of providence since we had originally planned on camping at this beachside locale on our way up to the Bay of Islands but passed since we had a ride all the way up. We decided to take some lunch and debate whether to keep pushing south or to take our time and camp for the day. As we ate at the concrete picnic bench we realized that we were just kidding ourselves. The warm sun, glimmering ocean and sparsely populated campground was calling our name. It was meant to be.
After setting up our tent wherever we felt like it (this Department of Conservation campground didn't have marked sites) we changed into our bathing suits and made the arduous two-minute walk over the sand dune to a virtually empty beach. We spent the afternoon body-surfing waves, catching pipis (a local clam), reading and basking in the sun.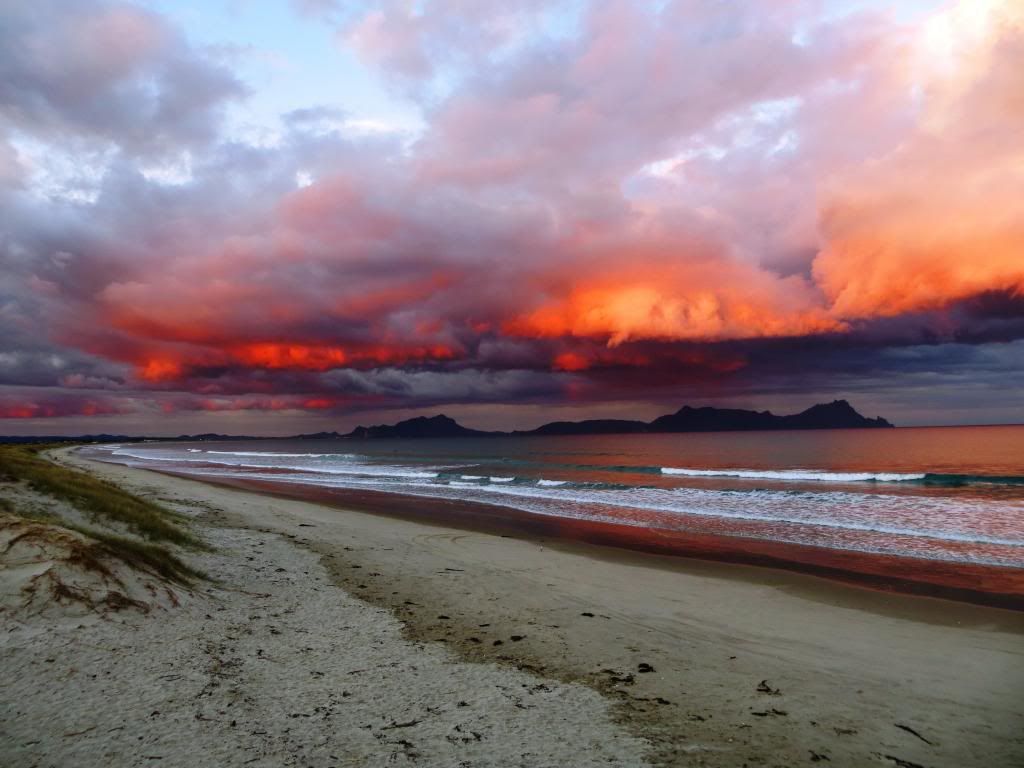 Leah:
The sunset alone was worth spending the night here (and reminded us of our belief in a higher power)…just the two of us on a sand dune with the whisper of wind in our ears and ice plant between our toes as the clouds appeared to go up in flames and the ocean served as a mirror for the spectacle. Our dinner was decidedly less glamorous, as we had decided to forgo lugging cooking equipment along with our camp gear. Outdoor meals now consist of canned and shelf stable goods, but we dug into our Mexican style canned beans accompanied by spongy crumpets and still considered the day extraordinary. There was even a book exchange run by the camp host (I'm having a tough time cutting the addiction to paper despite my fabulous new Kindle), so we had a root around in the book bin before falling asleep to the sounds of crashing surf.
After tearing through more crumpets and a foil package of Spam (thanks Ma & Pa!) for breakfast, we headed back to the highway to grab a ride south, as we were due to arrive at our next Workaway in the Coromandel Peninsula southeast of Auckland. Psychologist Kate picked us up after about 10 minutes—she was our most reserved driver to date and remained wary despite my aiming-to-please overtures, but she nonetheless took us to Warkworth with promises to pick us up again after her lunch with friends if we still hadn't scored a ride. A little later (seriously, the hitching here is ridiculous) Andrew hauled off to the side for us and we enjoyed a scenic ride back to Orewa as we listened to the wise words and life philosophies from this gentleman who teaches tai-chi to the elderly for balance and healing.
After a quick grocery shop and walking out of and then back into town after we realized our original hitch spot wasn't advantageous, we waited less than 5 minutes in our new locale before another Andrew beckoned us over. While whizzing down the highway a few minutes later we learned we were actually riding with an Auckland police officer reporting for the late shift! He used to work in forestry but quickly tired of the way jobs in the field remain tied to the economy and moved over to law enforcement as a more reliable means of supporting his family. We chatted about his kids being homeschooled and of course picked his brain in regards to crime and the Auckland PD. Fun fact #1: police officers don't even carry firearms here--while they have them stored in the patrol cars, they aren't part of the daily uniform. Fun fact #2: guns aren't registered to their owners in NZ. While gun owners need to have a permit, the serial numbers on the weapons aren't tied to individuals. Chew on that, trigger happy America.
Andrew dropped us right in front of the police station, where we booked it down Queen's Street to the train station. From there we boarded a train to the suburb of Papakura, a 40 minute ride away where my hitchhiking reconnaissance informed me we'd be able to bum a ride south to Thames. After a slightly miserable walk through the rain, the clouds cleared and we asked for hitching advice from a petrol station. Having been pointed toward the highway, we were adjusting our bags when a man who had just finished filling up his truck shouted over that he'd drive us to the highway entrance, since it was a few kilometers away. Thus we met Lin, a sociable agricultural worker who makes a living testing cows for tuberculosis. As we approached our drop off spot, he remarked, "You know what, I'm kicking off for the day anyway and you'll have a better chance at a ride if I just pop you a little farther down the highway." Despite our protests he drove us about 15 minutes and multiple exits out of his way, even having to feed a white lie or two to his wife when she called asking why he wasn't home yet.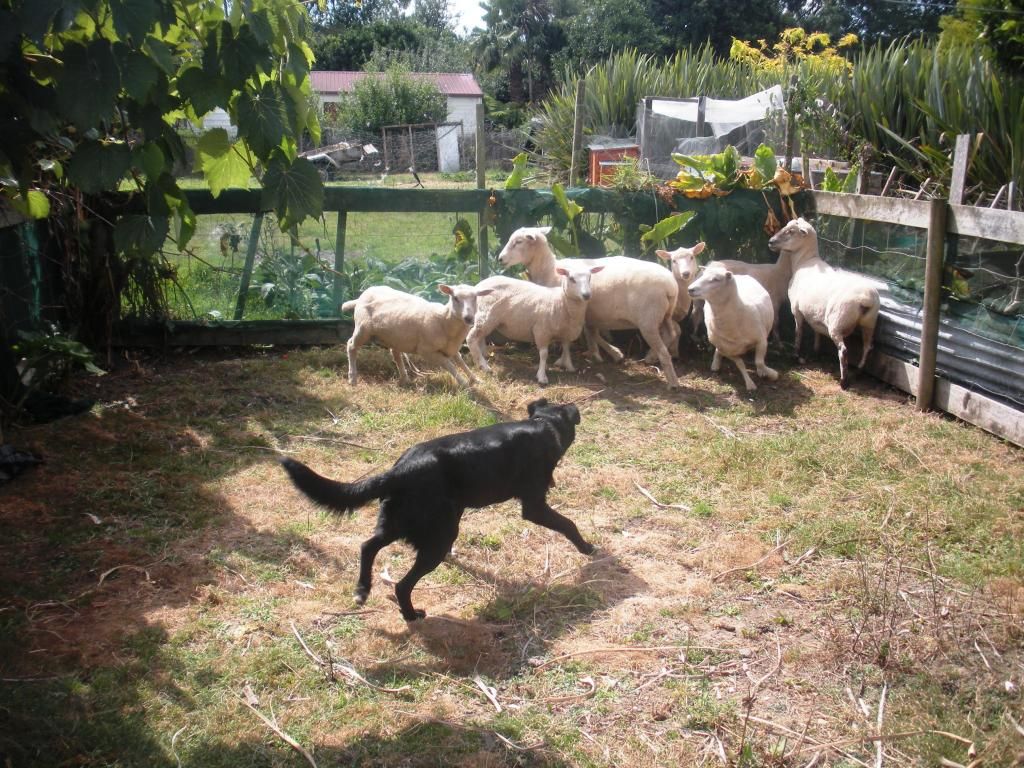 Scarcely had we waved him off with ebullient thanks when Gavin, a botanist, pulled over after spying our "Thames, please" sign. Gavin regaled us with tales of his family camping adventures while hustling us along the home stretch; he followed the trend and also went out of his way to drive us down a dusty rural road halfway between Thames and Paeroa, only stopping to safely deposit us right at our host's driveway. Five different vehicles, seven hours, one train and numerous conversations with new friends and we were safely carried from Waipu through Auckland and down to the Coromandel Peninsula just in time for dinner. And of course we also appreciated the fact that this grand adventure only cost us about $13 in transportation costs thanks to the incredible Kiwis. Have we mentioned lately that we love NZ?
We knew this Workaway situation was a good fit when the first thing to greet us was a smiling border collie that bore far more than a passing resemblance to Minger. Granted, we actually thought she was snarling and wanted to eat us, but it turned out later it was just a toothy grin and so our love affair with Becky the Border Collie and her black-furred son, Pete, began. It turned out that our host, John, wasn't home yet but his renter, 19-year-old Carmen, turned up shortly thereafter and ushered into her place next door to wait for him. Over steaming mugs of coffee and tea we learned that Carmen had been born in raised a few towns over and upon graduating high school, realized that she had a love for farming and animals and more or less lucked into a job milking at a local dairy farm. This bright, self-assured and mature young woman answered all our city-slicker questions about cows, milking apparatus and udder infections with aplomb and we could tell she was excited to have people closer to own age around, although she assured us that John was a lovely landlord (and human being).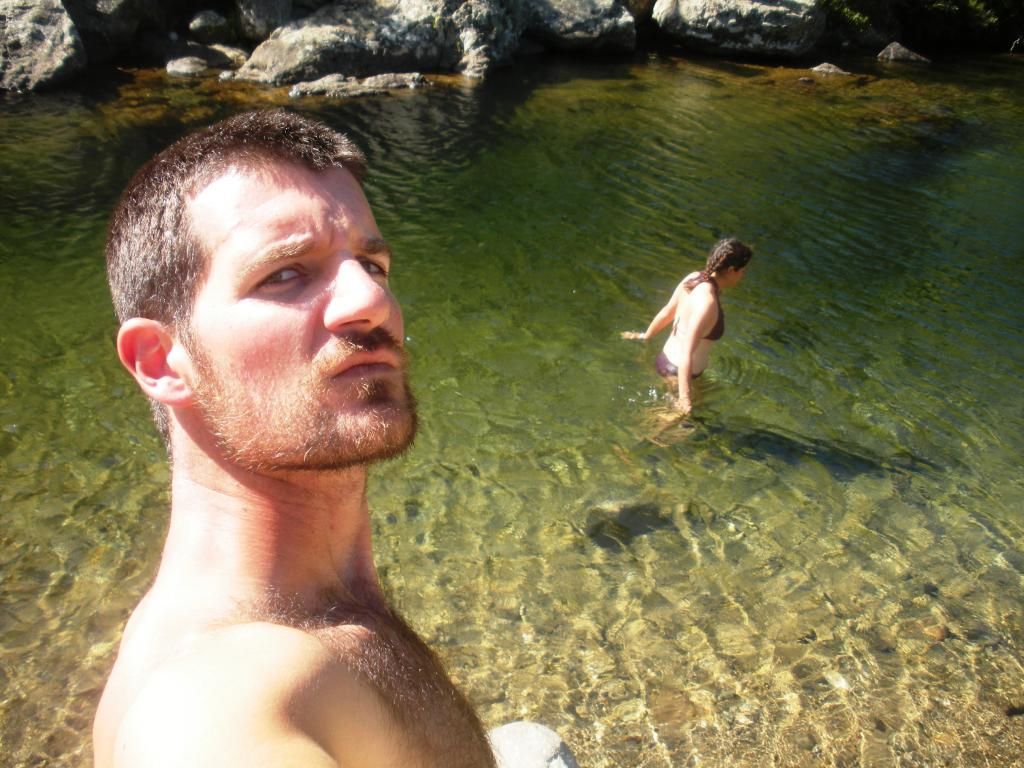 Speaking of the devil, he showed up shortly and we were introduced to our mustached man-of-few-words 57-year-old host. His family had owned much of the surrounding farmland while he was growing up, but over the years they parceled it out and he ended up buying his small 1 acre plot from his parents before they died. He grew his own veggies (string beans, pumpkins, tomatoes, cucumbers, potatoes) in several garden plots and the property was awash in fruit trees such as apple, fig, persimmon, lemon, mandarin and a 25 year old grape vine heavily laden with green grapes which hung over the gazebo in his front lawn, right next to the fish pond where the dogs liked to jump in to cool off. John kept 14 sheep at a friend's property to help "mow" his lawn and was in the process of training Pete to learn herding commands. To earn a living he currently paints houses and traps and shoots possums for their fur, which he told us is mixed with merino wool for clothing and handicrafts. (NZ is overrun with millions of possums and they are a detriment to all crops, birds and native forests. They also look quite different that the US variety.)
Our room was spacious, clean and comfy, which more or less defined the rest of the house, which was all made from paneled pine and had a rustic log cabin feel. We invited Carmen to eat with us as well, so we fired up the stoves in both houses and prepared a hodge podge dinner of stewed pumpkin, chicken curry and rice, fresh string beans, potatoes and mutton steaks washed down with (non-alcoholic) ginger beer. The conversation flowed and the invigorating energy in the room was palpable until we realized it was way past Carmen's 8 p.m. bedtime (when you have to be up at 4 a.m. to milk cows you gotta hit the hay early!) We turned in and she invited us to drop by any time we saw her car in the driveway.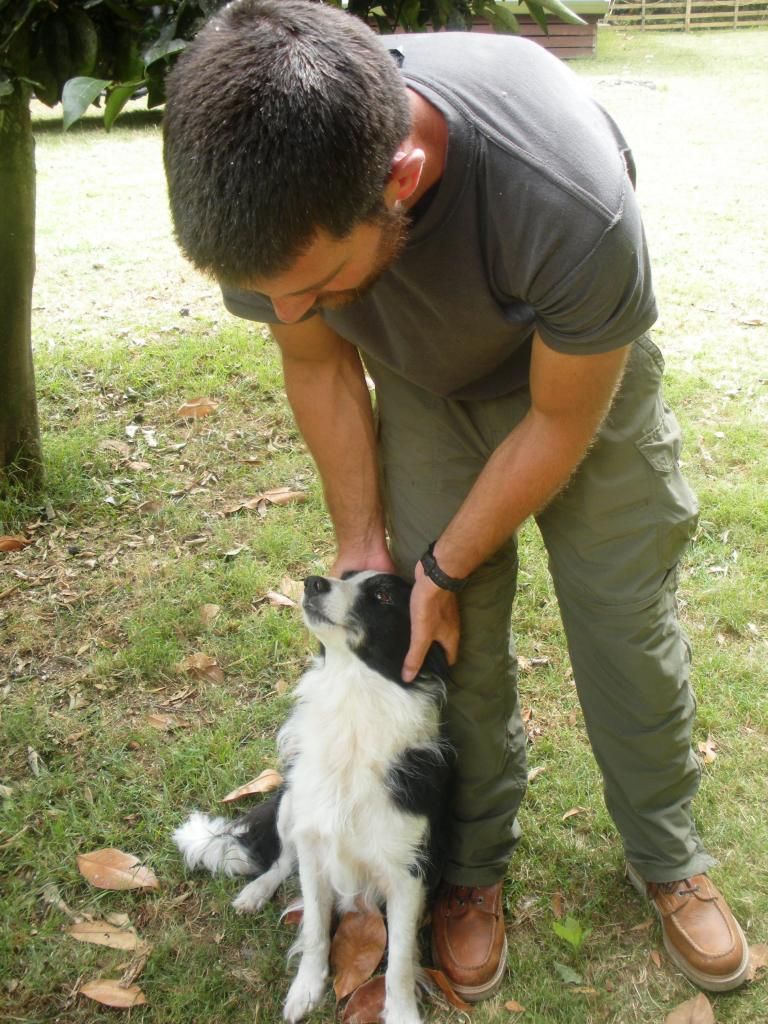 The next day's work was pretty easy and after an egg and toast breakfast Steve power-washed the fence in preparation for painting and I scrubbed down the window screens before moving on to the actual windows and then the outside furniture. The rest of morning entailed fence painting (Steve) and house cleaning (me-although it was remarkably spotless for a bachelor) before we broke for lunch. Over sandwiches and smoked fish John suggested that he drop us off at a local swimming hole for the afternoon, seeing as how it was Valentine's Day and all. Suits on and a 10 minute ride later, we found ourselves firmly in the middle of cow country and staring at a crystalline, cool and deserted swimming hole fed by a small river. John said he'd be back in about 3 hours, so we waved goodbye and set about splashing and marveling at the picture-perfect water which felt so good on our dusty skin after the morning's work. We crossed the swinging bridge, read and even enjoyed a hike up the trail before returning for our ride, although by this point the swimming hole was booming with locals who were swimming, BBQing and chucking sticks in the water for their dogs to chase.
Morning dawned crisp and dewy (and from our window we could see Becky's sweet little black and white muzzle poking out from her kennel) and though we had heard something about a tree needing to come down in the front yard, we set to work slathering green paint all over the fence until we received further instructions. Sure enough, John soon summoned us to the front yard where his Maori friend Walter, a tree climber, had monkeyed his way up a massive Australian Blackwood and was busily chainsawing away the branches. At only 25 years old it was a beast of a tree and crowded out the smaller fig and
feijoa fruit
trees, as well as several other natives John wanted to see grow. Thus, the next few work days consisted of us dragging limbs onto a cart behind an ATV and piling them high, strapping the load down and driving it between farms into a paddock where we repeated the process in reserve, heaving the heavy branches into a giant pit that would eventually be set on fire. It was enjoyable but exhausting and the scrapes and sore muscles accumulated rather quickly throughout the day, although it was rewarding to see the final result (even if watching trees being cut down makes me a bit sad).
On our last free afternoon Steve and I trudged down the road to the cemetery (I will always love them no matter where we are!) to check out a slice of rural history. Many had inscriptions from the turn of the century referring to "accidental" deaths, so we didn't know if they were related to farm equipment, animals, drowning or something else. At one point Steve called me over to a relatively fresh gravesite and pointed off to the side where a
little mailbox
stood rooted in the ground that had clearly been decorated by children with paint swirls and stickers that read "Heaven". The recently deceased woman had been a Grandmother (among other roles) and this simple way for her grandchildren to still communicate with her had us both bawling like babies in the country heat. What a tangible and heartfelt way to connect with someone who's gone before you! It even reminded me of the letter I
penned to Jayna
and left at her grave at the start of this adventure. I believe the written word can have a therapeutic power when dealing with death and Steve and I vowed to remember the little mailbox idea.
From the graveyard we made our way to the Hauraki Rail Trail, a trail that stretches for miles across the southern end of the Coromandel Peninsula and used to be the railway line used to move freight back in the day. Now it's a gravel path that meanders past dairy and sheep farms, over streams, alongside blackberry bushes (I even endured the pulsing of the electric fence to reach some of them) and through the Karangahake Gorge, though we didn't make it that far. Most people bike along it, but we enjoyed our slow walk and breaking for the cows and working dogs that periodically crossed our path. Back at John's I whipped up applesauce and an apple crumble in an attempt to make use of some of the apples dripping from his trees and the three of us enjoyed a Kiwi delicacy for dinner- whitebait patties. Whitebait are thin little translucent fish about an inch long that are mixed with egg, salt, pepper and a little flour before being pan fried. They're apparently quite pricey in restaurants, but we lucked out since John's friend had caught and passed them along instead. Tasty, tasty!
While one of our shorter Workaways due to extending our time north in the Bay of Islands, we nonetheless enjoyed volunteering in this little slice of rural bliss. The company was enjoyable, the food scrumptious, the work physical but fun and the animals a blessing to interact with. We hope John receives some quality Workawayers in the future, especially since I'm sure it can get lonely out in the country as a single guy, but we lucked out yet again with an incredible host. I gave him a hearty hug upon departure and he told us we were always welcome back if the winds blew us that way. New Zealand, your people and land continue to amaze!
Steve: Fortunately no possums were killed during the writing of this blog.