Arbeit Macht Frei
KRAKOW/AUSCHWITZ-BIRKENAU/WARSAW, POLAND: August 22-25
Steve
:
Arbeit macht frei
…"work makes you free." The words adorning the entrance to the site of one of humanity's lowest points, Auschwitz. I could use this as a lead in to part of the reason Leah and I took this trip: as Americans we have some of the toughest work schedules that often stifles time for creativity, exploration and travel. However we are still lucky and privileged to be the citizens we are—in fact I liked my job—and to dwell on this in light of our visit to Auschwitz and the nearby camp of Birkenau would be in itself an affront to the millions who suffered during the Holocaust. Unlike the hundreds of thousands who saw that sign during the 1940's (some of whom may have believed it) we were merely visitors viewing tragedy from the vantage point of the future, able to pass through the quiet hallowed grounds, imagine the unimaginable, and just as easily leave. A visit to this place will always stick with you; it will forever be the first thing we think of when we recall our trip to Poland.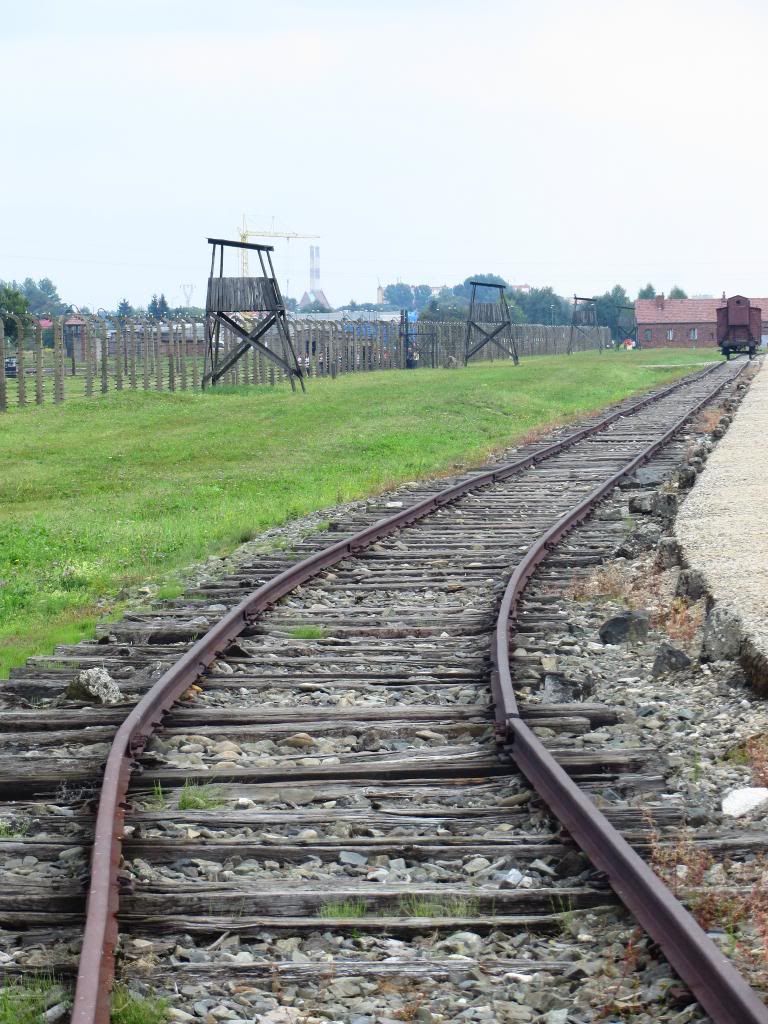 I should really back up and talk about the rest of our visit before delving into Auschwitz-Birkenau since this EU country is the first time we truly felt like we were in Europe. Leaving on an overnight bus from Lviv we happened upon a group of six or seven Poles who were returning from a hiking trip in southern Ukraine. They were quite friendly and spoke fluent English so they were able to give us the lowdown on any questions we had about our upcoming border crossing. We knew right away that things were taking a drastic turn from the difficulties we had communicating and travelling in Ukraine. Indeed the border crossing was ridiculously easy—just sat on the bus as they processed our passports. The only snafu was that our bus, which seemed nice enough, decided that it didn't want to move anymore around 3 A.M. So we had to half-sleep in our not-quite-sleeping-friendly seats until a replacement rescued us around 6 A.M. We still made it to Krakow in one piece and despite our weariness were immediately enthralled.
Due to our Schengen visa time restraints we only had several days allotted for Poland and I'm deeply disappointed we didn't have more time. I can honestly say that Krakow is one of the most beautiful and interesting cities we have yet to come across (
Leah:
I second that). A city steeped in history—both tragic and wonderful—with a well tended old town and revamped Jewish quarter, Krakow was generally untouched from WWII unlike its big sister, Warsaw. It is easily walkable and around every corner there is something to see, be it an antique church, castle, or the site of some piece of world history. During our visit we stayed at the
Good ByeLenin Hostel
(going with quite the Soviet theme, yes we know!) which was situated in a prime location within Kazimierz, Krakow's historic Jewish district. From there we were within 5 minutes walk to restaurants and shops, 10 minutes walk to old town, and 15 minutes from the train/bus station. And did I mention that pretty much everyone spoke English or at least attempted to help us?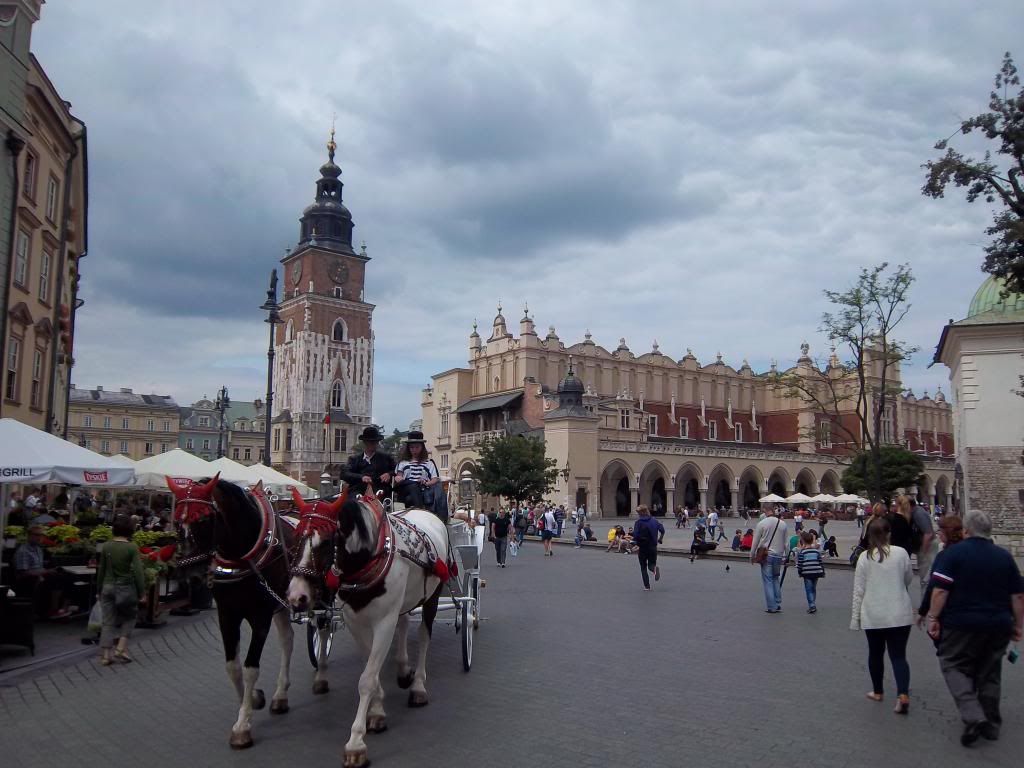 Leah
: One of my favorite examples happened at the post office. We had decided to mail home some of our summer garb and assorted tsotchkes in order to lighten our packs and make room for the serious winter wear we'd need up in Finland. We bought a box at the post office, packed it up and trudged back to mail it off, having no idea what our experience would be. I grabbed what I thought was the appropriate mailer label and stood in line, but soon a middle-aged female employee bustled around from behind the desk, waving a different form and with a broad smile emphasized that the form I currently held was "Polski, Polski"—only for mail within Poland. She led me over to a table, indicated in sign language and Polish what I should fill out (luckily the form was also in French or I would have been sufficiently SOL) and even brought us some scissors and showed us how to cut and affix the mailing tape that was included with the box (do you hear that, US Postal Services?!). After we were taped up and good to go, she weighed and processed the box, her beatific smile and demeanor never waivering. She went above and beyond to help out two obviously clueless foreigners and despite the obvious language gap, this experience provided a stark contrast to most of our time in the country that begins with a "U" and rhymes with "pain" and further endeared me to the little I'd seen of magnificent Poland.
Steve: Tidbits aside, this brings us to the most memorable aspect of our visit—the World War II concentration camps of Auschwitz and Birkenau. Originally known as Oswiecim and Brzizenka in Polish, these death camps will forever be known by their German names. Leah and I had originally planned on visiting on our own by taking a bus from the central station and getting there before 10 a.m. (between 10 a.m. and 3 p.m. visitors are required to join a paid tour), however this also meant a very early morning and forfeiting our free hostel breakfast (Leah: neither of which sounded great, especially after our night of no sleep while crossing the border the night before). Ergo we opted to pay up for a package with See Krakow Tours and were picked up from the front of our hostel with plenty of time for a coffee or two. Upon arriving at Auschwitz we were able to bypass the long lines but essentially received a park guide just like everyone else.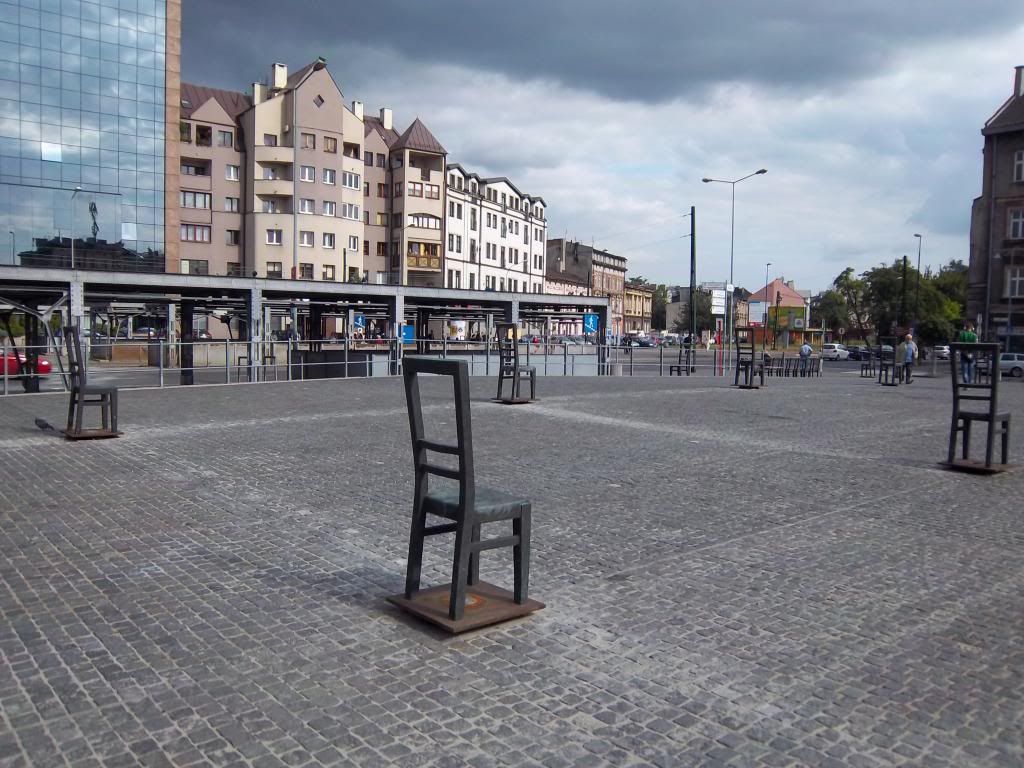 In hindsight I am glad that we took a guided tour in lieu of saving a few bucks by walking the site on our own. To have a fellow human being tell us the stories of this veritable cemetery made all the difference. Our guide was essentially a surrogate for the walls, although if they could talk I'm sure the story would be even darker. We walked through dormitory after dormitory, some virtually untouched and others turned into museum exhibits. One room was filled with nothing but human hair—1,950 kilograms of ponytails, locks, and wavy curls that were culled from Jews, Poles, Gypsies and other unfortunate victims of Nazi depravity. Other rooms had piles of suitcases that at one time held people's entire possessions; another was filled with eyeglasses and another with walking sticks, crutches and prostheses. (
Leah:
Having been to the Holocaust Museum in Washington D.C. I was reasonably prepared for what I might see, but the display case of infant and children's shoes in a variety of faded colors, so miniscule and forlorn was what did me in). Seeing as how roughly 75% of Auschwitz and Birkenau's inhabitants were immediately gassed and cremated these items were no longer needed and were simply piled up (or pillaged if their Nazi captors so desired).
I won't go into too much detail on the specifics of the atrocities that occurred at these dreadful camps—any Google search could probably give better detail than I ever could. I will however mention one of the most touching moments of our visit (besides the room with hair of course…I had a lump in my throat the whole time). Our guide took us down into a dormitory adjacent to a firing line that formerly housed prisoners awaiting execution. In the basement were cells for solitary confinement, some situated as such that prisoners had no choice but to remain standing despite their exhaustion. Then we came to the cell were Saint Maximilian Kolbe spent his final days. For those who might not be familiar with his story, Father Kolbe was a Catholic priest who was detained for no reason other than that. While in Auschwitz he stepped in to take the place of a fellow prisoner, with a wife and children no less, who was sentenced to die as a proxy for other escaped prisoners. The cell that I stood in front of housed a man who willingly chose to die in squalor, starving and exhausted. The sight will stay with me forever.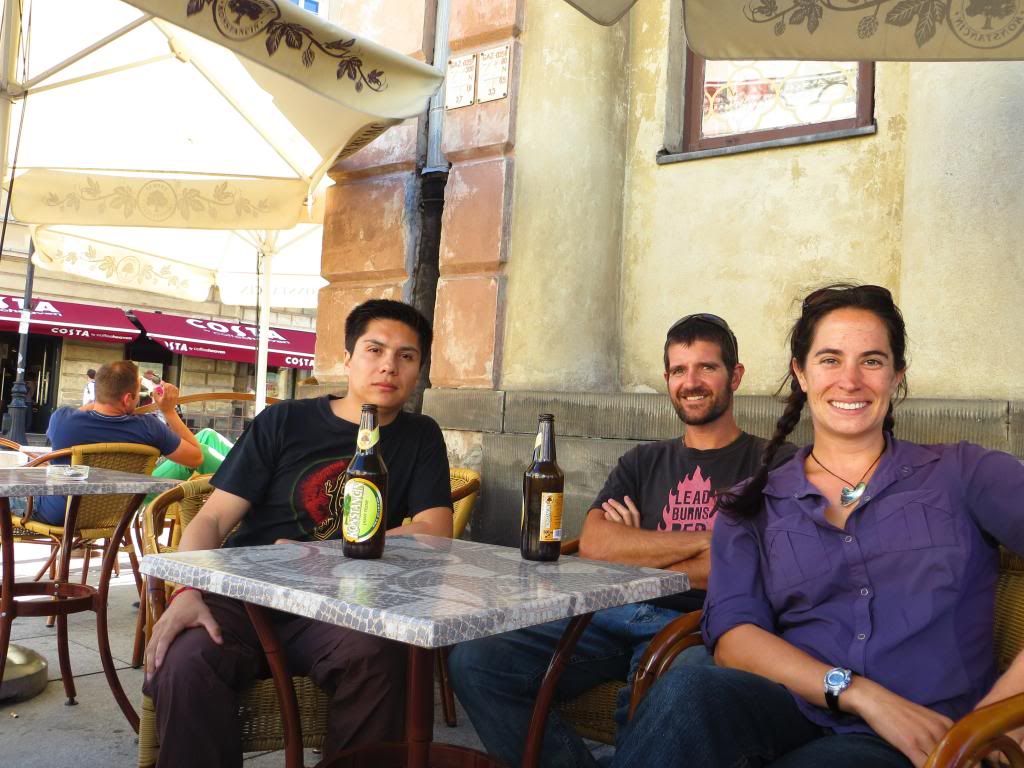 The day before our visit to Auschwitz-Birkenau, Leah and I joined one of Krakow's free walking tours. To prep ourselves we opted for the Jewish Quarter tour in lieu of Old Town, which I'm sure was excellent, however we figured we would stick with the whole Jewish theme. Our guide took us to the site of Krakow's original synagogues, cemeteries and the home of its original thriving Jewish community (
Leah:
although we were informed that currently only 100 Jews regularly attend services at the one still-functioning synagogue as a result of the WW II exodus and exterminations). We saw several locations which were used for the filming of Spielberg's
Schindler's List
, many of which were authentic sites of Krakow's WWII-era Jewish communities. One interesting factoid though: we ended our tour with a visit to Podgorze, the site of the actual ghetto set up by the Nazis during the war. Since much of this area was not properly preserved (it has not been recognized as a UNESCO site) it has been altered by newer construction or fallen into disrepair. As such Spielberg and his crew used Kazimierz as the setting for the ghetto even though it was actually inhabited by non-Jews or Germans during this period.
Leah: We rounded out our lightning-fast tour through Poland with a few days in Warsaw, if only because we'd be flying out of there to Estonia. Fortunately Couchsurfing came through for us here and we were all set to bunk down with an Ecuadorian named Nelson, right after we disembarked from our five hour WiFi-equipped bus ride. Nelson met his Polish wife while on a work exchange program in The Grand Canyon National Park and after living and working in Ecuador for a year, they headed to Poland where they've been for four years (although she was working in Australia during our visit and we never met her). It was lovely being able to discuss Ecuador with a local and although we didn't brush up on our Spanish, these three amigos quite enjoyed ourselves. Nelson entertained us with a host of stories about his time in the US and even a handful of stories revolving around coincidences that were just a bit too uncanny to believe (like running into a guy he used to watch soccer with in Brooklyn, NY when he popped into a corner mart in Warsaw years later).
Since we really only had a day and change while in Warsaw, we had to prioritize and after recalling previous conversations with other Poles on our trip and talking with Nelson it was agreed that the
Warsaw Uprising Museum
would have to happen. We've had the privilege of seeing some pretty remarkable museums around the world but this one would rank among my top 3, right alongside Te Papa in New Zealand and the Genocide Museum in Armenia. Opened in 2004, the museum is housed in a former tram power station consisting of several floors and darkened lighting while featuring interactive audiovisual and tactile exhibits. It tells the story of the Nazi occupation of Warsaw during WWII, the eventual uprising by and subsequent slaughter of the Polish resistance movement, the demolition of the city as the Nazis retreated and the passive role the Soviets played before they moved in post-war to enact their own regime and campaign of terror.
Just as with Auschwitz, there are no words that accurately encapsulate the feelings and emotions one experiences seeing and hearing what human beings are capable of doing to one another. The rooms all wove into one another, telling the timeline story through personal artifacts, archival movies, pictures, letters, uniforms, weapons and more. Particularly poignant for me were the exhibits featuring the role the Polish Scouts—both girls and boys—played in the resistance. These brave youth, sometimes no older than 9 or 10, acted as couriers for sensitive information, fought and died in the streets, tended the wounded and even navigated the fetid and dank sewer system to bring messages, supplies and food back and forth throughout the beleaguered city. It is simply incomprehensible to realize that much of the city and its environs were completely razed to the ground and/or burned as the Nazis fled and that it's been rebuilt in 70 years. It was one thing to look at Dubai and appreciate a thriving metropolis that sprung from nothing in as much time, but to walk through a rebuilt modern Warsaw, a city that had risen from the ashes was truly something that gave me pause.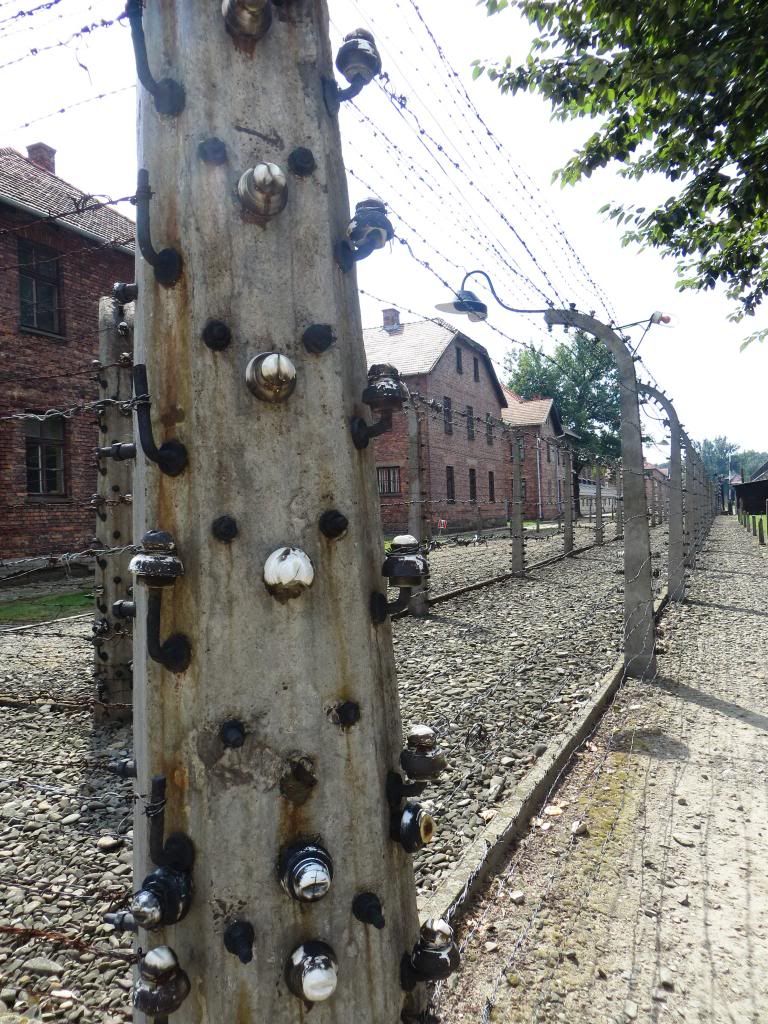 Even after we left the museum, history confronted us. On many corners in the Old Town (which was completely demolished and had to be rebuilt from scratch) Nelson pointed out giant glass cubes sunk into the concrete across from major monuments, churches or public buildings. These cubes showed the 18
th
century paintings of Bernardo Bellotto depicting the exact structure as it was back then, which combined with old town plans were the basis for rebuilding the city. Simply amazing. We strolled, tasted street food and sipped local vodka for the better part of the day after leaving the museum, even stumbling upon a massive international cultural fair with dancing, food, performances and crafts spilling onto the cobbled streets. After engaging in the general revelry it was back to Nelson's to shower up and pack before heading to the airport for a dreaded night in uncomfortable metal chairs to ensure we were there for our early morning flight to Estonia (public transport wouldn't run that early and there was no way we'd fork out for a cab).
I speak for us both when I say that we both have a keen desire to come back and not only see more of these cities, but more of this incredible country; we've talked to so many travelers who have not only fallen in love with the land, but often her people, and we know that there's still much to explore. It so happened that the defining moments of this particular trip were steeped in WWII atrocities and horrific acts against Jewish people and other minorities, and we saw things that needed to be seen for us to contextualize history and our own backgrounds and privilege. Thank you to Poland and your people, for letting us glimpse the window to your soul and sparking the flame that will bring us back.