Baby Moon
TALLINN/KURESSAARE, ESTONIA: August 26-30
Leah:
Nope, not pregnant. However, we viewed our time in Estonia as our final time to be together as a couple before 2.5 months of sleepless nights and putting our needs second to another living being who will depend on us to survive. Make that 100+ furry and barking other beings and you may begin to understand why we dubbed our Estonian foray our "Baby Moon", typically a term used to describe a final romantic fling between soon-to-be-parents before baby arrives. For that reason there's really not much to describe, so I'll resort to my beloved bullet point system.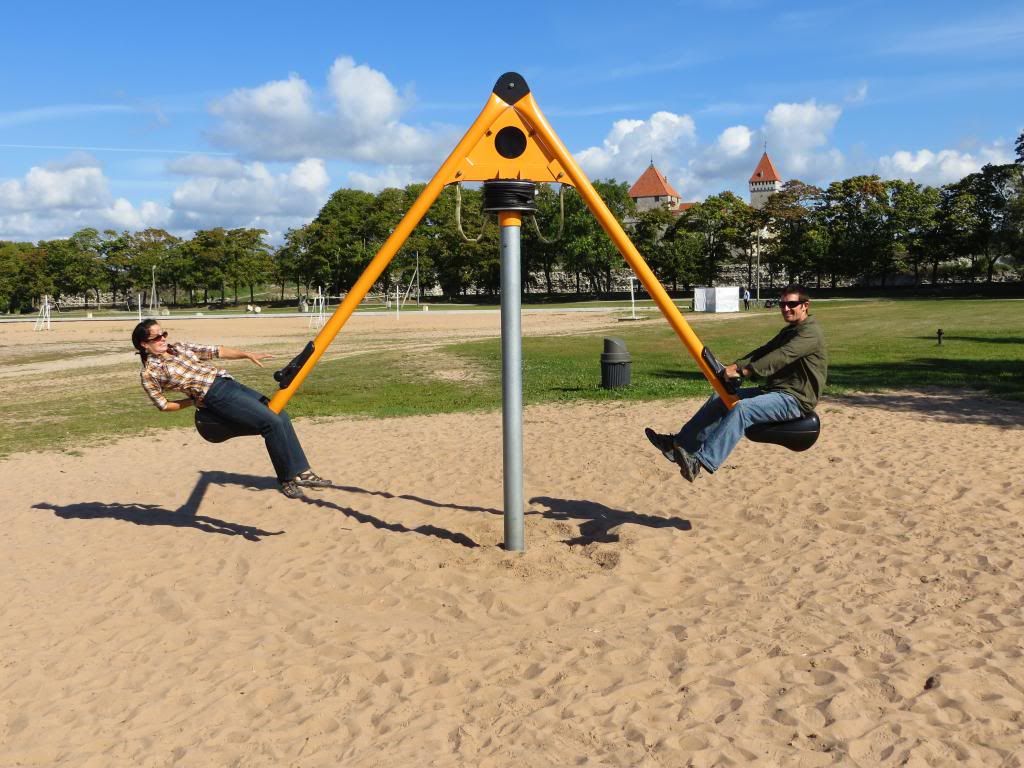 *Tallinn was a lovely waterfront city steeped with history, but compared to some of the cities we had recently come from, it wasn't as aesthetically gripping for me. The Old Town was a winding labyrinth of cobbled streets, historic buildings and orthodox churches with the ubiquitous amber jewelry and knitted clothing shops tucked between. And of course the one museum I actually wanted to see--the Health Museum, was closed for renovation. So unfortunately I didn't get to gape at a recently embalmed body or life-sized realistic depictions of what happens to male and female genitalia if sexually transmitted infections are left to languish without treatment. I was pretty much gutted, although we consoled ourselves with a trip to the movies to see the new Matt Damon flick,
Elysium
. We also had all our Couchsurfing requests turned down for various reasons, so I didn't have an opportunity to talk to locals about another interest of mine- human trafficking, which is quite prevalent in the region. We did debate going to the prison museum to take a gander at the Soviet era penal system, but my beloved metal-head husband responded with, "Actually, I'd rather go shopping." Cue next bullet point.
The 16 Eur Hostel
, pointed us in the direction of some local thrift shops and we were off. We quickly fell in love with the Humana and USA Today second hand shops, both of which offered exactly what we needed in terms of fleeces, thermal layers, hats, wool socks and jeans that would hopefully stand up to husky nails. It did kill me to see pristine pieces from pricey US brands like Ann Taylor Loft and Banana Republic among the racks for mere dollars--I could have filled an entire box with professional garb and shipped it home, but unfortunately we were only looking for scruffy things that would keep us warm and could get destroyed without causing any grief. A local sports store rounded us out with several types of gloves and more thermals, while a local supermarket completed the puzzle with cheap wellies (rain boots that can stand up to husky poo and Lapland mud). Laden with way too many bags we bemoaned how this would ever fit in our packs, but we were stoked that we found what we needed and hopefully paid a bit less than we would have in neighboring Finland.
Kraavi Guesthouse
for a couple days, reachable after a four hour bus ride, ferry crossing and 15 minute walk from the bus station. We rented a private room in the guesthouse, surrounded by a veritable apple orchard (indeed, the entire island teems with the fruit) where seagulls could be heard in the morning and we had the entire property to ourselves the first night. Because there was no kitchen and we refused to patronize restaurants with the current exchange rate, the first thing we did was hop into the grocery store where we only bought food for meals that could be created using boiling water from our hotpot or assembled from refrigerated ingredients. Therefore, we survived off yogurt and croissants for breakfast, vegetable and hummus wraps for lunch and cup of soup and beer/cider for dinner. Oh yeah, and all the apples we could stomach. We also found another Humana thrift store on the island and picked up some scarves and extra shirts before cavorting on the local playground and laying on our backs in a field of clover on the water's edge, listening to the sound of the wind through the rushes. We giggled, caught up on email, slept in, watched movies on our laptop in the room and generally relished our last few days of freedom before our lives are taken over by fur babies and living with other volunteers. The island almost felt a bit like how I remembered my childhood trips to Martha's Vineyard, but even less populated and more serene.
CLICK FOR PICTURES OF
TALLINN
and
KURESSAARE
BUDGET SYNOPSIS