Слава Україні
LVIV, UKRAINE: August 17-21
Leah:
Can't read the blog title? Yeah, welcome to our world. Ah, former Soviet block...I wanted to see you because I'd never experienced anything like it in any of my previous world travels, but I can honestly say that I've had enough for now and will be quite happy to move on. Our overnight train from Brasov, Romania deposited us on time (gasp!) in the border town of Sighetu Marmatiei at around 7 a.m. and from there we only had to walk a little less than a mile to the border crossing with Ukraine. This town also happens to be where the Holocaust survivor, author and Nobel Peace Prize winner Elie Wiesel was born and lived from 1928-1944 before being deported to Auschwitz. We walked by the former family home-now a museum-to pay our respects, but unfortunately it wouldn't be open for another three hours so we grabbed some breakfast and headed for the border (check out the few pictures we took
here
).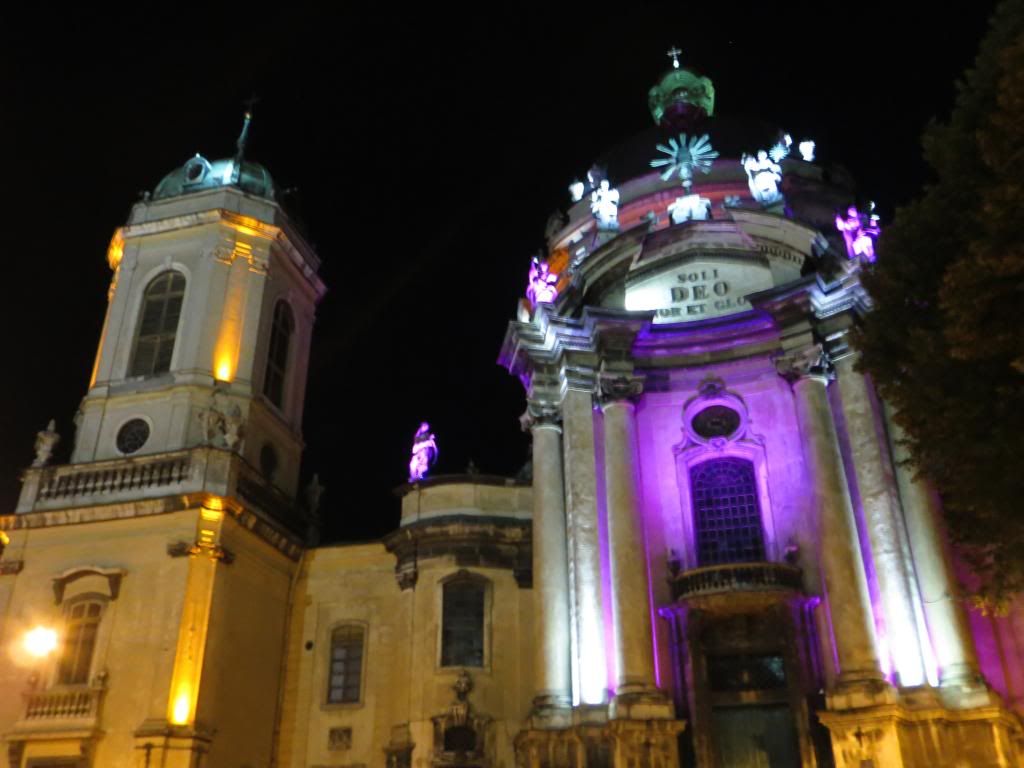 The crossing itself was one of the easiest and most informal of the trip-no paperwork, no bag checks, just a few stamps and a wave on through. We had researched that once in Ukraine, we'd catch a slow overnight train from Solotvyno/Rakhiv, right across the border, which would take us to Lviv overnight. Super! So up we marched to the dinky ticket window with our request written out in Cyrillic that we had copied from our guidebook, ready to play the charade game to secure our seats. Imagine our crushing dismay when the ticket woman conveyed that the next available train to Lviv wouldn't be until four days later; we managed to learn that a bus was possible and she vaguely waved us toward the part of town where we assumed there'd be a bus station.
We asked several locals for the bus in Ukrainian and they all kept pointing straight ahead. We also had no local currency,
hryvnia
, as we wanted to see how much transport would cost to determine what we would take out of the ATM- there had been no money exchange options on either side of the border. So off we trucked, further and further out of town in search of this phantom bus station. It was the middle of the day, we'd been on an overnight train (and slept like crap) and we were hauling all our stuff to God knows where. Of course nothing good ever comes from a scenario starting like this. After a few miles of slogging along a road surrounded by a whole lot of nothing, one of my bags dropped and the cranberry beer I had been saving from Romania punctured and sprayed all over my pants and soaked my bag. To add insult to injury, by the time we reached the next town we learned that not only was there no ATM, but that you have to flag down buses on the highway- there was no bus station.
We couldn't have been more grateful and I hastily scribbled "America loves Ukraine!" on the back of one of the business cards that has our emails and blog addresses that we carry and handed it to her, all while smiling like a fool and saying "thank you" over and over in Ukrainian. However, her demeanor then did a flip flop as she sullenly held out her hand and demanded money; gone was the exuberant, kindly woman who had pulled over and rejoiced at the knowledge that she had met Americans who needed help. I thought she said "5", so once my initial shock wore off I had to race around finding change for the 200 denomination bill I had just received from the ATM. I then went to hand her 5 hryvnia, but then she snatched 40 from my hand and put them in her purse on the front seat, which I promptly snatched back. She then acquiesced and took 40, giving me back a 10 before I got fed up, threw up my hands and walked away. Welcome to Ukraine.
However, it was fast approaching 2 p.m. and we didn't want to be stuck in this miserable place overnight. The minutes ticked by...1:30, 1:41, 1:48, 1:53. Our moods were black once again and in desperation I said a prayer to my angels to act as intercessors on our behalf and help us out on this dismal, disappointing day. It was literally about 1:59 when a bus pulled over and the driver didn't say no when I asked if he was going to Lviv. However, through his gestures and words I understood that this bus would take us somewhere (couldn't understand the city) where we'd have to transfer to a train to Lviv. With no map and no idea of what time we'd be rolling in to any of these places, Steve and I decided that we'd forgo this one and call it a day. I thanked the driver and walked dejectedly back to the curb, only to realize once there that the driver refused to leave and was beckoning me back.
here
), answered in perfect accented English that he was Polish but could help us out. With his assitance we learned where we'd be going (3.5 hours away to Mukacheve), how much the bus cost ($5/person) and that there were both more buses and trains that should carry us onward from that point. We heaved ourselves onto that bus faster than humanly possible and soon latched onto Wojtek's every word. He was apparently writing a travel guide to western Ukraine for a Polish publishing company and called Krakow home, so soon we found ourselves soliciting advice for our upcoming days in his city, as well as telling him stories about our trip. It was music to our ears to speak in English and he even filled a few notebook pages with hostels, restaurants and insider advice to make our time in Poland that much easier. The hours flew by and soon we found ourselves saying goodbye to our Heaven-sent helper as the bus dropped us off at the train station in Mukacheve and he assured us that the other passengers said we could catch a train to Lviv from there.
Once inside the train terminal we stared at the timetable in a vain effort to determine when trains were departing for Lviv (we knew what the word looked like in Cyrillic but it wasn't helping us much), before Steve headed to the ticket window to attempt to book us some tickets. The first woman shrugged off his attempts at Ukrainian with a frown and provided no help before we regrouped and he attempted another window. The second woman was a bit more helpful and somehow communicated that all trains would pass through Lviv on their way to Kiev. We picked a time and paid the fair but understood nothing she tried to tell us about where our seats were, what platform the train would arrive on and how we could expect to board.
Low and behold we met Allie, a Peace Corps volunteer from California who had graduated from Steve's former high school and was just a month away from wrapping up her Peace Corps stint teaching English. We chatted for a bit and she deciphered our tickets for us and explained what to do and where to sit just as the train pulled in. Having my prayers answered not once but several times that day was beyond overwhelming; as we sat in our berth compartment heading toward Lviv, the tears finally spilled over my cheeks. It had been a wretched and disastrous day and definitely one of the lowest of the trip. The language barrier was one of the most intense we had encountered since leaving the US, we weren't prepared for making alternate arrangements when we learned at the border that there wouldn't be a train to Lviv for days, and the local treatment we had received left much to be desired. Yet here were against all odds on our way to our destination, thanks to some earthly angels and what I'm absolutely convinced was divine intervention.
Soviet Home Hostel
occupied what used to be a former flat and Soviet era propaganda, money, books, appliances and even TVs decorated the rooms. We loved our bunk-bed private room and how the resident cat, Tovazisch (which means "comrade"), seemed to adopt us as his own by sleeping on my bed, curling up on my lap and play nipping my chin at breakfast and using our window to walk the balconies back and forth between the rooms, which made me way too nervous.
The rest of our time in this feast-for-the-eyes (and taste buds and ears...) city was a mixed bag for me. I found myself in a daily battle against Lviv's "perception of similarity" and it definitely left me drained more often than not. When I'm in a developing country where the infrastructure is so obviously sparse/lacking, or surrounded by a culture where even the people look markedly different from me, it's easier to let everything go and remember that cultural clashes will occur and frustrations will crop up. However, Lviv looked and felt like a familiar western city on the surface, but the undercurrent remained starkly different.
For being a Euro 2012 host (a massive European soccer tournament), known as the progressive Ukrainian jewel of the west and mecca of culture, coffee and chocolate, I was surprised at how tourist unfriendly the city felt. Sure, there were street signs translating the Cyrillic to Roman characters and a tourist office featured in the square, but it just seemed odd to be a soccer mecca for all of Europe less than a year ago, yet now have waitresses who deigned wait on us with a scowl and international train ticket ladies who crossed their arms and shook their heads, looking away when we tried to use our broken Ukrainian, pictographs and hand gestures to buy tickets.
Steve
: I enjoyed the city of Lviv (also known as Lvov thanks to its Polish heritage) but I also have to agree that our stay in Ukraine was highlighted by our struggles in the cultural arena. The Romanian town of Sighetu Marmatiei was absolutely lovely and we wished we could've had more time there; so it is in the context of this town that the stark juxtaposition of Solotvyne made our entry into Ukarine appear so disastrous. I think we've yet to go from one border town to another and have such a marked difference in development, culture and language. Anyways, enough of that...for a change I'm going to dwell on some of the highlights of our stay.
Walking through the old town and Jewish quarter Dennis took us to too many churches to name, many formerly being Roman Catholic but now Greek Catholic, and pointed out numerous landmarks and historical buildings. We saw some of the city's most important public art, entertaining buskers and eclectic storefronts like the Dim Legend, a cafe whose bronze dragon "
breathes fire
" to an eager crowd every night around 9:24 p.m. He also made it a point to show us where the best and cheapest places to eat were to be found. Based on his recommendations we planned out our meals and made it to these fine establishments:
-
The White Lion
- a restaurant pub where for 80 UAH (about $10) you can get 1 kilo of dumplings that will leave you absolutely stuffed for the rest of the day. I still have dreams about the grilled mushroom and garlic sauce appetizer.
- Agape - a slightly hidden eatery underground and behind the Bernardine Monastery. Dimly lit and very cozy, this came highly recommended for its Ukrainian dishes. I had my first taste of
borscht
, Ukraine's staple dish that is essentially beet soup; it was absolutely amazing and plan to figure out a recipe for back home. We also tried
uzvar
which was described by Dennis as a sort of fruit compote. It is actually a cider-like liquid that taste a little bit like fruit and mostly like burnt underwear. I'm sorry, but it was hideous. And that's saying a lot coming from this human garbage disposal.
Kryjivka
- Maybe the coolest bar/restaurant that I've ever been to. Located at Rynok Square, you approach an unmarked door and after knocking an old man holding an AK-47 (fake, of course) asks you for the password. You reply "Slava Ukraini," (Glory to Ukraine) and he then responds with "Herovam Slava" (Glory to it heroes), which was the Ukrainian Insurgent Army greeting back when they waged guerrilla war against the Nazis and Soviet Union in the mid to late 1940s. At this point he opens the door, shuffles you in and pours you a shot of honey vodka. You are then allowed to descend steps into a tastefully decorated restaurant that resembles a Ukrainian bunker during the resistance against Soviet occupation. Seats are scattered throughout the maze-like tunnels and they were mostly occupied--this place was hopping, even playing host to a wedding reception. We were told that the food was less than mediocre but our appetizer was tasty (even if we didn't get what we actually ordered) and the drinks were cheap. Leah even got after me for asking for the check too early...she was up for another $1 honey vodka. It's okay though since this was only part of that evening's progressive dining; from here we ambled down to what would become our favorite spot in Ukraine:
-
Tex-Mex BBQ
- Seeing a flyer for this place put the idea of Mexican food into our burrito-deprived minds and after finally finding it we were not disappointed. Started and run by Mike, a cowboy-hat-wearing-red-blooded American from Castle Rock, Colorado, this place is the real deal. With a menu comprised of real Mexican food as well as American BBQ fare, we called this place our home for two evenings, sating ourselves on burritos, enchiladas, tacos, potato salad, refried beans, and baked potatoes (you got two sides with each entree). This place has been referred to as "the American consulate in Lviv" by many local expats and with the constantly running country soundtrack you can see why. We were so taken aback by the ambiance that upon receiving her (first) margarita Leah being to cry--it smelled and tasted like the Las Brisas margies that she used to get back in Colorado. And the real kicker? We were asked during both of our meals how everything was and if our server could get us anything else. Funny as it sounds we were seriously both in shock because this is something that we really haven't experienced since leaving the States. Upon leaving we had to congratulate Mike on a job very well done. (
Leah:
There have been a few times on this trip when I wanted to go home, but I'd never experienced crushing homesickness until I smelled that divine tequila and sweet and sour on the rocks. It made me want to curl up on my parent's couch in my PJs, drink my dad's margarita, eat my mom's beef barley soup and escape from everything. I cried at the margarita, cried when our server asked how everything was going and pretty much felt like I was being ripped from the womb when we left. Pretty nuts how an olfactory and taste experience can trigger so much).
Lychakiv Cemetery
a sprawling park that is home to hundreds of thousands of Lviv's past citizens. Some people have commented on our seemingly morbid fascination with cemeteries but we still defend our notion that they are some of the most peaceful and meaningful places within a city; a stroll through a cemetery is like a free (or in this case, cheap) anthropology lesson. Lychakiv has several war memorials and is home to an untold number of soldiers, celebrities, politicians, academics and everyday Ukrainians. This was another great recommendation from Dennis and proved to be an afternoon well spent.
All in all Lviv is a beautiful, entertaining and charming European city (
Leah:
and the chocolate is to die for...I bought 12 full sized bars of my favorite kind for Finland, which happens to be 72% dark chocolate and loaded with white chocolate-covered cacao nibs. Quite possibly the best chocolate bar experience I've had anywhere in the world, hands down.) Had we flown into Lviv maybe we would have had a slightly different perception of Ukraine, but then again maybe not. I'll be the first to admit that you can't label a place or a people based on such as short stay but I think there is something to the affectation-less customer service reps and grim townspeople...a life under Soviet rule perhaps? I recant, I shouldn't be one to judge. Instead we should focus on Ukrainians like Dennis who showed us that hopefulness, passion and friendliness lie beneath the hard socialist exterior of Ukraine's past. With that I say "goodbye Ukraine" as we make our way west into the Schengen territory of Poland and closer to our date with the huskies.
lava Ukrayini
and means "Glory to Ukraine." Time for another vodka shot!
CLICK HERE FOR
PICTURES
CLICK HERE FOR UKRAINE
BUDGET SYNOPSIS