The Greatest (no) Show on Earth
VELIKO TARNOVO, BULGARIA: August 1-3, 2013
Feeling like we had been ripped from the womb we had created at Mel and Darren's, we chugged away on a slow train to Veliko Tarnovo, otherwise known as VT and the third largest city in Bulgaria. We wanted to give ourselves a breather since we were due for another Workaway shortly in Romania and Steve still wasn't feeling topnotch. Additionally, we had heard that VT was a delightful city with tons of charm and a rocking lightshow to boot, so we were in.
Seeing as how there was a
Hostel Mostel
in VT, we booked a couple of dorm beds there and the friendly staff even picked us up from the train station. The hostel was tiny with a family feel and we both loved how chunks of the walls had been artfully unfinished, leaving the old wood and mud frame architecture exposed while the modern plaster and paint job framed the sections like a piece of art. From here our time was a bit ridiculous: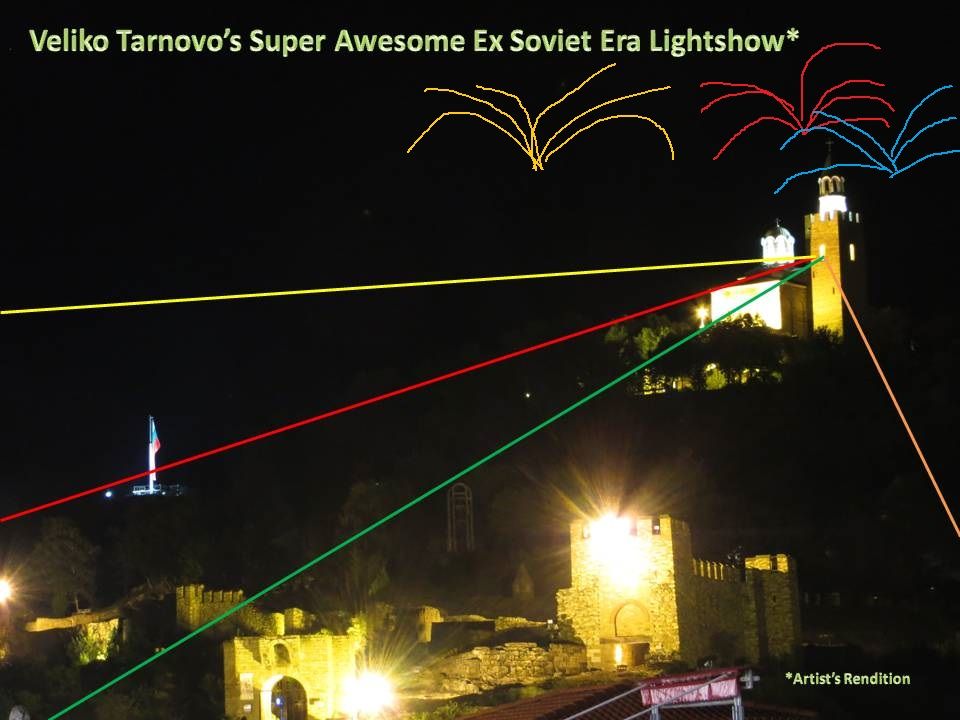 Day 1:
*lounged around after arriving at the hostel.
*devoured the homemade potato and herb soup made with spuds from the hostel's garden.
*walked to a vantage point at night to see the amazing sound and light show from the castle we'd heard so much about. Apparently it happens when tour groups buy tickets but then the rest of the city gets to see it for free. We waited for an hour in hope but were left on the rock wall drowning our sorrows in pizza flavored (
Steve:
flavoured
for you more refined types) potato chips and ice cream cones instead.
Day 2:
*walked into town for the daily free walking tour. We heard the guide hadn't showed the day before so we figured we were safe in attempting since he couldn't possibly miss two days in a row. Wrong.
*feeling bummed about no tour, we tried to find some event nearby promoting breastfeeding so we could check out what a Bulgarian breastfeeding demonstration looked like and stand in solidarity for a woman's right to nurse her child. Couldn't find the park/people.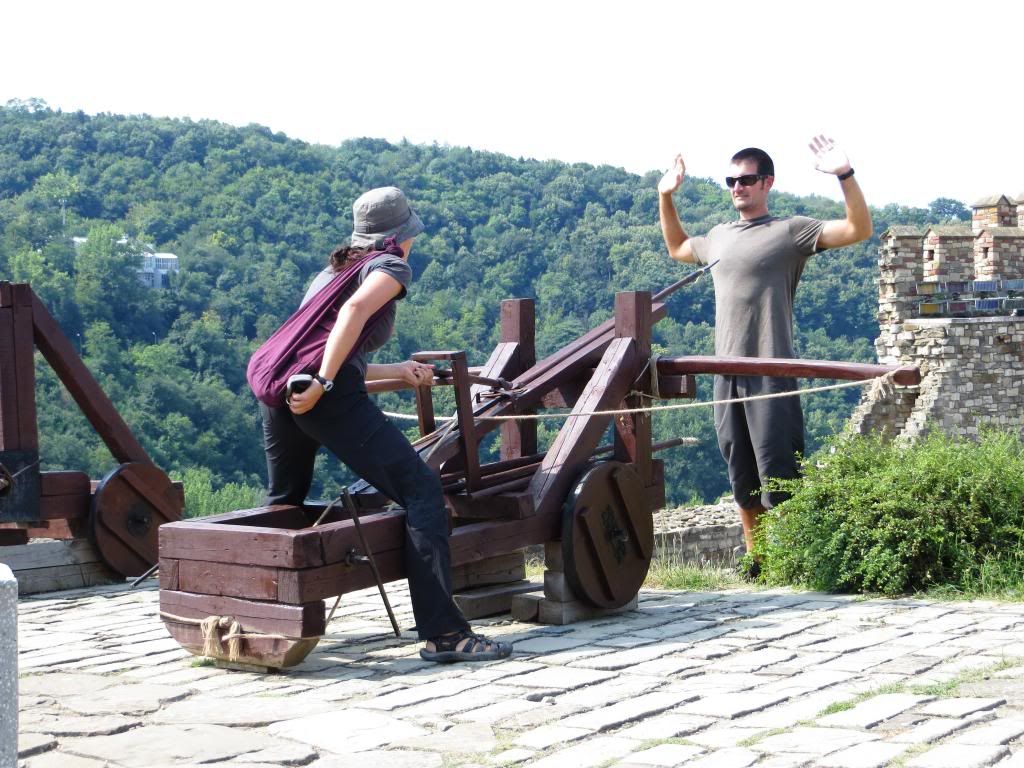 *walked down to the Monument of the Asens, which is a commemoration of the second Bulgarian empire established in 1185. Pretty statue sunk next to the river, but Steve was feeling blah.
*back to hostel, I sent out a bunch of Workaway requests for Ireland and Scotland while Steve napped, since he was still feeling like poo.
*watched the girls across the room scream when they found a small, yet living, black scorpion crawl out from under their suitcase.
*dinner of vegetable and rice stew
*back to the rock wall for attempted light show viewing. Thwarted yet again (tho by this point we were seriously addicted to our chosen chips and ice cream).
Day 3:
*headed up to
Tsarevets Castle
(where the light show supposedly happens). Cool to walk around, but the restoration job made everything look brand spanking new and it felt like we were strolling through a Medieval Times theme restaurant. On top of castle admission fees, you had to pay extra to take pictures in the church
and
to ride a dinky elevator to an observation deck. I had to pee and in protest at having to pay for that as well, I found a wooded hillside and dropped trou instead. I win!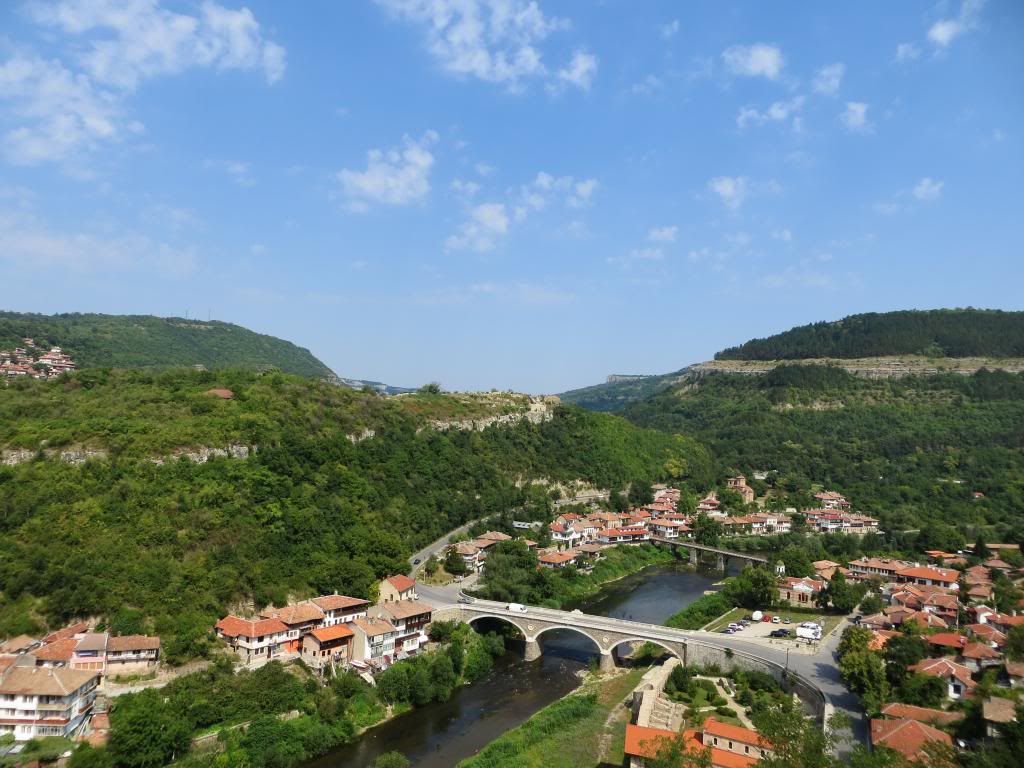 *ridiculously yummy lunch out at
Shtastliveca
(sorry, their page is all in Bulgarian) where we gorged on Bulgarian fried cheese, pizza and salad. Hey, at least we had salad.
*chill at the hostel during the heat of the day. Sent more Workaway requests.
*walked up to the
Prison Museum
, which we had been told was macabre and interesting. Despite being there during operating hours and having all the lights on inside, the door was chained shut and we couldn't see a soul. Waited for 20 minutes then left.
*dinner of lentil and veggie stew
*back to the same damned rock wall for third and final attempt. Abysmal failure and once again found solace through food; here's a YouTube of
the light show we never saw
. Stupid package tourists not paying for my free enjoyment of a top VT draw!
Steve:
I hope you all enjoy my artistic rendition of what I thought the light show would look like. After seeing the YouTube clip I feel that I fell a little short of the mark.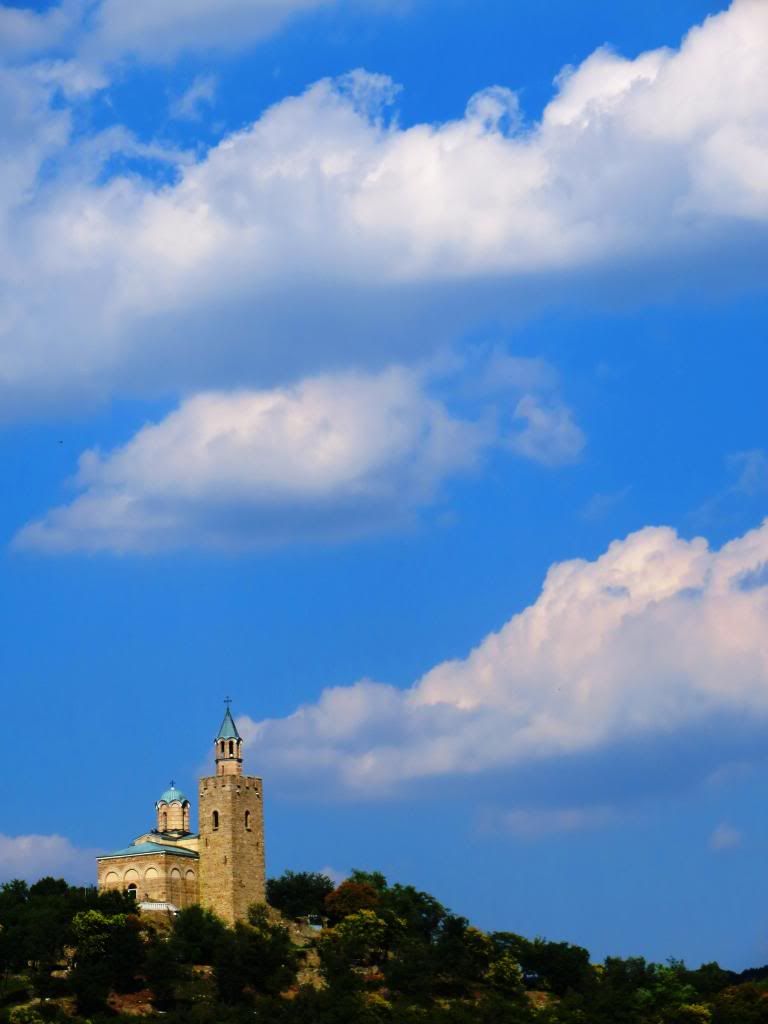 Leah:
Gotta love it. No walking tour, no museum, no sound and light show, but you can't say we didn't try. Hell, the most interesting thing was the scorpion in the dorm room! All in all it was a darling city and the old town where we stayed was well worth exploring. It was also nice to have nothing to do and we really didn't care that we were the social pariahs of the hostel, since we preferred to heal up Steve and read all day after our enjoyable but physically demanding stint with Mel and Darren. Ah, Bulgaria, you quirky beast you, you'll be missed.