A Break From the Road
PUERTO MONTT/TALCA, CHILE: January 14-19
Leah: Bring on the joy, energy, good food, comfy beds and street vendors---we're in Chile! Crossing the border had us in a state of happy delirium, which was further augmented by giggling at the antics of the friendly yellow lab who was on duty to sniff out produce, dairy and animal/wood products. Standing in lines with the other bus passengers and having our luggage extensively searched seemed a small inconvenience if it meant entering this topographically astounding and in every way diverse country we'd heard so much about. If you've been following the blog, you're well aware that Argentina was a struggle for us at times and one we slogged through for 2 months due to pre–existing plans we couldn't easily change. Once we crossed the border on our 8 hour bus ride from Bariloche, it felt like a weight had been lifted and our spirits cleansed.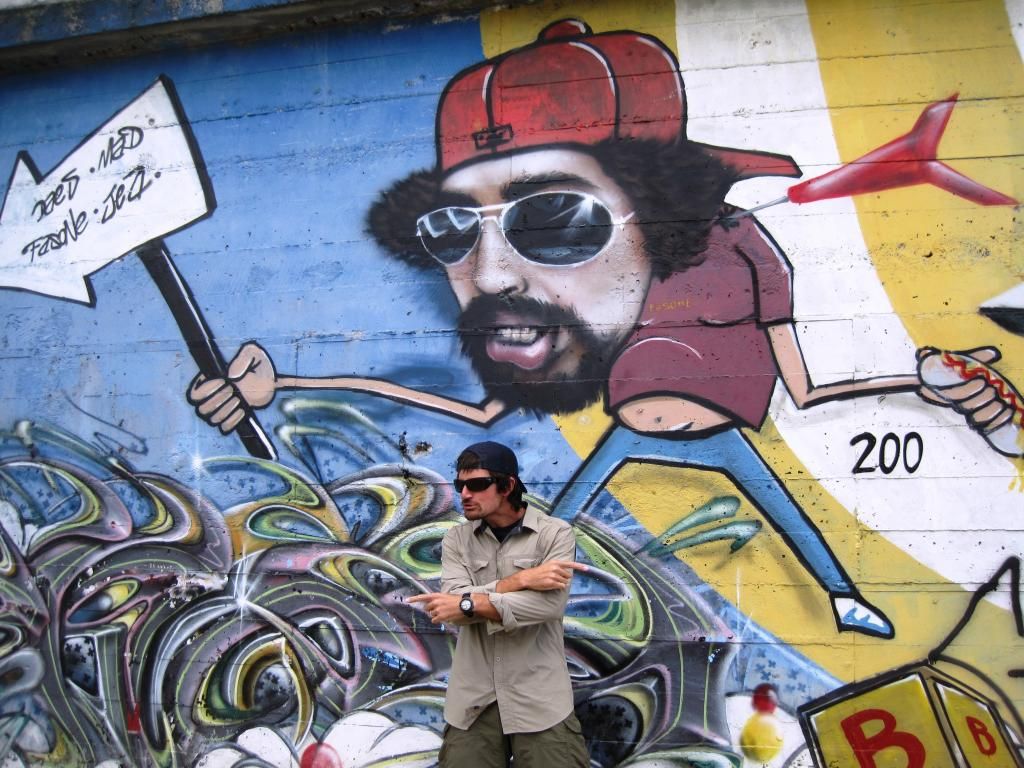 We chose Puerto Montt as the first stop on our Chilean excursion due to the proximity to water (sits right on an ocean bay), manageable size (population: 180,000), scenery (volcanoes everywhere) and logistics (major transport hub). Steve had pre-booked our lodging for the evening given our arrival time of close to 10 p.m.; as we made our way through the quickening descent of darkness up hills and down winding roads that swiftly brought us to a vantage point over the city, we reveled in how different it all felt here.
Granted, we were in a port city and from my time on
Semester at Sea
, I know that ports tend to be a little grittier and urban than the average city. However, it felt like we were back in Central America, or at least northern South America, and we hadn't realized just how much we had missed it all. Locals appeared darker in both skin and hair tone, dilapidated and weathered wooden-shingled houses nestled against bars with gaudy advertisements featuring scantily-clad ladies and ubiquitous street vendors hawked everything from wheelbarrows full of fresh cilantro to gaudy beach towels and cartons of picture-perfect raspberries. We instantly felt comfortable and at ease with this interesting new locale and our love affair with Chile was born.
Steve: I won't beat a dead horse here—Argentina was rough at times and might not have been all that we expected but it was also filled with good people, beautiful scenery and lasting memories. However crossing into Chile brought us back to basics and reminded us of some of the things we missed, cross-walks and pedestrians having the right-of-way for starters. Seriously. Cars stop for pedestrians here…we no longer felt like we were frogs in a game of Frogger. And as much as I love meat, it is nice having veggies options for your meals. That's right I said it, because you can have too much of a good thing.
Um, what else…oh buses. They're still nicer than most buses we've taken in South America but they're up to 75% cheaper for similar distances in Argentina. I refuse to dwell on the what-ifs or should-haves but we definitely could have stretched our dollars by spending more time in Chile than what we had previously allotted. The scenery thus far has been out of a fairytale book and we've only seen a tiny fraction of the country.
Lastly, there seems to be a general down-to-earthness emanating from the people in Chile. I can't stress enough how honestly grateful we were to have crossed paths with the people we did in Argentina—Lucho, Johnny and Claudia, Fede, Leo, and our hitchhiking commandants to name a few—but there is a different air from the people in Chile. They are less concerned with the fact that they are really Italians or Spaniards living in South America (truth be told, Chileans seem to be a mix of German, Spanish and the indigenous, with a heavier dose of the latter). Chile seems to have some of the class of Argentina but more of the customs and way of life that we saw in Ecuador, Peru and Bolivia. But this is just one (or two) American's perspective and right or wrong, it's just what I've seen.
Leah:
We'd be resting our heads for the next 3 nights at
Hospedaje Corina
, a phenomenal family-run guesthouse that Steve found online. For 10,000 pesos each ($21.14), we scored a private room in a pristine 7 bedroom home that appeared to cater more to the local travel crowd than our fellow backpackers. The room and bathroom were spotless, the common areas cozy and the included breakfast heaps ahead of most places in Argentina (cheese, homemade jam, yogurt!). We had a corner room, so not only could we enjoy an undisturbed and quiet sleep, but the two sets of windows opened onto a view of the entire downtown and port area, where we could salute the sun over the volcanoes in the morning and watch the ships come in to dock. And then there were the pillows---brand new thick memory foam and like manna from Heaven after some of the shredded and lumpy Styrofoam versions we've suffered through in the past. What a welcome to our final stop in South America!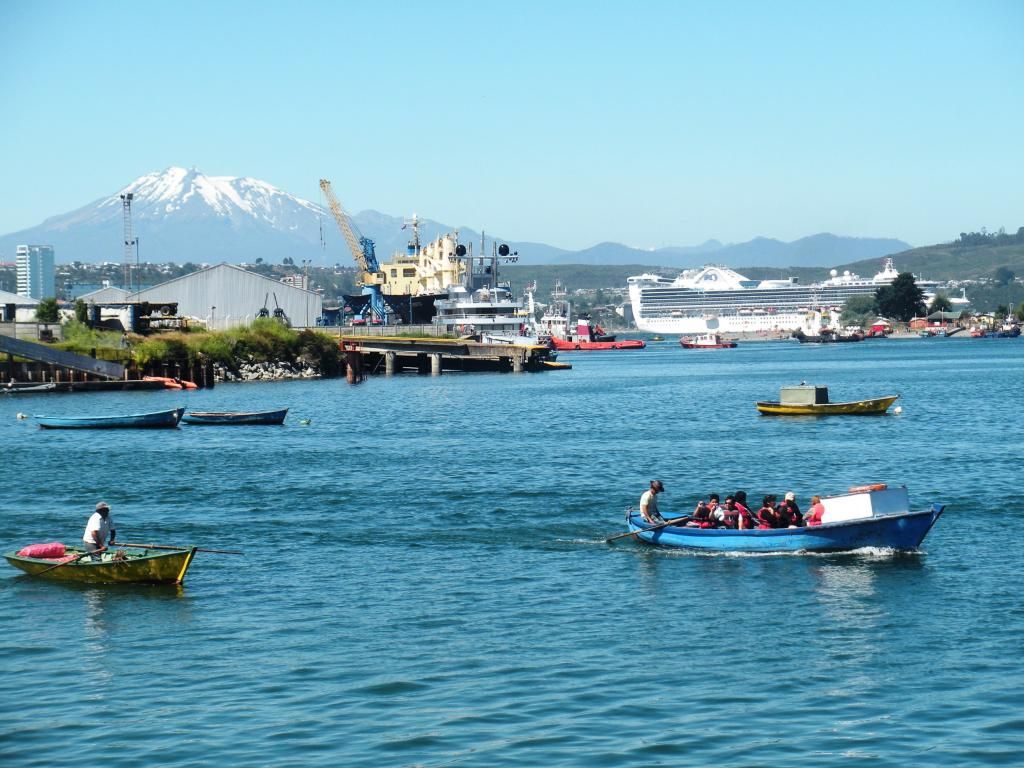 Our days were blessed with sun, a brisk breeze and plenty to see and do. Puerto Montt, capital of the Lake District in Chile, sprang up in demands to the salmon farming industry and also remains a jumping off point for travelers to the southern Patagonia region. There's also a heavy German settler influence in this part of the country, so we saw plenty of German flags, restaurants and organizations on our strolls though the relatively small downtown area. When we weren't buying $5 cans of refried beans to slather on tortillas (worth every damn penny), getting creeped out by the giant couple statue or popping into kitschy discount stores selling everything made in China, we walked a few kilometers outside of town and past artisan stalls to a small fishing hamlet, Angelmo. We even found a wall mural that eerily resembled my dear husband and had to snap a pic with him in front.
Salmon the size of a middle schooler, fresh and slimy undersea delicacies and seafood empanadas assailed our senses as we took in the frenzied scene of vendors unloading their catch, while locals made a few bucks ferrying people to and from Tenglo Island in their barely water-worthy dinghies. We also noticed that we seemed to be the only gringos around; there were hordes of tourists, but they all seemed to be South Americans on their family summer vacations. Keen to see a bit more of the Lake District, we also took a day trip to Puerto Varas, a tiny town on the edge of Lake Llanquihue and a perfectly delightful way to spend an afternoon, even if it was a bit chilly.
There was so much that we wanted to do here and yet again, if we could go back and allocate our time differently, we could have easily spent weeks dipping in and out of the adorable towns, hiking the lakes and gaping at the sugar-dusted volcanoes. However, our time in South America was drawing to a close and we had a few more days until we had to reach our Workaway, so we bid "Auf wiedersehen" to Puerto Montt and everything that made it wonderfully rough around the edges as we hopped a bus north.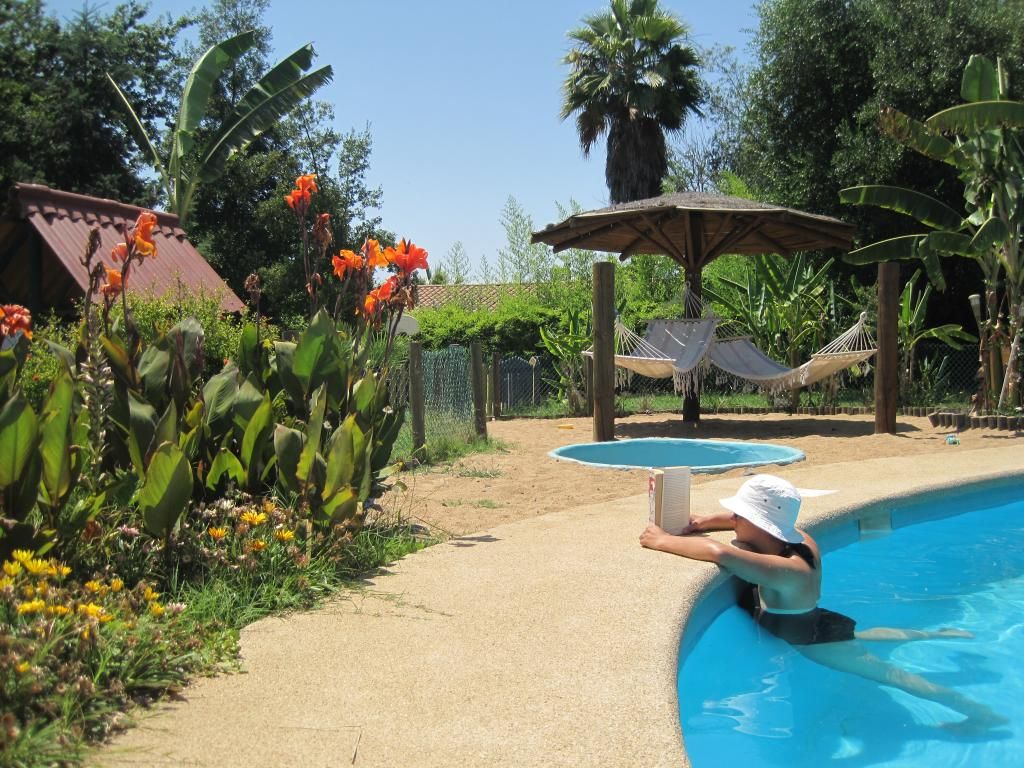 Talca (10 hours to the north in Chilean wine country) seemed like a good spot to rest up for a few days and it was also close to San Fernando, where our next Workaway opportunity awaited us. It's not exactly a bumping spot on the backpacker trail and not only did our guide book not proffer a city map, but there seemed to be a dearth of hostels, even when we searched online. Steve again took the reins and had fired off a request to
Casa Chueca
, one of two places we could find that seemed to be a bit remote but also one of our only options. After our overnight bus plopped us in Talca on its way to Santiago, we had to call the lodge to let them know we'd be arriving shortly so they'd be ready to pick us up. A few questions and street corners later, we boarded another bus that took us 15 minutes outside Talca to the small area known as San Valentin (really just a crossroads with several vineyards and farms). From there a driver from the lodge met us and then drove us several more dusty kilometers to our destination, which reminded us all too much of southern California in the summer.
And destination it was! We still paid 10,000 pesos each for beds in a dorm, but we lucked out and had the dorm (and ensuite bathroom) all to ourselves, although it was more like a cabin. Exposed wood beam ceilings, adobe walls washed in green paint and scattered with colorful glass blocks, local art and framed Pablo Neruda poetry greeted us when we dumped our backpacks on the stone tile floor. Hello tranquil retreat! And the property itself was a masterpiece of edible landscaping, welcome amenities, postcard vistas, furry animals and architecture that blended seamlessly with the surroundings. Our first survey of the vast property produced a tree house, bell-adorned goats, vegetable garden, creaking suspension bridge over the river, ponies, gym, garden-fringed pool and a go-kart course that could also be used as a running track. Seriously?! Oh, and then there were the trees dripping with tiny burgundy red and sunflower yellow plums that burst into a spray of perfectly ripe pulpy flavor the second they hit our tongues. Several times a day we found ourselves at these trees stuffing our mouths (and pockets) full of nature's candy until we suffered stomachaches and sticky fingers. It would have been even worse, but the pears, peaches and apples weren't ready yet.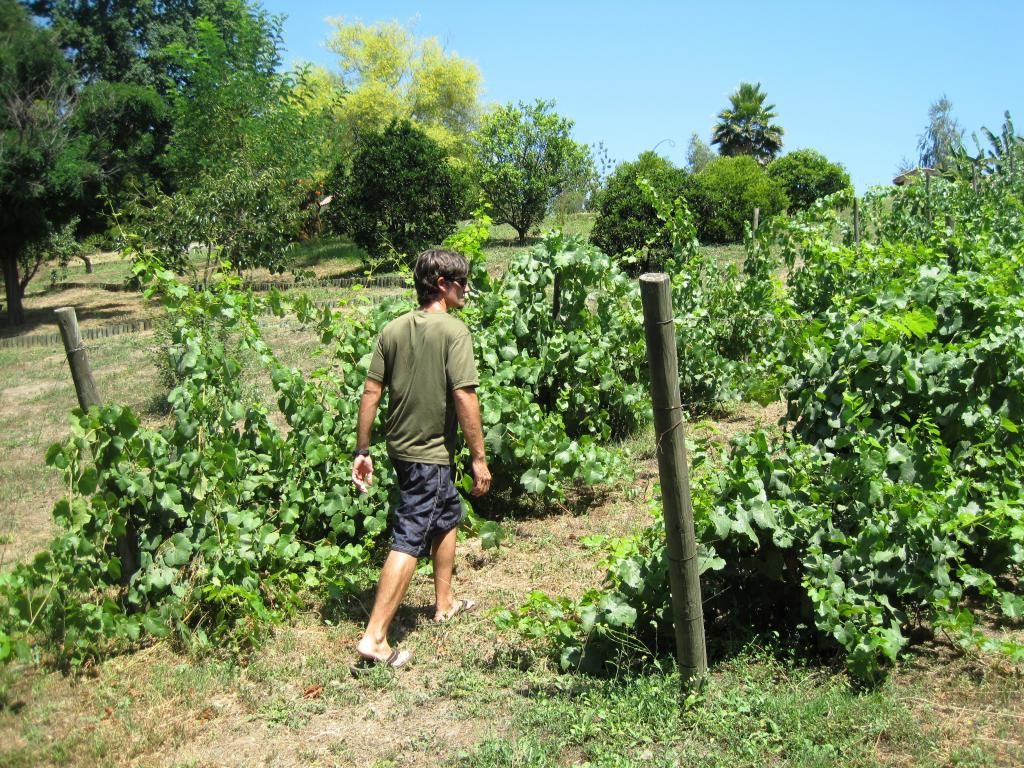 Our two day sojourn here passed quickly with lots of pool lounging, walks through the grounds, reading, petting the resident border collie (who liked to herd the pet goats) and scrumptious (vegetarian!) food. I even learned to my dismay at the age of 31 how kiwi fruit grows---it reminded me of the infamous Peace Corps pineapple scandal of 2003 where my ignorance in regards to my food origins reared its ugly head. If you've never seen a kiwi in the wild and without Googling the answer, can you tell me how they grow? Color me embarrassed (and uninformed). We also shared meals with travelers from around the world, including an English foundation worker stationed in east Africa, scores of German/Austrian families with their young children and a retired American couple from Connecticut, the husband having dealt with 3 failed knee replacement surgeries. But perhaps our favorite was Sally, a feisty travel-addicted jumbo jet pilot with Virgin Atlantic who's always scheming away to plan her next global adventure.
During dinner while we all swapped stories and after everyone heard about our trip, Sally asked, "What's the biggest thing that's changed in your head during your travels?" I sat there stumped. We were used to answering questions about our favorite country (
Ecuador
), craziest border crossings (
Nicaragua sand truck
) and tastiest food (
potato rellenos in El Salvador
, although there are many close seconds) and other generic but amusing queries. However, as much as Steve and I constantly talk to each other and other travelers, I don't know if I've ever taken a step back and pondered this particular question. I gave an inadequate off-the-cuff answer but later told Sally I would be thinking further on it until I had an answer the that sat right with me. Before leaving she shared her contact info and told us that she would enjoy seeing us in England and that even if she were flying or traveling, we were welcome to her 4 bedroom home because she believes in paying it forward. This, dear reader, is the kind of fellow traveler we've met more often than not on our meanderings, but that never renders it any less touching.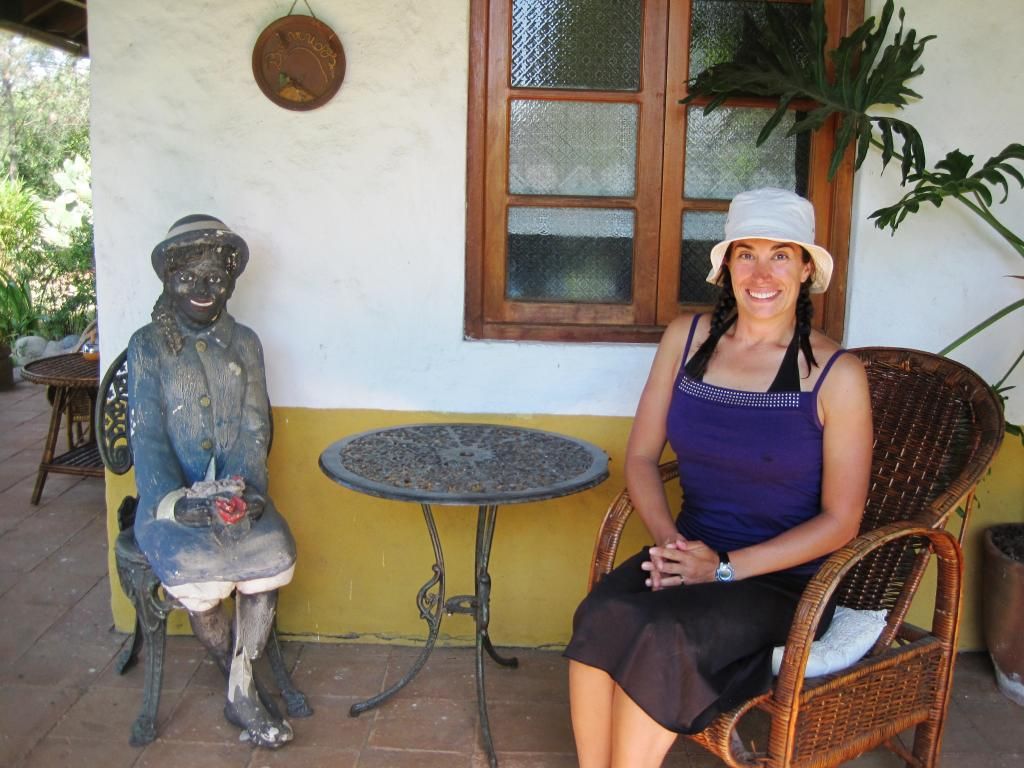 Our time in both Puerto Montt and Talca flew by all too quickly, yet afforded us a much welcomed slower pace of travel and plenty of nature and laid back experiences to help us mellow out. It was also a pleasant change to be surrounded by people other than backpackers in environments that didn't resemble hostels-sometimes you just need a break from the norm! We highly recommend both spots and hope to return in the future, maybe as part of our voyage to
The Place That Shall not be Named
!

CLICK FOR PUERTO MONTT PICTURES, CLICK FOR TALCA PICTURES.